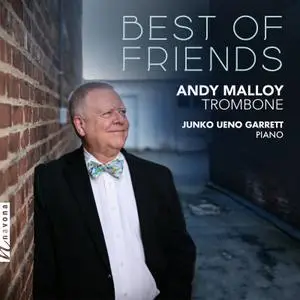 Andy Malloy & Junko Ueno Garrett - Best of Friends (2022)
WEB FLAC (tracks) - 212 Mb | MP3 CBR 320 kbps - 145 Mb | 01:02:59
Classical | Label: Navona Records
Navona Records and trombonist Andy Malloy present BEST OF FRIENDS, a collection of personalized pieces for trombone and piano. Featuring works that Malloy commissioned from his colleagues over the years, the album is truly an ode to the relationships formed through musical collaboration. Each piece on the album pushes the musical boundaries to which the trombone is often held through creative uses of tonality and soaring melodies. Rhythmically energetic passages, jazz harmonies, and more speak throughout the album, highlighting the musicianship of Malloy and the compositional dexterity of his colleagues, a musical testament to the power of collaboration.
Tracklist:
1.
Fantasy for Trombone & Piano
(07:16)
2.
Trombone Sonata: I. Maestoso
(05:32)
3.
Trombone Sonata: II. Very Slow & Freely
(05:48)
4.
Trombone Sonata: III. Allegro energico
(04:41)
5.
Dozeandeeze
(06:10)
6.
Trombone Sonata: I. Allegro
(06:25)
7.
Trombone Sonata: II. Chaconne
(05:33)
8.
Trombone Sonata: III. Rondo
(05:26)
9.
Fantasy for Bass Trombone & Piano
(09:26)
10.
The Well-Tempered Clavier, Book 1, Prelude & Fugue No. 4 in C-Sharp Minor, BWV 849: I. Prelude (Arr. R. Marsteller for Trombone En
(02:43)
11.
The Well-Tempered Clavier, Book 1, Prelude & Fugue No. 4 in C-Sharp Minor, BWV 849: II. Fugue (Arr. R. Marsteller for Trombone Ens
(03:54)
–––––––––––-

DON'T MODIFY THIS FILE

–––––––––––-

PERFORMER: auCDtect Task Manager, ver. 1.6.0 RC1 build 1.6.0.1
Copyright © 2008-2010 y-soft. All rights reserved

ANALYZER: auCDtect: CD records authenticity detector, version 0.8.2
Copyright © 2004 Oleg Berngardt. All rights reserved.
Copyright © 2004 Alexander Djourik. All rights reserved.


FILE: 11 - II. Fugue (Arr. R. Marsteller for Trombone Ensemble).flac
Size: 12878357 Hash: 21B8097CDE1E6717FB8840BB7EFB0755 Accuracy: -m8
Conclusion: CDDA 100%
Signature: 079F0FE8112EDC059336A399B494AE73FD024659
FILE: 10 - I. Prelude (Arr. R. Marsteller for Trombone Ensemble).flac
Size: 8762642 Hash: 8A16D86C518BC38F66D37FBE0EB55724 Accuracy: -m8
Conclusion: CDDA 76%
Signature: 65CD80B0CBA3EEDD34968556DFF49353AD8A92B7
FILE: 09 - Fantasy for Bass Trombone & Piano.flac
Size: 31900735 Hash: EF6A735A5351CB2AC804EDDB6DEAB90F Accuracy: -m8
Conclusion: CDDA 62%
Signature: B4B906038DF1133199E2027B54BA28A53140DB61
FILE: 08 - III. Rondo.flac
Size: 20302075 Hash: C802B79067E1671E88F9F422E086F3A1 Accuracy: -m8
Conclusion: CDDA 43%
Signature: 12A19EF24E7C32836EA01443CA22C33C422440DF
FILE: 07 - II. Chaconne.flac
Size: 18628069 Hash: B60EFEB3AA7B1BEFDEE0165E09BB386B Accuracy: -m8
Conclusion: CDDA 100%
Signature: 80CD35703DFB5BA37184736B70D5A96692CD4776
FILE: 06 - I. Allegro.flac
Size: 24494185 Hash: 42349AB8A57B20BBADC7E6169FFC8BBF Accuracy: -m8
Conclusion: MPEG 89%
Signature: 8838663EC7F2469EB86421BA45F157FB66053EE5
FILE: 05 - Dozeandeeze.flac
Size: 22563389 Hash: 326B39B86F91D78B40418C64A0D6B27A Accuracy: -m8
Conclusion: CDDA 100%
Signature: 6F002BC4E2ACDE3689CB2A0A24504F082545D503
FILE: 04 - III. Allegro energico.flac
Size: 17194163 Hash: F2A04763AE366C7A321E22EBEF0C8A8D Accuracy: -m8
Conclusion: CDDA 87%
Signature: 08E856104DAB89F97A5FC7FEF9B1DEFE0DEB09A6
FILE: 03 - II. Very Slow & Freely.flac
Size: 18305596 Hash: 403969CC03EB58142168B62CB755A77E Accuracy: -m8
Conclusion: CDDA 76%
Signature: C96D8EA5D0A6462DE2BAF10CDCE9577C6C1B9618
FILE: 02 - I. Maestoso.flac
Size: 20636362 Hash: 1C8E2219EA2B5F0647CB581338C2C713 Accuracy: -m8
Conclusion: CDDA 49%
Signature: B8B8A0A3FF8A8CE9FFC009910DBC05864ABA4044
FILE: 01 - Fantasy for Trombone & Piano.flac
Size: 26299837 Hash: DA2974CF71595D6F6D9ECD85C31C1185 Accuracy: -m8
Conclusion: CDDA 86%
Signature: 27041C5664EDFD0A75D7C79E199D44D627A25AE4