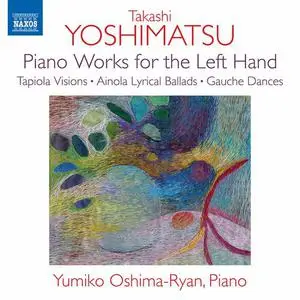 Yumiko Oshima-Ryan - Takashi Yoshimatsu: Piano Works for the Left Hand (2022)
FLAC (tracks), Lossless | 51:46 | 148 Mb
Genre: Classical / Label: Naxos
Takashi Yoshimatsu's wide-ranging musical influences often combine jazz and rock elements with classical, folk and world music. This album focuses on a unique series of three solo piano works for the left hand, inspired by his great friend Izumi Tateno. These lyric and beautiful miniatures are saturated in nature and birdsong, as can be heard in the evocative Tapiola Visions and in the seven bouquets that form Ainola Lyrical Ballads which are dedicated to Sibelius. In Gauche Dances, we hear a sequence that includes the tango and boogie woogie, displaying how eagerly and ebulliently Yoshimatsu breaks boundaries.
Track List:
01. Tapiola Visions, Op. 92: I. Vignette in Twilight
02. Tapiola Visions, Op. 92: II. Gigue of Forest
03. Tapiola Visions, Op. 92: III. Pavane for Water
04. Tapiola Visions, Op. 92: IV. Commas of Birds
05. Tapiola Visions, Op. 92: V. Toccata in the Wind
06. Ainola Lyrical Ballads, Op. 95: No. 1, Romance
07. Ainola Lyrical Ballads, Op. 95: No. 2, Arabesque
08. Ainola Lyrical Ballads, Op. 95: No. 3, Ballad
09. Ainola Lyrical Ballads, Op. 95: No. 4, Pavane
10. Ainola Lyrical Ballads, Op. 95: No. 5, Mozartino
11. Ainola Lyrical Ballads, Op. 95: No. 6, Pastoral
12. Ainola Lyrical Ballads, Op. 95: No. 7, Carillon
13. Gauche Dances, Op. 96: No. 1, Rock
14. Gauche Dances, Op. 96: No. 2, Blues
15. Gauche Dances, Op. 96: No. 3, Tango
16. Gauche Dances, Op. 96: No. 4, Boogie Woogie
ANALYZER: auCDtect: CD records authenticity detector, version 0.8.2
Copyright © 2004 Oleg Berngardt. All rights reserved.
Copyright © 2004 Alexander Djourik. All rights reserved.


FILE: 01 - Tapiola Visions, Op. 92_ I. Vignette in Twilight.flac
Size: 8258357 Hash: 9007A141C47E8F688DC6775F5FC427BB Accuracy: -m40
Conclusion: CDDA 100%
Signature: A753FADB5C753F89B1809CFFCE453E82EDFF2903
FILE: 02 - Tapiola Visions, Op. 92_ II. Gigue of Forest.flac
Size: 10478980 Hash: CCAC74683E6E689EBC7F1376181A1637 Accuracy: -m40
Conclusion: CDDA 62%
Signature: C0D37278DBD64FAA9541649B9DCAB08D764C9880
FILE: 03 - Tapiola Visions, Op. 92_ III. Pavane for Water.flac
Size: 15914536 Hash: 8A7F9F7944981519A259C2BD3946F89F Accuracy: -m40
Conclusion: CDDA 100%
Signature: 717A8CF74A00C9BB4D5CFB2AE6C7C44A59B20317
FILE: 04 - Tapiola Visions, Op. 92_ IV. Commas of Birds.flac
Size: 8812383 Hash: 73D50D90E2EFA2BEB04600A2D05E66E9 Accuracy: -m40
Conclusion: CDDA 100%
Signature: 5B807C2B2818DC0292E287B79645B58A9C2D9321
FILE: 05 - Tapiola Visions, Op. 92_ V. Toccata in the Wind.flac
Size: 18168874 Hash: 02A14F75C39933DEE4BA0A87E88ED6DD Accuracy: -m40
Conclusion: CDDA 100%
Signature: 1730F04BB4DAECDC8F9CB0DA0FD334E22526C299
FILE: 06 - Ainola Lyrical Ballads, Op. 95_ No. 1, Romance.flac
Size: 7742414 Hash: 4FD06930F8749B5C365C5BBBBB46B232 Accuracy: -m40
Conclusion: MPEG 93%
Signature: CFEA998721B07D0AA62DB76AFCCBC516C30C3652
FILE: 07 - Ainola Lyrical Ballads, Op. 95_ No. 2, Arabesque.flac
Size: 11013553 Hash: 34D00A96E534A4DE8BCBBA48CEFD830A Accuracy: -m40
Conclusion: CDDA 100%
Signature: BF9156E3D27EF8D2054BFB7DFFCEC3416E4F648F
FILE: 08 - Ainola Lyrical Ballads, Op. 95_ No. 3, Ballad.flac
Size: 9359737 Hash: 4D8EF83B2A1678C65F8DF9C6E649D88D Accuracy: -m40
Conclusion: CDDA 100%
Signature: E5F71F56D2D38A94BA056A58E9B854AC68BE6133
FILE: 09 - Ainola Lyrical Ballads, Op. 95_ No. 4, Pavane.flac
Size: 9840039 Hash: C05BDCF82DE59443CEEB70FAB1298ED3 Accuracy: -m40
Conclusion: CDDA 99%
Signature: A44273C5DB78829891A2B077B90016ECF87F2A4C
FILE: 10 - Ainola Lyrical Ballads, Op. 95_ No. 5, Mozartino.flac
Size: 8199299 Hash: 3EA9B5DAF01E21D529BE6B15DBEEF0F6 Accuracy: -m40
Conclusion: CDDA 100%
Signature: 5C09671565E5E786E6F03CB375CFCADB8A2759BD
FILE: 11 - Ainola Lyrical Ballads, Op. 95_ No. 6, Pastoral.flac
Size: 5041340 Hash: 25325C7A90C15034C60A847C5B694066 Accuracy: -m40
Conclusion: CDDA 100%
Signature: 878F2690DFDD159C6AEEBC14A5633F537B41487C
FILE: 12 - Ainola Lyrical Ballads, Op. 95_ No. 7, Carillon.flac
Size: 10838685 Hash: 9423493D1F22254C3B879B444639A681 Accuracy: -m40
Conclusion: CDDA 100%
Signature: D1467294BF6974229F1D2CBCCB891B4B81C89B6F
FILE: 13 - Gauche Dances, Op. 96_ No. 1, Rock.flac
Size: 9406755 Hash: 70FB4B1DD5F5BE7687948E539832777F Accuracy: -m40
Conclusion: CDDA 100%
Signature: 9ED92125196F625EC2B89EE46753E605C6A5C100
FILE: 14 - Gauche Dances, Op. 96_ No. 2, Blues.flac
Size: 10318678 Hash: A55AAF919FA5CD0DA185A89F00831705 Accuracy: -m40
Conclusion: MPEG 92%
Signature: 33BD2FEE677B2DA3ADAB73BB91BA651E3CDA5A29
FILE: 15 - Gauche Dances, Op. 96_ No. 3, Tango.flac
Size: 5698927 Hash: CECAF3FACE74EF748032DB1902BCA647 Accuracy: -m40
Conclusion: CDDA 100%
Signature: 405D5C131CC99BEB22C3FD04775F5B95A73B6A48
FILE: 16 - Gauche Dances, Op. 96_ No. 4, Boogie Woogie.flac
Size: 8571334 Hash: DDE7A80943B21A675B7A33838F306093 Accuracy: -m40
Conclusion: CDDA 85%
Signature: D29D8D21DBADBCB5BB58DB8880FC5D03F163E3A4