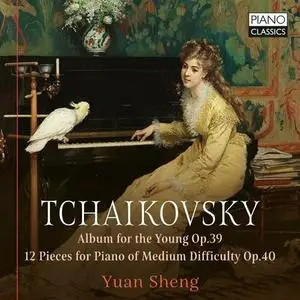 Yuan Sheng - Tchaikovsky: Album for the Young, Op. 39, 12 Pieces for Piano of Medium Difficulty, Op. 40 (2022)
FLAC (tracks), Lossless | 1:14:45 | 248 Mb
Genre: Classical / Label: Piano Classics
While we associate Tchaikovsky with music of virtuoso power and difficulty, sweeping up audiences with the fire of the Violin Concerto and First Piano Concerto, he also applied himself to music for the ever-growing market of amateur music-makers during his lifetime. Like many other great composers, he knew how to write for musicians of moderate ability without compromising or simplifying the individuality of his voice as a composer.Also like many great composers, regularly finding himself in grim financial prospects, he tapped into a reliable source of income by supplying publishers who had a seemingly limitless market for music composed with amateur musicians in mind, especially by the acknowledged masters of their day. Both of the cycles recorded here by Yuan Sheng were produced for this market, comprising short pieces, most of them quite simple on the page, but thoroughly imbued with quintessentially Tchaikovskian qualities.
Track List:
1. Album for the Young, Op. 39: I. Morning Prayer (1:12)
2. Album for the Young, Op. 39: II. Winter Morning (1:10)
3. Album for the Young, Op. 39: III. Playing Hobby-Horses (0:42)
4. Album for the Young, Op. 39: IV. Mama (1:04)
5. Album for the Young, Op. 39: V. March of the Wooden Soldiers (0:54)
6. Album for the Young, Op. 39: VI. The Sick Doll (1:54)
7. Album for the Young, Op. 39: VII. The Doll's Funeral (1:55)
8. Album for the Young, Op. 39: VIII. Waltz (1:21)
9. Album for the Young, Op. 39: IX. The New Doll (0:47)
10. Album for the Young, Op. 39: X. The Harmonica Player (0:39)
11. Album for the Young, Op. 39: XI. Mazurka (1:07)
12. Album for the Young, Op. 39: XII. Russian Song (0:31)
13. Album for the Young, Op. 39: XIII. Kamarinskaya (0:37)
14. Album for the Young, Op. 39: XIV. Polka (0:49)
15. Album for the Young, Op. 39: XV. Italian Song (0:57)
16. Album for the Young, Op. 39: XVI. Old French Song (1:03)
17. Album for the Young, Op. 39: XVII. German Song (1:02)
18. Album for the Young, Op. 39: XVIII. Neapolitan Song (1:04)
19. Album for the Young, Op. 39: XIX. Nanny's Story (0:44)
20. Album for the Young, Op. 39: XX. The Old Witch (0:47)
21. Album for the Young, Op. 39: XXI. Sweet Dreams (1:46)
22. Album for the Young, Op. 39: XXII. Lark Song (1:13)
23. Album for the Young, Op. 39: XXIII. The Organ-Grinder Sings (0:50)
24. Album for the Young, Op. 39: XXIV. In Church (2:23)
25. 12 Pieces for Piano of Medium Difficulty, Op. 40: I. Etude (1:42)
26. 12 Pieces for Piano of Medium Difficulty, Op. 40: II. Chanson Triste (3:08)
27. 12 Pieces for Piano of Medium Difficulty, Op. 40: III. Marche Funèbre (8:31)
28. 12 Pieces for Piano of Medium Difficulty, Op. 40: IV. Mazurka (3:33)
29. 12 Pieces for Piano of Medium Difficulty, Op. 40: V. Mazurka (3:34)
30. 12 Pieces for Piano of Medium Difficulty, Op. 40: VI. Chant sans Paroles (2:55)
31. 12 Pieces for Piano of Medium Difficulty, Op. 40: VII. Au Village (4:35)
32. 12 Pieces for Piano of Medium Difficulty, Op. 40: VIII. Valse (3:38)
33. 12 Pieces for Piano of Medium Difficulty, Op. 40: IX. Valse (6:07)
34. 12 Pieces for Piano of Medium Difficulty, Op. 40: X. Danse Russe (2:26)
35. 12 Pieces for Piano of Medium Difficulty, Op. 40: XI. Scherzo (4:01)
36. 12 Pieces for Piano of Medium Difficulty, Op. 40: XII. Rêverie Interrompue (4:23)
ANALYZER: auCDtect: CD records authenticity detector, version 0.8.2
Copyright © 2004 Oleg Berngardt. All rights reserved.
Copyright © 2004 Alexander Djourik. All rights reserved.


FILE: 01 - Album for the Young, Op. 39_ I. Morning Prayer.flac
Size: 3722617 Hash: 7243A67A848D657FB49CF9B9DD3FB87A Accuracy: -m40
Conclusion: CDDA 100%
Signature: F2395B64DB6C9EC2ADD8EC04A03428E5ED53E028
FILE: 02 - Album for the Young, Op. 39_ II. Winter Morning.flac
Size: 4015082 Hash: 2CA6DEF02C582DEE5CE188E7D9CAF0DC Accuracy: -m40
Conclusion: CDDA 100%
Signature: C90F7E60F469E4BAF8D8D7E764E9E917D8E90ABB
FILE: 03 - Album for the Young, Op. 39_ III. Playing Hobby-Horses.flac
Size: 2728214 Hash: D8F783C66E96D3C2226D27E115116922 Accuracy: -m40
Conclusion: CDDA 100%
Signature: C3CCC19AA1B4EE5C0F01A2B512EF9995C70B672E
FILE: 04 - Album for the Young, Op. 39_ IV. Mama.flac
Size: 3608220 Hash: F525846B0AE6633FC8E69315AC6416EF Accuracy: -m40
Conclusion: CDDA 100%
Signature: D82C7C21D7A9D47AD2856EF76E6C31D135FFE02E
FILE: 05 - Album for the Young, Op. 39_ V. March of the Wooden Soldiers.flac
Size: 3084718 Hash: E2124BE7B43AD60643FB355E9E4A3F14 Accuracy: -m40
Conclusion: CDDA 100%
Signature: 2D2C3BC093135A39A713D8A108C7BECACCCA5A4E
FILE: 06 - Album for the Young, Op. 39_ VI. The Sick Doll.flac
Size: 5781123 Hash: 7D308672356F2C294D399A2602204351 Accuracy: -m40
Conclusion: CDDA 100%
Signature: C3B4FEA80E3D9BB7000DF03EC1C15D3F964DCF60
FILE: 07 - Album for the Young, Op. 39_ VII. The Doll's Funeral.flac
Size: 5923103 Hash: B7D6752635CE611DB8D261DFFFC09D6B Accuracy: -m40
Conclusion: CDDA 100%
Signature: 31A4670AF8ADB2AEAD2BD599BBC1AD5307BA966D
FILE: 08 - Album for the Young, Op. 39_ VIII. Waltz.flac
Size: 5297533 Hash: 700BA4EE5E1A3129E668796D979B9C86 Accuracy: -m40
Conclusion: CDDA 100%
Signature: 448E8C7795B7EE375DD39DB2EAA926716BDC2451
FILE: 09 - Album for the Young, Op. 39_ IX. The New Doll.flac
Size: 2677233 Hash: D2A740AB70A64A18EC48BC856A40E20F Accuracy: -m40
Conclusion: CDDA 100%
Signature: 00B75DF1AB8D19FF0DFA02B67DF4C8BCD4DF2E07
FILE: 10 - Album for the Young, Op. 39_ X. The Harmonica Player.flac
Size: 2606201 Hash: 4C7BF9EFAD7D0048D1A31B3A454EF977 Accuracy: -m40
Conclusion: CDDA 99%
Signature: 5C21047220517EA10F8C20A2F26C530C1ACE3021
FILE: 11 - Album for the Young, Op. 39_ XI. Mazurka.flac
Size: 4211466 Hash: 9674343A929938A655B1B4150653DBE0 Accuracy: -m40
Conclusion: CDDA 100%
Signature: 1F98798E65F8CA729C8B78BE1AE20B2F480D0848
FILE: 12 - Album for the Young, Op. 39_ XII. Russian Song.flac
Size: 2353510 Hash: 63BB0590E1DF05277E321A9B2217711F Accuracy: -m40
Conclusion: CDDA 100%
Signature: EFB42587DA51DAC74ED6E0374DBB72EC38A3E89F
FILE: 13 - Album for the Young, Op. 39_ XIII. Kamarinskaya.flac
Size: 2558958 Hash: 2B876F5AEAB2448CFE87DC79CB8AF381 Accuracy: -m40
Conclusion: CDDA 100%
Signature: A32DB036C26AB865CA017BD1B8E8C36693FD5C39
FILE: 14 - Album for the Young, Op. 39_ XIV. Polka.flac
Size: 3050433 Hash: 1E7C0DD6782562959FEB1E29125AFE15 Accuracy: -m40
Conclusion: CDDA 100%
Signature: 827615968D2EADFD73EE6F0DFD44D5F37AB1B03E
FILE: 15 - Album for the Young, Op. 39_ XV. Italian Song.flac
Size: 3334044 Hash: 07C899707D573268F19ACDD1D8FEF9E3 Accuracy: -m40
Conclusion: CDDA 100%
Signature: E2737C23155E2E01243A9993DC09DEB6930D4B85
FILE: 16 - Album for the Young, Op. 39_ XVI. Old French Song.flac
Size: 3386342 Hash: 0689C6A9065038B4EACAF64C0645760C Accuracy: -m40
Conclusion: CDDA 100%
Signature: 49A2343CE43EF1B74C84741121435024A5F92CB0
FILE: 17 - Album for the Young, Op. 39_ XVII. German Song.flac
Size: 3768463 Hash: D035F13F02D99ED406118895D7AC82EB Accuracy: -m40
Conclusion: CDDA 100%
Signature: 19F0B5B3AB255F7D0E41C104E779795C8E89FD57
FILE: 18 - Album for the Young, Op. 39_ XVIII. Neapolitan Song.flac
Size: 4118171 Hash: 4099EEA6C7EADADEEEEF013F1AE45A73 Accuracy: -m40
Conclusion: CDDA 100%
Signature: ACCCBAF9A206B8F9CA95D1971A69948006BE1876
FILE: 19 - Album for the Young, Op. 39_ XIX. Nanny's Story.flac
Size: 2736571 Hash: FC8B3A68C0EB4ACA321B86D28603CA78 Accuracy: -m40
Conclusion: CDDA 100%
Signature: D0EEFFAA500DB9BBBFC3EB13C18196D6FB2E1D9C
FILE: 20 - Album for the Young, Op. 39_ XX. The Old Witch.flac
Size: 3213425 Hash: BEC06490F9C74B58FD2167323885F1AF Accuracy: -m40
Conclusion: CDDA 99%
Signature: DFB694DA46A5ABC9ADC7811448F7833CCF612402
FILE: 21 - Album for the Young, Op. 39_ XXI. Sweet Dreams.flac
Size: 6044654 Hash: C5B41B7F020B42F7F5935AD92F56C5BE Accuracy: -m40
Conclusion: CDDA 100%
Signature: 8BAD06C9454950054FBEF82A0F0AD1029E945041
FILE: 22 - Album for the Young, Op. 39_ XXII. Lark Song.flac
Size: 4126201 Hash: FE3620634E2700036F4205FE40709CDD Accuracy: -m40
Conclusion: CDDA 100%
Signature: 0CA5B8F16CD8A465738F23FF16F52F193A207270
FILE: 23 - Album for the Young, Op. 39_ XXIII. The Organ-Grinder Sings.flac
Size: 2738074 Hash: E6D9C4115070E0D59DC365CFDC274804 Accuracy: -m40
Conclusion: CDDA 99%
Signature: F752A59A0394F3785A1B28C73A9C907FEECCC1C8
FILE: 24 - Album for the Young, Op. 39_ XXIV. In Church.flac
Size: 6922247 Hash: FF67D8DF2594013D37ED8F953A7775D5 Accuracy: -m40
Conclusion: CDDA 100%
Signature: FD32F7ED2B582B4C121D72C87E177B1D0455FDDC
FILE: 25 - 12 Pieces for Piano of Medium Difficulty, Op. 40_ I. Etude.flac
Size: 7858963 Hash: 6E4550CC4C85105A9D7B507CC5B87C54 Accuracy: -m40
Conclusion: CDDA 100%
Signature: 4DC3EC9DC374729BCEA250C57113F6E412E48D8E
FILE: 26 - 12 Pieces for Piano of Medium Difficulty, Op. 40_ II. Chanson Triste.flac
Size: 10017841 Hash: E3B4EF16D9D2E106BDB9C73347EEED5A Accuracy: -m40
Conclusion: CDDA 100%
Signature: 074C6E90DDCFFE4AC9E20AFDB47D44E1037E93C7
FILE: 27 - 12 Pieces for Piano of Medium Difficulty, Op. 40_ III. Marche Funèbre.flac
Size: 29493975 Hash: B7FDA0FD5651BFB8E7BDEEF0CB91B3B8 Accuracy: -m40
Conclusion: CDDA 100%
Signature: 76D5D9742D49C55BEA3B961B2E32C6039353C464
FILE: 28 - 12 Pieces for Piano of Medium Difficulty, Op. 40_ IV. Mazurka.flac
Size: 12887976 Hash: 726B388A83BDD50D76DB931202E7C3A8 Accuracy: -m40
Conclusion: CDDA 100%
Signature: A4D56FA73E0DACEB3B61C0B914C6F1B4EC74CD1F
FILE: 29 - 12 Pieces for Piano of Medium Difficulty, Op. 40_ V. Mazurka.flac
Size: 13437084 Hash: 79717C3ACB42C0D323C7B5BA95BD045A Accuracy: -m40
Conclusion: CDDA 100%
Signature: 220CA16CA935CBFA12AACE45171611614A4664D0
FILE: 30 - 12 Pieces for Piano of Medium Difficulty, Op. 40_ VI. Chant sans Paroles.flac
Size: 9558548 Hash: 3C78196A01A5DFB777791F940CBD907B Accuracy: -m40
Conclusion: CDDA 100%
Signature: A4861FA65B2274C0364352127119A2EA04B877CE
FILE: 31 - 12 Pieces for Piano of Medium Difficulty, Op. 40_ VII. Au Village.flac
Size: 16187860 Hash: 5DDD1DFDD58FD62FAF27555E90C094A0 Accuracy: -m40
Conclusion: CDDA 100%
Signature: E5488EF6790DA04F3B0118A27F89AE866BF9BE75
FILE: 32 - 12 Pieces for Piano of Medium Difficulty, Op. 40_ VIII. Valse.flac
Size: 12522626 Hash: 2934167BBAE11543DDD55543F770D9A2 Accuracy: -m40
Conclusion: CDDA 99%
Signature: 83681E214067546BD641942986AE40AE9DDC67E5
FILE: 33 - 12 Pieces for Piano of Medium Difficulty, Op. 40_ IX. Valse.flac
Size: 20096039 Hash: 18D8E9E871B054522E7290D9FA0AF50A Accuracy: -m40
Conclusion: CDDA 100%
Signature: 4032D2A95600DC1BA76AB1B71AB28FD2CE81EDA6
FILE: 34 - 12 Pieces for Piano of Medium Difficulty, Op. 40_ X. Danse Russe.flac
Size: 9173784 Hash: BAF3E0E06ACAB26FF78848AD6082DF6E Accuracy: -m40
Conclusion: CDDA 100%
Signature: 454E08D3FA821AFE9E0F3C81A22BCC51D4D0F279
FILE: 35 - 12 Pieces for Piano of Medium Difficulty, Op. 40_ XI. Scherzo.flac
Size: 15676272 Hash: 5BDBCA9A906E282FD5A28D8E7045D516 Accuracy: -m40
Conclusion: CDDA 100%
Signature: 22A05CBD34055CADCD52B755E47C61267B41A219
FILE: 36 - 12 Pieces for Piano of Medium Difficulty, Op. 40_ XII. Rêverie Interrompue.flac
Size: 13517939 Hash: 493BF10232D1FC948B31299D5FA8E999 Accuracy: -m40
Conclusion: CDDA 99%
Signature: 43FC953BE698EDA766555BA503BCAB1CD699360A