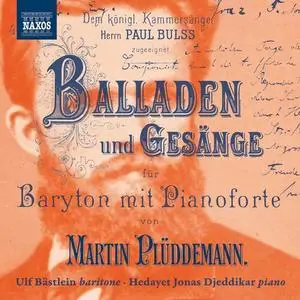 Ulf Bästlein - Eine schöne Welt ist da versunken - Balladen, Legenden und Lieder von Martin Plüddemann (2022)
FLAC (tracks), Lossless | 2:33:53 | 634 Mb
Genre: Classical / Label: Naxos
Martin Plüddemann was a pivotal figure in the revival and modernisation of the art of ballad composition. He revered Carl Loewe and Richard Wagner and this confluence of influences allowed him to explore the close relationship between ballad, opera and "music drama", not least through the use of Leitmotifs, quasi-orchestral accompaniment or in the piano anticipating or recalling the vocal line. He set the finest poets - Uhland, Müller, Goethe, Heine and Burns among them - and shows a comprehensive mastery of the genre, whether in themes of medievalism, nationalism, the supernatural or in his delightful essays in humour.
Track List:
1. Ulf Bästlein - Graf Eberhards Weissdorn
2. Ulf Bästlein - Einkehr
3. Ulf Bästlein - Altdeutsches Minnelied
4. Ulf Bästlein - Vineta
5. Ulf Bästlein - Niels Finn
6. Ulf Bästlein - No. 1, Liebeslied von Hafis
7. Ulf Bästlein - No. 2, Meine Lebenszeit verstreicht
8. Ulf Bästlein - No. 3, Nicht mit trister Miene
9. Ulf Bästlein - No. 4, Ihr verblühet, süße Rosen
10. Ulf Bästlein - Die Legende vom Hufeisen
11. Ulf Bästlein - Die Taufe
12. Ulf Bästlein - Dr Martin Luther
13. Ulf Bästlein - Sankt Peter mit der Geiss
14. Ulf Bästlein - No. 1, Herr Peter und Bender saßen beim Wein
15. Ulf Bästlein - No. 2, Und als die Mitternacht
16. Ulf Bästlein - No. 3, Und als sie morgens nach Hause kam
17. Ulf Bästlein - No. 4, Die Kirchenthür ist schwarz verhängt
19. Ulf Bästlein - Die Katzen und der Hausherr
20. Ulf Bästlein - Drei Wanderer
21. Ulf Bästlein - Loewes Herz
22. Ulf Bästlein - Ritter Kurts Brautfahrt
23. Ulf Bästlein - Siegfrieds Schwert
24. Ulf Bästlein - Der Sarg auf der Maasinsel
25. Ulf Bästlein - Jung Dieterich
26. Ulf Bästlein - Die Meermaid
27. Ulf Bästlein - Venetianisches Gondellied
28. Ulf Bästlein - Don Massias
29. Ulf Bästlein - Russisches Lied
30. Ulf Bästlein - Des Lebens Winter
31. Ulf Bästlein - Arthur Schopenhauer
32. Ulf Bästlein - Gute Nacht
ANALYZER: auCDtect: CD records authenticity detector, version 0.8.2
Copyright © 2004 Oleg Berngardt. All rights reserved.
Copyright © 2004 Alexander Djourik. All rights reserved.


FILE: 01 - Die Katzen und der Hausherr.flac
Size: 12033856 Hash: 32CAE2A8A57C8739831166AE441E61BA Accuracy: -m40
Conclusion: MPEG 80%
Signature: EA61F53ABA0F25F688C65AFA38D8DC95F6683398
FILE: 02 - Drei Wanderer.flac
Size: 14400880 Hash: F4BE15BAA92FF6E091E50A7C856D8472 Accuracy: -m40
Conclusion: MPEG 90%
Signature: A9DBE4DCFE92D6B9F430CCA1BB755217CE018004
FILE: 03 - Loewes Herz.flac
Size: 24755945 Hash: 19C0AE051D17E4F4147378F799CDEB39 Accuracy: -m40
Conclusion: MPEG 100%
Signature: 3CC887D5F1C403BB7894712600C6DEBEDE7EE002
FILE: 04 - Ritter Kurts Brautfahrt.flac
Size: 24471767 Hash: 56F553ED2104DB6F2DC3B1E165DD4603 Accuracy: -m40
Conclusion: CDDA 92%
Signature: 7128039467D3F5DB07602300DB47A11B51B7C267
FILE: 05 - Siegfrieds Schwert.flac
Size: 21469558 Hash: DF156D12415509599CC941419775AAB4 Accuracy: -m40
Conclusion: CDDA 94%
Signature: 67FA8D3EDE4F12CB12670E98FE2FFFD0412256DF
FILE: 06 - Der Sarg auf der Maasinsel.flac
Size: 28139949 Hash: 6E3DE378F173D28D9A3CB138F345BDC8 Accuracy: -m40
Conclusion: CDDA 49%
Signature: B13C3C90CB7CA974BA5017B1088C2E6DCA298493
FILE: 07 - Jung Dieterich.flac
Size: 23526954 Hash: 27CAB869DB04F1F20B47BC52E3C2E447 Accuracy: -m40
Conclusion: CDDA 100%
Signature: 7374F840EAA89CEEC68BF9A0F4456E92DEC50216
FILE: 08 - Die Meermaid.flac
Size: 26430971 Hash: 53BC30E7A354E639CBE426C31769867C Accuracy: -m40
Conclusion: CDDA 100%
Signature: 0C1F955FE0D0676BA222B12A6AE014F2A184A321
FILE: 09 - Venetianisches Gondellied.flac
Size: 16241203 Hash: DAA203945BAA56A385C9ABF71385126E Accuracy: -m40
Conclusion: MPEG 93%
Signature: CB640D48A8B1319F9EB732072F2206C8C316153F
FILE: 10 - Don Massias.flac
Size: 25144729 Hash: BBAD3A053E7908E3A3D3B1DB63751BD3 Accuracy: -m40
Conclusion: CDDA 43%
Signature: 73742EFAD98C87B0D0C40E5510AA355ED663AE61
FILE: 11 - Russisches Lied.flac
Size: 6055282 Hash: 91A54B4243F5D6181CFED4757E1A8A2D Accuracy: -m40
Conclusion: MPEG 100%
Signature: 11D95785E2908C50FBE890F768CD0291884BD0A9
FILE: 12 - Des Lebens Winter.flac
Size: 9837472 Hash: 1D9886B28C53C12BF14BB0FEE3FDB84D Accuracy: -m40
Conclusion: CDDA 100%
Signature: CDBEE45E7B0F09E63A4DCAC0AAF2876754B683E6
FILE: 13 - Arthur Schopenhauer.flac
Size: 22875682 Hash: C1DA98C6BE9B23BCDAA784D44D65B440 Accuracy: -m40
Conclusion: MPEG 89%
Signature: 9265727EF9CA4F37646FEA4C59FCF284D7F2413D
FILE: 14 - Gute Nacht.flac
Size: 15401386 Hash: FAF21A3C284105FFB109A4E8DD4D98FE Accuracy: -m40
Conclusion: MPEG 89%
Signature: 462363228C1FF1073278E47418FC02C1465CB4ED
FILE: 15 - Des Sängers Fluch.flac
Size: 75901504 Hash: 5222C0125939A0947260AB1462277D9A Accuracy: -m40
Conclusion: MPEG 89%
Signature: 2D2406F580DA7033C6C48DD9C2DAED10A8CC1BA2
FILE: 01 - Graf Eberhards Weissdorn.flac
Size: 14935633 Hash: EE7F13E747B6FEC013E38D65882189BF Accuracy: -m40
Conclusion: CDDA 100%
Signature: F9A8A4618B735AAC87BCCFAC927FCF09F7EAEF2C
FILE: 02 - Einkehr.flac
Size: 10694213 Hash: 85A308C2015A6A6868FCE09543E2366B Accuracy: -m40
Conclusion: CDDA 92%
Signature: A9187FBA42F00FF4E329C5C3845EDCF041903FE8
FILE: 03 - Altdeutsches Minnelied.flac
Size: 10911437 Hash: 0B466867449F182F4CE641A67FF9324B Accuracy: -m40
Conclusion: MPEG 90%
Signature: B16C2403474394DA20724DFE0D13CB8F924BCC59
FILE: 04 - Vineta.flac
Size: 20875565 Hash: 3F36F9A8D4F0B06B44A58778C3DD3C71 Accuracy: -m40
Conclusion: CDDA 100%
Signature: 9499F46CC1ABE77E35308D3C762006DA85C5ED0B
FILE: 05 - Niels Finn.flac
Size: 13799389 Hash: D41C914961BC3B4E131FD18A9367B5F0 Accuracy: -m40
Conclusion: CDDA 99%
Signature: 7E7402ACEB608F04C4FA5C82C44D617B9B61533D
FILE: 06 - Liederzyklus_ No. 1, Liebeslied von Hafis.flac
Size: 4830911 Hash: B6F119FC8294F989F3C22E826135BE75 Accuracy: -m40
Conclusion: CDDA 100%
Signature: C9509434B70C5557D787E043B3E6BAC7720AEBFA
FILE: 07 - Liederzyklus_ No. 2, Meine Lebenszeit verstreicht.flac
Size: 6644971 Hash: A6CAF9125DB43CFC4D0AB2DF52F3EAAC Accuracy: -m40
Conclusion: MPEG 100%
Signature: 3C1FC0067A4F1E9870893DF943CE49422189934E
FILE: 08 - Ulf Bastlein - Liederzyklus_ No. 3, Nicht mit trister Miene.flac
Size: 5847422 Hash: CB4B2A75AB95B69A75F05D7DE094DCEB Accuracy: -m40
Conclusion: CDDA 100%
Signature: CCE2806E5B0668627B80387A46F79B75D8B60C48
FILE: 09 - Liederzyklus_ No. 4, Ihr verblühet, süße Rosen.flac
Size: 9284559 Hash: B64154B8E1AE62AD328ED4B6AAEDDF63 Accuracy: -m40
Conclusion: CDDA 43%
Signature: 7CF144CD579D6A7279586D94865383DDE7983E43
FILE: 10 - Die Legende vom Hufeisen.flac
Size: 32604464 Hash: E7B4252F3DB7D97A10148766739BE87F Accuracy: -m40
Conclusion: CDDA 43%
Signature: 3269B532B1C65E5778A55D3EC975ED5CC14C63E4
FILE: 11 - Die Taufe.flac
Size: 31996257 Hash: 4E425E33974CE465C4B1AE1D52D18B11 Accuracy: -m40
Conclusion: CDDA 49%
Signature: AD8BE4970CD139FC30E562DB82CC1D845E78DD1C
FILE: 12 - Dr Martin Luther.flac
Size: 13687943 Hash: 6335D05EC81E58E868C3DFBF54D4E244 Accuracy: -m40
Conclusion: CDDA 100%
Signature: BC4660B9BF7FA436AD074A747BF1C8DB93F28A21
FILE: 13 - Sankt Peter mit der Geiss.flac
Size: 33633875 Hash: C4873D44DD3177D366A017C91288457E Accuracy: -m40
Conclusion: CDDA 86%
Signature: F77D1815D1291B6F10D377A01E88C0CF7D4A4397
FILE: 14 - Frau Mette_ No. 1, Herr Peter und Bender saßen beim Wein.flac
Size: 4904205 Hash: D48602E40AB744B5FF53F6B9476BFBE9 Accuracy: -m40
Conclusion: CDDA 100%
Signature: 965D868745562B25706155551CEDA58E687DFD66
FILE: 15 - Frau Mette_ No. 2, Und als die Mitternacht.flac
Size: 15111757 Hash: 88C3D2DDC63FBDD0876661270BBDAECC Accuracy: -m40
Conclusion: CDDA 85%
Signature: CEDDC42EBB5F5CBF8813805804247E818BDAFB02
FILE: 16 - Frau Mette_ No. 3, Und als sie morgens nach Hause kam.flac
Size: 19136233 Hash: F49B3FA1BCA6B12C6C565E2027E930AA Accuracy: -m40
Conclusion: CDDA 43%
Signature: 7933CA6844F815EFC53B0B256244DB90F0BE5B0C
FILE: 17 - Frau Mette_ No. 4, Die Kirchenthür ist schwarz verhängt.flac
Size: 7468676 Hash: 967EDE6938E02D9A1C4705484BC46247 Accuracy: -m40
Conclusion: CDDA 94%
Signature: BF028494D31D7ABFD3F0E18026C5888536B40CE7
FILE: 18 - Der Glockenguss zu Breslau.flac
Size: 63743825 Hash: 6F277F163E595B25E370A7155418007D Accuracy: -m40
Conclusion: CDDA 49%
Signature: 8D73215C5BFF515570073B822D9B14AF6944DBF7