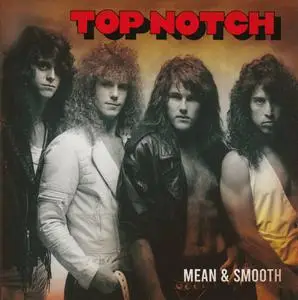 Top Notch - Mean & Smooth (2022)
XLD Rip | FLAC (Img) + Cue + Log ~ 435 Mb | MP3 CBR320 ~ 135 Mb
Full Scans | 00:53:51 | RAR 5% Recovery
Hard Rock, AOR | FnA Records #247365-158-2
Top Notch was formed by songwriter and guitar player, Eric Kellogg, in 1984 and included Ken Robertson on vocals, Todd Jeffries on bass, and Mark Alderette on drums. The songs were primarily written by Eric Kellogg and Ken Robertson. The hard rock sound that they developed was melodic with blazing guitar solos. Top Notch recorded their first demo on an 8-track in the bedroom of one of their best friends. This was met with much acclaim and their songs were played on KLOS and KMET Southern California radio stations. This launched them into the LA rock scene, playing every major club including The Roxy, The Whisky, Gazzari's, and the Troubadour, opening for who would become some of the largest rock bands such as Warrant, Rough Cut, Poison, and many others. Top Notch was then picked up by Available Management run by Alan Oken and David Libert, who managed bands such as Guns N Roses, Alice Cooper, and Bryan Adams. Their new management connected the band with many large record labels and they ultimately signed a developmental deal with Polygram Records. At that time, guitarist Eric Kellogg was connected with many prolific songwriters such as Peter Frampton, Martin Briley, Mark Tanner (Nelson, Eddie Money) and Steve Plunkett of Autograph. Steve Plunkett and Eric Kellogg developed a close relationship and went on to write many songs together that are featured on this album as well as Steve Plunkett's solo album. The band had a large and loyal following and sold out virtually every club that they played. In the midst of them preparing to sign a major record deal, the grunge scene came into play and tilted the rock n roll world upside down. At this time the band broke up and Eric Kellogg went on to write and play with many well known artists in the industry. The band was no longer together but Top Notch's music will live on forever!
***************
Track List:
01. Doing Something Right [3:54]
02. What's Your Daddy Gonna Say [3:49]
03. You're The Only One For Me [4:49]
04. She's Hot [4:37]
05. Make Me Believe [4:52]
06. Mean & Smooth [4:44]
07. Through The Night [5:31]
08. I'm Not Dreamin' [5:08]
09. She's All Talk [3:32]
10. Long Way From Home [4:45]
11. Razor's Edge - Live [4:17]
12. Heavy Pettin' [3:58]
X Lossless Decoder version 20211018 (154.0)

XLD extraction logfile from 2022-05-20 18:12:24 +1000

Top Notch / Mean & Smooth

Used drive : HL-DT-ST DVDRW GX50N (revision RR06)
Media type : Pressed CD

Ripper mode : XLD Secure Ripper
Disable audio cache : OK for the drive with a cache less than 1375KiB
Make use of C2 pointers : NO
Read offset correction : 6
Max retry count : 20
Gap status : Analyzed, Appended

TOC of the extracted CD
Track | Start | Length | Start sector | End sector
––––––––––––––––––––––––––––-
1 | 00:00:00 | 03:53:18 | 0 | 17492
2 | 03:53:18 | 03:48:37 | 17493 | 34629
3 | 07:41:55 | 04:48:37 | 34630 | 56266
4 | 12:30:17 | 04:37:00 | 56267 | 77041
5 | 17:07:17 | 04:51:37 | 77042 | 98903
6 | 21:58:54 | 04:44:00 | 98904 | 120203
7 | 26:42:54 | 05:30:18 | 120204 | 144971
8 | 32:12:72 | 05:07:56 | 144972 | 168052
9 | 37:20:53 | 03:31:15 | 168053 | 183892
10 | 40:51:68 | 04:44:37 | 183893 | 205229
11 | 45:36:30 | 04:17:00 | 205230 | 224504
12 | 49:53:30 | 03:57:37 | 224505 | 242316

AccurateRip Summary (DiscID: 00180286-00e1c865-9a0c9e0c)
Track 01 : OK (v2, confidence 2/2)
Track 02 : OK (v2, confidence 2/2)
Track 03 : OK (v2, confidence 2/2)
Track 04 : OK (v2, confidence 2/2)
Track 05 : OK (v2, confidence 2/2)
Track 06 : OK (v2, confidence 2/2)
Track 07 : OK (v2, confidence 2/2)
Track 08 : OK (v2, confidence 2/2)
Track 09 : OK (v2, confidence 2/2)
Track 10 : OK (v2, confidence 2/2)
Track 11 : OK (v2, confidence 2/2)
Track 12 : OK (v2, confidence 2/2)
->All tracks accurately ripped.

All Tracks
Filename : /Volumes/Seagate Backup Plus Drive/Music/1 My COLLECTION/Top Notch/2021 - Mean & Smooth/Mean & Smooth.flac
CRC32 hash (test run) : 95611ABF
CRC32 hash : 95611ABF
CRC32 hash (skip zero) : 44AD5BF7
Statistics
Read error : 0
Jitter error (maybe fixed) : 0
Retry sector count : 0
Damaged sector count : 0

Track 01
Pre-gap length : 00:02:00

CRC32 hash (test run) : 24AD5B84
CRC32 hash : 24AD5B84
CRC32 hash (skip zero) : 4B4FBD21
AccurateRip v1 signature : E1B3C08E
AccurateRip v2 signature : B4B51ECC
->Accurately ripped (v2, confidence 2/2)
Statistics
Read error : 0
Jitter error (maybe fixed) : 0
Retry sector count : 0
Damaged sector count : 0

Track 02
Pre-gap length : 00:02:00

CRC32 hash (test run) : 8C63D883
CRC32 hash : 8C63D883
CRC32 hash (skip zero) : AC67F83F
AccurateRip v1 signature : DB33B981
AccurateRip v2 signature : BA6BDD21
->Accurately ripped (v2, confidence 2/2)
Statistics
Read error : 0
Jitter error (maybe fixed) : 0
Retry sector count : 0
Damaged sector count : 0

Track 03
Pre-gap length : 00:02:00

CRC32 hash (test run) : C5FD680B
CRC32 hash : C5FD680B
CRC32 hash (skip zero) : 09E041BD
AccurateRip v1 signature : A80C02B1
AccurateRip v2 signature : E22D16BF
->Accurately ripped (v2, confidence 2/2)
Statistics
Read error : 0
Jitter error (maybe fixed) : 0
Retry sector count : 0
Damaged sector count : 0

Track 04
Pre-gap length : 00:02:00

CRC32 hash (test run) : BD0A7E4E
CRC32 hash : BD0A7E4E
CRC32 hash (skip zero) : C0143DE0
AccurateRip v1 signature : 1425E3AA
AccurateRip v2 signature : 4B3A5005
->Accurately ripped (v2, confidence 2/2)
Statistics
Read error : 0
Jitter error (maybe fixed) : 0
Retry sector count : 0
Damaged sector count : 0

Track 05
Pre-gap length : 00:02:00

CRC32 hash (test run) : EF30D838
CRC32 hash : EF30D838
CRC32 hash (skip zero) : 436549DC
AccurateRip v1 signature : 872A8D50
AccurateRip v2 signature : 8740269C
->Accurately ripped (v2, confidence 2/2)
Statistics
Read error : 0
Jitter error (maybe fixed) : 0
Retry sector count : 0
Damaged sector count : 0

Track 06
Pre-gap length : 00:02:00

CRC32 hash (test run) : D4E35B8C
CRC32 hash : D4E35B8C
CRC32 hash (skip zero) : A5BD6827
AccurateRip v1 signature : A5AEC06A
AccurateRip v2 signature : D1B27B6A
->Accurately ripped (v2, confidence 2/2)
Statistics
Read error : 0
Jitter error (maybe fixed) : 0
Retry sector count : 0
Damaged sector count : 0

Track 07
Pre-gap length : 00:02:00

CRC32 hash (test run) : F8422D31
CRC32 hash : F8422D31
CRC32 hash (skip zero) : AF695C17
AccurateRip v1 signature : 666DB571
AccurateRip v2 signature : C5F18375
->Accurately ripped (v2, confidence 2/2)
Statistics
Read error : 0
Jitter error (maybe fixed) : 0
Retry sector count : 0
Damaged sector count : 0

Track 08
Pre-gap length : 00:02:00

CRC32 hash (test run) : 86F72AB4
CRC32 hash : 86F72AB4
CRC32 hash (skip zero) : 7250D36E
AccurateRip v1 signature : 47C4E87C
AccurateRip v2 signature : 8F36B598
->Accurately ripped (v2, confidence 2/2)
Statistics
Read error : 0
Jitter error (maybe fixed) : 0
Retry sector count : 0
Damaged sector count : 0

Track 09
Pre-gap length : 00:02:00

CRC32 hash (test run) : DCEEDE1D
CRC32 hash : DCEEDE1D
CRC32 hash (skip zero) : 4A9FE125
AccurateRip v1 signature : 5F50679F
AccurateRip v2 signature : 7CA55E99
->Accurately ripped (v2, confidence 2/2)
Statistics
Read error : 0
Jitter error (maybe fixed) : 0
Retry sector count : 0
Damaged sector count : 0

Track 10
Pre-gap length : 00:02:00

CRC32 hash (test run) : 024B1DD3
CRC32 hash : 024B1DD3
CRC32 hash (skip zero) : 3AC8F142
AccurateRip v1 signature : 1C50B474
AccurateRip v2 signature : 372D66A3
->Accurately ripped (v2, confidence 2/2)
Statistics
Read error : 0
Jitter error (maybe fixed) : 0
Retry sector count : 0
Damaged sector count : 0

Track 11
Pre-gap length : 00:02:00

CRC32 hash (test run) : 4EEEF94F
CRC32 hash : 4EEEF94F
CRC32 hash (skip zero) : BB0F161E
AccurateRip v1 signature : 6CA1BCF3
AccurateRip v2 signature : 2CCB0C16
->Accurately ripped (v2, confidence 2/2)
Statistics
Read error : 0
Jitter error (maybe fixed) : 0
Retry sector count : 0
Damaged sector count : 0

Track 12
Pre-gap length : 00:02:00

CRC32 hash (test run) : 9289826A
CRC32 hash : 9289826A
CRC32 hash (skip zero) : B58D9BBA
AccurateRip v1 signature : A9B90515
AccurateRip v2 signature : 33AE8996
->Accurately ripped (v2, confidence 2/2)
Statistics
Read error : 0
Jitter error (maybe fixed) : 0
Retry sector count : 0
Damaged sector count : 0

No errors occurred

End of status report

––-BEGIN XLD SIGNATURE––-
L.RQGmQI3YjFlLLZEoo4CgnbOGLjXau3u.Osm0thZ_dF7n7f4h83_4kTHHp_vVWJP6Nk1wsnKYO4S4TzL_f3AeKiq4_ZmGm5_Si708S
––-END XLD SIGNATURE––-