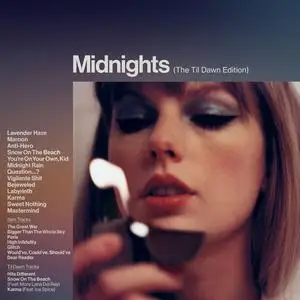 Taylor Swift - Midnights (The Til Dawn Edition) (2023)
WEB FLAC (Tracks) 482 MB | Cover | 01:20:35 | MP3 CBR 320 kbps | 185 MB
Pop | Label: Taylor Swift
Midnights isn't a retreat so much as a return, a revival of the moody electro-pop that kept Reputation roiling. Where that 2017 record carried a measure of defiance, the vibe of Midnights is contemplative even when beats are insistent, as they are on occasion. Despite these fleeting moments of urgency, the record is clearly a soundtrack to be played in the wee hours of the morning. In that sense, Midnights is a kindred spirit to Folklore and Evermore, the twin 2020 albums Swift released during the height of the COVID-19 pandemic, yet those records felt like collections of short stories where these songs – whether in their standard 13-song variation or the lengthy "3 AM Edition" which runs an additional seven tracks – all feel like confessions, even if they display the sense of exacting lyrical detail she's honed since Lover. These compositions provide a sturdy foundation on a record that wants to capture the aimless suspension of late-night insomnia, a time filled with regret, recriminations, and resignations. Swift spikes this moodiness with hints of steeliness – witness the cool swagger of "Vigilante Shit" – but that's merely an accent on an album designed to deliver variations on one specific mood. Although this monochromatic palette tends to highlight the limits of co-producer Jack Antonoff's bag of tricks – nothing here feels surprising, even when he's playing with textures and teasing out the music's dream pop elements – the narrow focus is the main attribute of Midnights, as it plays to Swift's sense of control and craft: she may be singing about messy emotions but she sculpts those tangled feelings into shimmering, resonant songs.
TRACKLIST
01. Lavender Haze
02. Maroon
03. Anti-Hero
04. Snow On The Beach
05. You're On Your Own, Kid
06. Midnight Rain
07. Question…?
08. Vigilante Shit
09. Bejeweled
10. Labyrinth
11. Karma
12. Sweet Nothing
13. Mastermind
14. The Great War
15. Bigger Than The Whole Sky
16. Paris
17. High Infidelity
18. Glitch
19. Would've, Could've, Should've
20. Dear Reader
21. Hits Different
22. Snow On The Beach (feat. More Lana Del Rey)
23. Karma
–––––––––––-
DON'T MODIFY THIS FILE
–––––––––––-
PERFORMER: auCDtect Task Manager, ver. 1.6.0 RC1 build 1.6.0.1
Copyright © 2008-2010 y-soft. All rights reserved
http://y-soft.org
ANALYZER: auCDtect: CD records authenticity detector, version 0.8.2
Copyright © 2004 Oleg Berngardt. All rights reserved.
Copyright © 2004 Alexander Djourik. All rights reserved.
FILE: 23 - Karma.flac
Size: 24281863 Hash: EC7F304D9E3B0EABE708DA9C5F2F5CAC Accuracy: -m0
Conclusion: CDDA 100%
Signature: 26850B60413F3CCFFC3CC2752156196ACDB23999
FILE: 22 - Snow On The Beach (feat. More L.flac
Size: 24490686 Hash: 7F99FCD38C1F463B3E2F865C98F0DB7C Accuracy: -m0
Conclusion: CDDA 100%
Signature: 3EB0FAC10ACF2E7D2F49E9FD596D9F6D02F78842
FILE: 21 - Hits Different.flac
Size: 28304750 Hash: 6654B31FB0D11AC818141A865E43026E Accuracy: -m0
Conclusion: CDDA 100%
Signature: 70FB8223452FBA5E64F8A58625DC9BD703ADDC7C
FILE: 20 - Dear Reader.flac
Size: 21141876 Hash: AFCEAF8742F0899D17C07D4755F56188 Accuracy: -m0
Conclusion: CDDA 100%
Signature: FD73896F9481C928094F9D8F74F029872C19592D
FILE: 19 - Would've, Could've, Should've.flac
Size: 29964888 Hash: 682C89B1DF81C41BE094E3A48E0599B4 Accuracy: -m0
Conclusion: CDDA 100%
Signature: A8DF3441DB6A2813BFEF8671E4C8DD0133CA14C9
FILE: 18 - Glitch.flac
Size: 16571656 Hash: D8B7EFC7CD81BD8E0BC79E432682FB9A Accuracy: -m0
Conclusion: CDDA 99%
Signature: 8733A4F49236A35184862CD1A1017EE082324C81
FILE: 17 - High Infidelity.flac
Size: 24558158 Hash: EF9EE005D4872217981B90C505CAB9A8 Accuracy: -m0
Conclusion: CDDA 100%
Signature: C6E6BE80FA5FB45B8BE03D713B1E6A68CFA1DB73
FILE: 16 - Paris.flac
Size: 18886829 Hash: EAED29B24DCBF69DD62FDCF828D7FC12 Accuracy: -m0
Conclusion: CDDA 100%
Signature: 108326631C50A01118FD31C4B589E1739AB7B711
FILE: 15 - Bigger Than The Whole Sky.flac
Size: 20556627 Hash: 9FBC10F45D1207EBD987500C438D3420 Accuracy: -m0
Conclusion: CDDA 100%
Signature: 03115305F18527CF3E0FEACC587346ED89E9F339
FILE: 14 - The Great War.flac
Size: 27753751 Hash: 3FDB963A77C7E8B539601977A43F5173 Accuracy: -m0
Conclusion: CDDA 100%
Signature: 8E7E3073DB3EBCA6EB1EA3FD5131E75C1D66F47C
FILE: 13 - Mastermind.flac
Size: 17999970 Hash: 0D5BCBEAE39C5015F56BFD569BC9AACA Accuracy: -m0
Conclusion: CDDA 100%
Signature: 53FFD96F26399E31D62D9B0C09BC279B3806A759
FILE: 12 - Sweet Nothing.flac
Size: 15960672 Hash: F10D7F5A6616B6C32F262B9C2AC72C22 Accuracy: -m0
Conclusion: CDDA 100%
Signature: 687D889D539B4F1CE6E01E676F0EEC3A176C8C59
FILE: 11 - Karma.flac
Size: 23613845 Hash: 37D0CA9601965BCCAE4CA488D2D79FFE Accuracy: -m0
Conclusion: CDDA 100%
Signature: 6D0AF6D7C8473368CA94E90C446E5828D5C03A5C
FILE: 10 - Labyrinth.flac
Size: 21966616 Hash: 4446364E8051FFA45ED3B812A01606F4 Accuracy: -m0
Conclusion: CDDA 100%
Signature: 2075EE736953EF08ACE48F1E1244E273715E63D1
FILE: 09 - Bejeweled.flac
Size: 21740738 Hash: 305990B9A975B750B6C0018415D10899 Accuracy: -m0
Conclusion: CDDA 100%
Signature: 6D229550A9AD5DB211B08D6865FB0BEF02F44471
FILE: 08 - Vigilante Shit.flac
Size: 15462776 Hash: C0598F42326F2D8612C4CD6FCE969322 Accuracy: -m0
Conclusion: CDDA 100%
Signature: 0B689B4213A17168BC86FFC00439A35101511106
FILE: 07 - Question…_.flac
Size: 23364529 Hash: BFECBADD81EE7ED056F92A7B101FD9F7 Accuracy: -m0
Conclusion: CDDA 100%
Signature: 246E7C687763398F0F681F75206391FEA4DB2F5E
FILE: 06 - Midnight Rain.flac
Size: 15803486 Hash: A0F20DA7F7709014EA0E46B733773330 Accuracy: -m0
Conclusion: CDDA 87%
Signature: DD3B44A93E70B6E6C393A74206C50F2932630254
FILE: 05 - You're On Your Own, Kid.flac
Size: 20258906 Hash: 6AD614E57F87944F491828D0B64DB3B8 Accuracy: -m0
Conclusion: CDDA 100%
Signature: 382B8F5179E3416AB33DEE6C27134BE9172705AD
FILE: 04 - Snow On The Beach.flac
Size: 25778623 Hash: 511275E57D4A47A65AD03937EC2193EF Accuracy: -m0
Conclusion: CDDA 100%
Signature: 9498C32DD7701445CB41CD18E728A02404DA80B8
FILE: 03 - Anti-Hero.flac
Size: 22713359 Hash: BFA9FCC2381D6C529EA7C8DBCEC83A5D Accuracy: -m0
Conclusion: CDDA 100%
Signature: 887F5BD7A22D95CB55F35308F1C216C5F6A60D36
FILE: 02 - Maroon.flac
Size: 23566842 Hash: C558C89969D133AF13D6390772D967AC Accuracy: -m0
Conclusion: CDDA 100%
Signature: 5530A471AFFAACC91323657094EFC5E4AF4D14FD
FILE: 01 - Lavender Haze.flac
Size: 20823034 Hash: EEED57D8F3B70A7B4FBA643C88154D57 Accuracy: -m0
Conclusion: CDDA 100%
Signature: 0398D048C891EB19A227524CCE874635FEF096D3