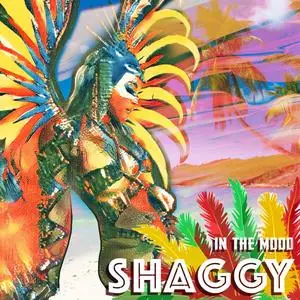 Shaggy - In The Mood (2023)
WEB FLAC (tracks) - 170 MB | MP3 CBR 320 kbps - 53 MB
22:13 | Reggae, Dancehall, Hip Hop | Label: VP Records
GRAMMY-award-winning artiste, producer, and songwriter Shaggy's soca-inspired EP In the Mood is set to be released on May 12. The seven-track project kicks off a new partnership with Shaggy's label, Ranch Entertainment, and VP Records. For In the Mood, Shaggy drew inspiration from the vibrancy of Caribbean Carnival celebrations and blended the fast-paced exuberance of Trinidad and Tobago's soca music with modern dancehall and EDM. Led by the revelrous singles "Mood" featuring Trinidadian star Kes and "Don't Run" with Vincentian singer Skinny Fabulous, the project is set to fuel parties and parades from Port of Spain to Notting Hill.
In anticipation of the EP's release, Shaggy has today unveiled a music video for "Mood," directed by Maya Cozier. It features Shaggy and Kes playing fun-seeking mechanics, people feteing in the streets, and the two artists performing at Kes's IzWe Festival in Trinidad.
In the Mood finds Shaggy enlisting talent from across the Caribbean and its diaspora to add to the magic; fellow Jamaicans Konshens, Future Fambo, and Noah Powa offer some dancehall edge, while Trinidadian sensations Bunji Garlin, Kes, and Patrice Roberts, as well as Skinny Fabulous, help drive the project into pure soca splendor.
Though Trinidad & Tobago Carnival has ended, Shaggy, managed by Martin Kierszenbaum/Cherrytree Music Company, envisions his latest project will keep the party going year-round: "From the start, I wanted to capture the Carnival experience in these seven songs, and while soca has historically been more seasonal, In the Mood won't be limited to any one season. Its hybrid sound can be played anywhere and anytime people want to enjoy themselves."
In the Mood will be available on all streaming platforms on May 12 via Ranch Entertainment /VP Records.
Tracklist
01. Mood (feat. Kes)
02. Buddy Bye (feat. Konshens & Noah Powa)
03. Whine & Jumping (feat. Patrice Roberts)
04. I Love Her
05. Don't Run (feat. Skinny Fabulous)
06. Liquor Buss (feat. Noah Powa & Future Fambo)
07. Well Talented (feat. Bunji Garlin)
–––––––––––-
DON'T MODIFY THIS FILE
–––––––––––-
PERFORMER: auCDtect Task Manager, ver. 1.6.0 RC1 build 1.6.0.1
Copyright © 2008-2010 y-soft. All rights reserved
http://y-soft.org
ANALYZER: auCDtect: CD records authenticity detector, version 0.8.2
Copyright © 2004 Oleg Berngardt. All rights reserved.
Copyright © 2004 Alexander Djourik. All rights reserved.
FILE: 07 - Well Talented (feat. Bunji Garlin).flac
Size: 27734437 Hash: 3D2A0DDED7817E5FBB39EC3E5BB55174 Accuracy: -m40
Conclusion: CDDA 92%
Signature: 83ED63F13C9A0872D7ED198886D8549799A48ED4
FILE: 06 - Liquor Buss (feat. Noah Powa & Future Fambo).flac
Size: 28378780 Hash: 22C03F1424107DBCD86D2EE8D96BD199 Accuracy: -m40
Conclusion: CDDA 86%
Signature: 9A8D4BC1DC94CD673135E4A24ADB48813CC0269D
FILE: 05 - Don't Run (feat. Skinny Fabulous).flac
Size: 25122858 Hash: 9539A0AB65C6DF7A1AF72B7ED61DB4F2 Accuracy: -m40
Conclusion: MPEG 95%
Signature: 689313B06732A219F9F1957873F9B3CE07962324
FILE: 04 - I Love Her.flac
Size: 26748174 Hash: 73E17B4B959F5F0A0045B8AD3C850610 Accuracy: -m40
Conclusion: CDDA 100%
Signature: 470F0A43EF98E3CA3A0F0A3F6AAEE6315B1EF3FF
FILE: 03 - Whine & Jumping (feat. Patrice Roberts).flac
Size: 18885330 Hash: 74DDB42903F0A9FF06F654E01288B8FE Accuracy: -m40
Conclusion: CDDA 100%
Signature: E36F641DC6C66AB97AA9A69E6BFEAF8B3E8D04E7
FILE: 02 - Buddy Bye (feat. Konshens & Noah Powa).flac
Size: 22627920 Hash: 67B3825E2AD9CE0C69B698B2D2EA869A Accuracy: -m40
Conclusion: CDDA 100%
Signature: C5469738DD2F00A9ADDEEC0418786F0C6BCD27D9
FILE: 01 - Mood (feat. Kes).flac
Size: 28414615 Hash: 0FE5F61EDEEF10ACCC11777868E78B82 Accuracy: -m40
Conclusion: CDDA 76%
Signature: AF05C5D02030C27BBD88F93F51BD432D736BEFEB