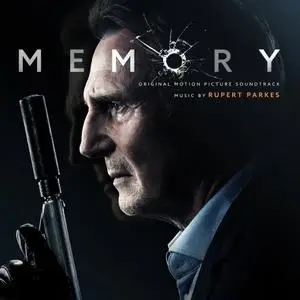 Rupert Parkes - Memory (2022)
FLAC (tracks), Lossless / MP3 320 kbps | 45:00 | 103 / 188 Mb
Genre: Soundtrack / Label: Music.Film
Memory is a 2022 American action thriller film directed by Martin Campbell from a screenplay by Dario Scardapane. It is based on the novel De Zaak Alzheimer by Jef Geeraerts and is a remake of the novel's previous adaptation, the Belgian film The Alzheimer Case.
Rupert Parkes (born 6 September 1971), known as Photek, is a Los Angeles–based, British record producer, film and TV composer, and electronic music DJ.
Photek has contributed music to several film, TV and video game productions, such as Blade in 1998. He also scored Gang Related with director Allen Hughes.
He received three consecutive Grammy Award nominations in the category of Best Remixed Recording, Non-Classical for Daft Punk's "End of Line" from the Tron: Legacy movie soundtrack in 2012, Moby's "Lie Down In Darkness" in 2013 and Bob Marley's "One Love/People Get Ready" in 2014.
Photek composed the TV score for the show How to Get Away with Murder.
Track List:
1.01 - Rupert Parkes - Guadalajara (1:08)
1.02 - Rupert Parkes - Hola Mamita (1:02)
1.03 - Rupert Parkes - You Are Nervous (0:27)
1.04 - Rupert Parkes - You Will See (1:34)
1.05 - Rupert Parkes - Sting Operation (1:06)
1.06 - Rupert Parkes - We'll Talk In The Morning (0:49)
1.07 - Rupert Parkes - Return To El Paso (0:57)
1.08 - Rupert Parkes - Alex Takes His Meds (0:35)
1.09 - Rupert Parkes - Van Camp Target Package (0:42)
1.10 - Rupert Parkes - You Know Why I'm Here (2:16)
1.11 - Rupert Parkes - I Know How It Started (0:47)
1.12 - Rupert Parkes - Alex Follows Vincent (1:01)
1.13 - Rupert Parkes - Alex Goes To Kill Beatriz (1:26)
1.14 - Rupert Parkes - Vincent Transition (0:35)
1.15 - Rupert Parkes - Hugo Tells His Story (1:13)
1.16 - Rupert Parkes - Vincent Sees Beatriz Dead (0:38)
1.17 - Rupert Parkes - Car Park Shootout (3:29)
1.18 - Rupert Parkes - Recorded Phone Calls (1:59)
1.19 - Rupert Parkes - Alex Checks The Files (0:49)
1.20 - Rupert Parkes - Tap & Trace (1:58)
1.21 - Rupert Parkes - Target's On The Boat (3:15)
1.22 - Rupert Parkes - Put The Gun Down (1:31)
1.23 - Rupert Parkes - Wounded (2:00)
1.24 - Rupert Parkes - Hugo Checks Out The Bakery (1:23)
1.25 - Rupert Parkes - Pigeons (1:18)
1.26 - Rupert Parkes - Office Shootout (2:48)
1.27 - Rupert Parkes - Flash Drives (1:37)
1.28 - Rupert Parkes - I Can't Remember (1:03)
1.29 - Rupert Parkes - No Alcohol Swab? (4:26)
1.30 - Rupert Parkes - Alex Is Dead (0:30)
1.31 - Rupert Parkes - Vincent Finds The Flashdrive (0:50)