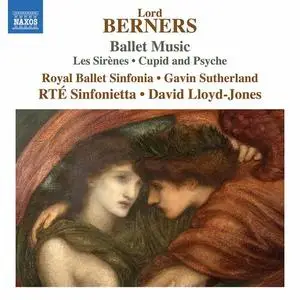 RTE Sinfonietta, David Lloyd-Jones - Lord Berners: Ballet Music - Les sirènes & Cupid and Psyche Suite (2022)
FLAC (tracks), Lossless | 1:00:43 | 264 Mb
Genre: Classical / Label: Naxos
Lord Berners excelled in the ballet medium where he enjoyed collaborations with leading choreographers and conductors with whom his natural flair for spectacle and design could be explored to the full. In 1946 he wrote Les Sirènes, set on a French beach in 1904 with an exotic cast – the music is atmospheric, graceful and full of allusions to other composers. Cupid and Psyche was not a critical success but its music transcended weaknesses in the scenario and the suite is both orchestrally deft and thematically memorable.
Track List:
01. Fanfare
02. Les sirènes: Prelude
03. Les sirènes: Opening Scene
04. Les sirènes: Entry of Fashionable Folk. Tempo di valse
05. Les sirènes: Mazurka
06. Les sirènes: Farruca
07. Les sirènes: Allegro agitato
08. Les sirènes: Habanera
09. Les sirènes: Pas de deux
10. Les sirènes: Scene
11. Les sirènes: Dénouement
12. Cupid and Psyche Suite: I. Overture
13. Cupid and Psyche Suite: II. Psyche
14. Cupid and Psyche Suite: III. Pas de deux
15. Cupid and Psyche Suite: IV. Entracte
16. Cupid and Psyche Suite: V. Les Zéphyrs
17. Cupid and Psyche Suite: VI. Act III Prelude
18. Cupid and Psyche Suite: VII. Valse lente - Final Dance
ANALYZER: auCDtect: CD records authenticity detector, version 0.8.2
Copyright © 2004 Oleg Berngardt. All rights reserved.
Copyright © 2004 Alexander Djourik. All rights reserved.


FILE: 01 - Fanfare.flac
Size: 2623351 Hash: 2F4F98ECC2FB72991287EB08B5574A56 Accuracy: -m40
Conclusion: CDDA 99%
Signature: 7DEFEA3C07EA33BB110EEE71A4298B723ED6A086
FILE: 02 - Les sirènes_ Prelude.flac
Size: 8333783 Hash: 7785081DD9C363C3E38C68561DA5DFD4 Accuracy: -m40
Conclusion: CDDA 100%
Signature: 3F33674DF0B82976D9DDB533C1B51C3699B53F3C
FILE: 03 - Les sirènes_ Opening Scene.flac
Size: 15048086 Hash: 0E862E5617F2549CEC7838B72CB03121 Accuracy: -m40
Conclusion: CDDA 100%
Signature: 432FCD3899395410FEDCA0202962FCB72129512D
FILE: 04 - Les sirènes_ Entry of Fashionable Folk. Tempo di valse.flac
Size: 7482670 Hash: EF766615A4680713D1E7363B0CFC3472 Accuracy: -m40
Conclusion: CDDA 100%
Signature: 0DA85666BF06D9AB301F5FACB55AFBAE08D6A731
FILE: 05 - Les sirènes_ Mazurka.flac
Size: 15557293 Hash: 51280FBB72986F6398D9A14CCBDD3EC6 Accuracy: -m40
Conclusion: CDDA 100%
Signature: 0A2AE6BD037061E7AD708958B463802AEF66B958
FILE: 06 - Les sirènes_ Farruca.flac
Size: 10009904 Hash: 8F4D26261DA9659B16880C2B5D3F0B12 Accuracy: -m40
Conclusion: CDDA 99%
Signature: 5DBF7232833D4444859BFC6D90A77BCC3EB477E3
FILE: 07 - Les sirènes_ Allegro agitato.flac
Size: 18202642 Hash: 61ED48401B746F694A5C77A07DCDE26A Accuracy: -m40
Conclusion: CDDA 100%
Signature: C28A7836B5495828CE4EDDB1E0FE606C990A86BA
FILE: 08 - Les sirènes_ Habanera.flac
Size: 22024773 Hash: 828D132B569DAAB04BE6EEDFF8A0136D Accuracy: -m40
Conclusion: CDDA 100%
Signature: CDD2BB8E2BF8372F78FE5832BEC2D9DA1BE79E5E
FILE: 09 - Les sirènes_ Pas de deux.flac
Size: 18726484 Hash: 7D585077BA98DCF91CD6CCF96B5EABBB Accuracy: -m40
Conclusion: CDDA 99%
Signature: F5DEE2A371EC3619C96EBB5D931C6314C592091B
FILE: 10 - Les sirènes_ Scene.flac
Size: 30036574 Hash: 0530E2891224793A4AAC94D35FCEC49E Accuracy: -m40
Conclusion: CDDA 100%
Signature: FC06B6B78F112347F76E68C6D77E23D9D0E1EF46
FILE: 11 - Les sirènes_ Dénouement.flac
Size: 15746142 Hash: 8EDF5753E83CFB115BDDB8B7F847972A Accuracy: -m40
Conclusion: CDDA 100%
Signature: 828A04435F728C369F5E65146422BBBACBC52EC7
FILE: 12 - Cupid and Psyche Suite_ I. Overture.flac
Size: 13573006 Hash: 3473F184D50D6A1103BF5F886F554D52 Accuracy: -m40
Conclusion: CDDA 100%
Signature: 2488972F50310522356D2FEECFB0994BF8E7AE48
FILE: 13 - Cupid and Psyche Suite_ II. Psyche.flac
Size: 6400889 Hash: 2B230AB3E277A7045BF2EB9F38646EAE Accuracy: -m40
Conclusion: CDDA 99%
Signature: ECD3F8CADD726B9624266696D4086EFB15CE6F7D
FILE: 14 - Cupid and Psyche Suite_ III. Pas de deux.flac
Size: 21073825 Hash: ACA9A5B19FB4BE6D5FC505187F265632 Accuracy: -m40
Conclusion: CDDA 99%
Signature: 6F05EC121E265591BA4E0FF1184B7E3CAF1E0ED0
FILE: 15 - Cupid and Psyche Suite_ IV. Entracte.flac
Size: 9989569 Hash: BB51D8667F6A6DB67FCD5648758085F6 Accuracy: -m40
Conclusion: CDDA 86%
Signature: 162CD0660827D189937AFE47A62A4673A29B826C
FILE: 16 - Cupid and Psyche Suite_ V. Les Zéphyrs.flac
Size: 23416060 Hash: 37C9A334AED40D0394AD11DDA31BDC82 Accuracy: -m40
Conclusion: CDDA 86%
Signature: 2B47F2D3434EAE1A6140C7A0D57D10EE26F8D90D
FILE: 17 - Cupid and Psyche Suite_ VI. Act III Prelude.flac
Size: 9735859 Hash: FA5BA38C11DD6AFA0A5FB5128061720D Accuracy: -m40
Conclusion: CDDA 100%
Signature: 74FAF9358047777CD4DD279EE134715601B559F1
FILE: 18 - Cupid and Psyche Suite_ VII. Valse lente - Final Dance.flac
Size: 29333544 Hash: E6FA134A1A9E6ABCBF1F713778473EC9 Accuracy: -m40
Conclusion: CDDA 100%
Signature: 1ACC3A1111B6AA3A2D172F4ED5430533C21852CF