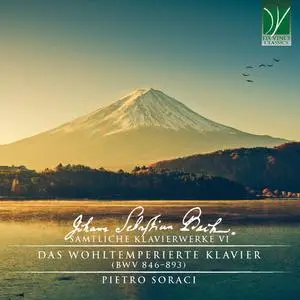 Pietro Soraci - Sämtliche Klavierwerke VI - Johann Sebastian Bach: Das Wohltemperierte Klavier (BWV 846-893) (2022)
FLAC (tracks), Lossless | 3:48:57 | 762 Mb
Genre: Classical / Label: Da Vinci Classics
The Italian pianist, Pietro Soraci, showed his extraordinary natural talent in playing the piano since he was 3 years old, gaining the interest of the national press and televisions. He performed first when he was 11, with the Orchestra of Bellini Opera Theater. He graduated - followed by Emilia Miozzi - with the highest score, cum laude, and honored with a special award of appreciation. After experiencing different approaches to the piano music and techniques through the contact with some of the major teachers like Elisabeth Leonskaja (Salzburg, Austria), Massimo Bertucci and Vincenzo Vitale (Sermoneta, Italy), Andrej Jasinski (Katovice Music Accademy), he was awarded of several prizes in national and international piano competitions and in particular he was recognized as the best Italian pianist by the International Piano Competition Frederic Chopin in Varsaw (Poland) in 1985.
Track List:
CD1
01. Prelude and Fugue No. 1 in C Major, BWV 846: I. Prelude
02. Prelude and Fugue No. 1 in C Major, BWV 846: II. Fugue
03. Prelude and Fugue No. 2 in C Minor, BWV 847: I. Prelude
04. Prelude and Fugue No. 2 in C Minor, BWV 847: II. Fugue
05. Prelude and Fugue No. 3 in C-Sharp Major, BWV 848: I. Prelude
06. Prelude and Fugue No. 3 in C-Sharp Major, BWV 848: II. Fugue
07. Prelude and Fugue No. 4 in C-Sharp Minor, BWV 849: I. Prelude
08. Prelude and Fugue No. 4 in C-Sharp Minor, BWV 849: II. Fugue
09. Prelude and Fugue No. 5 in D Major, BWV 850: I. Prelude
10. Prelude and Fugue No. 5 in D Major, BWV 850: II. Fugue
11. Prelude and Fugue No. 6 in D Minor, BWV 851: I. Prelude
12. Prelude and Fugue No. 6 in D Minor, BWV 851: II. Fugue
13. Prelude and Fugue No. 7 in E-Flat Major, BWV 852: I. Prelude
14. Prelude and Fugue No. 7 in E-Flat Major, BWV 852: II. Fugue
15. Prelude and Fugue No. 8 in E-Flat Minor, BWV 853: I. Prelude
16. Prelude and Fugue No. 8 in E-Flat Minor, BWV 853: II. Fugue
17. Prelude and Fugue No. 9 in E Major, BWV 854: I. Prelude
18. Prelude and Fugue No. 9 in E Major, BWV 854: II. Fugue
19. Prelude and Fugue No. 10 in E Minor, BWV 855: I. Prelude
20. Prelude and Fugue No. 10 in E Minor, BWV 855: II. Fugue
21. Prelude and Fugue No. 11 in F Major, BWV 856: I. Prelude
22. Prelude and Fugue No. 11 in F Major, BWV 856: II. Fugue
23. Prelude and Fugue No. 12 in F Minor, BWV 857: I. Prelude
24. Prelude and Fugue No. 12 in F Minor, BWV 857: II. Fugue
CD2
01. Prelude and Fugue No. 13 in F-Sharp Major, BWV 858: I. Prelude
02. Prelude and Fugue No. 13 in F-Sharp Major, BWV 858: II. Fugue
03. Prelude and Fugue No. 14 in F-Sharp Minor, BWV 859: I. Prelude
04. Prelude and Fugue No. 14 in F-Sharp Minor, BWV 859: II. Fugue
05. Prelude and Fugue No. 15 in G Major, BWV 860: I. Prelude
06. Prelude and Fugue No. 15 in G Major, BWV 860: II. Fugue
07. Prelude and Fugue No. 16 in G Minor, BWV 861: I. Prelude
08. Prelude and Fugue No. 16 in G Minor, BWV 861: II. Fugue
09. Prelude and Fugue No. 17 in A-Flat Major, BWV 862: I. Prelude
10. Prelude and Fugue No. 17 in A-Flat Major, BWV 862: II. Fugue
11. Prelude and Fugue No. 18 in G-Sharp Minor, BWV 863: I. Prelude
12. Prelude and Fugue No. 18 in G-Sharp Minor, BWV 863: II. Fugue
13. Prelude and Fugue No. 19 in A Major, BWV 864: I. Prelude
14. Prelude and Fugue No. 19 in A Major, BWV 864: II. Fugue
15. Prelude and Fugue No. 20 in A Minor, BWV 865: I. Prelude
16. Prelude and Fugue No. 20 in A Minor, BWV 865: II. Fugue
17. Prelude and Fugue No. 21 in B-Flat Major, BWV 866: I. Prelude
18. Prelude and Fugue No. 21 in B-Flat Major, BWV 866: II. Fugue
19. Prelude and Fugue No. 22 in B-Flat Minor, BWV 867: I. Prelude
20. Prelude and Fugue No. 22 in B-Flat Minor, BWV 867: II. Fugue
21. Prelude and Fugue No. 23 in B Major, BWV 868: I. Prelude
22. Prelude and Fugue No. 23 in B Major, BWV 868: II. Fugue
23. Prelude and Fugue No. 24 in B Minor, BWV 869: I. Prelude
24. Prelude and Fugue No. 24 in B Minor, BWV 869: II. Fugue
CD3
01. Prelude and Fugue No. 1 in C Major, BWV 870: I. Prelude
02. Prelude and Fugue No. 1 in C Major, BWV 870: II. Fugue
03. Prelude and Fugue No. 2 in C Minor, BWV 871: I. Prelude
04. Prelude and Fugue No. 2 in C Minor, BWV 871: II. Fugue
05. Prelude and Fugue No. 3 in C-Sharp Major, BWV 872: I. Prelude
06. Prelude and Fugue No. 3 in C-Sharp Major, BWV 872: II. Fugue
07. Prelude and Fugue No. 4 in C-Sharp Minor, BWV 873: I. Prelude
08. Prelude and Fugue No. 4 in C-Sharp Minor, BWV 873: II. Fugue
09. Prelude and Fugue No. 5 in D Major, BWV 874: I. Prelude
10. Prelude and Fugue No. 5 in D Major, BWV 874: II. Fugue
11. Prelude and Fugue No. 6 in D Minor, BWV 875: I. Prelude
12. Prelude and Fugue No. 6 in D Minor, BWV 875: II. Fugue
13. Prelude and Fugue No. 7 in E-Flat Major, BWV 876: I. Prelude
14. Prelude and Fugue No. 7 in E-Flat Major, BWV 876: II. Fugue
15. Prelude and Fugue No. 8 in D-Sharp Minor, BWV 877: I. Prelude
16. Prelude and Fugue No. 8 in D-Sharp Minor, BWV 877: II. Fugue
17. Prelude and Fugue No. 9 in E Major, BWV 878: I. Prelude
18. Prelude and Fugue No. 9 in E Major, BWV 878: II. Fugue
19. Prelude and Fugue No. 10 in E Minor, BWV 879: I. Prelude
20. Prelude and Fugue No. 10 in E Minor, BWV 879: II. Fugue
21. Prelude and Fugue No. 11 in F Major, BWV 880: I. Prelude
22. Prelude and Fugue No. 11 in F Major, BWV 880: II. Fugue
23. Prelude and Fugue No. 12 in F Minor, BWV 881: I. Prelude
24. Prelude and Fugue No. 12 in F Minor, BWV 881: II. Fugue
CD4
01. Prelude and Fugue No. 13 in F-Sharp Major, BWV 882: I. Prelude
02. Prelude and Fugue No. 13 in F-Sharp Major, BWV 882: II. Fugue
03. Prelude and Fugue No. 14 in F-Sharp Minor, BWV 883: I. Prelude
04. Prelude and Fugue No. 14 in F-Sharp Minor, BWV 883: II. Fugue
05. Prelude and Fugue No. 15 in G Major, BWV 884: I. Prelude
06. Prelude and Fugue No. 15 in G Major, BWV 884: II. Fugue
07. Prelude and Fugue No. 16 in G Minor, BWV 885: I. Prelude
08. Prelude and Fugue No. 16 in G Minor, BWV 885: II. Fugue
09. Prelude and Fugue No. 17 in A-Flat Major, BWV 886: I. Prelude
10. Prelude and Fugue No. 17 in A-Flat Major, BWV 886: II. Fugue
11. Prelude and Fugue No. 18 in G-Sharp Minor, BWV 887: I. Prelude
12. Prelude and Fugue No. 18 in G-Sharp Minor, BWV 887: II. Fugue
13. Prelude and Fugue No. 19 in A Major, BWV 888: I. Prelude
14. Prelude and Fugue No. 19 in A Major, BWV 888: II. Fugue
15. Prelude and Fugue No. 20 in A Minor, BWV 889: I. Prelude
16. Prelude and Fugue No. 20 in A Minor, BWV 889: II. Fugue
17. Prelude and Fugue No. 21 in B-Flat Major, BWV 890: I. Prelude
18. Prelude and Fugue No. 21 in B-Flat Major, BWV 890: II. Fugue
19. Prelude and Fugue No. 22 in B-Flat Minor, BWV 891: I. Prelude
20. Prelude and Fugue No. 22 in B-Flat Minor, BWV 891: II. Fugue
21. Prelude and Fugue No. 23 in B Major, BWV 892: I. Prelude
22. Prelude and Fugue No. 23 in B Major, BWV 892: II. Fugue
23. Prelude and Fugue No. 24 in B Minor, BWV 893: I. Prelude
24. Prelude and Fugue No. 24 in B Minor, BWV 893: II. Fugue
ANALYZER: auCDtect: CD records authenticity detector, version 0.8.2
Copyright © 2004 Oleg Berngardt. All rights reserved.
Copyright © 2004 Alexander Djourik. All rights reserved.


FILE: 01 - Prelude and Fugue No. 13 in F-Sharp Major, BWV 858_ I. Prelude.flac
Size: 4831237 Hash: 87608F82FF1A2238EED3040119C73BC3 Accuracy: -m40
Conclusion: CDDA 100%
Signature: 79A2295A013700DE3948488C5F8F761C6576E980
FILE: 02 - Prelude and Fugue No. 13 in F-Sharp Major, BWV 858_ II. Fugue.flac
Size: 7155479 Hash: 55C874ED56CB801A8074D165876DCC36 Accuracy: -m40
Conclusion: CDDA 43%
Signature: D31673B2AFBE786BAA8A879EBB99D219A89A7A2D
FILE: 03 - Prelude and Fugue No. 14 in F-Sharp Minor, BWV 859_ I. Prelude.flac
Size: 3735471 Hash: 51501D9D1A6226274A7F964370DFCEAA Accuracy: -m40
Conclusion: MPEG 100%
Signature: 3172001926E78684AF5EB19EF8038EBD15522B03
FILE: 04 - Prelude and Fugue No. 14 in F-Sharp Minor, BWV 859_ II. Fugue.flac
Size: 8900024 Hash: 9159B398B96BE38F9E8AB98F0EFADD13 Accuracy: -m40
Conclusion: CDDA 86%
Signature: B7861C362E445202F231607A8B409567C3540825
FILE: 05 - Prelude and Fugue No. 15 in G Major, BWV 860_ I. Prelude.flac
Size: 3294297 Hash: 2B8AA3B2A804EDCFD8872F59A7D5E1EC Accuracy: -m40
Conclusion: MPEG 92%
Signature: 922AFD71D8FA8B15EB2CD54FCCD3A49C1FE462DE
FILE: 06 - Prelude and Fugue No. 15 in G Major, BWV 860_ II. Fugue.flac
Size: 10061227 Hash: A468E8028F57762339A22F121A2C6DF5 Accuracy: -m40
Conclusion: CDDA 94%
Signature: 5A9EA3E765FC1ECEE2CA8454F6FEE27F38007E54
FILE: 07 - Prelude and Fugue No. 16 in G Minor, BWV 861_ I. Prelude.flac
Size: 5673035 Hash: 2B91D25F30783D200C88A1E688A612A3 Accuracy: -m40
Conclusion: CDDA 100%
Signature: A006822289DFD63D5CB6289D388123D4F53347A3
FILE: 08 - Prelude and Fugue No. 16 in G Minor, BWV 861_ II. Fugue.flac
Size: 7806177 Hash: 73495B78B4A3C7FDE1242F5A6D13F2FE Accuracy: -m40
Conclusion: CDDA 49%
Signature: CD206BCFAD1377BE121DCF07747C1B59628BCE73
FILE: 09 - Prelude and Fugue No. 17 in A-Flat Major, BWV 862_ I. Prelude.flac
Size: 4236106 Hash: 0EBA756ADA8CA04B2AB53D91947DD6EB Accuracy: -m40
Conclusion: MPEG 91%
Signature: 9663C89F8661CB810865D5ED3C85A23144EAF53D
FILE: 10 - Prelude and Fugue No. 17 in A-Flat Major, BWV 862_ II. Fugue.flac
Size: 7750917 Hash: 8871EB811C622900BEDC40488F8184CC Accuracy: -m40
Conclusion: CDDA 100%
Signature: 640DDE620F0DDE6836085E30ACEB4F8943850E05
FILE: 11 - Prelude and Fugue No. 18 in G-Sharp Minor, BWV 863_ I. Prelude.flac
Size: 5178656 Hash: 7D6305DACA3C6D72D160687AE55454C3 Accuracy: -m40
Conclusion: MPEG 97%
Signature: DBA59730A3E172A4A219FF8C3C8CFE3C5C6F3560
FILE: 12 - Prelude and Fugue No. 18 in G-Sharp Minor, BWV 863_ II. Fugue.flac
Size: 8691995 Hash: A59217A30313E239310AA0871793DABE Accuracy: -m40
Conclusion: CDDA 42%
Signature: E1A384BAEB8F9F763E33D5879F8068FD8B9A78F0
FILE: 13 - Prelude and Fugue No. 19 in A Major, BWV 864_ I. Prelude.flac
Size: 4005843 Hash: 0FFB2A3483DE252CB02DB26E5AFE59A0 Accuracy: -m40
Conclusion: MPEG 100%
Signature: 144261E4284300D3771DA2369A5CF356B27ABD86
FILE: 14 - Prelude and Fugue No. 19 in A Major, BWV 864_ II. Fugue.flac
Size: 8410399 Hash: 57807DEDC86BA414682B90CBA9AA65F8 Accuracy: -m40
Conclusion: MPEG 100%
Signature: 7BDE0AD2A2E5E5AC1C2BC5A696693F2892D92031
FILE: 15 - Prelude and Fugue No. 20 in A Minor, BWV 865_ I. Prelude.flac
Size: 3721812 Hash: C6C1D8FDCD4F0AB0798035270C012A6C Accuracy: -m40
Conclusion: CDDA 49%
Signature: 242D966138E57359AADCF920884E7EC72424C027
FILE: 16 - Prelude and Fugue No. 20 in A Minor, BWV 865_ II. Fugue.flac
Size: 15116746 Hash: 6E9F08C803B51D736E9DE00BC549DE13 Accuracy: -m40
Conclusion: CDDA 100%
Signature: 1DC8B7E7380ABB111AF1E2DC80E84C13FDBCC913
FILE: 17 - Prelude and Fugue No. 21 in B-Flat Major, BWV 866_ I. Prelude.flac
Size: 4481879 Hash: 03F7289468B31E7579527A2008575A4E Accuracy: -m40
Conclusion: CDDA 100%
Signature: 8C0954D6D3D62D444ED5FEDC57FFE2593AA6BFD5
FILE: 18 - Prelude and Fugue No. 21 in B-Flat Major, BWV 866_ II. Fugue.flac
Size: 6391601 Hash: 1728C49BDC59B89F3EF418823A834A95 Accuracy: -m40
Conclusion: CDDA 43%
Signature: 700C7970E423C786E2C74AEA608BACE7428F2DB2
FILE: 19 - Prelude and Fugue No. 22 in B-Flat Minor, BWV 867_ I. Prelude.flac
Size: 7878300 Hash: 61B33FD33E148BB9FC2C9E6340311F15 Accuracy: -m40
Conclusion: MPEG 89%
Signature: CA93816C5BBDF8A7BDAC6C9B050791AC5FA728E1
FILE: 20 - Prelude and Fugue No. 22 in B-Flat Minor, BWV 867_ II. Fugue.flac
Size: 10648421 Hash: 97711882D69CD5CED5740D7830F8DE3F Accuracy: -m40
Conclusion: MPEG 90%
Signature: EED3DC2D54DA3B4EC98EBE64F055BFE1DFC999A8
FILE: 21 - Prelude and Fugue No. 23 in B Major, BWV 868_ I. Prelude.flac
Size: 3816888 Hash: A11DB425C268A8CB0469189075AC92B5 Accuracy: -m40
Conclusion: CDDA 100%
Signature: 8B0373F0C93873BA591D64B1B440C99BCEE243DA
FILE: 22 - Prelude and Fugue No. 23 in B Major, BWV 868_ II. Fugue.flac
Size: 7536808 Hash: D857CD864AF6CF6FA706E168A2E21551 Accuracy: -m40
Conclusion: MPEG 80%
Signature: 0F70EAEE82ABA54EFAF0B3FA6F2EADADF6A557C9
FILE: 23 - Prelude and Fugue No. 24 in B Minor, BWV 869_ I. Prelude.flac
Size: 14689762 Hash: 81386218D10F2535D05B2467EED98369 Accuracy: -m40
Conclusion: CDDA 100%
Signature: 47E1B0543D391C4639C3676C5163BAED035A799A
FILE: 24 - Prelude and Fugue No. 24 in B Minor, BWV 869_ II. Fugue.flac
Size: 19611747 Hash: 39C72EA3948704C5913AB36CFF7ABFCB Accuracy: -m40
Conclusion: CDDA 49%
Signature: 722C1ACA67196E6DE3D175B900FC58BD87878D15
FILE: 01 - Prelude and Fugue No. 1 in C Major, BWV 870_ I. Prelude.flac
Size: 8020187 Hash: DAEDFDE6920BC22617280C61CAD7AE8D Accuracy: -m40
Conclusion: MPEG 100%
Signature: 6942F87366F104ECB3840398D6137D95F8EC249B
FILE: 02 - Prelude and Fugue No. 1 in C Major, BWV 870_ II. Fugue.flac
Size: 6277813 Hash: 1D5B25E78C5B453B073BE759A6B870D0 Accuracy: -m40
Conclusion: MPEG 100%
Signature: 35A333ED1C4DB6969B1AA8B9706C99D6E740BF33
FILE: 03 - Prelude and Fugue No. 2 in C Minor, BWV 871_ I. Prelude.flac
Size: 7743739 Hash: 875B5714B133AC158A4954FAEA28DB8C Accuracy: -m40
Conclusion: CDDA 100%
Signature: 6B07AD9727585086B97E95DE3DBB6FD356361336
FILE: 04 - Prelude and Fugue No. 2 in C Minor, BWV 871_ II. Fugue.flac
Size: 7128985 Hash: FF7BC8B41DD78ECF702A611C33A930ED Accuracy: -m40
Conclusion: MPEG 90%
Signature: 87FC3E9CB069EBA3C3AAED4876A6C5BE2ED1C054
FILE: 05 - Prelude and Fugue No. 3 in C-Sharp Major, BWV 872_ I. Prelude.flac
Size: 5538724 Hash: 97DFEB69310AF9CDC7FDC760C28D89A9 Accuracy: -m40
Conclusion: MPEG 90%
Signature: 70CE2336EC2C057726CF697A56585108FFA2B00B
FILE: 06 - Prelude and Fugue No. 3 in C-Sharp Major, BWV 872_ II. Fugue.flac
Size: 7145211 Hash: E07F52A34BE341F7B39EC87013F3F5A1 Accuracy: -m40
Conclusion: MPEG 100%
Signature: 5144202A77F37961D783E75FA589D696E9A5D28E
FILE: 07 - Prelude and Fugue No. 4 in C-Sharp Minor, BWV 873_ I. Prelude.flac
Size: 10761957 Hash: 964482502CDF88FC36CA94671937616A Accuracy: -m40
Conclusion: CDDA 58%
Signature: 4D06D677A957C7732BBA0B73B943013632750EE2
FILE: 08 - Prelude and Fugue No. 4 in C-Sharp Minor, BWV 873_ II. Fugue.flac
Size: 8466217 Hash: CBB45D79C2F4A11D48DB76F4168FB383 Accuracy: -m40
Conclusion: CDDA 99%
Signature: DA032037D9390ED2B24937D3A3A428AAE03B385E
FILE: 09 - Prelude and Fugue No. 5 in D Major, BWV 874_ I. Prelude.flac
Size: 19811050 Hash: F53621CC96E7B878E4C025C5AA3ECBF0 Accuracy: -m40
Conclusion: CDDA 86%
Signature: 092C1E7CF4B534D6EBB4BB43B3AC049C9ECDB9B0
FILE: 10 - Prelude and Fugue No. 5 in D Major, BWV 874_ II. Fugue.flac
Size: 8069498 Hash: 1FE73D53812550EDE48D40B50CC1106B Accuracy: -m40
Conclusion: MPEG 100%
Signature: D49D74FE8378F1617A0A591388967F3BB0694A04
FILE: 11 - Prelude and Fugue No. 6 in D Minor, BWV 875_ I. Prelude.flac
Size: 5461145 Hash: C450506120C9DF27BF1168177EEB2866 Accuracy: -m40
Conclusion: MPEG 100%
Signature: E03A5516ECD0DCC2A151F705292A71D79D8A7C53
FILE: 12 - Prelude and Fugue No. 6 in D Minor, BWV 875_ II. Fugue.flac
Size: 6351583 Hash: ED903AFE3C398B3DEC2B80BB074705CE Accuracy: -m40
Conclusion: MPEG 100%
Signature: 64987EB75649D6F7EA218B5F9B2CB0E44121C253
FILE: 13 - Prelude and Fugue No. 7 in E-Flat Major, BWV 876_ I. Prelude.flac
Size: 8551740 Hash: 498BEF3B3D0CDE4ACF213DAE81183ED5 Accuracy: -m40
Conclusion: CDDA 94%
Signature: 34645EF06CF709EF27FDBF47CD10039BB3CEC009
FILE: 14 - Prelude and Fugue No. 7 in E-Flat Major, BWV 876_ II. Fugue.flac
Size: 6658217 Hash: 05734FEE2FCA5164C0E54DD9093357DF Accuracy: -m40
Conclusion: CDDA 43%
Signature: 759D785D0F9923540DF098E7C17A4BEFA3DB7F29
FILE: 15 - Prelude and Fugue No. 8 in D-Sharp Minor, BWV 877_ I. Prelude.flac
Size: 12453164 Hash: D96B67504FA15159AB607348CBDEF84D Accuracy: -m40
Conclusion: MPEG 99%
Signature: DD4364D4274E6088D736EEEA1409E7FCB78DB8B3
FILE: 16 - Prelude and Fugue No. 8 in D-Sharp Minor, BWV 877_ II. Fugue.flac
Size: 11057076 Hash: D0057016811D5B6A21B989C4A087FE36 Accuracy: -m40
Conclusion: CDDA 62%
Signature: A2F754E4CFF3501AE70FFA0751D4E7A9149EC54F
FILE: 17 - Prelude and Fugue No. 9 in E Major, BWV 878_ I. Prelude.flac
Size: 13611809 Hash: 9D3550141133832B347CC84E7BD9D256 Accuracy: -m40
Conclusion: MPEG 97%
Signature: 803A2ABD723DA33E28C8EF36529AB517292CADB5
FILE: 18 - Prelude and Fugue No. 9 in E Major, BWV 878_ II. Fugue.flac
Size: 7287666 Hash: 80846657ACBCAAF410AFA5E2248A05B7 Accuracy: -m40
Conclusion: CDDA 100%
Signature: E4CE4734BA6FF1BC890C65C7DD7499E8BFC215BA
FILE: 19 - Prelude and Fugue No. 10 in E Minor, BWV 879_ I. Prelude.flac
Size: 12571766 Hash: ED4D656885D82C82EC60B73E3334A492 Accuracy: -m40
Conclusion: CDDA 62%
Signature: A7E841E991E1945C71DBD04157A04E3223BF9289
FILE: 20 - Prelude and Fugue No. 10 in E Minor, BWV 879_ II. Fugue.flac
Size: 10569288 Hash: AC5EC5CE66F8B07F7EBCA69058840F9A Accuracy: -m40
Conclusion: MPEG 100%
Signature: 203A7DB2659609A59C50818A14C829EF69F7544F
FILE: 21 - Prelude and Fugue No. 11 in F Major, BWV 880_ I. Prelude.flac
Size: 9781262 Hash: 209B50D9385C33845ADFB1A94E6C6AE5 Accuracy: -m40
Conclusion: CDDA 58%
Signature: CBF57F3D8F2D07416A4F8A5A6CE1BB48527C1ACE
FILE: 22 - Prelude and Fugue No. 11 in F Major, BWV 880_ II. Fugue.flac
Size: 6725784 Hash: 5FFFC7531B7CE80A2F7B23D97E3EBA32 Accuracy: -m40
Conclusion: CDDA 99%
Signature: 62D890B82CBF3ACC545BEDE0A6191D6D0B94681C
FILE: 23 - Prelude and Fugue No. 12 in F Minor, BWV 881_ I. Prelude.flac
Size: 12731265 Hash: 45888E16F9483A0E8721AD1B669F321A Accuracy: -m40
Conclusion: CDDA 100%
Signature: 9A7CC0B7BA1DFDE3AB3B483D1B82D1AE83AB5DCF
FILE: 24 - Prelude and Fugue No. 12 in F Minor, BWV 881_ II. Fugue.flac
Size: 6902486 Hash: E11A37B0EFC5DD6C93E8B7151C690BA0 Accuracy: -m40
Conclusion: CDDA 85%
Signature: F2C7A5C047F0F4B0E21497D5E2650B4BE0D467B8
FILE: 01 - Prelude and Fugue No. 13 in F-Sharp Major, BWV 882_ I. Prelude.flac
Size: 10288924 Hash: 8FC5A3248F2769C757D0E2600B3B9650 Accuracy: -m40
Conclusion: CDDA 92%
Signature: E36AF78E8D640DD7163DD746ABDEEE4684354B8E
FILE: 02 - Prelude and Fugue No. 13 in F-Sharp Major, BWV 882_ II. Fugue.flac
Size: 8160561 Hash: 2EE47F623D52DBB2493D4D1C8076C230 Accuracy: -m40
Conclusion: MPEG 100%
Signature: EF849A868A2FFDAEF55F953B283002F37599154C
FILE: 03 - Prelude and Fugue No. 14 in F-Sharp Minor, BWV 883_ I. Prelude.flac
Size: 9548876 Hash: 9F9639ACD61ADD93CD116C801601F528 Accuracy: -m40
Conclusion: CDDA 85%
Signature: 47EF7CB4001F15FADF771E44E9D2AF7B9BE44160
FILE: 04 - Prelude and Fugue No. 14 in F-Sharp Minor, BWV 883_ II. Fugue.flac
Size: 14239943 Hash: 73DB8F0CA2035ADFBAC74623CFE5EADC Accuracy: -m40
Conclusion: MPEG 89%
Signature: 88F2E06EB317E5A03B97DCE4CA65461C2C6DBCE3
FILE: 05 - Prelude and Fugue No. 15 in G Major, BWV 884_ I. Prelude.flac
Size: 8447807 Hash: 93E067F98A0DFB44A4D6FF4C39C8FEAC Accuracy: -m40
Conclusion: CDDA 42%
Signature: 2CD6C591B5AEF373485578CA165CDEBBBD56F146
FILE: 06 - Prelude and Fugue No. 15 in G Major, BWV 884_ II. Fugue.flac
Size: 4844124 Hash: 1EED815EA0497ED0E5DD8F4F59371044 Accuracy: -m40
Conclusion: MPEG 100%
Signature: 619899267A471E5C44DCAC522FBC6C167A2E3631
FILE: 07 - Prelude and Fugue No. 16 in G Minor, BWV 885_ I. Prelude.flac
Size: 8406460 Hash: C9EDE64C4E3A276C0E0F56CA8BE8A267 Accuracy: -m40
Conclusion: CDDA 43%
Signature: 0A7E573F3C43C5578EC7089516146F21A3045E5E
FILE: 08 - Prelude and Fugue No. 16 in G Minor, BWV 885_ II. Fugue.flac
Size: 10505967 Hash: 3A7626E207E8468EB6F74614F677E823 Accuracy: -m40
Conclusion: MPEG 100%
Signature: 6D546A0B16780372A5B86E4995C81301CA6ABE74
FILE: 09 - Prelude and Fugue No. 17 in A-Flat Major, BWV 886_ I. Prelude.flac
Size: 11680150 Hash: C5F52E4D5F8AB7A13304C06E3DE9A87D Accuracy: -m40
Conclusion: MPEG 91%
Signature: 16C0C747D93BF1E9374FC51AD58954A9AAF26447
FILE: 10 - Prelude and Fugue No. 17 in A-Flat Major, BWV 886_ II. Fugue.flac
Size: 7331533 Hash: F41B1B8D5995C9C924375F328939C367 Accuracy: -m40
Conclusion: MPEG 89%
Signature: 3BAA01C0542D721A10BAC06C4E7C22123B290B49
FILE: 11 - Prelude and Fugue No. 18 in G-Sharp Minor, BWV 887_ I. Prelude.flac
Size: 13895749 Hash: D50F61B472770D77CDEDE99FBF13F674 Accuracy: -m40
Conclusion: CDDA 76%
Signature: 71C4C63281B28265287D03C2E8A49A0A246EDE0A
FILE: 12 - Prelude and Fugue No. 18 in G-Sharp Minor, BWV 887_ II. Fugue.flac
Size: 13881427 Hash: 3EC725123868ADEEA6EC3AC964C53096 Accuracy: -m40
Conclusion: CDDA 62%
Signature: 78DF3D669994F5D8A374F0C98E80BE1359CC6214
FILE: 13 - Prelude and Fugue No. 19 in A Major, BWV 888_ I. Prelude.flac
Size: 5971773 Hash: 9BC07752986F681160675A76F48385D5 Accuracy: -m40
Conclusion: CDDA 49%
Signature: 6C1D69952C2D47252EB0DA315727E9ABAABD7992
FILE: 14 - Prelude and Fugue No. 19 in A Major, BWV 888_ II. Fugue.flac
Size: 5157805 Hash: D7E8F0E31709FB167D4A52E1D03C3884 Accuracy: -m40
Conclusion: CDDA 94%
Signature: 257242B490A19A0E42A883A042C26DD55C02F024
FILE: 15 - Prelude and Fugue No. 20 in A Minor, BWV 889_ I. Prelude.flac
Size: 14222721 Hash: A4B062F1E3EC3B274808CFA256DA4302 Accuracy: -m40
Conclusion: MPEG 99%
Signature: 9BAF63EB11C41814B8EBB2E993237B2D1887D28B
FILE: 16 - Prelude and Fugue No. 20 in A Minor, BWV 889_ II. Fugue.flac
Size: 6729304 Hash: 910435CB12FA9A8D672332553CB8C8A4 Accuracy: -m40
Conclusion: MPEG 92%
Signature: B7C0AF719303E864293ECD0ABD52259D9AB13315
FILE: 17 - Prelude and Fugue No. 21 in B-Flat Major, BWV 890_ I. Prelude.flac
Size: 25079786 Hash: C09A3D9C0796BD77A425D3306ADD4946 Accuracy: -m40
Conclusion: MPEG 97%
Signature: C2533FCA64A603065A170BC4C01117163B30B6DF
FILE: 18 - Prelude and Fugue No. 21 in B-Flat Major, BWV 890_ II. Fugue.flac
Size: 8115983 Hash: 7E8815D2E89F1447C9BC8D16169075A2 Accuracy: -m40
Conclusion: CDDA 76%
Signature: 274049E751AA0B0345DE271E6B12606E141636E9
FILE: 19 - Prelude and Fugue No. 22 in B-Flat Minor, BWV 891_ I. Prelude.flac
Size: 6989673 Hash: 234696607DAB2B7B7BA16A83FE74CEA3 Accuracy: -m40
Conclusion: MPEG 100%
Signature: A9C952BA1075BAA545F0FBDBC950EC58BE5DBF52
FILE: 20 - Prelude and Fugue No. 22 in B-Flat Minor, BWV 891_ II. Fugue.flac
Size: 12881446 Hash: 8DE1D9699C77466B1983E5BB3D5484E1 Accuracy: -m40
Conclusion: MPEG 89%
Signature: A776502E18C5CCC5D9716FD29AF09796529F2865
FILE: 21 - Prelude and Fugue No. 23 in B Major, BWV 892_ I. Prelude.flac
Size: 6080030 Hash: 522CE24DA6224983957ADFFEF1F7EC2B Accuracy: -m40
Conclusion: CDDA 42%
Signature: 30F68AE982579539BB2CA7EA94F54FC7F028ED03
FILE: 22 - Prelude and Fugue No. 23 in B Major, BWV 892_ II. Fugue.flac
Size: 9619586 Hash: D7FD746262E981FD8E342F86A6F0CB3D Accuracy: -m40
Conclusion: CDDA 86%
Signature: E496C9A2A0584610708D1D5591101B5C8E4CB572
FILE: 23 - Prelude and Fugue No. 24 in B Minor, BWV 893_ I. Prelude.flac
Size: 7619560 Hash: E1C3F3F18B3D32CEA454A5AED9DF1247 Accuracy: -m40
Conclusion: MPEG 93%
Signature: 68D683776BE235F835F50E2877DE86C8EED004F6
FILE: 24 - Prelude and Fugue No. 24 in B Minor, BWV 893_ II. Fugue.flac
Size: 6974415 Hash: 17FF0166CC105384072383F35372F0F0 Accuracy: -m40
Conclusion: CDDA 87%
Signature: AC835D1023E20C6EC70437E476A4B9622068F943
FILE: 01 - Prelude and Fugue No. 1 in C Major, BWV 846_ I. Prelude.flac
Size: 5545191 Hash: CA4EDB025C0DD0772D9E8E133165D284 Accuracy: -m40
Conclusion: CDDA 100%
Signature: 082C0D3A18414F3615556A9968DAF99DA88ACF93
FILE: 02 - Prelude and Fugue No. 1 in C Major, BWV 846_ II. Fugue.flac
Size: 6500905 Hash: 727CA18990D1DDD50A06D39E6B384402 Accuracy: -m40
Conclusion: CDDA 100%
Signature: D46A0CAD2B6507C3AAB36E8AA927BFA25C2AE9FF
FILE: 03 - Prelude and Fugue No. 2 in C Minor, BWV 847_ I. Prelude.flac
Size: 5572573 Hash: 46464DD25BEF69EBDAFE120BFD2DA3C6 Accuracy: -m40
Conclusion: CDDA 100%
Signature: 90DA8FB734857B11B4094DADD41367F78E2AC6A9
FILE: 04 - Prelude and Fugue No. 2 in C Minor, BWV 847_ II. Fugue.flac
Size: 5328678 Hash: DE86EF3E8EF58D768DE2D9B0A3CF3614 Accuracy: -m40
Conclusion: MPEG 100%
Signature: F0194B4662EC459C5EE69EBFFCC96C61BA145B95
FILE: 05 - Prelude and Fugue No. 3 in C-Sharp Major, BWV 848_ I. Prelude.flac
Size: 4207705 Hash: 904C248D0BD77A4160E37E18297932BA Accuracy: -m40
Conclusion: CDDA 62%
Signature: FACB498DF04686E5FBD38C09482F774B499A43AA
FILE: 06 - Prelude and Fugue No. 3 in C-Sharp Major, BWV 848_ II. Fugue.flac
Size: 7691873 Hash: F3609AB623E92E6204EC95FB29A12580 Accuracy: -m40
Conclusion: MPEG 90%
Signature: 470692D2FE5E24C97E09FFC035036714FC4D97E8
FILE: 07 - Prelude and Fugue No. 4 in C-Sharp Minor, BWV 849_ I. Prelude.flac
Size: 7238398 Hash: DE5BE733762E3AF8EFA1E8FB646AB425 Accuracy: -m40
Conclusion: CDDA 100%
Signature: 6409FAC469B73176F0CC7A28E4135AC4C1C2E0A5
FILE: 08 - Prelude and Fugue No. 4 in C-Sharp Minor, BWV 849_ II. Fugue.flac
Size: 11301366 Hash: 6FF0D15AA1D0C4F711EB9C53811AE107 Accuracy: -m40
Conclusion: MPEG 99%
Signature: 9711C1A2170D8BEC9A88B9C5ABCD5D88DC8F7F67
FILE: 09 - Prelude and Fugue No. 5 in D Major, BWV 850_ I. Prelude.flac
Size: 4158316 Hash: 60B3C6E9AFC5086821C8C5C8E84BC179 Accuracy: -m40
Conclusion: CDDA 49%
Signature: 060EE9604F8E0E108DB30407EAF0A85B4D0B7245
FILE: 10 - Prelude and Fugue No. 5 in D Major, BWV 850_ II. Fugue.flac
Size: 6902809 Hash: EBBC3D9E6A0C93D2705D0F1160BB362E Accuracy: -m40
Conclusion: MPEG 100%
Signature: B2E0CD751BAEA21D85B3587B08CDC776EA7CAA3B
FILE: 11 - Prelude and Fugue No. 6 in D Minor, BWV 851_ I. Prelude.flac
Size: 5597497 Hash: 42482A93F158011BA009529E962589D4 Accuracy: -m40
Conclusion: CDDA 58%
Signature: 46684BBA502C6103DC7628A70CC9181174A99047
FILE: 12 - Prelude and Fugue No. 6 in D Minor, BWV 851_ II. Fugue.flac
Size: 7558510 Hash: 61D3EC693ACA8E431F72FC820C1B2535 Accuracy: -m40
Conclusion: MPEG 100%
Signature: 87FE8190C4415E270DB95C7167FC3E626C77D466
FILE: 13 - Prelude and Fugue No. 7 in E-Flat Major, BWV 852_ I. Prelude.flac
Size: 11533612 Hash: 7083A028C709DE0425682BB09C129D6B Accuracy: -m40
Conclusion: MPEG 100%
Signature: 70E8C293A7C36B2308DF84F7AF4D76D13FAC0F64
FILE: 14 - Prelude and Fugue No. 7 in E-Flat Major, BWV 852_ II. Fugue.flac
Size: 5741293 Hash: 6B3818129B0BE6DE1ADA928158099B61 Accuracy: -m40
Conclusion: MPEG 100%
Signature: 912E370331A606F57C9514C09099EDD96BBBBEB1
FILE: 15 - Prelude and Fugue No. 8 in E-Flat Minor, BWV 853_ I. Prelude.flac
Size: 9671620 Hash: 62F0D5A4540E0A9FCABCA7942D2D42DE Accuracy: -m40
Conclusion: CDDA 100%
Signature: 8179F47B23163D673E55AE596BB0D83F755C8C58
FILE: 16 - Prelude and Fugue No. 8 in E-Flat Minor, BWV 853_ II. Fugue.flac
Size: 14276348 Hash: EAC97869A23FA90B3AE40B0CD0B12A9B Accuracy: -m40
Conclusion: CDDA 43%
Signature: 29AC270C268F0EA01510AD1B108CDBD10AA8B28C
FILE: 17 - Prelude and Fugue No. 9 in E Major, BWV 854_ I. Prelude.flac
Size: 3991554 Hash: 9E30D6D91C8B3B520A2EA1DD9FB404F4 Accuracy: -m40
Conclusion: CDDA 100%
Signature: 503BB3704305AC58717E704A36627C4680B27DB2
FILE: 18 - Prelude and Fugue No. 9 in E Major, BWV 854_ II. Fugue.flac
Size: 3995224 Hash: 58DD2ECE0882FB487AF7A28E0FC05C3E Accuracy: -m40
Conclusion: MPEG 100%
Signature: ED5F7CE8BB2EAE57094CC2DB9AD86E31D9344093
FILE: 19 - Prelude and Fugue No. 10 in E Minor, BWV 855_ I. Prelude.flac
Size: 7751231 Hash: 65D0F174479E176102C3EF811C098742 Accuracy: -m40
Conclusion: CDDA 100%
Signature: 04BC1DD4112F20102D845FE1EF4441D2F06BF327
FILE: 20 - Prelude and Fugue No. 10 in E Minor, BWV 855_ II. Fugue.flac
Size: 4471323 Hash: C83707BA7C82F348B257C78A030BD9D8 Accuracy: -m40
Conclusion: CDDA 43%
Signature: C554E083FFEF056EB41844AFDEAFC9205C8B3552
FILE: 21 - Prelude and Fugue No. 11 in F Major, BWV 856_ I. Prelude.flac
Size: 3959789 Hash: 9B4641EAA542282CB7D365BF623910F0 Accuracy: -m40
Conclusion: CDDA 58%
Signature: 263E9AD9E33F3D309370877D5AB1123040F8FF6A
FILE: 22 - Prelude and Fugue No. 11 in F Major, BWV 856_ II. Fugue.flac
Size: 4252421 Hash: B592685353B4E2A8E6783D88B1CA1402 Accuracy: -m40
Conclusion: MPEG 100%
Signature: EADEB2895035D1C638E93F27112F6341289913BE
FILE: 23 - Prelude and Fugue No. 12 in F Minor, BWV 857_ I. Prelude.flac
Size: 6179076 Hash: FAAB91CA05FC49B6388A04F3C9D466D1 Accuracy: -m40
Conclusion: CDDA 100%
Signature: 1042888675FCD3056764D8EBECAEB842395D17FD
FILE: 24 - Prelude and Fugue No. 12 in F Minor, BWV 857_ II. Fugue.flac
Size: 10338300 Hash: 99552FF8E57BAD957A2B44C7F5D1D3A1 Accuracy: -m40
Conclusion: MPEG 89%
Signature: 51793DE5456894750E65A1C540E4769BB5B63AB8