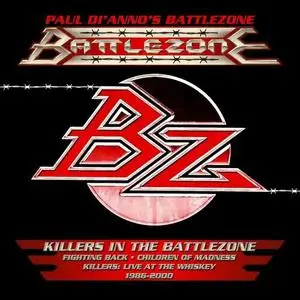 Paul Di'Anno's Battlezone - Killers In The Battlezone 1986-2000 (2022)
FLAC (tracks), Lossless / MP3 320 kbps | 2:25:38 | 332 Mb / 1 Gb
Genre: Heavy Metal, Hard Rock / Label: HNE
Paul Di'Anno's name will probably always be inextricably linked to that of Iron Maiden, the world conquering metal band he fronted from 1978-1981, recording their first two ground-breaking albums, 'Iron Maiden' in 1980 and 'Killers' in 1981. After Bruce Dickinson joined at the end of 81, with Iron Maiden going onto worldwide success, Di'Anno fronted a series of bands in the early 1980s, including Lonewolf, Di'Anno and the NWOBHM super-group, Gogmagog, before forming Battlezone in 1985.Battlezone came about when Di'Anno joined forces with Tokyo Blade's John Wiggins plus John Hurley from Deep Machine, both on lead guitar, with the line-up completed by Peter West on bass and Bob Falck on drums. Signing to Powerstation Records, they released 'Fighting Back' in 1986, produced with Ian Richardson.
Track List:
CD 1
1. (Forever) Fighting Back 02:21
2. Welcome to the Battlezone 03:26
3. Warchild 02:51
4. In The Darkness 04:11
5. The Land God Gave to Caine 07:20
6. Running Blind 04:44
7. Too Much to Heart 04:46
8. Voice on the Radio 03:10
9. Welfare Warriors 04:40
10. Feel The Rock 03:10
11. Rising Star 04:00
CD 2
1. Rip It Up 02:52
2. I Don't Wanna Know 03:28
3. Nuclear Breakdown 05:01
4. Touch of Hate 03:04
5. Whispered Rage 04:50
6. Children of Madness 05:29
7. Metal Tears 06:13
8. It's Love 03:46
9. Overloaded 03:24
10. The Promise 03:49
11. To the Limit 03:53
12. Drawn Under 04:57
CD 3
1. Impaler (Live, Whisky a Go Go, Los Angeles) 04:12
2. Wrathchild (Live, Whisky a Go Go, Los Angeles) 03:00
3. A Song For You (Live, Whisky a Go Go, Los Angeles) 04:09
4. Marshall Lokjaw (Live, Whisky a Go Go, Los Angeles) 04:15
5. Children Of The Revolution (Live, Whisky a Go Go, Los Angeles) 04:45
6. Three Words (Live, Whisky a Go Go, Los Angeles) 06:07
7. Protector (Live, Whisky a Go Go, Los Angeles) 05:20
8. Die By The Gun (Live, Whisky a Go Go, Los Angeles) 04:06
9. Remember Tomorrow (Live, Whisky a Go Go, Los Angeles) 05:33
10. Phantom Of The Opera (Live, Whisky a Go Go, Los Angeles) 03:41
11. Sanctuary (Live, Whisky a Go Go, Los Angeles) 05:05
ANALYZER: auCDtect: CD records authenticity detector, version 0.8.2
Copyright © 2004 Oleg Berngardt. All rights reserved.
Copyright © 2004 Alexander Djourik. All rights reserved.


FILE: 01 - (Forever) Fighting Back.flac
Size: 17359808 Hash: EB30E3B5C18C1FB546AF736C493C628C Accuracy: -m40
Conclusion: CDDA 100%
Signature: 87E6E7EE111FA8BD7158231FC42E2D166AF35DEE
FILE: 02 - Welcome to the Battlezone.flac
Size: 25279668 Hash: 2DBD678407FAAF6BFE7899A80421EFC2 Accuracy: -m40
Conclusion: CDDA 100%
Signature: F251A98A93DF44AE02C24635B983D7EDC45A085A
FILE: 03 - Warchild.flac
Size: 21043077 Hash: C0EDC5ECF14799B23B6CAE8F793B8853 Accuracy: -m40
Conclusion: CDDA 100%
Signature: 69002A5DF39ED1D637850A709B98B059E0F4139E
FILE: 04 - In The Darkness.flac
Size: 31708827 Hash: 40209C690220CEE1534CBC1946A333B3 Accuracy: -m40
Conclusion: CDDA 100%
Signature: 57EA4313786EC95DA003BC39CF98C599F035FC4E
FILE: 05 - The Land God Gave to Caine.flac
Size: 53156586 Hash: 52D4EF54A78C335FB0D56B5C2A603047 Accuracy: -m40
Conclusion: CDDA 100%
Signature: 5FB7B5B38DA862848A7A332167089E056625DE93
FILE: 06 - Running Blind.flac
Size: 36733490 Hash: F0C27628C18EDA4FDB8B265BF00EC2C3 Accuracy: -m40
Conclusion: CDDA 100%
Signature: 70FF01CB9803AD03BFE6D645C0B39F19CE3BF545
FILE: 07 - Too Much to Heart.flac
Size: 34592305 Hash: 0ABC9F82B0CE2FAB1E372B683B9C8574 Accuracy: -m40
Conclusion: CDDA 100%
Signature: 03ECBB50B70851AAFAE6C59EE471D962D3B5126D
FILE: 08 - Voice on the Radio.flac
Size: 22898359 Hash: 151F84298571CCE874B6D7DFAD5E9F81 Accuracy: -m40
Conclusion: CDDA 100%
Signature: 0FDD3CD452358AF77737FF5B68DE168F48BA8D63
FILE: 09 - Welfare Warriors.flac
Size: 36456451 Hash: 9AF3A8BCE6E3D6A8B85CBA08B2C218EE Accuracy: -m40
Conclusion: CDDA 100%
Signature: 136D0375827D2B8457277FB1DD4CAEFF6BB8B25F
FILE: 10 - Feel The Rock.flac
Size: 24551998 Hash: A31C0F233B313A05AC4785ADD7BBF455 Accuracy: -m40
Conclusion: CDDA 100%
Signature: 87E016D1E7D36AA8B93C17D3193BA13C215575CE
FILE: 11 - Rising Star.flac
Size: 26389414 Hash: B75DDBAC51AA5EF978D5169C5C3ACF82 Accuracy: -m40
Conclusion: CDDA 100%
Signature: 5643C41BCD6AD3126262D3C59108BF3EDA2B826A
FILE: 01 - Rip It Up.flac
Size: 20128119 Hash: 21F6D5EC39DA532A2935836CA93CCFE2 Accuracy: -m40
Conclusion: CDDA 100%
Signature: 512AD0A043DC35F53DDB0347E5DCD457FE673926
FILE: 02 - I Don't Wanna Know.flac
Size: 24083576 Hash: 0E80474F6773F24C5509510DEB89A84F Accuracy: -m40
Conclusion: CDDA 100%
Signature: A350280C5ED027D45C5B8F6BE03E7E2584506535
FILE: 03 - Nuclear Breakdown.flac
Size: 35837204 Hash: 998132525AB12A915FEFD4A9B34978C5 Accuracy: -m40
Conclusion: CDDA 100%
Signature: 3CF46A6C80CF8F7E007686BEAD36A1D6EA5A8E36
FILE: 04 - Touch of Hate.flac
Size: 22595866 Hash: 299E6566FE4761716D16152759F28EA7 Accuracy: -m40
Conclusion: CDDA 100%
Signature: E5A1866F0B5FC4C14660D8369A3F51829D95CADA
FILE: 05 - Whispered Rage.flac
Size: 35098297 Hash: 6E2798E3DDDEC30E792968C7E2A0D9A3 Accuracy: -m40
Conclusion: CDDA 100%
Signature: 3E8ED73DF8E5B985041BD8E4758245F8A965C8DE
FILE: 06 - Children of Madness.flac
Size: 38338366 Hash: AF53FE3C77C250328CBC59148F48CF9B Accuracy: -m40
Conclusion: CDDA 100%
Signature: DD7C3DA73EF40EE32D95E4D2AC233E192E7A6D27
FILE: 07 - Metal Tears.flac
Size: 39830598 Hash: BD304506CA973E898832D66CDF2AB38F Accuracy: -m40
Conclusion: CDDA 100%
Signature: 169B6D4FE4F87266AD7EC4A54D89CEFD8B9E3B70
FILE: 08 - It's Love.flac
Size: 26799500 Hash: DDB2858D57E7943843301BD9AC9DC0D0 Accuracy: -m40
Conclusion: CDDA 100%
Signature: DFDE896EE1AF791919F23A3885042F8D5533606F
FILE: 09 - Overloaded.flac
Size: 25617782 Hash: 1E7AD07009456A212F067C6701FC690E Accuracy: -m40
Conclusion: CDDA 100%
Signature: A899CA4B8083BABEBB71B65E3F0BB31E97386F6D
FILE: 10 - The Promise.flac
Size: 26837268 Hash: 7D8779A673BFE0AD7D3AFCE45C88CBEF Accuracy: -m40
Conclusion: CDDA 100%
Signature: C4325E2D446C81D1091879C4CA73D65B5000FD9E
FILE: 11 - To the Limit.flac
Size: 24886740 Hash: 206EAC096BCB388C3EB4DE3746C1AEF8 Accuracy: -m40
Conclusion: CDDA 100%
Signature: EFD516FA4D36DA2FBBA955F1B4A5276EE803EFFD
FILE: 12 - Drawn Under.flac
Size: 35870906 Hash: 8D3EB65757EEECDA184E595B24CEB020 Accuracy: -m40
Conclusion: MPEG 93%
Signature: 08D36DC243B4173C03B6FEF3D0B3D444E55CA786
FILE: 01 - Impaler (Live, Whisky a Go Go, Los Angeles).flac
Size: 33427590 Hash: BDD8D248730176FC3DCC01F92918B290 Accuracy: -m40
Conclusion: CDDA 100%
Signature: FD8BA8C5B916798BD20EBBADFDC47EDD3995765C
FILE: 02 - Wrathchild (Live, Whisky a Go Go, Los Angeles).flac
Size: 24592681 Hash: 7F1FBFEDDF365D21C63F9F7F9BAC9DE5 Accuracy: -m40
Conclusion: CDDA 100%
Signature: 1C753791606A7855A71DD0AB77033BDD5795DBAB
FILE: 03 - A Song For You (Live, Whisky a Go Go, Los Angeles).flac
Size: 33249467 Hash: B693D5BFCBCAC9A468834D84700D1D9C Accuracy: -m40
Conclusion: CDDA 100%
Signature: E93CD232C6B1F5041E335BD06B4927ECB0186258
FILE: 04 - Marshall Lokjaw (Live, Whisky a Go Go, Los Angeles).flac
Size: 33875569 Hash: 6260FB25CE88154D3665DE1C5ED84681 Accuracy: -m40
Conclusion: CDDA 100%
Signature: 46031D398D3F6204899FCF4C52B82B91BD54C075
FILE: 05 - Children Of The Revolution (Live, Whisky a Go Go, Los Angeles).flac
Size: 36475716 Hash: 843E52AEC7F96E1D00207AB9257382D1 Accuracy: -m40
Conclusion: CDDA 100%
Signature: 28795807734BC20305CF7AAAD4384E2D26BBA12D
FILE: 06 - Three Words (Live, Whisky a Go Go, Los Angeles).flac
Size: 44977273 Hash: 7F553DBF4EC56012BF179195668E4493 Accuracy: -m40
Conclusion: CDDA 100%
Signature: 1EC93ED16C946C872B46FCC043C743D669089B49
FILE: 07 - Protector (Live, Whisky a Go Go, Los Angeles).flac
Size: 41598170 Hash: 75BFF607427003CE2FB19FE19CA12606 Accuracy: -m40
Conclusion: CDDA 100%
Signature: 14BCED0F03CCD457D8F2045DD04BB5EA0E31FFC7
FILE: 08 - Die By The Gun (Live, Whisky a Go Go, Los Angeles).flac
Size: 32076943 Hash: D7F4FBF833ACD6A3BABC9C2DEE1E0A73 Accuracy: -m40
Conclusion: CDDA 100%
Signature: A67A17C1735B4597C0B675D1654FA918B267878D
FILE: 09 - Remember Tomorrow (Live, Whisky a Go Go, Los Angeles).flac
Size: 42634852 Hash: ADD08DD17B2FA281880BFE5314CF0DD2 Accuracy: -m40
Conclusion: CDDA 100%
Signature: 2340C39BF3F0B5F402347701108EFD7FCD6A9B3E
FILE: 10 - Phantom Of The Opera (Live, Whisky a Go Go, Los Angeles).flac
Size: 29284312 Hash: AF2EF27427718737C76E8ED0FA1D4A18 Accuracy: -m40
Conclusion: CDDA 100%
Signature: E50331590C68688DEC0011FB33B409D58F5A5EF7
FILE: 11 - Sanctuary (Live, Whisky a Go Go, Los Angeles).flac
Size: 39519933 Hash: B60F575FE5FABE363E88E1E2ADF5E879 Accuracy: -m40
Conclusion: CDDA 100%
Signature: C31DB8C30764D0388CEADC329F835A68B4060E3D