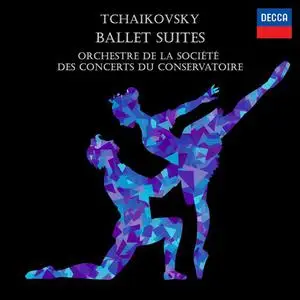 Orchestre De La Société Des Concerts Du Conservatoire - Pyotr Ilyich Tchaikovsky - Ballet Suites (2023)
FLAC (tracks), Lossless / MP3 320 kbps | 2:50:25 | 380 / 533 Mb
Genre: Classical / Label: Decca
During the 140 years of its existence, the Société des Concerts du Conservatoire de Paris was the most stable and the best orchestra in the city of Paris. Shortly before the Revolution, the composer Gossec and others founded the Ecole Royale de Chant (Royal Singing School) with fifteen students in 1784. The National Directory established a country-wide system of musical education with a Conservatoire Superior (the Paris Conservatoire) as the head institution. It took over the staff of the former Ecole Royale de Chant and opened in October, 1796, with 115 professors and 351 pupils. In its very first season, the Conservatoire initiated its practice of giving an annual concert featuring its prizewinning students.
Track List:
[04:10] 01. Paris Conservatoire Orchestra Roger Desormière Pyotr Ilyich Tchaikovsky - The Sleeping Beauty (Suite), Op. 66a, TH 234 : Tchaikovsky: The Sleeping Beauty (Suite), Op. 66a, TH 234 - Introduction - The Lilac Fairy
[05:07] 02. Paris Conservatoire Orchestra Roger Desormière Pyotr Ilyich Tchaikovsky - The Sleeping Beauty (Suite), Op. 66a, TH 234 : Tchaikovsky: The Sleeping Beauty (Suite), Op. 66a, TH 234 - Pas d'action: Rose Adagio
[01:47] 03. Paris Conservatoire Orchestra Roger Desormière Pyotr Ilyich Tchaikovsky - The Sleeping Beauty (Suite), Op. 66a, TH 234 : Tchaikovsky: The Sleeping Beauty (Suite), Op. 66a, TH 234 - Pas de caractère: Puss in Boots
[02:10] 04. Paris Conservatoire Orchestra Roger Desormière Pyotr Ilyich Tchaikovsky - The Sleeping Beauty (Suite), Op. 66a, TH 234 : Tchaikovsky: The Sleeping Beauty (Suite), Op. 66a, TH 234 - Panorama. Andantino
[04:38] 05. Paris Conservatoire Orchestra Roger Desormière Pyotr Ilyich Tchaikovsky - The Sleeping Beauty (Suite), Op. 66a, TH 234 : Tchaikovsky: The Sleeping Beauty (Suite), Op. 66a, TH 234 - Valse
[03:01] 06. Paris Conservatoire Orchestra Anatole Fistoulari Pyotr Ilyich Tchaikovsky - Nutcracker Suite, Op. 71a : Tchaikovsky: Nutcracker Suite, Op. 71a - Miniature Overture
[01:59] 07. Paris Conservatoire Orchestra Anatole Fistoulari Pyotr Ilyich Tchaikovsky - Nutcracker Suite, Op. 71a : Tchaikovsky: Nutcracker Suite, Op. 71a - March
[01:40] 08. Paris Conservatoire Orchestra Anatole Fistoulari Pyotr Ilyich Tchaikovsky - Nutcracker Suite, Op. 71a : Tchaikovsky: Nutcracker Suite, Op. 71a - Dance of the Sugar-Plum Fairy
[01:02] 09. Paris Conservatoire Orchestra Anatole Fistoulari Pyotr Ilyich Tchaikovsky - Nutcracker Suite, Op. 71a : Tchaikovsky: Nutcracker Suite, Op. 71a - Russian Dance (Trepak)
[03:51] 10. Paris Conservatoire Orchestra Anatole Fistoulari Pyotr Ilyich Tchaikovsky - Nutcracker Suite, Op. 71a : Tchaikovsky: Nutcracker Suite, Op. 71a - Arabian Dance (Coffee)
[01:10] 11. Paris Conservatoire Orchestra Anatole Fistoulari Pyotr Ilyich Tchaikovsky - Nutcracker Suite, Op. 71a : Tchaikovsky: Nutcracker Suite, Op. 71a - Chinese Dance (Tea)
[02:21] 12. Paris Conservatoire Orchestra Anatole Fistoulari Pyotr Ilyich Tchaikovsky - Nutcracker Suite, Op. 71a : Tchaikovsky: Nutcracker Suite, Op. 71a - Dance of the Reed-Pipes
[06:21] 13. Paris Conservatoire Orchestra Anatole Fistoulari Pyotr Ilyich Tchaikovsky - Nutcracker Suite, Op. 71a : Tchaikovsky: Nutcracker Suite, Op. 71a - Waltz of the Flowers
[04:02] 14. Paris Conservatoire Orchestra Anatole Fistoulari Pyotr Ilyich Tchaikovsky - Nutcracker Suite, No. 2 : Tchaikovsky: Nutcracker Suite, No. 2 - Act I Scene & Coda
[04:32] 15. Paris Conservatoire Orchestra Anatole Fistoulari Pyotr Ilyich Tchaikovsky - Nutcracker Suite, No. 2 : Tchaikovsky: Nutcracker Suite, No. 2 - Pas de Deux (Permission de dix heures) - Scene & Dance of The Grandfather
[04:12] 16. Paris Conservatoire Orchestra Anatole Fistoulari Pyotr Ilyich Tchaikovsky - Nutcracker Suite, No. 2 : Tchaikovsky: Nutcracker Suite, No. 2 - Pas de deux (Andante maestoso)
[04:00] 17. Paris Conservatoire Orchestra Anatole Fistoulari Pyotr Ilyich Tchaikovsky - Nutcracker Suite, No. 2 : Tchaikovsky: Nutcracker Suite, No. 2 - Waltz Of The Snowflakes
[03:58] 18. Paris Conservatoire Orchestra Anatole Fistoulari Pyotr Ilyich Tchaikovsky - Nutcracker Suite, No. 2 : Tchaikovsky: Nutcracker Suite, No. 2 - Scene - Prelude to Act 2
[01:08] 19. Paris Conservatoire Orchestra Anatole Fistoulari Pyotr Ilyich Tchaikovsky - Nutcracker Suite, No. 2 : Tchaikovsky: Nutcracker Suite, No. 2 - Spanish Dance
[03:18] 20. Paris Conservatoire Orchestra Anatole Fistoulari Pyotr Ilyich Tchaikovsky - Nutcracker Suite, No. 2 : Tchaikovsky: Nutcracker Suite, No. 2 - Final Waltz & Apotheosis
[06:24] 21. Paris Conservatoire Orchestra Anatole Fistoulari Pyotr Ilyich Tchaikovsky - The Sleeping Beauty, Op. 66, TH.13 / Prologue : Tchaikovsky: The Sleeping Beauty, Op. 66, TH.13 / Prologue - 1. Marche (Entrance of King and Court)
[04:08] 22. Paris Conservatoire Orchestra Anatole Fistoulari Pyotr Ilyich Tchaikovsky - The Sleeping Beauty, Op. 66, TH.13 / Prologue : Tchaikovsky: The Sleeping Beauty, Op. 66, TH.13 / Prologue - 2. Scène dansante (Entrance of Fairies)
[07:31] 23. Paris Conservatoire Orchestra Anatole Fistoulari Pyotr Ilyich Tchaikovsky - The Sleeping Beauty, Op. 66, TH.13 / Prologue : Tchaikovsky: The Sleeping Beauty, Op. 66, TH.13 / Prologue - 3. Pas de six
[11:08] 24. Paris Conservatoire Orchestra Anatole Fistoulari Pyotr Ilyich Tchaikovsky - The Sleeping Beauty, Op. 66, TH.13 / Prologue : Tchaikovsky: The Sleeping Beauty, Op. 66, TH.13 / Prologue - 4. Final (La Fée des lilas sort)
[02:33] 25. Paris Conservatoire Orchestra Anatole Fistoulari Pyotr Ilyich Tchaikovsky - The Sleeping Beauty, Op. 66, TH.13 / Act 1 : Tchaikovsky: The Sleeping Beauty, Op. 66, TH.13 / Act 1 - 5. Scène (The Palace Garden)
[03:19] 26. Paris Conservatoire Orchestra Anatole Fistoulari Pyotr Ilyich Tchaikovsky - The Sleeping Beauty, Op. 66, TH.13 / Act 1 : Tchaikovsky: The Sleeping Beauty, Op. 66, TH.13 / Act 1 - 6. Valse
[02:07] 27. Paris Conservatoire Orchestra Anatole Fistoulari Pyotr Ilyich Tchaikovsky - The Sleeping Beauty, Op. 66, TH.13 / Act 1 : Tchaikovsky: The Sleeping Beauty, Op. 66, TH.13 / Act 1 - 7. Scène (The Four Princes)
[11:50] 28. Pierre Nerini Paris Conservatoire Orchestra Anatole Fistoulari Pyotr Ilyich Tchaikovsky - The Sleeping Beauty, Op. 66, TH.13 / Act 1 : Tchaikovsky: The Sleeping Beauty, Op. 66, TH.13 / Act 1 - 8. Pas d'action
[04:58] 29. Paris Conservatoire Orchestra Anatole Fistoulari Pyotr Ilyich Tchaikovsky - The Sleeping Beauty, Op. 66, TH.13 / Act 1 : Tchaikovsky: The Sleeping Beauty, Op. 66, TH.13 / Act 1 - 9. Final (La Fée des lilas paraît)
[02:16] 30. Paris Conservatoire Orchestra Anatole Fistoulari Pyotr Ilyich Tchaikovsky - The Sleeping Beauty, Op. 66, TH.13 / Act 2 : Tchaikovsky: The Sleeping Beauty, Op. 66, TH.13 / Act 2 - 10. Entr'acte et scène
[01:32] 31. Paris Conservatoire Orchestra Anatole Fistoulari Pyotr Ilyich Tchaikovsky - The Sleeping Beauty, Op. 66, TH.13 / Act 2 : Tchaikovsky: The Sleeping Beauty, Op. 66, TH.13 / Act 2 - 11. Colin-maillard (Allegro vivo)
[02:23] 32. Paris Conservatoire Orchestra Anatole Fistoulari Pyotr Ilyich Tchaikovsky - The Sleeping Beauty, Op. 66, TH.13 / Act 2 : Tchaikovsky: The Sleeping Beauty, Op. 66, TH.13 / Act 2 - 12. Scène
[01:43] 33. Paris Conservatoire Orchestra Anatole Fistoulari Pyotr Ilyich Tchaikovsky - The Sleeping Beauty, Op. 66, TH.13 / Act 2 : Tchaikovsky: The Sleeping Beauty, Op. 66, TH.13 / Act 2 - 13. Farandole: Scène - Danse
[04:13] 34. Paris Conservatoire Orchestra Anatole Fistoulari Pyotr Ilyich Tchaikovsky - The Sleeping Beauty, Op. 66, TH.13 / Act 2 : Tchaikovsky: The Sleeping Beauty, Op. 66, TH.13 / Act 2 - 14. Scène (Arrival of Huntsmen)
[07:11] 35. Paris Conservatoire Orchestra Anatole Fistoulari Pyotr Ilyich Tchaikovsky - The Sleeping Beauty, Op. 66, TH.13 / Act 2 : Tchaikovsky: The Sleeping Beauty, Op. 66, TH.13 / Act 2 - 15. Pas d'action - Variation d'Aurore - Coda
[00:58] 36. Paris Conservatoire Orchestra Anatole Fistoulari Pyotr Ilyich Tchaikovsky - The Sleeping Beauty, Op. 66, TH.13 / Act 2 : Tchaikovsky: The Sleeping Beauty, Op. 66, TH.13 / Act 2 - 16/19. Finale
[02:15] 37. Paris Conservatoire Orchestra Anatole Fistoulari Pyotr Ilyich Tchaikovsky - The Sleeping Beauty, Op. 66, TH.13 / Act 3 : Tchaikovsky: The Sleeping Beauty, Op. 66, TH.13 / Act 3 - 20. Panorama
[01:54] 38. Paris Conservatoire Orchestra Anatole Fistoulari Pyotr Ilyich Tchaikovsky - The Sleeping Beauty, Op. 66, TH.13 / Act 3 : Tchaikovsky: The Sleeping Beauty, Op. 66, TH.13 / Act 3 - 21. Marche
[03:13] 39. Paris Conservatoire Orchestra Anatole Fistoulari Pyotr Ilyich Tchaikovsky - The Sleeping Beauty, Op. 66, TH.13 / Act 3 : Tchaikovsky: The Sleeping Beauty, Op. 66, TH.13 / Act 3 - 22. Polacca (Allegro moderato)
[04:28] 40. Paris Conservatoire Orchestra Anatole Fistoulari Pyotr Ilyich Tchaikovsky - The Sleeping Beauty, Op. 66, TH.13 / Act 3 : Tchaikovsky: The Sleeping Beauty, Op. 66, TH.13 / Act 3 - 23. Pas de quatre
[02:27] 41. Paris Conservatoire Orchestra Anatole Fistoulari Pyotr Ilyich Tchaikovsky - The Sleeping Beauty, Op. 66, TH.13 / Act 3 : Tchaikovsky: The Sleeping Beauty, Op. 66, TH.13 / Act 3 - 24. Pas de caractère (Puss in Boots)
[04:58] 42. Paris Conservatoire Orchestra Anatole Fistoulari Pyotr Ilyich Tchaikovsky - The Sleeping Beauty, Op. 66, TH.13 / Act 3 : Tchaikovsky: The Sleeping Beauty, Op. 66, TH.13 / Act 3 - 25. Pas de quatre: Adagio - Var. I-II - Coda
[01:19] 43. Paris Conservatoire Orchestra Anatole Fistoulari Pyotr Ilyich Tchaikovsky - The Sleeping Beauty, Op. 66, TH.13 / Act 3 : Tchaikovsky: The Sleeping Beauty, Op. 66, TH.13 / Act 3 - 26. Pas de caractère (Red Riding Hood) - Cendrillon et le prince Fortune
[05:42] 44. Paris Conservatoire Orchestra Anatole Fistoulari Pyotr Ilyich Tchaikovsky - The Sleeping Beauty, Op. 66, TH.13 / Act 3 : Tchaikovsky: The Sleeping Beauty, Op. 66, TH.13 / Act 3 - 28. Pas de deux: Aurora and Prince Desire
[05:03] 45. Paris Conservatoire Orchestra Anatole Fistoulari Pyotr Ilyich Tchaikovsky - The Sleeping Beauty, Op. 66, TH.13 / Act 3 : Tchaikovsky: The Sleeping Beauty, Op. 66, TH.13 / Act 3 - 30. Final: Allegro brillante - Apothéose
ANALYZER: auCDtect: CD records authenticity detector, version 0.8.2
Copyright © 2004 Oleg Berngardt. All rights reserved.
Copyright © 2004 Alexander Djourik. All rights reserved.


FILE: 01 - The Sleeping Beauty (Suite), Op. 66a, TH 234 _ Tchaikovsky_ The Sleeping Beauty (Suite), Op. 66a, TH 234 - Introduction - The Lilac Fairy.flac
Size: 16085136 Hash: 8AB0E6155C236E257E6687E9B77388D3 Accuracy: -m40
Conclusion: CDDA 100%
Signature: D63459FD13E33F1C24DBFCC2F40BFF2AC6F31B2A
FILE: 02 - The Sleeping Beauty (Suite), Op. 66a, TH 234 _ Tchaikovsky_ The Sleeping Beauty (Suite), Op. 66a, TH 234 - Pas d'action_ Rose Adagio.flac
Size: 20164319 Hash: 56739517410BE5B8632258852EB2B2A1 Accuracy: -m40
Conclusion: CDDA 99%
Signature: E8D12DC82392276C925CEAD5BA4D6F44183C8E61
FILE: 03 - The Sleeping Beauty (Suite), Op. 66a, TH 234 _ Tchaikovsky_ The Sleeping Beauty (Suite), Op. 66a, TH 234 - Pas de caractère_ Puss in Boots.flac
Size: 6069588 Hash: EB51B89F72A1D32FCAC36F2094A6FA88 Accuracy: -m40
Conclusion: CDDA 100%
Signature: C82E50DBC6C94183F79DD838FB8D59A86242731B
FILE: 04 - The Sleeping Beauty (Suite), Op. 66a, TH 234 _ Tchaikovsky_ The Sleeping Beauty (Suite), Op. 66a, TH 234 - Panorama. Andantino.flac
Size: 7715826 Hash: F6F41E3A47C38D4B305220DE33BCB557 Accuracy: -m40
Conclusion: CDDA 100%
Signature: 104969BDA61CA85FADEA6E1C7F8182F0DBA6B1B0
FILE: 05 - The Sleeping Beauty (Suite), Op. 66a, TH 234 _ Tchaikovsky_ The Sleeping Beauty (Suite), Op. 66a, TH 234 - Valse.flac
Size: 18033608 Hash: 596CAFB4E87C205971721698565C9CD2 Accuracy: -m40
Conclusion: CDDA 100%
Signature: 199576065D5D7245A974CB6C5CFA3B25B7BA3386
FILE: 06 - Nutcracker Suite, Op. 71a _ Tchaikovsky_ Nutcracker Suite, Op. 71a - Miniature Overture.flac
Size: 8401435 Hash: 5A109FCFB12A056432AA4120D9057EC5 Accuracy: -m40
Conclusion: CDDA 100%
Signature: B86119ADC3D9E040415FCE22AB7311427C34A7D8
FILE: 07 - Nutcracker Suite, Op. 71a _ Tchaikovsky_ Nutcracker Suite, Op. 71a - March.flac
Size: 5362404 Hash: EDAE995D58A3D1938F23A1DF2F03A558 Accuracy: -m40
Conclusion: CDDA 100%
Signature: 051B5BCF55B8C1C7C2FD7B57BD8B097284C464CC
FILE: 08 - Nutcracker Suite, Op. 71a _ Tchaikovsky_ Nutcracker Suite, Op. 71a - Dance of the Sugar-Plum Fairy.flac
Size: 3458397 Hash: 85C848371F9767FB067092A4A8985179 Accuracy: -m40
Conclusion: CDDA 100%
Signature: 4EB93AACE591F5260999103D2AB22FF7920ADAE1
FILE: 09 - Nutcracker Suite, Op. 71a _ Tchaikovsky_ Nutcracker Suite, Op. 71a - Russian Dance (Trepak).flac
Size: 3417492 Hash: 1D26A2006985C58E9A29AF21C5441215 Accuracy: -m40
Conclusion: CDDA 100%
Signature: D519F439E253E3CAD377F559260903216B29D3E1
FILE: 10 - Nutcracker Suite, Op. 71a _ Tchaikovsky_ Nutcracker Suite, Op. 71a - Arabian Dance (Coffee).flac
Size: 8058031 Hash: B71A10D2335D124A55FA31751129FDAF Accuracy: -m40
Conclusion: CDDA 85%
Signature: 84D60B9580C77C365A0E958535DD5B90062EF954
FILE: 11 - Nutcracker Suite, Op. 71a _ Tchaikovsky_ Nutcracker Suite, Op. 71a - Chinese Dance (Tea).flac
Size: 2739563 Hash: 3ED55D4400EE28170D5525E7632BF69F Accuracy: -m40
Conclusion: MPEG 100%
Signature: A24B534D308378CDDA3B42BE968055E9CD4DD4AF
FILE: 12 - Nutcracker Suite, Op. 71a _ Tchaikovsky_ Nutcracker Suite, Op. 71a - Dance of the Reed-Pipes.flac
Size: 5450528 Hash: 1F667D9E015AB5FB4C7E9BF2B3A86611 Accuracy: -m40
Conclusion: CDDA 100%
Signature: 608B15A164F5250A6FF5F8B862ED6C752994582C
FILE: 13 - Nutcracker Suite, Op. 71a _ Tchaikovsky_ Nutcracker Suite, Op. 71a - Waltz of the Flowers.flac
Size: 17484507 Hash: 73CB515CF389FA71D063E10E3CFC3F8F Accuracy: -m40
Conclusion: CDDA 100%
Signature: 16318EE255284BD340B9917B802D4A1197A5E7A2
FILE: 14 - Nutcracker Suite, No. 2 _ Tchaikovsky_ Nutcracker Suite, No. 2 - Act I Scene & Coda.flac
Size: 11392890 Hash: 8E22561614C58DEADDA603F983DC1694 Accuracy: -m40
Conclusion: CDDA 43%
Signature: E05ECADBD2F2EBE976CB1E48F8517B7C1E36597D
FILE: 15 - Nutcracker Suite, No. 2 _ Tchaikovsky_ Nutcracker Suite, No. 2 - Pas de Deux (Permission de dix heures) - Scene & Dance of The Grandfather.flac
Size: 12484995 Hash: 3C629F8BD99B2E00B5C12C2EA450A502 Accuracy: -m40
Conclusion: CDDA 85%
Signature: 0D905602DC931830913FBDC03DE4435FD284F72F
FILE: 16 - Nutcracker Suite, No. 2 _ Tchaikovsky_ Nutcracker Suite, No. 2 - Pas de deux (Andante maestoso).flac
Size: 12343991 Hash: 878A29366E3C382E8975226B22C58FB7 Accuracy: -m40
Conclusion: CDDA 100%
Signature: 4F834C6957CD7E9BD8FB4C874C7531EEEB7C2729
FILE: 17 - Nutcracker Suite, No. 2 _ Tchaikovsky_ Nutcracker Suite, No. 2 - Waltz Of The Snowflakes.flac
Size: 10619528 Hash: 08D3C2CC277238A2645E341E35524A19 Accuracy: -m40
Conclusion: CDDA 43%
Signature: 46129478DF48878D7739EC1A265BA34E68882C1F
FILE: 18 - Nutcracker Suite, No. 2 _ Tchaikovsky_ Nutcracker Suite, No. 2 - Scene - Prelude to Act 2.flac
Size: 10314515 Hash: ECF76303FADBCF618419C5F7B9BC5000 Accuracy: -m40
Conclusion: CDDA 100%
Signature: F2F5DE972B734C1EACE7A4A8DCD4A9D284A1CD77
FILE: 19 - Nutcracker Suite, No. 2 _ Tchaikovsky_ Nutcracker Suite, No. 2 - Spanish Dance.flac
Size: 3223357 Hash: 7CAD2A2EE3529857198B34ED98EFA99A Accuracy: -m40
Conclusion: MPEG 90%
Signature: 850976D29AEDB80B4B1B4D35F5A7775D6609FAF6
FILE: 20 - Nutcracker Suite, No. 2 _ Tchaikovsky_ Nutcracker Suite, No. 2 - Final Waltz & Apotheosis.flac
Size: 10059974 Hash: 58AF1039E98736E631BD8BC648594C3E Accuracy: -m40
Conclusion: CDDA 99%
Signature: B04E5EBA57F1E80617C930B8F7D550CFD3DD4119
FILE: 21 - The Sleeping Beauty, Op. 66, TH.13 _ Prologue _ Tchaikovsky_ The Sleeping Beauty, Op. 66, TH.13 _ Prologue - 1. Marche (Entrance of King and Court).flac
Size: 23816129 Hash: E72478715BDA2D2B0BDF0C71B0119D44 Accuracy: -m40
Conclusion: CDDA 100%
Signature: BBBA43BDCC506310876FF0DD4EF169FB533BCB01
FILE: 22 - The Sleeping Beauty, Op. 66, TH.13 _ Prologue _ Tchaikovsky_ The Sleeping Beauty, Op. 66, TH.13 _ Prologue - 2. Scène dansante (Entrance of Fairies).flac
Size: 13817274 Hash: A6489D3CB459D5A972D91B5F92FD7AC6 Accuracy: -m40
Conclusion: CDDA 100%
Signature: 4A913E796FFCB2B6F5935E567F1F276F74DAEB67
FILE: 23 - The Sleeping Beauty, Op. 66, TH.13 _ Prologue _ Tchaikovsky_ The Sleeping Beauty, Op. 66, TH.13 _ Prologue - 3. Pas de six.flac
Size: 25487640 Hash: 9E2612FDA97E329D682556B79FB379E9 Accuracy: -m40
Conclusion: CDDA 99%
Signature: 54494F5B19E7792182A7078FE276804F916672BE
FILE: 24 - The Sleeping Beauty, Op. 66, TH.13 _ Prologue _ Tchaikovsky_ The Sleeping Beauty, Op. 66, TH.13 _ Prologue - 4. Final (La Fée des lilas sort).flac
Size: 39073277 Hash: F3211167B33CB83D752D75886BF6906D Accuracy: -m40
Conclusion: CDDA 100%
Signature: 99FF13CD13D68F9ACCE83DFF8E5785411700FDCC
FILE: 25 - The Sleeping Beauty, Op. 66, TH.13 _ Act 1 _ Tchaikovsky_ The Sleeping Beauty, Op. 66, TH.13 _ Act 1 - 5. Scène (The Palace Garden).flac
Size: 8699392 Hash: 00C1B0C078052C7994122267F35D9FBD Accuracy: -m40
Conclusion: CDDA 100%
Signature: CD2D1DEBBD940E06CE06A536BD303B968DEEF947
FILE: 26 - The Sleeping Beauty, Op. 66, TH.13 _ Act 1 _ Tchaikovsky_ The Sleeping Beauty, Op. 66, TH.13 _ Act 1 - 6. Valse.flac
Size: 11582482 Hash: 6D0E30CF3D4088C950D92EF8581706B9 Accuracy: -m40
Conclusion: CDDA 100%
Signature: BDB5038ECEB9AF475D85F5F0FF5CE89144323290
FILE: 27 - The Sleeping Beauty, Op. 66, TH.13 _ Act 1 _ Tchaikovsky_ The Sleeping Beauty, Op. 66, TH.13 _ Act 1 - 7. Scène (The Four Princes).flac
Size: 7524723 Hash: 844D209DC9B3D63771EEFD7F6A513D03 Accuracy: -m40
Conclusion: CDDA 100%
Signature: 4A3CEE4870E9473BB7B279FCBCCC869CB56BCE23
FILE: 28 - The Sleeping Beauty, Op. 66, TH.13 _ Act 1 _ Tchaikovsky_ The Sleeping Beauty, Op. 66, TH.13 _ Act 1 - 8. Pas d'action.flac
Size: 42386018 Hash: 8EB3F9215986B772EDD45F4A0D569F81 Accuracy: -m40
Conclusion: CDDA 100%
Signature: EEDE7F4346CCD4C8785716862A680C491F792B48
FILE: 29 - The Sleeping Beauty, Op. 66, TH.13 _ Act 1 _ Tchaikovsky_ The Sleeping Beauty, Op. 66, TH.13 _ Act 1 - 9. Final (La Fée des lilas paraît).flac
Size: 17822201 Hash: 7205D06D76BEC609DBAC32F53BE81F32 Accuracy: -m40
Conclusion: CDDA 100%
Signature: 05A9C6C7A70DFCD6A43C0DA9F0982748C369656B
FILE: 30 - The Sleeping Beauty, Op. 66, TH.13 _ Act 2 _ Tchaikovsky_ The Sleeping Beauty, Op. 66, TH.13 _ Act 2 - 10. Entr'acte et scène.flac
Size: 8456944 Hash: 4EF03372681AE9483FD167B33C3E0F3A Accuracy: -m40
Conclusion: CDDA 100%
Signature: E3B85292B56C6ECD20C6E86E5BA03CA9D67C89E7
FILE: 31 - The Sleeping Beauty, Op. 66, TH.13 _ Act 2 _ Tchaikovsky_ The Sleeping Beauty, Op. 66, TH.13 _ Act 2 - 11. Colin-maillard (Allegro vivo).flac
Size: 5974391 Hash: 55F6A83B07B17D7CC39BF454BE791F79 Accuracy: -m40
Conclusion: CDDA 99%
Signature: 93C669FA5DC89BAE6D39EFDE9DAA5D04A1A1D186
FILE: 32 - The Sleeping Beauty, Op. 66, TH.13 _ Act 2 _ Tchaikovsky_ The Sleeping Beauty, Op. 66, TH.13 _ Act 2 - 12. Scène.flac
Size: 8263670 Hash: B357CDF04674E493ECB470B29E85FB1E Accuracy: -m40
Conclusion: CDDA 100%
Signature: C254BFACA37FDA7FE14583D06C6B6DEF9A4CC3C0
FILE: 33 - The Sleeping Beauty, Op. 66, TH.13 _ Act 2 _ Tchaikovsky_ The Sleeping Beauty, Op. 66, TH.13 _ Act 2 - 13. Farandole_ Scène - Danse.flac
Size: 6421338 Hash: 786C509BF7852A22C075709CDECBE851 Accuracy: -m40
Conclusion: CDDA 100%
Signature: A54CA3DCF6E286670D43743D5AF5CE9D2534C1CF
FILE: 34 - The Sleeping Beauty, Op. 66, TH.13 _ Act 2 _ Tchaikovsky_ The Sleeping Beauty, Op. 66, TH.13 _ Act 2 - 14. Scène (Arrival of Huntsmen).flac
Size: 15242824 Hash: A12EEBBFE58313776F265E26AA632E64 Accuracy: -m40
Conclusion: CDDA 100%
Signature: B6D08D441310E7A4A12976C834D62C5EB95C3633
FILE: 35 - The Sleeping Beauty, Op. 66, TH.13 _ Act 2 _ Tchaikovsky_ The Sleeping Beauty, Op. 66, TH.13 _ Act 2 - 15. Pas d'action - Variation d'Aurore - Coda.flac
Size: 24248227 Hash: 9F10BC8653A530F5C6360930348BE6F7 Accuracy: -m40
Conclusion: CDDA 100%
Signature: 1F7B1CBB79799291281BD4A4D6F50777549985C1
FILE: 36 - The Sleeping Beauty, Op. 66, TH.13 _ Act 2 _ Tchaikovsky_ The Sleeping Beauty, Op. 66, TH.13 _ Act 2 - 16_19. Finale.flac
Size: 3802261 Hash: ECFE4DAB645D21EF255ECE3B334580E5 Accuracy: -m40
Conclusion: CDDA 100%
Signature: 634E0B5A448B65A6290882EDC31910FA322E386C
FILE: 37 - The Sleeping Beauty, Op. 66, TH.13 _ Act 3 _ Tchaikovsky_ The Sleeping Beauty, Op. 66, TH.13 _ Act 3 - 20. Panorama.flac
Size: 6843624 Hash: CB8327D4E4927209A93CF4E58E3D7495 Accuracy: -m40
Conclusion: CDDA 100%
Signature: 5ACB74400E59E831AE658B4EC6C068A110C2241F
FILE: 38 - The Sleeping Beauty, Op. 66, TH.13 _ Act 3 _ Tchaikovsky_ The Sleeping Beauty, Op. 66, TH.13 _ Act 3 - 21. Marche.flac
Size: 6991995 Hash: 9F5518FC0E55A2210D4F0AEB3DD35971 Accuracy: -m40
Conclusion: CDDA 100%
Signature: 720B8003AB12DC6CF19F3D71CA909E5E4F642D4A
FILE: 39 - The Sleeping Beauty, Op. 66, TH.13 _ Act 3 _ Tchaikovsky_ The Sleeping Beauty, Op. 66, TH.13 _ Act 3 - 22. Polacca (Allegro moderato).flac
Size: 12576848 Hash: DA2FDA9B36700D504ED2CCD42423FFAE Accuracy: -m40
Conclusion: CDDA 100%
Signature: E918A314EEC2DDFA67AA149DDF59849D920EEAB5
FILE: 40 - The Sleeping Beauty, Op. 66, TH.13 _ Act 3 _ Tchaikovsky_ The Sleeping Beauty, Op. 66, TH.13 _ Act 3 - 23. Pas de quatre.flac
Size: 16725809 Hash: 8C893416F8196E00AD75B02E309C8C7B Accuracy: -m40
Conclusion: CDDA 100%
Signature: 51114BDAF2F886AE9E999C097D3EDD55097BDEBC
FILE: 41 - The Sleeping Beauty, Op. 66, TH.13 _ Act 3 _ Tchaikovsky_ The Sleeping Beauty, Op. 66, TH.13 _ Act 3 - 24. Pas de caractère (Puss in Boots).flac
Size: 7872519 Hash: 15ED4FA5E70AD46DFDFBC2A8CE42895F Accuracy: -m40
Conclusion: CDDA 100%
Signature: 3F9B25A13ADD27D9D0BF1F9CED46D0872C8FB011
FILE: 42 - The Sleeping Beauty, Op. 66, TH.13 _ Act 3 _ Tchaikovsky_ The Sleeping Beauty, Op. 66, TH.13 _ Act 3 - 25. Pas de quatre_ Adagio - Var. I-II - Coda.flac
Size: 17151753 Hash: EFC543FFF6899F68C32F273CF7BDCEB6 Accuracy: -m40
Conclusion: CDDA 100%
Signature: 5BBDFDCF0F3BF386B65053B62FA0426F5256B786
FILE: 43 - The Sleeping Beauty, Op. 66, TH.13 _ Act 3 _ Tchaikovsky_ The Sleeping Beauty, Op. 66, TH.13 _ Act 3 - 26. Pas de caractère (Red Riding Hood) - Cendrillon et le prince Fortune.flac
Size: 4536633 Hash: 24754BF3260B676E46F556D4FCEE46D1 Accuracy: -m40
Conclusion: CDDA 100%
Signature: C6D8B8D9F78B0C4E08DA6BA8F0A1C6C78F114A2F
FILE: 44 - The Sleeping Beauty, Op. 66, TH.13 _ Act 3 _ Tchaikovsky_ The Sleeping Beauty, Op. 66, TH.13 _ Act 3 - 28. Pas de deux_ Aurora and Prince Desire.flac
Size: 20371285 Hash: D6F23D7C05BFB231DA8F6C05214140D2 Accuracy: -m40
Conclusion: CDDA 100%
Signature: F8EEA578CCADAF6D9351D6411810E6DE72285DF3
FILE: 45 - The Sleeping Beauty, Op. 66, TH.13 _ Act 3 _ Tchaikovsky_ The Sleeping Beauty, Op. 66, TH.13 _ Act 3 - 30. Final_ Allegro brillante - Apothéose.flac
Size: 15582486 Hash: 8AF8696CDC374504E43FE4F348BFE9BA Accuracy: -m40
Conclusion: CDDA 100%
Signature: F2AB876FD4B9B0CC3253CD77F9459583576D80CB