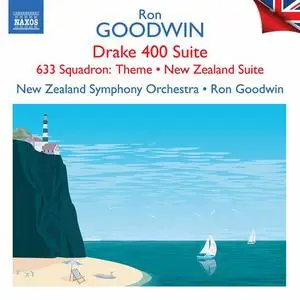 New Zealand Symphony Orchestra - Goodwin: Drake 400 Suite, Main Title Theme & Other Orchestral Works (2022)
FLAC (tracks), Lossless | 69:55 | 311 Mb
Genre: Classical / Label: Naxos
Ron Goodwin is famous for several iconic film scores such as the rousing 633 Squadron. He was an instantly recognisable musical voice, combining an innate ability to write both memorable tunes and to evoke the many moods demanded by film directors, qualities that extend into the gloriously evocative Drake 400 and New Zealand Suites. Goodwin's long and distinguished career earned him multiple Ivor Novello Awards and a Golden Globe Award among many other accolades. Conducted by the composer, this recording represents the best of a true leader in the field of popular music.
Track List:
01. Main Title Theme (From "633 Squadron")
02. Drake 400 Suite: I. The Eddystone Seascape
03. Drake 400 Suite: II. Song of the Mewstone
04. Drake 400 Suite: III. Hornpipe. The Barbican
05. Drake 400 Suite: IV. The Hoe on a Summer Night
06. Drake 400 Suite: V. March. Plymouth Hoe
07. Drake 400 Suite: VI. The Eddystone Seascape (Reprise)
08. Puppet Serenade
09. New Zealand Suite: I. Aotearoa
10. New Zealand Suite: II. Milford Sound
11. New Zealand Suite: III. Picnic at Rotorua
12. New Zealand Suite: IV. The Earnslaw Steam Theme
13. New Zealand Suite: V. The A & P Show
14. New Zealand Suite: VI. Finale. Po atarau
15. Arabian Celebration
16. Venus Waltz
17. Prisoners of War March "The Kriegie" (Version for Orchestra)
18. Minuet in Blue
19. The London Marathon Theme (From "The Trap")[Version for Orchestra]
20. Girl with a Dream
21. Main Theme (From "Lancelot & Guinevere")
ANALYZER: auCDtect: CD records authenticity detector, version 0.8.2
Copyright © 2004 Oleg Berngardt. All rights reserved.
Copyright © 2004 Alexander Djourik. All rights reserved.


FILE: 01 - Main Title Theme (From _633 Squadron_).flac
Size: 17881638 Hash: B1F1AB0A7E2C45FCA900392810EE9BE5 Accuracy: -m40
Conclusion: CDDA 100%
Signature: 0ED1EF89DD6744483E57C3E3DB3D40A1ECFBC46F
FILE: 02 - Drake 400 Suite_ I. The Eddystone Seascape.flac
Size: 10152936 Hash: 0F45D8C60D316C1B8E4F1C2E3D9ADCAE Accuracy: -m40
Conclusion: CDDA 100%
Signature: 4F4754A55C951953AE7E7A8ACAFDD6F0F0AF8876
FILE: 03 - Drake 400 Suite_ II. Song of the Mewstone.flac
Size: 10325844 Hash: ECA9813533DF0B10DDA12B6D00F0B4D5 Accuracy: -m40
Conclusion: CDDA 100%
Signature: 34DB1749ECB283040E1D882EFE1A66146F0EC12E
FILE: 04 - Drake 400 Suite_ III. Hornpipe. The Barbican.flac
Size: 6470896 Hash: F36C2B2F60527AEDCA4FA76EF5C877C0 Accuracy: -m40
Conclusion: CDDA 100%
Signature: 39BAA0C368E6EDFDC8F7CEBA950571B704DAFE4C
FILE: 05 - Drake 400 Suite_ IV. The Hoe on a Summer Night.flac
Size: 14223480 Hash: B45BD39C7AC21DF8F86A090F91E1AC63 Accuracy: -m40
Conclusion: CDDA 100%
Signature: D85362B15A5C62915229CF9EC3B46467863793F6
FILE: 06 - Drake 400 Suite_ V. March. Plymouth Hoe.flac
Size: 13250276 Hash: 760B3498AF426FECF37D8E469E6534E4 Accuracy: -m40
Conclusion: CDDA 100%
Signature: 4FAECAF1E120EFF295E08543BBC00AAB84393305
FILE: 07 - Drake 400 Suite_ VI. The Eddystone Seascape (Reprise).flac
Size: 12629263 Hash: 172396FBF8CD4EA39BB6E648F8ED8282 Accuracy: -m40
Conclusion: CDDA 100%
Signature: AE34FE35037200C9014CE3A1BF384F3B45FFD440
FILE: 08 - Puppet Serenade.flac
Size: 9912893 Hash: 2B2BFBC36BDD0CF3A122D07330840292 Accuracy: -m40
Conclusion: CDDA 100%
Signature: 33D976A01B9CC04008BF31A323C54C58EF656010
FILE: 09 - New Zealand Suite_ I. Aotearoa.flac
Size: 15794457 Hash: E4C8965879D9702F583DEE683EDF9A10 Accuracy: -m40
Conclusion: CDDA 100%
Signature: 9D974897993D1CB81054CE62287C9D860039D271
FILE: 10 - New Zealand Suite_ II. Milford Sound.flac
Size: 20979528 Hash: 7EA5C0DBB65B3E1F57046EB36100A391 Accuracy: -m40
Conclusion: CDDA 99%
Signature: CEDC0DCDFEB22649F479ED49D08A1DB847A13C51
FILE: 11 - New Zealand Suite_ III. Picnic at Rotorua.flac
Size: 7385740 Hash: AFB12664A4E303F0C618F3E293DEF1BF Accuracy: -m40
Conclusion: CDDA 100%
Signature: 861DB659FB508D910EDE2DCCA6899C6968DD02A7
FILE: 12 - New Zealand Suite_ IV. The Earnslaw Steam Theme.flac
Size: 18271669 Hash: B02669A663DE7406747CB5DFB7E49816 Accuracy: -m40
Conclusion: CDDA 100%
Signature: 825EF9339EAAC09E70A2172E890AFF1EACA211DA
FILE: 13 - New Zealand Suite_ V. The A & P Show.flac
Size: 12484518 Hash: 9528D5B73A8F8EDA94E95B65A3EC4EDF Accuracy: -m40
Conclusion: CDDA 100%
Signature: DBE0E799F4C1D236524C94D55F8AA6E974306936
FILE: 14 - New Zealand Suite_ VI. Finale. Po atarau.flac
Size: 15955323 Hash: EF70BBB0ED74A1F2AEB30596116D8B51 Accuracy: -m40
Conclusion: CDDA 100%
Signature: A666C0860FFEE7154DA0CFD2F3E8A096C2223BB2
FILE: 15 - Arabian Celebration.flac
Size: 42105212 Hash: FB1680DA7D02385700CE2051E5CB4AB9 Accuracy: -m40
Conclusion: CDDA 100%
Signature: F6716FAA7A20B8F70F2C8AFAB621DE43BBFEE2D0
FILE: 16 - Venus Waltz.flac
Size: 14023487 Hash: 3C4D83C7CCF0FDB7589DE7F1B9A03BF5 Accuracy: -m40
Conclusion: CDDA 99%
Signature: 2DE19A1F994EC5D39139B48F0783AC5885CA0EBD
FILE: 17 - Prisoners of War March _The Kriegie_ (Version for Orchestra).flac
Size: 17440963 Hash: 5E9C712DB9F3263B9D5187C54F61B307 Accuracy: -m40
Conclusion: CDDA 100%
Signature: 3A8583F59374878549A60A4CC2E294A69D944AF5
FILE: 18 - Minuet in Blue.flac
Size: 12288274 Hash: EAC1DCA27276E929DE73793D36E5DD9A Accuracy: -m40
Conclusion: CDDA 99%
Signature: E7A34837C7D89962374344A1A30F20497977BB09
FILE: 19 - The London Marathon Theme (From _The Trap_) [Version for Orchestra].flac
Size: 18547657 Hash: 5A8A89B61847E17A8014C68EF4E917BC Accuracy: -m40
Conclusion: CDDA 100%
Signature: 67FEA62AF3860C11FD8D80778F7DBB1E26E5DFD5
FILE: 20 - Girl with a Dream.flac
Size: 12251960 Hash: 31F8CF8528CB6540AD2AE0C6F126AAE8 Accuracy: -m40
Conclusion: CDDA 100%
Signature: 600F034A4A3C5AAE10E87E16CAF8C7723D5F4FF3
FILE: 21 - Main Theme (From _Lancelot & Guinevere_).flac
Size: 23914265 Hash: DF62CD7A2CBE305ACE6414D19D8387DD Accuracy: -m40
Conclusion: CDDA 99%
Signature: E1C10CBA78D9F7A97966943ADC0F02C8B3967BFD