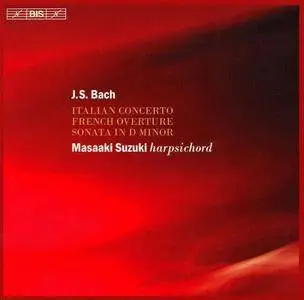 Masaaki Suzuki - J.S. Bach: Italian Concerto, French Overture, Sonata in D minor (2006)
XLD | FLAC (image+.cue, log) | Covers Included | 01:09:12 | 529 MB
Genre: Classical | Label: BIS | Catalog: 1469
Strong but delicate, deliberate but subtle, driven but supple, Masaaki Suzuki's 2005 recording of Bach's Italian Concerto and French Overture for harpsichord are quite convincing in their own distinctive way. In Suzuki's hands, the opening crash of the Italian Concerto is as instantly arresting as the powerful opening prelude and fugue from the French Overture is immediately appealing. Yet the concerto's following Andante is as emotionally nuanced as the overture's Sarabande is deeply affecting and the concerto's closing Presto is as joyfully rambunctious as the overture's Gigue is relentlessly propulsive. Better yet are Suzuki's performances of Bach's own transcription of his A minor Sonata for solo violin as a D minor sonata for solo harpsichord. Here, Suzuki's playing and interpretation are all of a piece; a deep, dark, soulful, and sometimes scary piece, true, but still one overwhelming piece. And whatever the work, Suzuki's playing is always first rate, if not quite as strikingly virtuosic as some full-time harpsichordists – after all, Suzuki's full-time job since 1990 has been directing the Bach Collegium of Japan, the group recording Bach's complete cantatas for BIS. Captured in crisp sound, this recording will please Suzuki's many fans in Japan and around the world.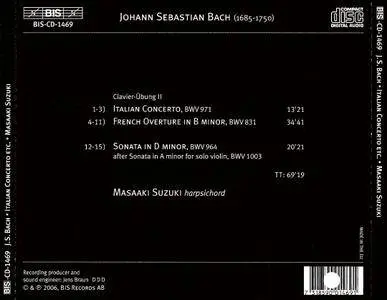 Track List:
01-03. Italian Concerto, BWV 971
04-11. French Overture in B minor, BWV 831
12-15. Sonata in D minor, BWV 964
Performers:
Masaaki Suzuki
, harpsichord
X Lossless Decoder version 20080826 (80.1)

XLD extraction logfile from 2008-08-26 14:01:39 +1000

Masaaki Suzuki / Bach - Italian Concerto, etc, Masaaki Suzuki

Used drive : PIONEER DVD-RW DVR-215 (revision 1.19)

Use cdparanoia mode : YES
Disable audio cache : YES
Read offset correction : 48
Max retry count : 100

TOC of the extracted CD
Track | Start | Length | Start sector | End sector
––––––––––––––––––––––––––––-
1 | 00:00:00 | 04:12:42 | 0 | 18941
2 | 04:12:42 | 05:17:40 | 18942 | 42756
3 | 09:30:07 | 04:01:54 | 42757 | 60885
4 | 13:31:61 | 12:58:29 | 60886 | 119264
5 | 26:30:15 | 02:14:25 | 119265 | 129339
6 | 28:44:40 | 03:44:67 | 129340 | 146206
7 | 32:29:32 | 02:59:55 | 146207 | 159686
8 | 35:29:12 | 03:49:44 | 159687 | 176905
9 | 39:18:56 | 03:09:24 | 176906 | 191104
10 | 42:28:05 | 02:40:20 | 191105 | 203124
11 | 45:08:25 | 03:18:19 | 203125 | 217993
12 | 48:26:44 | 03:01:01 | 217994 | 231569
13 | 51:27:45 | 06:48:29 | 231570 | 262198
14 | 58:15:74 | 05:04:34 | 262199 | 285032
15 | 63:20:33 | 05:58:42 | 285033 | 311924

All Tracks
Filename : /Users/stephen/Uploads/Bach - Italian Concerto, etc, Masaaki Suzuki.flac
CRC32 hash : 761F5AAF
CRC32 hash (skip zero) : A19EBD94
Statistics
Read error : 0
Skipped (treated as error) : 0
Edge jitter error (fixed) : 0
Atom jitter error (fixed) : 0
Dropped bytes error (fixed) : 0
Duplicated bytes error (fixed) : 0

Track 01
CRC32 hash : 772A48D5
CRC32 hash (skip zero) : 7C5B2123
AccurateRip signature : 71673225
->Track not present in AccurateRip database.
Statistics
Read error : 0
Skipped (treated as error) : 0
Edge jitter error (fixed) : 0
Atom jitter error (fixed) : 0
Dropped bytes error (fixed) : 0
Duplicated bytes error (fixed) : 0

Track 02
CRC32 hash : 5A7F40F5
CRC32 hash (skip zero) : C3584B7A
AccurateRip signature : 132A0C2A
->Track not present in AccurateRip database.
Statistics
Read error : 0
Skipped (treated as error) : 0
Edge jitter error (fixed) : 0
Atom jitter error (fixed) : 0
Dropped bytes error (fixed) : 0
Duplicated bytes error (fixed) : 0

Track 03
CRC32 hash : 19F16235
CRC32 hash (skip zero) : 52A0DC16
AccurateRip signature : 75811C87
->Track not present in AccurateRip database.
Statistics
Read error : 0
Skipped (treated as error) : 0
Edge jitter error (fixed) : 0
Atom jitter error (fixed) : 0
Dropped bytes error (fixed) : 0
Duplicated bytes error (fixed) : 0

Track 04
CRC32 hash : F96D8354
CRC32 hash (skip zero) : 070FBC30
AccurateRip signature : 430A6B40
->Track not present in AccurateRip database.
Statistics
Read error : 0
Skipped (treated as error) : 0
Edge jitter error (fixed) : 0
Atom jitter error (fixed) : 0
Dropped bytes error (fixed) : 0
Duplicated bytes error (fixed) : 0

Track 05
CRC32 hash : EAA619CE
CRC32 hash (skip zero) : 60B3999F
AccurateRip signature : 3E82B42D
->Track not present in AccurateRip database.
Statistics
Read error : 0
Skipped (treated as error) : 0
Edge jitter error (fixed) : 0
Atom jitter error (fixed) : 0
Dropped bytes error (fixed) : 0
Duplicated bytes error (fixed) : 0

Track 06
CRC32 hash : 78A75DFC
CRC32 hash (skip zero) : 89DC2C5B
AccurateRip signature : 82FDC2D6
->Track not present in AccurateRip database.
Statistics
Read error : 0
Skipped (treated as error) : 0
Edge jitter error (fixed) : 0
Atom jitter error (fixed) : 0
Dropped bytes error (fixed) : 0
Duplicated bytes error (fixed) : 0

Track 07
CRC32 hash : FD2B937F
CRC32 hash (skip zero) : 84EBDD3D
AccurateRip signature : D8517D43
->Track not present in AccurateRip database.
Statistics
Read error : 0
Skipped (treated as error) : 0
Edge jitter error (fixed) : 0
Atom jitter error (fixed) : 0
Dropped bytes error (fixed) : 0
Duplicated bytes error (fixed) : 0

Track 08
CRC32 hash : 0DE28485
CRC32 hash (skip zero) : 75730A70
AccurateRip signature : 2148B99D
->Track not present in AccurateRip database.
Statistics
Read error : 0
Skipped (treated as error) : 0
Edge jitter error (fixed) : 0
Atom jitter error (fixed) : 0
Dropped bytes error (fixed) : 0
Duplicated bytes error (fixed) : 0

Track 09
CRC32 hash : C5C54770
CRC32 hash (skip zero) : 6C7EA454
AccurateRip signature : 21FAB241
->Track not present in AccurateRip database.
Statistics
Read error : 0
Skipped (treated as error) : 0
Edge jitter error (fixed) : 0
Atom jitter error (fixed) : 0
Dropped bytes error (fixed) : 0
Duplicated bytes error (fixed) : 0

Track 10
CRC32 hash : 487A8FA0
CRC32 hash (skip zero) : 4991485C
AccurateRip signature : 07A332F4
->Track not present in AccurateRip database.
Statistics
Read error : 0
Skipped (treated as error) : 0
Edge jitter error (fixed) : 0
Atom jitter error (fixed) : 0
Dropped bytes error (fixed) : 0
Duplicated bytes error (fixed) : 0

Track 11
CRC32 hash : 21F23C52
CRC32 hash (skip zero) : 93F91F43
AccurateRip signature : 887926E2
->Track not present in AccurateRip database.
Statistics
Read error : 0
Skipped (treated as error) : 0
Edge jitter error (fixed) : 0
Atom jitter error (fixed) : 0
Dropped bytes error (fixed) : 0
Duplicated bytes error (fixed) : 0

Track 12
CRC32 hash : 6142B704
CRC32 hash (skip zero) : 078A9703
AccurateRip signature : B93F14D8
->Track not present in AccurateRip database.
Statistics
Read error : 0
Skipped (treated as error) : 0
Edge jitter error (fixed) : 0
Atom jitter error (fixed) : 0
Dropped bytes error (fixed) : 0
Duplicated bytes error (fixed) : 0

Track 13
CRC32 hash : 8E7AFD2C
CRC32 hash (skip zero) : 4EF3FCFD
AccurateRip signature : 110FCE81
->Track not present in AccurateRip database.
Statistics
Read error : 0
Skipped (treated as error) : 0
Edge jitter error (fixed) : 0
Atom jitter error (fixed) : 0
Dropped bytes error (fixed) : 0
Duplicated bytes error (fixed) : 0

Track 14
CRC32 hash : 71A315C4
CRC32 hash (skip zero) : D1F4E487
AccurateRip signature : D134C3B0
->Track not present in AccurateRip database.
Statistics
Read error : 0
Skipped (treated as error) : 0
Edge jitter error (fixed) : 0
Atom jitter error (fixed) : 0
Dropped bytes error (fixed) : 0
Duplicated bytes error (fixed) : 0

Track 15
CRC32 hash : 799F727A
CRC32 hash (skip zero) : A9F021EF
AccurateRip signature : 2EA5C3B1
->Track not present in AccurateRip database.
Statistics
Read error : 0
Skipped (treated as error) : 0
Edge jitter error (fixed) : 0
Atom jitter error (fixed) : 0
Dropped bytes error (fixed) : 0
Duplicated bytes error (fixed) : 0

No errors occurred

End of status report
Thanks to the Original ripper (unknown)!

Download: