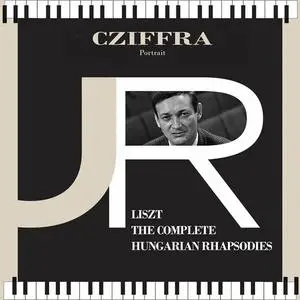 György Cziffra - Portrait: Cziffra Plays Liszt (2022)
FLAC (tracks), Lossless | 2:10:31 | 492 Mb
Genre: Classical / Label: Urania Records
György Cziffra was one of the most celebrated and individual piano virtuosos of the postwar decades in Europe, especially noted for his powers of improvisation and as a Liszt pianist. He was born in a shantytown called Angels Court on the outskirts of Budapest to a family of gypsy musicians. The family was desperately poor, and ultimately both his father and a sister died of starvation. He learned piano by watching an older sister's lessons. By the age of five, he was improvising requests from the audience at a circus. At ten, he was sent to the conservatory in Budapest.
Track List:
CD1
01. Hungarian Rhapsodies, S. 244 (Excerpts): No. 1 in C-Sharp Minor
02. Hungarian Rhapsodies, S. 244 (Excerpts): No. 2 in C-Sharp Minor
03. Hungarian Rhapsodies, S. 244 (Excerpts): No. 3 in B-Flat Major
04. Hungarian Rhapsodies, S. 244 (Excerpts): No. 4 in E-Flat Major
05. Hungarian Rhapsodies, S. 244 (Excerpts): No. 5 in E Minor :Héroïde-élégiaque
06. Hungarian Rhapsodies, S. 244 (Excerpts): No. 6 in D-Flat Major
07. Hungarian Rhapsodies, S. 244 (Excerpts): No. 7 in D Minor
08. Hungarian Rhapsodies, S. 244 (Excerpts): No. 8 in F-Sharp Minor
09. Hungarian Rhapsodies, S. 244 (Excerpts): No. 9 in E-Flat Major :Pesther Carneval
CD2
01. Hungarian Rhapsodies, S. 244 (Excerpts): No. 10 in E Major :Preludio
02. Hungarian Rhapsodies, S. 244 (Excerpts): No. 11 in A Minor
03. Hungarian Rhapsodies, S. 244 (Excerpts): No. 12 in C-Sharp Minor
04. Hungarian Rhapsodies, S. 244 (Excerpts): No. 13 in A Minor
05. Hungarian Rhapsodies, S. 244 (Excerpts): No. 14 in F Minor
06. Hungarian Rhapsodies, S. 244 (Excerpts): No. 15 in A Minor :Rákóczi March
07. Rhapsodie espagnole, S. 254
ANALYZER: auCDtect: CD records authenticity detector, version 0.8.2
Copyright © 2004 Oleg Berngardt. All rights reserved.
Copyright © 2004 Alexander Djourik. All rights reserved.


FILE: 01 - Hungarian Rhapsodies, S. 244 (Excerpts)_ No. 10 in E Major _Preludio_.flac
Size: 20223016 Hash: F932EAEF9EDA4C483B5966168918A456 Accuracy: -m40
Conclusion: CDDA 100%
Signature: 20CDC323FA256BE7C93C0114BBEE275582292007
FILE: 02 - Hungarian Rhapsodies, S. 244 (Excerpts)_ No. 11 in A Minor.flac
Size: 21145112 Hash: E9816F7619F23714CA84EE2E2CC081B7 Accuracy: -m40
Conclusion: CDDA 100%
Signature: 962C0A0413CA6C5FC92629CB39532E7FCB58ED2C
FILE: 03 - Hungarian Rhapsodies, S. 244 (Excerpts)_ No. 12 in C-Sharp Minor.flac
Size: 43266470 Hash: 98D3F8F2B52D84B2BCC70DCF6D3F0E29 Accuracy: -m40
Conclusion: CDDA 100%
Signature: 2D07FFC61EB631ABA5935173C44007CD0352D4A6
FILE: 04 - Hungarian Rhapsodies, S. 244 (Excerpts)_ No. 13 in A Minor.flac
Size: 36230563 Hash: 87EBFCB9D12E718957B6A5BD15DA07B2 Accuracy: -m40
Conclusion: CDDA 100%
Signature: C944981F395DCF9A654B91CBAA2D76470E2E1AD6
FILE: 05 - Hungarian Rhapsodies, S. 244 (Excerpts)_ No. 14 in F Minor.flac
Size: 49681744 Hash: 177A1499AA2E898B9A868402DE4A7B4B Accuracy: -m40
Conclusion: CDDA 100%
Signature: DB15C9C7A686E31D841B7BC8307A9C17EA6BBF73
FILE: 06 - Hungarian Rhapsodies, S. 244 (Excerpts)_ No. 15 in A Minor _Rákóczi March_.flac
Size: 21406192 Hash: 2D36C5CF98B47D895F8A2EC35FA4770B Accuracy: -m40
Conclusion: CDDA 100%
Signature: 9A04E1CED684E2301BC1556F1CE0D61DA6C2F4DB
FILE: 07 - Rhapsodie espagnole, S. 254.flac
Size: 47792784 Hash: E5B09282BE0F7736C08C2D936F611457 Accuracy: -m40
Conclusion: CDDA 100%
Signature: B53ED41217ADD92ACC91170A4A0C1E6709F53D89
FILE: 01 - Hungarian Rhapsodies, S. 244 (Excerpts)_ No. 1 in C-Sharp Minor.flac
Size: 47763107 Hash: D421CA086DE7C5E7FE4849B4DF741B9F Accuracy: -m40
Conclusion: CDDA 100%
Signature: 1A5520C3811DAF000E840918E34DE20618394F4A
FILE: 02 - Hungarian Rhapsodies, S. 244 (Excerpts)_ No. 2 in C-Sharp Minor.flac
Size: 43157911 Hash: C622831790D26F9DE87E7A65A4F66EFA Accuracy: -m40
Conclusion: CDDA 100%
Signature: 564F6C1E2AD8DAAD232E9890EF8D8AA531E55023
FILE: 03 - Hungarian Rhapsodies, S. 244 (Excerpts)_ No. 3 in B-Flat Major.flac
Size: 15854544 Hash: 5AE9FED68785EF35760219DC1D3A8AAF Accuracy: -m40
Conclusion: CDDA 99%
Signature: 3C8DD9DE551C63681368C6264C9B419468B2E4E2
FILE: 04 - Hungarian Rhapsodies, S. 244 (Excerpts)_ No. 4 in E-Flat Major.flac
Size: 20353609 Hash: EE27A41AC57051E947C812BB21F0EEC8 Accuracy: -m40
Conclusion: CDDA 100%
Signature: C6871EF18062413F68D45FAB57F5FF6D97B8A249
FILE: 05 - Hungarian Rhapsodies, S. 244 (Excerpts)_ No. 5 in E Minor _Héroïde-élégiaque_.flac
Size: 32520521 Hash: 8895A7C27D7B2B4CDFC0EE6AFB78FEE6 Accuracy: -m40
Conclusion: CDDA 100%
Signature: B28E7EC07B00638A059A06D8744A66E602DF739F
FILE: 06 - Hungarian Rhapsodies, S. 244 (Excerpts)_ No. 6 in D-Flat Major.flac
Size: 29513926 Hash: 72F46AEF3A586E03DDBAE16EB458A42D Accuracy: -m40
Conclusion: CDDA 100%
Signature: 0F49702D69E25BE613830AF46E16C65681B25539
FILE: 07 - Hungarian Rhapsodies, S. 244 (Excerpts)_ No. 7 in D Minor.flac
Size: 19420804 Hash: 3A777C4C68FA487B33913FB205943C63 Accuracy: -m40
Conclusion: CDDA 100%
Signature: 72F9E01EA256673ABCF4173BEAFCACE9D2E2096F
FILE: 08 - Hungarian Rhapsodies, S. 244 (Excerpts)_ No. 8 in F-Sharp Minor.flac
Size: 24402006 Hash: C5C06445FDF54F0A22D279B408F15D0B Accuracy: -m40
Conclusion: CDDA 100%
Signature: 93C1947D2FD11AA223AEE215E27F7576269BC94F
FILE: 09 - Hungarian Rhapsodies, S. 244 (Excerpts)_ No. 9 in E-Flat Major _Pesther Carneval_.flac
Size: 44737296 Hash: 18D84359F8EF567C9E4465948BFCD700 Accuracy: -m40
Conclusion: CDDA 100%
Signature: B402626F26C4407AA22B013C2DFF11487FF9E620