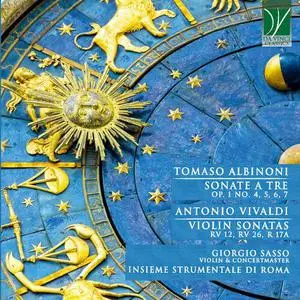 Giorgio Sasso - Tomaso Albinoni Op. 1 Nos. 4, 5, 6 & 7 - Antonio Vivaldi: Violin Sonatas RV 12, RV 26 & RV 17a (2022)
FLAC (tracks), Lossless | 1:02:52 | 368 Mb
Genre: Classical / Label: Da Vinci Classics
There are numerous red threads weaving together the works recorded in this Da Vinci Classics album. As is well known, the term sonata literally means "something to be played", in Italian, while its cognate term cantata means "something to be sung". Along with toccata ("something to be touched", i.e. to be played on a keyboard instrument) these three genres are among the leading creations of Italian Baroque music, and would inspire countless musicians both in the Peninsula and abroad. None of these genres was one of Vivaldi's favourites: at least numerically, the Red Priest clearly preferred Concertos to Sonatas. However, his extraordinary knowledge of the secrets of violin playing, largely derived from his long and assiduous frequentation of concertos, could easily translate into skillful and creative works in the genres of the Sonatas.
Track List:
01. 12 Trio Sonatas in G Minor, Op. 1 No. 4: I. Grave
02. 12 Trio Sonatas in G Minor, Op. 1 No. 4: II. Allegro
03. 12 Trio Sonatas in G Minor, Op. 1 No. 4: III. Grave
04. 12 Trio Sonatas in G Minor, Op. 1 No. 4: IV. Presto
05. Violin Sonata in D Minor, RV 12: I. Preludio
06. Violin Sonata in D Minor, RV 12: II. Corrente
07. Violin Sonata in D Minor, RV 12: III. Giga
08. Violin Sonata in D Minor, RV 12: IV. Gavotta
09. 12 Trio Sonatas in G Major, Op. 1 No. 7: I. Grave
10. 12 Trio Sonatas in G Major, Op. 1 No. 7: II. Allegro
11. 12 Trio Sonatas in G Major, Op. 1 No. 7: III. Grave
12. 12 Trio Sonatas in G Major, Op. 1 No. 7: IV. Adagio - Allegro
13. Violin Sonata in G Minor, RV 26: I. Adagio
14. Violin Sonata in G Minor, RV 26: II. Allegro
15. Violin Sonata in G Minor, RV 26: III. Adagio
16. Violin Sonata in G Minor, RV 26: IV. Allegro
17. Violin Sonata in G Minor, RV 26: V. Giga
18. 12 Trio Sonatas in C Major, Op. 1 No. 5: I. Grave
19. 12 Trio Sonatas in C Major, Op. 1 No. 5: II. Allegro
20. 12 Trio Sonatas in C Major, Op. 1 No. 5: III. Grave
21. 12 Trio Sonatas in C Major, Op. 1 No. 5: IV. Allegro
22. 12 Trio Sonatas in A Minor, Op. 1 No. 6: I. Grave
23. 12 Trio Sonatas in A Minor, Op. 1 No. 6: II. Allegro
24. 12 Trio Sonatas in A Minor, Op. 1 No. 6: III. Grave
25. 12 Trio Sonatas in A Minor, Op. 1 No. 6: IV. Allegro
26. Violin Sonata in E Minor, RV 17a: I. Preludio
27. Violin Sonata in E Minor, RV 17a: II. Corrente
28. Violin Sonata in E Minor, RV 17a: III. Sarabanda
29. Violin Sonata in E Minor, RV 17a: IV. Allemanda
ANALYZER: auCDtect: CD records authenticity detector, version 0.8.2
Copyright © 2004 Oleg Berngardt. All rights reserved.
Copyright © 2004 Alexander Djourik. All rights reserved.


FILE: 01 - 12 Trio Sonatas in G Minor, Op. 1 No. 4_ I. Grave.flac
Size: 12337686 Hash: 4B4D7AB08BB62038EE817F291F972726 Accuracy: -m40
Conclusion: CDDA 100%
Signature: 46C4F5CFAC84F1DF5FB84B6CA1F8DC74103AAF8C
FILE: 02 - 12 Trio Sonatas in G Minor, Op. 1 No. 4_ II. Allegro.flac
Size: 11064895 Hash: 0E1C658E4FCB566A6DE7B80D37BEB42A Accuracy: -m40
Conclusion: CDDA 99%
Signature: 8416A6E51BC3E93A6989232C25D4C661031F8ED2
FILE: 03 - 12 Trio Sonatas in G Minor, Op. 1 No. 4_ III. Grave.flac
Size: 10639579 Hash: 2114D6149CB1356FAFCD69BD2E3362FB Accuracy: -m40
Conclusion: CDDA 100%
Signature: 2F84E4D202C0326A444F8A730DDC4C5019BF6F43
FILE: 04 - 12 Trio Sonatas in G Minor, Op. 1 No. 4_ IV. Presto.flac
Size: 8678034 Hash: 463B9A4E80AB89BA5B577E374576B6D1 Accuracy: -m40
Conclusion: CDDA 100%
Signature: 4B05DD06B35862045103C92FDF0F8309FE013037
FILE: 05 - Violin Sonata in D Minor, RV 12_ I. Preludio.flac
Size: 24581971 Hash: 30BE76E19F94EC3FFFCE9A6807E9DEB9 Accuracy: -m40
Conclusion: CDDA 99%
Signature: F7F4F9FA531386D274822CD1BB86E6F81D631D8A
FILE: 06 - Violin Sonata in D Minor, RV 12_ II. Corrente.flac
Size: 23631500 Hash: 59236BF9D55DDE52BE4DEFB8A0E523D1 Accuracy: -m40
Conclusion: CDDA 100%
Signature: A5692FA9D869088355F61A6FFDE9A022C9CEFCF6
FILE: 07 - Violin Sonata in D Minor, RV 12_ III. Giga.flac
Size: 22427149 Hash: 197C4A96BABD81AE32475A242E50EC53 Accuracy: -m40
Conclusion: CDDA 100%
Signature: A4863762E5AEFE5EA2D2F0BA5B6DF2CB9F7B553F
FILE: 08 - Violin Sonata in D Minor, RV 12_ IV. Gavotta.flac
Size: 12860703 Hash: FE4F33CAADE51C0C47F8D2BB34531EFD Accuracy: -m40
Conclusion: CDDA 100%
Signature: B0B41CE6CB6F4A7891DBD607368DB8DCA568D8CF
FILE: 09 - 12 Trio Sonatas in G Major, Op. 1 No. 7_ I. Grave.flac
Size: 12064903 Hash: A5F15E23DA93721C60176DC541BF3767 Accuracy: -m40
Conclusion: CDDA 99%
Signature: 58ACAC1BA4D425A4FD939EDDA09CCE8842FCFA08
FILE: 10 - 12 Trio Sonatas in G Major, Op. 1 No. 7_ II. Allegro.flac
Size: 11444293 Hash: 506C409BD47A96095CD773D0CA9A2061 Accuracy: -m40
Conclusion: CDDA 100%
Signature: 5BEAFF34F5D4E36920220EE7805C718DDFBB6B3D
FILE: 11 - 12 Trio Sonatas in G Major, Op. 1 No. 7_ III. Grave.flac
Size: 11936214 Hash: 05623CC60E35EEC0A423B38817A35DF1 Accuracy: -m40
Conclusion: CDDA 100%
Signature: FD69D23B195BF648F61187BDC6AC8CE23A7FD0BD
FILE: 12 - 12 Trio Sonatas in G Major, Op. 1 No. 7_ IV. Adagio - Allegro.flac
Size: 8869223 Hash: 7D368C7E61FFAA855091E23A5BF4EB62 Accuracy: -m40
Conclusion: CDDA 100%
Signature: BF75014CAB9B4F29E59213E8B0580A39080B9DAA
FILE: 13 - Violin Sonata in G Minor, RV 26_ I. Adagio.flac
Size: 14145153 Hash: D4A1484B77583282EFB5B95CC4492368 Accuracy: -m40
Conclusion: CDDA 100%
Signature: F0703D1E7B5046249B42E23EFF83D442DEE13695
FILE: 14 - Violin Sonata in G Minor, RV 26_ II. Allegro.flac
Size: 11739170 Hash: A061AE6F2F12B39DF247815817AB22B8 Accuracy: -m40
Conclusion: CDDA 100%
Signature: E747AE9E06F37464CE5F93C15BFDED764BF82638
FILE: 15 - Violin Sonata in G Minor, RV 26_ III. Adagio.flac
Size: 9398857 Hash: 81D92141AAAA04BDB186002EBCB488AE Accuracy: -m40
Conclusion: CDDA 100%
Signature: C8ED3EE00C27B8C9F4652DDBA563BEF32170B1F9
FILE: 16 - Violin Sonata in G Minor, RV 26_ IV. Allegro.flac
Size: 6890081 Hash: 415F262BC8DFAAE7E8835891DAE33A79 Accuracy: -m40
Conclusion: CDDA 100%
Signature: 87560302EB706F5C8FB9C53C86BB4C57483B7636
FILE: 17 - Violin Sonata in G Minor, RV 26_ V. Giga.flac
Size: 12236871 Hash: 51E7D027B7BFF9514660B36A8A93F68F Accuracy: -m40
Conclusion: CDDA 100%
Signature: 61EFF8E63C6CED4C4286C7DD5E14A7070E2CCEA4
FILE: 18 - 12 Trio Sonatas in C Major, Op. 1 No. 5_ I. Grave.flac
Size: 10948702 Hash: F1914EF6434D71B508E42B758C2E638E Accuracy: -m40
Conclusion: CDDA 99%
Signature: C5920237EBB8FE93F89902BF14EBAB2DC829D07B
FILE: 19 - 12 Trio Sonatas in C Major, Op. 1 No. 5_ II. Allegro.flac
Size: 10141941 Hash: 24D3B277C94C234D600E1486AE1E4F28 Accuracy: -m40
Conclusion: CDDA 100%
Signature: 4E1AAAF2749D86D77F19761A6333F85DBA5EAEA8
FILE: 20 - 12 Trio Sonatas in C Major, Op. 1 No. 5_ III. Grave.flac
Size: 9664304 Hash: 55412E46CE981D1D51D9966FA456C904 Accuracy: -m40
Conclusion: CDDA 100%
Signature: 71EDB4D9EA72C8F21681F125376B68A726B7B65A
FILE: 21 - 12 Trio Sonatas in C Major, Op. 1 No. 5_ IV. Allegro.flac
Size: 8979006 Hash: FCF45710E12B9834931A3FE591A7C832 Accuracy: -m40
Conclusion: CDDA 99%
Signature: 4393F59F50EB31902B85C4AD8B7A85F772B1D6FB
FILE: 22 - 12 Trio Sonatas in A Minor, Op. 1 No. 6_ I. Grave.flac
Size: 10353362 Hash: D26E60587C346DB4E55C50FFF761CD66 Accuracy: -m40
Conclusion: CDDA 100%
Signature: A650ADC257768E3A9222007AACF21165616C33BB
FILE: 23 - 12 Trio Sonatas in A Minor, Op. 1 No. 6_ II. Allegro.flac
Size: 14623345 Hash: F32A0FE2B93FA3D677868F07AC097C1A Accuracy: -m40
Conclusion: CDDA 100%
Signature: 044F67050181B83EB25D7CE6FF3AB5F54BF02EF0
FILE: 24 - 12 Trio Sonatas in A Minor, Op. 1 No. 6_ III. Grave.flac
Size: 4457091 Hash: C0D177530D8B07F4E564532CA0555689 Accuracy: -m40
Conclusion: CDDA 100%
Signature: 3DBC28CC9B739D801E358DF855244C12CA85B429
FILE: 25 - 12 Trio Sonatas in A Minor, Op. 1 No. 6_ IV. Allegro.flac
Size: 13674680 Hash: E2E2BBCF2A687565E758A3257604D43F Accuracy: -m40
Conclusion: CDDA 100%
Signature: 8EE4F2BD62D20734DBF0B69CC11E86B103C74B92
FILE: 26 - Violin Sonata in E Minor, RV 17a_ I. Preludio.flac
Size: 27974604 Hash: C37A457C2B7935CD647375CEE43EAA8B Accuracy: -m40
Conclusion: CDDA 100%
Signature: 5B81F2D3A948DDCEDB20D34C6399DCC77E78421B
FILE: 27 - Violin Sonata in E Minor, RV 17a_ II. Corrente.flac
Size: 15675835 Hash: 4445D7111920F313F4A1333165EB00D8 Accuracy: -m40
Conclusion: CDDA 99%
Signature: 6EE90FB1F7919D987112A4C74B982608ED1C75C3
FILE: 28 - Violin Sonata in E Minor, RV 17a_ III. Sarabanda.flac
Size: 17349408 Hash: 68C331348CAFAF33AABB26BF912B7390 Accuracy: -m40
Conclusion: CDDA 100%
Signature: A3D18ACC0859735327050B999FF74C1369696EF6
FILE: 29 - Violin Sonata in E Minor, RV 17a_ IV. Allemanda.flac
Size: 18448614 Hash: 3ACCBD18632097F861094B0DBD79B1D9 Accuracy: -m40
Conclusion: CDDA 100%
Signature: 8083E0E3AD2A9E97D2B45AA6ABF1F207E8922FC7