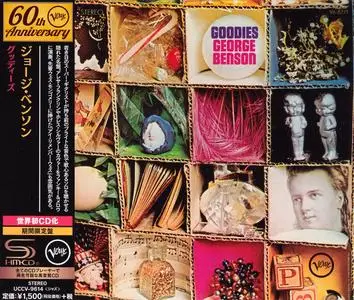 George Benson - Goodies (1968) Japanese SHM-CD Remastered Reissue 2016
XLD | FLAC | Image (Cue&Log) ~ 242 Mb | Mp3 (CBR320) ~ 90 Mb | Scans ~ 77 Mb
Crossover Jazz, Guitar Jazz, Soul | Label: Verve | # UCCV-9614 | Time: 00:39:04
Goodies is the sixth album by jazz guitarist George Benson recorded in 1968 and released on the Verve label.
Verve needed one more album from Benson after he signed with A&M/CTI, and ended up with a strange grab-bag in which Benson plays superbly throughout, whatever the odd goulash of sounds in back of him. Horace Ott's string arrangements are overbearing in scope and undernourished in tone; at times they don't even seem in sync with Benson's group. The big band tracks – "Song For My Father" in particular – are more tolerable, and the gospel singing of the Sweet Inspirations is harmless. There is one high-spirited Benson vocal, "That Lucky Old Sun," and it strikes fire. Perversely perhaps, the choice cut is a surprisingly hard-driven "Windmills Of Your Mind," in which Benson fights off the cheesy arrangement with some powerfully rhythmic work (watch out for the shattering psychedelic ending!).



Review by Richard S. Ginell, Allmusic.com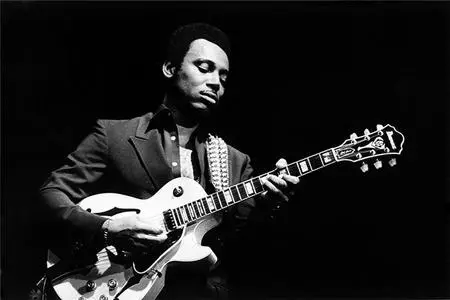 George Benson – guitar, vocals
Clark Terry – trumpet
Garnett Brown – trombone
Arthur Clarke – tenor saxophone, flute
George Marge – tenor saxophone, flute
Bobby Lucas – harmonica
Paul Griffin – piano, celeste
Bob Cranshaw – electric bass (tracks 4, 6-7)
Chuck Rainey – bass (tracks 1-3, 5, 8-9)
Jimmy Johnson, Jr. – drums (tracks 4, 6-7)
Leo Morris – drums (tracks 1-3, 5, 8-9)
Jack Jennings - congas, vibraphone
The Sweet Inspirations - vocals
The Winston Collymore Strings arranged and conducted by Horace Ott (tracks 2, 4, 5 & 7)
Recorded at A&R Studios in New York City in November, 1968.
Tracklist:
01. I Remember Wes (3:58)
02. Carnival Joys (3:57)
03. You Make Me Feel Like A Natural Woman (4:36)
04. That Lucky Old Sun (3:44)
05. Julie (3:18)
06. Windmills Of Your Mind (5:16)
07. Doobie, Doobie Blues (5:12)
08. Song For My Father (4:50)
09. People Get Ready (4:15)
X Lossless Decoder version 20181019 (151.1)

XLD extraction logfile from 2018-11-22 15:21:27 +0500

George Benson / Goodies

Used drive : HL-DT-ST DVDRAM GP60NS60 (revision PE00)
Media type : Pressed CD

Ripper mode : XLD Secure Ripper
Disable audio cache : OK for the drive with a cache less than 1375KiB
Make use of C2 pointers : NO
Read offset correction : 6
Max retry count : 20
Gap status : Analyzed, Appended

TOC of the extracted CD
Track | Start | Length | Start sector | End sector
––––––––––––––––––––––––––––-
1 | 00:00:00 | 03:57:41 | 0 | 17815
2 | 03:57:41 | 03:56:70 | 17816 | 35585
3 | 07:54:36 | 04:36:33 | 35586 | 56318
4 | 12:30:69 | 03:43:70 | 56319 | 73113
5 | 16:14:64 | 03:17:52 | 73114 | 87940
6 | 19:32:41 | 05:15:62 | 87941 | 111627
7 | 24:48:28 | 05:11:54 | 111628 | 135006
8 | 30:00:07 | 04:49:53 | 135007 | 156734
9 | 34:49:60 | 04:14:40 | 156735 | 175824

AccurateRip Summary (DiscID: 000cf833-005fff00-77092809)
Track 01 : OK (v2, confidence 1/1)
Track 02 : OK (v2, confidence 1/1)
Track 03 : OK (v2, confidence 1/1)
Track 04 : OK (v2, confidence 1/1)
Track 05 : OK (v2, confidence 1/1)
Track 06 : OK (v2, confidence 1/1)
Track 07 : OK (v2, confidence 1/1)
Track 08 : OK (v2, confidence 1/1)
Track 09 : OK (v2, confidence 1/1)
->All tracks accurately ripped.

All Tracks
Filename : /Users/mihail/Music/CDs/George Benson - Goodies.flac
Album gain : -7.01 dB
Peak : 0.999969
CRC32 hash (test run) : 5C9579BF
CRC32 hash : 5C9579BF
CRC32 hash (skip zero) : 442E3052
Statistics
Read error : 0
Jitter error (maybe fixed) : 0
Retry sector count : 0
Damaged sector count : 0

Track 01
Pre-gap length : 00:02:00

Track gain : -4.55 dB
Peak : 0.996552
CRC32 hash (test run) : CB641745
CRC32 hash : CB641745
CRC32 hash (skip zero) : F240462C
AccurateRip v1 signature : 6A3C6FFF
AccurateRip v2 signature : F1156FBF
->Accurately ripped (v2, confidence 1/1)
Statistics
Read error : 0
Jitter error (maybe fixed) : 0
Retry sector count : 0
Damaged sector count : 0

Track 02
Pre-gap length : 00:02:62

Track gain : -7.23 dB
Peak : 0.999969
CRC32 hash (test run) : A56DE91A
CRC32 hash : A56DE91A
CRC32 hash (skip zero) : 142E9C7B
AccurateRip v1 signature : F807E3E4
AccurateRip v2 signature : B2B17F21
->Accurately ripped (v2, confidence 1/1)
Statistics
Read error : 0
Jitter error (maybe fixed) : 0
Retry sector count : 0
Damaged sector count : 0

Track 03
Pre-gap length : 00:02:37

Track gain : -6.38 dB
Peak : 0.999969
CRC32 hash (test run) : E6E1B64C
CRC32 hash : E6E1B64C
CRC32 hash (skip zero) : D726160B
AccurateRip v1 signature : C1695F35
AccurateRip v2 signature : A580C919
->Accurately ripped (v2, confidence 1/1)
Statistics
Read error : 0
Jitter error (maybe fixed) : 0
Retry sector count : 0
Damaged sector count : 0

Track 04
Pre-gap length : 00:02:13

Track gain : -9.07 dB
Peak : 0.999969
CRC32 hash (test run) : 44CDB576
CRC32 hash : 44CDB576
CRC32 hash (skip zero) : 9B0377BE
AccurateRip v1 signature : 535CBED6
AccurateRip v2 signature : 860BC3ED
->Accurately ripped (v2, confidence 1/1)
Statistics
Read error : 0
Jitter error (maybe fixed) : 0
Retry sector count : 0
Damaged sector count : 0

Track 05
Pre-gap length : 00:02:54

Track gain : -4.52 dB
Peak : 0.998047
CRC32 hash (test run) : 93C09D84
CRC32 hash : 93C09D84
CRC32 hash (skip zero) : 8C972377
AccurateRip v1 signature : 602B4797
AccurateRip v2 signature : FE4A6AD5
->Accurately ripped (v2, confidence 1/1)
Statistics
Read error : 0
Jitter error (maybe fixed) : 0
Retry sector count : 0
Damaged sector count : 0

Track 06
Pre-gap length : 00:02:61

Track gain : -8.41 dB
Peak : 0.999969
CRC32 hash (test run) : 44265BE4
CRC32 hash : 44265BE4
CRC32 hash (skip zero) : 787E470F
AccurateRip v1 signature : 4EE3F18F
AccurateRip v2 signature : 08916138
->Accurately ripped (v2, confidence 1/1)
Statistics
Read error : 0
Jitter error (maybe fixed) : 0
Retry sector count : 0
Damaged sector count : 0

Track 07
Pre-gap length : 00:02:50

Track gain : -7.16 dB
Peak : 0.999969
CRC32 hash (test run) : 1DC393CC
CRC32 hash : 1DC393CC
CRC32 hash (skip zero) : D3D71FB5
AccurateRip v1 signature : B30DCE8C
AccurateRip v2 signature : 273AFE2B
->Accurately ripped (v2, confidence 1/1)
Statistics
Read error : 0
Jitter error (maybe fixed) : 0
Retry sector count : 0
Damaged sector count : 0

Track 08
Pre-gap length : 00:01:42

Track gain : -6.32 dB
Peak : 0.999969
CRC32 hash (test run) : A38D8117
CRC32 hash : A38D8117
CRC32 hash (skip zero) : 9D981DC6
AccurateRip v1 signature : 16E12FD4
AccurateRip v2 signature : 90CF36AB
->Accurately ripped (v2, confidence 1/1)
Statistics
Read error : 0
Jitter error (maybe fixed) : 0
Retry sector count : 0
Damaged sector count : 0

Track 09
Pre-gap length : 00:02:54

Track gain : -6.43 dB
Peak : 0.999969
CRC32 hash (test run) : CAC68FA9
CRC32 hash : CAC68FA9
CRC32 hash (skip zero) : CF49CAA5
AccurateRip v1 signature : E02D3B98
AccurateRip v2 signature : 94112EAC
->Accurately ripped (v2, confidence 1/1)
Statistics
Read error : 0
Jitter error (maybe fixed) : 0
Retry sector count : 0
Damaged sector count : 0

No errors occurred

End of status report

––-BEGIN XLD SIGNATURE––-
fA_NwdHdBN0Qkbsm.sNIAZJO2dhzYfJHeyLKPbHxcVYnQftnDFIqtTdBaGrTLeCfDzSWRXaxyHHqfq_oMxsC8UuldEF937TuwavbrgS
––-END XLD SIGNATURE––-
[CUETools log; Date: 23.11.2018 10:01:16; Version: 2.1.4]
[CTDB TOCID: VREx10V4jktd7LT1OKNWM4hc1Zs-] found.
Track | CTDB Status
1 | (5/5) Accurately ripped
2 | (5/5) Accurately ripped
3 | (5/5) Accurately ripped
4 | (5/5) Accurately ripped
5 | (5/5) Accurately ripped
6 | (5/5) Accurately ripped
7 | (5/5) Accurately ripped
8 | (5/5) Accurately ripped
9 | (5/5) Accurately ripped
[AccurateRip ID: 000cf833-005fff00-77092809] found.
Track [ CRC | V2 ] Status
01 [6a3c6fff|f1156fbf] (0+1/1) Accurately ripped
02 [f807e3e4|b2b17f21] (0+1/1) Accurately ripped
03 [c1695f35|a580c919] (0+1/1) Accurately ripped
04 [535cbed6|860bc3ed] (0+1/1) Accurately ripped
05 [602b4797|fe4a6ad5] (0+1/1) Accurately ripped
06 [4ee3f18f|08916138] (0+1/1) Accurately ripped
07 [b30dce8c|273afe2b] (0+1/1) Accurately ripped
08 [16e12fd4|90cf36ab] (0+1/1) Accurately ripped
09 [e02d3b98|94112eac] (0+1/1) Accurately ripped

Track Peak [ CRC32 ] [W/O NULL]
– 100,0 [5C9579BF] [442E3052]
01 99,6 [CB641745] [F240462C]
02 100,0 [A56DE91A] [142E9C7B]
03 100,0 [E6E1B64C] [D726160B]
04 100,0 [44CDB576] [9B0377BE]
05 99,8 [93C09D84] [8C972377]
06 100,0 [44265BE4] [787E470F]
07 100,0 [1DC393CC] [D3D71FB5]
08 100,0 [A38D8117] [9D981DC6]
09 99,9 [CAC68FA9] [CF49CAA5]
foobar2000 1.2 / Dynamic Range Meter 1.1.1
log date: 2018-11-23 10:21:31

––––––––––––––––––––––––––––––––––––––––
Analyzed: George Benson / Goodies
––––––––––––––––––––––––––––––––––––––––

DR Peak RMS Duration Track
––––––––––––––––––––––––––––––––––––––––
DR10 -0.03 dB -12.57 dB 3:58 01-I Remember Wes
DR8 0.00 dB -9.99 dB 3:57 02-Carnival Joys
DR8 0.00 dB -11.46 dB 4:36 03-You Make Me Feel Like A Natural Woman
DR7 0.00 dB -9.07 dB 3:44 04-That Lucky Old Sun
DR10 -0.02 dB -13.17 dB 3:18 05-Julie
DR7 0.00 dB -8.95 dB 5:16 06-Windmills Of Your Mind
DR8 0.00 dB -9.74 dB 5:12 07-Doobie, Doobie Blues
DR9 0.00 dB -11.11 dB 4:50 08-Song For My Father
DR9 0.00 dB -11.58 dB 4:15 09-People Get Ready
––––––––––––––––––––––––––––––––––––––––

Number of tracks: 9
Official DR value: DR9

Samplerate: 44100 Hz
Channels: 2
Bits per sample: 16
Bitrate: 863 kbps
Codec: FLAC
================================================================================