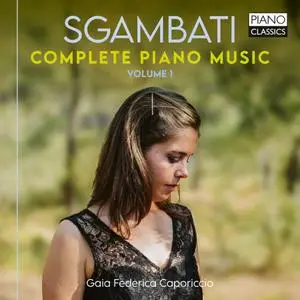 Gaia Federica Caporiccio - Sgambati: Complete Piano Music, Vol. 1 (2022)
FLAC (tracks), Lossless | 1:42:20 | 370 Mb
Genre: Classical / Label: Piano Classics
Piano Classics presents the first volume in a major new series which promises to become the most comprehensive recorded survey of a central but now little-known figure in 19th-century Italian music.Born in Rome in 1841, Giovanni Sgambati cut an impressive but relatively familiar figure as a prodigious young virtuoso until, as a 21-year-old keyboard lion in the making, he was introduced to Franz Liszt. The encounter changed Sgambati's life. Liszt, perhaps the single most influential figure in European musical life in the middle of the 19th century, took the young Sgambati under his wing, and his faith was richly repaid. Still in his 20s, Sgambati conducted the Italian premiere of the Dante Symphony and even the premiere of the first (lengthy) part of the Christus oratorio.
Track List:
01. Prélude et fugue in E-Flat Minor, Op. 6: I. Prélude
02. Prélude et fugue in E-Flat Minor, Op. 6: II. Fugue
03. 2 Études de concert, Op. 10: I. Tranquillo
04. 2 Études de concert, Op. 10: II. Agitato
05. Étude triomphale in A Major
06. 6 Pièces lyriques, Op. 23: I. Rapelle-Toi!
07. 6 Pièces lyriques, Op. 23: II. Á la Fontaine
08. 6 Pièces lyriques, Op. 23: III. Vox Populi
09. 6 Pièces lyriques, Op. 23: IV. Do-Do
10. 6 Pièces lyriques, Op. 23: V. Ländler
11. 6 Pièces lyriques, Op. 23: VI. Gigue
12. Sérénade Valsée
13. 3 Nocturnes, Op. 20: No. 1 in B Minor
14. 3 Nocturnes, Op. 20: No. 2 in G Major
15. 3 Nocturnes, Op. 20: No. 3 in C Minor
16. Nocturne in B Major per l'album di Bellini
17. Nocturne in D-Flat Major, Op. 31
18. Nocturne in E Major, Op. 33
19. Nocturne in G Major
20. Impromptus: I. Allegretto in E-Flat Major
21. Impromptus: II. Allegro moderato in B-Flat Major
22. Impromptus: III. Allegretto grazioso in E-Flat Major
23. Impromptus: IV. Animato allegramente in E Major
24. Impromptus: V. Andantino in A Major
25. Impromptus: VI. Allegro appassionato ma non troppo mosso in F-Sharp Minor
26. Gavotte in A-Flat Minor, Op. 14
ANALYZER: auCDtect: CD records authenticity detector, version 0.8.2
Copyright © 2004 Oleg Berngardt. All rights reserved.
Copyright © 2004 Alexander Djourik. All rights reserved.


FILE: 01 - Prélude et fugue in E-Flat Minor, Op. 6_ I. Prélude.flac
Size: 14612816 Hash: 5272AC722535BD057D498D7D93F56607 Accuracy: -m40
Conclusion: CDDA 100%
Signature: B45416AF8ED51708DD2B064067BDDADA1C5D16A3
FILE: 02 - Prélude et fugue in E-Flat Minor, Op. 6_ II. Fugue.flac
Size: 28374491 Hash: 8BDD247D4DC660056A3627FF90FB7027 Accuracy: -m40
Conclusion: CDDA 100%
Signature: F28B842E5E4540D5E453CE0162D51E95A2B331CA
FILE: 03 - 2 Études de concert, Op. 10_ I. Tranquillo.flac
Size: 18019928 Hash: 18155DA7279BBD47113B2734769D2B10 Accuracy: -m40
Conclusion: ???
Signature: E2E86CBA73CB8A5817C4F050B7A7C5C4C7A1CA45
FILE: 04 - 2 Études de concert, Op. 10_ II. Agitato.flac
Size: 27072387 Hash: 3BD80233AFD70BBEBD8227C8AD9D3730 Accuracy: -m40
Conclusion: CDDA 100%
Signature: B6B7A01C77B0962CE135CF175557F0BD2FB9A043
FILE: 05 - Étude triomphale in A Major.flac
Size: 9320316 Hash: 039CF1E1C15F83692AA6DC02F2672548 Accuracy: -m40
Conclusion: CDDA 92%
Signature: 59D9300A0DAF5E5924F71DA6F0BED95A0A1326DC
FILE: 06 - 6 Pièces lyriques, Op. 23_ I. Rapelle-Toi!.flac
Size: 10372957 Hash: 91006629C7EA525BD12F847306031F5A Accuracy: -m40
Conclusion: CDDA 58%
Signature: 2752127D91A91F28274D28584F5ED5777F4B13E8
FILE: 07 - 6 Pièces lyriques, Op. 23_ II. Á la Fontaine.flac
Size: 7205528 Hash: B119F1AF2A35CAFA59177170D066F50E Accuracy: -m40
Conclusion: ???
Signature: F5ED59BD299BC28A42FC185CA5E797854694BF40
FILE: 08 - 6 Pièces lyriques, Op. 23_ III. Vox Populi.flac
Size: 12299176 Hash: BA56AE0DCFBE5F8FD22FD8752F7DAF0B Accuracy: -m40
Conclusion: CDDA 100%
Signature: 41A538E86A853BC1C50EA0D7E10B654E7615EBB8
FILE: 09 - 6 Pièces lyriques, Op. 23_ IV. Do-Do.flac
Size: 9086268 Hash: E9A7FDF9AC0B1129D9FF72743D726181 Accuracy: -m40
Conclusion: CDDA 43%
Signature: BD750B42F5B146CFD43E77FE6C1D762E904F04EE
FILE: 10 - 6 Pièces lyriques, Op. 23_ V. Ländler.flac
Size: 5344111 Hash: 81DC4D936BEC4B9D4D2596F6B136FBFE Accuracy: -m40
Conclusion: CDDA 85%
Signature: 37F29B90E2DCBF24EFFA295197F0CEA77145440E
FILE: 11 - 6 Pièces lyriques, Op. 23_ VI. Gigue.flac
Size: 6829471 Hash: 63A2F606CD09708095FE6D320508E042 Accuracy: -m40
Conclusion: CDDA 76%
Signature: 206F685CD5D1A6E0DB365E1C2F0757184C50219C
FILE: 12 - Sérénade Valsée.flac
Size: 12519340 Hash: 16954892D15D7BE244B3850ED5D7DE90 Accuracy: -m40
Conclusion: CDDA 100%
Signature: 0562738CD76DBBDF7C3D1CCC4B62B2DD67DA9E51
FILE: 13 - Nocturne No. 1 in B Minor, Op. 20.flac
Size: 16650408 Hash: D2CC1C23DAACC712FDE474F931047E2E Accuracy: -m40
Conclusion: CDDA 100%
Signature: 073C9DC24D64A5A51BD5FB3E17C06E67CC260B07
FILE: 14 - Nocturne No. 2 in G Major, Op. 20.flac
Size: 10556984 Hash: C82304AA9A7028D9D95F34301C5A02BC Accuracy: -m40
Conclusion: CDDA 100%
Signature: 123C96A9DF859968F4581E0BB80E57505545A5CD
FILE: 15 - Nocturne No. 3 in C Minor, Op. 20.flac
Size: 21402641 Hash: C27B289685E53CFE29DF557CD65E0B33 Accuracy: -m40
Conclusion: CDDA 99%
Signature: 3CF0E0EBDFE49A97733EB3BF6F404ABEE3568F79
FILE: 16 - Nocturne in B Major per l'album di Bellini.flac
Size: 21058774 Hash: E671E4438EDA2911FBD7DEB1ECD53D0F Accuracy: -m40
Conclusion: CDDA 100%
Signature: C394F2187BF0893566AD27406E304E749DDAF122
FILE: 17 - Nocturne in D-Flat Major, Op. 31.flac
Size: 16533512 Hash: DF5A396FC2B39FA9A72030E80ABECB60 Accuracy: -m40
Conclusion: CDDA 100%
Signature: 846DEDB0CB47D6593239364B5B22558BEEF05FF8
FILE: 18 - Nocturne in E Major, Op. 33.flac
Size: 16153536 Hash: 300A6CAEEF6A87F3EE9F641CA5215750 Accuracy: -m40
Conclusion: CDDA 100%
Signature: E40E9006100980D4AE219CC9414E1482197B6B74
FILE: 19 - Nocturne in G Major.flac
Size: 15653898 Hash: 0CFD488B9474EC2D7C3524A03A246890 Accuracy: -m40
Conclusion: CDDA 100%
Signature: 75BCA1B518BC26365AE94A05DD848740962F362A
FILE: 20 - Impromptus_ I. Allegretto in E- Flat Major.flac
Size: 14962790 Hash: D2B50CA6C40C0213C2C77B8BDC273EDB Accuracy: -m40
Conclusion: CDDA 43%
Signature: C5A9AF5A1D54EDB1F442B8FD311CF24ADB862974
FILE: 21 - Impromptus_ II. Allegro moderato in B-Flat Major.flac
Size: 12646909 Hash: 3EEBE28D83161B0E354ADA3793565325 Accuracy: -m40
Conclusion: ???
Signature: 261BE5AB1FDF810087828ED32B1C6B5DE5BE7B5D
FILE: 22 - Impromptus_ III. Allegretto grazioso in E-Flat Major.flac
Size: 17979805 Hash: 0621B41C829002862D1A2D9395BE4BCD Accuracy: -m40
Conclusion: ???
Signature: BE6E291C19CDC0ABDA3BFDB37D5B57E9E7689844
FILE: 23 - Impromptus_ IV. Animato allegramente in E Major.flac
Size: 20163864 Hash: 708F53B83CDE785B2B53F04D028D9E0B Accuracy: -m40
Conclusion: CDDA 100%
Signature: 4D13BA82E5C5DD1263C09A136ECE3583369B89FD
FILE: 24 - Impromptus_ V. Andantino in A Major.flac
Size: 8862352 Hash: 0886DE9C1D1CA526FBAA6FEC4A687246 Accuracy: -m40
Conclusion: CDDA 100%
Signature: 88D595BA2A62F02D9A263C1754B44F30DC35B660
FILE: 25 - Impromptus_ VI. Allegro appassionato ma non troppo mosso in F-Sharp Minor.flac
Size: 19128066 Hash: FB419768982767FCB50D82070A3C8BB5 Accuracy: -m40
Conclusion: CDDA 100%
Signature: C83BC025D19BFE4E27E6AFE913A2A229A9B1A582
FILE: 26 - Gavotte in A-Flat Minor, Op. 14.flac
Size: 16822514 Hash: 793060D99DDC5344F59C711E3B77D044 Accuracy: -m40
Conclusion: CDDA 99%
Signature: 2F9482D162A2302A5892404DE1E6096D0F4823A9