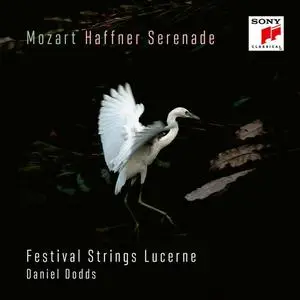 Festival Strings Lucerne - Mozart: Haffner-Serenade KV 250 & Marsch KV 249 (2022)
FLAC (tracks), Lossless | 65:15 | 274 Mb
Genre: Classical / Label: Sony Classical
The Serenade for Orchestra in D major, K. 250/248b, popularly known as the "Haffner-Serenade", was composed by Wolfgang Amadeus Mozart on the commission of Sigmund Haffner Junior in 1776. This Serenade is undoubtedly a jewel among Mozart's Salzburg compositions. The eight-movement work is Mozart's most extensive serenade and also the one with the largest instrumentation, with 13 instruments. Yet it is almost forgotten, or overshadowed, by it's famous Viennese counterpart, the Symphony in D major, K. 385, the "Haffner Symphony", commissioned by Leopold Mozart in the summer of 1781 for the nobilization of Johann Sigmund Haffner.
Track List:
1. March for Orchestra in D Major, K. 249 (3:50)
2. Serenade No. 7 in D Major, K. 250/K. 248b "Haffner": I. Allegro maestoso (8:16)
3. Serenade No. 7 in D Major, K. 250/K. 248b "Haffner": II. Andante (9:02)
4. Serenade No. 7 in D Major, K. 250/K. 248b "Haffner": III. Menuetto (3:38)
5. Serenade No. 7 in D Major, K. 250/K. 248b "Haffner": IV. Rondo (7:56)
6. Serenade No. 7 in D Major, K. 250/K. 248b "Haffner": V. Menuetto galante (5:08)
7. Serenade No. 7 in D Major, K. 250/K. 248b "Haffner": VI. Andante (7:34)
8. Serenade No. 7 in D Major, K. 250/K. 248b "Haffner": VII. Menuetto (4:40)
9. Serenade No. 7 in D Major, K. 250/K. 248b "Haffner": VIII. Adagio (9:39)
10. Gerusalemme liberata: Armonia con Capriccio a Violino Solo (5:36)
ANALYZER: auCDtect: CD records authenticity detector, version 0.8.2
Copyright © 2004 Oleg Berngardt. All rights reserved.
Copyright © 2004 Alexander Djourik. All rights reserved.


FILE: 01 - March for Orchestra in D Major, K. 249.flac
Size: 16491776 Hash: 35486955838C675D0A0E639D3F741C2D Accuracy: -m40
Conclusion: CDDA 99%
Signature: 444595F7676D91495F9F269E73A0A433C6E7B98F
FILE: 02 - Serenade No. 7 in D Major, K. 250_K. 248b _Haffner_ _ I. Allegro maestoso.flac
Size: 40853437 Hash: C2448D1796B91777549D030117866711 Accuracy: -m40
Conclusion: CDDA 100%
Signature: 74757FE0D825CB6BD160A5C3CF31AB367DC67508
FILE: 03 - Serenade No. 7 in D Major, K. 250_K. 248b _Haffner_ _ II. Andante.flac
Size: 40233531 Hash: F23B4D3EA8E8433199CB53D2B9058BB8 Accuracy: -m40
Conclusion: CDDA 100%
Signature: 985A099779CA2958A39658ECD4069BD01C492AB7
FILE: 04 - Serenade No. 7 in D Major, K. 250_K. 248b _Haffner_ _ III. Menuetto.flac
Size: 16239520 Hash: 2A1B40DF626F0357A3641FD69D5683FF Accuracy: -m40
Conclusion: CDDA 100%
Signature: F111D39D6399E6AE0A15FD13AA7F546AF47A15BB
FILE: 05 - Serenade No. 7 in D Major, K. 250_K. 248b _Haffner_ _ IV. Rondo.flac
Size: 36833487 Hash: 562A008516F238EEF0D4C11F2CE4F492 Accuracy: -m40
Conclusion: CDDA 100%
Signature: 71AEA91616FC16962E4E688F5902028A8871CA6D
FILE: 06 - Serenade No. 7 in D Major, K. 250_K. 248b _Haffner_ _ V. Menuetto galante.flac
Size: 22121011 Hash: E0CC44002B575C7F2B4655A32C241BDE Accuracy: -m40
Conclusion: CDDA 100%
Signature: 9449A00EC20D731795879F3E84A9866BC089FDD9
FILE: 07 - Serenade No. 7 in D Major, K. 250_K. 248b _Haffner_ _ VI. Andante.flac
Size: 29138229 Hash: 3272DDBACB1941325F35B6835698693A Accuracy: -m40
Conclusion: CDDA 100%
Signature: 4A558D875909EF3FDCDF0842B2AE3ECCF6FC7D56
FILE: 08 - Serenade No. 7 in D Major, K. 250_K. 248b _Haffner_ _ VII. Menuetto.flac
Size: 19797347 Hash: 5D4A81819B9AD8EA00627CB1B85FFDB8 Accuracy: -m40
Conclusion: CDDA 54%
Signature: 291D54E62FFCD447F421343076AA6F3A57C6C8E5
FILE: 09 - Serenade No. 7 in D Major, K. 250_K. 248b _Haffner_ _ VIII. Adagio.flac
Size: 43640520 Hash: 764717646B84B83F1DE40CB979761320 Accuracy: -m40
Conclusion: CDDA 100%
Signature: D6517F9F850ABFCE4063B4B3F6C5B799F495A46D
FILE: 10 - Gerusalemme liberata_ Armonia con Capriccio a Violino Solo.flac
Size: 22770770 Hash: F088110E0860CA664240955011EC03A9 Accuracy: -m40
Conclusion: CDDA 100%
Signature: 6D8C9C2283D4448B94AE189DB798A84F4A9C884B