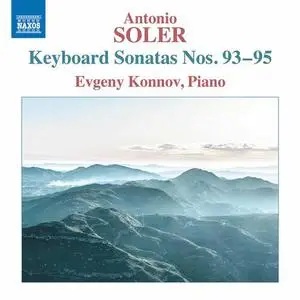 Evgeny Konnov - Soler: Keyboard Sonatas Nos. 93-95 (2022)
FLAC (tracks), Lossless | 01:10:21 | 211 Mb
Genre: Classical / Label: Naxos
Antonio Soler is best known for his many keyboard sonatas. His training as a church musician and a post as organist at the royal palace and monastery of San Lorenzo de El Escorial brought him into contact with musicians such as Domenico Scarlatti from the court of Philip II. With the Op. 4 sonatas the influence of Scarlatti mixes with new styles emerging from Vienna. Soler's Classical forms include lively dances to go along with elegant delicacy, solemnity and drama – all enhanced by his characteristic sparkling ornamentation and virtuoso technique.
Track List:
01. Keyboard Sonata in F Major, Op. 4 No. 3, R. 93: I. Andante amabile espressivo
02. Keyboard Sonata in F Major, Op. 4 No. 3, R. 93: II. Allegro ma non presto
03. Keyboard Sonata in F Major, Op. 4 No. 3, R. 93: III. Minuettos I & II *16 bit only
04. Keyboard Sonata in F Major, Op. 4 No. 3, R. 93: IV. Allegro molto
05. Keyboard Sonata in G Major, Op. 4 No. 4, R. 94: I. Andante gracioso e con moto
06. Keyboard Sonata in G Major, Op. 4 No. 4, R. 94: II. Allegro non troppo
07. Keyboard Sonata in G Major, Op. 4 No. 4, R. 94: III. Minuettos I & II
08. Keyboard Sonata in G Major, Op. 4 No. 4, R. 94: IV. Allegro
09. Keyboard Sonata in A Major, Op. 4 No. 5, R. 95: I. Andante grazioso con moto
10. Keyboard Sonata in A Major, Op. 4 No. 5, R. 95: II. Allegro espressivo non presto
11. Keyboard Sonata in A Major, Op. 4 No. 5, R. 95: III. Minuettos I & II
12. Keyboard Sonata in A Major, Op. 4 No. 5, R. 95: IV. Allegro pastoril
ANALYZER: auCDtect: CD records authenticity detector, version 0.8.2
Copyright © 2004 Oleg Berngardt. All rights reserved.
Copyright © 2004 Alexander Djourik. All rights reserved.


FILE: 01 - Keyboard Sonata in F Major, Op. 4 No. 3, R. 93_ I. Andante amabile espressivo.flac
Size: 17484919 Hash: DBBDF97A839849EDB0728819FDD7E354 Accuracy: -m40
Conclusion: CDDA 100%
Signature: 420A6A252AF03CEDD6400B9DC5402882C4A18707
FILE: 02 - Keyboard Sonata in F Major, Op. 4 No. 3, R. 93_ II. Allegro ma non presto.flac
Size: 12417031 Hash: 8BAA2E54F2F0E40D64ECF8F970B9C6FE Accuracy: -m40
Conclusion: MPEG 100%
Signature: 6BD140A858A8E9FA20C95A1DBDD5773FACE16606
FILE: 03 - Keyboard Sonata in F Major, Op. 4 No. 3, R. 93_ III. Minuettos I & II.flac
Size: 28767562 Hash: D5B02FC5B6A0E83F4946155775AF78D8 Accuracy: -m40
Conclusion: CDDA 100%
Signature: 6C8BCBF0367D910D5086646A72FF0A49BA9F00ED
FILE: 04 - Keyboard Sonata in F Major, Op. 4 No. 3, R. 93_ IV. Allegro molto.flac
Size: 17848985 Hash: B207CA8C56AD5D9AD4CFBAB2673B56E2 Accuracy: -m40
Conclusion: CDDA 99%
Signature: 5B1E76A9173056A50ADC11EF17710B584EDE0D04
FILE: 05 - Keyboard Sonata in G Major, Op. 4 No. 4, R. 94_ I. Andante gracioso e con moto.flac
Size: 8745222 Hash: 0844CF29F30113248F2C953667D2A3D3 Accuracy: -m40
Conclusion: CDDA 100%
Signature: 7713A4F674ACF8F651D968BA15F2A77A8A80A387
FILE: 06 - Keyboard Sonata in G Major, Op. 4 No. 4, R. 94_ II. Allegro non troppo.flac
Size: 16930090 Hash: 79D263B0C1184DA731DC035F524FAB76 Accuracy: -m40
Conclusion: CDDA 100%
Signature: 433DC9C14919B5EF690BEA54AC411751621D4B53
FILE: 07 - Keyboard Sonata in G Major, Op. 4 No. 4, R. 94_ III. Minuettos I & II.flac
Size: 22688734 Hash: 8664BEDD5B9BEE34EAFEB08F03BCA419 Accuracy: -m40
Conclusion: CDDA 100%
Signature: A88D31D157760D897F8145BB16C7A9699877A260
FILE: 08 - Keyboard Sonata in G Major, Op. 4 No. 4, R. 94_ IV. Allegro.flac
Size: 16090979 Hash: 84C00D053858ACA2FE3ECFC700CE5C51 Accuracy: -m40
Conclusion: CDDA 100%
Signature: 8314442792DD3820C8F92148F4609079B5FF43F4
FILE: 09 - Keyboard Sonata in A Major, Op. 4 No. 5, R. 95_ I. Andante grazioso con moto.flac
Size: 13422803 Hash: 2960A567B22D3D4CBF3B264F3474A23F Accuracy: -m40
Conclusion: CDDA 99%
Signature: CB13133C3D76FE5E73DBEB49DF21A40CF1860741
FILE: 10 - Keyboard Sonata in A Major, Op. 4 No. 5, R. 95_ II. Allegro espressivo non presto.flac
Size: 26713950 Hash: AFAC02B5CE6D5C569C2E8FAD5ED43BDB Accuracy: -m40
Conclusion: CDDA 100%
Signature: 77423BBA698A4C3F2D1ECE0A912B210C4BF954D3
FILE: 11 - Keyboard Sonata in A Major, Op. 4 No. 5, R. 95_ III. Minuettos I & II.flac
Size: 21611742 Hash: 746AD68490500C04EF9B4FA18C667C3D Accuracy: -m40
Conclusion: CDDA 100%
Signature: D36DCE3D0CE74EA1411DE1BC7FB995FBC7AC78C8
FILE: 12 - Keyboard Sonata in A Major, Op. 4 No. 5, R. 95_ IV. Allegro pastoril.flac
Size: 20256861 Hash: 4BEB5BF65B7C3B6004AB769EB0EDA858 Accuracy: -m40
Conclusion: CDDA 100%
Signature: EB04A28DE0BBCFD5C3BED5FCB364A3203217E8D0