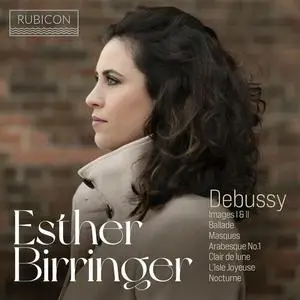 Esther Birringer - Esther Birringer: Debussy (2022)
FLAC (tracks), Lossless | 1:04:03 | 182 Mb
Genre: Classical / Label: Rubicon
For her second solo recital album for Rubicon, Esther Birringer turns to Debussy with a recital that includes both books of his Images.  Composed in 1901-5 (book 1) and 1907 (book 2), the composer was very pleased with Images, writing about the first set: "Without false pride, I feel that these three pieces hold together well, and that they will find their place in the literature of the piano… to the left of Schumann, or to the right of Chopin."Esther Birringer began playing piano aged three and made her debut as soloist with an orchestra aged just six. A meteoric career has followed both in Europe and around the world, where Esther both performs and teaches, as well as promoting young talent.
Track List:
01. Images, Book 1, CD 105, L. 110: I. Reflets dans l'eau
02. Images, Book 1, CD 105, L. 110: II. Hommage à Rameau
03. Images, Book 1, CD 105, L. 110: III. Mouvement
04. Images, Book 2, CD 120, L. 111: I. Cloches à travers le feulles
05. Images, Book 2, CD 120, L. 111: II. Et la lune sur le temple qui fut
06. Images, Book 2, CD 120, L. 111: III. Poissons d'or
07. Ballade, CD 78, L. 70
08. Masques, CD 110, L. 105
09. Deux arabesques, CD 74, L. 66: No. 1, Andantino con moto
10. Suite bergamasque, CD 82, L. 75: III. Clair de lune
11. Nocturne, CD 89, L. 82
12. L'isle Joyeuse, CD 109, L. 106
ANALYZER: auCDtect: CD records authenticity detector, version 0.8.2
Copyright © 2004 Oleg Berngardt. All rights reserved.
Copyright © 2004 Alexander Djourik. All rights reserved.


FILE: 01 - Images, Book 1, CD 105, L. 110_ I. Reflets dans l'eau.flac
Size: 16628624 Hash: 29F9749C6AEBEA7ADE0ACD78AF30CC87 Accuracy: -m40
Conclusion: CDDA 100%
Signature: 42E7F20F516E07088CA69F1C7EF4F9E93FBCD686
FILE: 02 - Images, Book 1, CD 105, L. 110_ II. Hommage à Rameau.flac
Size: 20345700 Hash: 0034A5C360E104F2E4DE66CE5BAE941B Accuracy: -m40
Conclusion: CDDA 100%
Signature: B740115FBC4BFD490BB027B441BEEBC80E31609E
FILE: 03 - Images, Book 1, CD 105, L. 110_ III. Mouvement.flac
Size: 11375184 Hash: 04BF5936CD65CCC4C8E87CCB35B952B2 Accuracy: -m40
Conclusion: CDDA 100%
Signature: 3E7A846C7E7A50BD5E0426E849F6781A0A9CE3F0
FILE: 04 - Images, Book 2, CD 120, L. 111_ I. Cloches à travers le feulles.flac
Size: 12689097 Hash: DC05D0071A519B20EF54401DFE45A203 Accuracy: -m40
Conclusion: CDDA 100%
Signature: 8402EFD58EB883E069B5C816DA20033627E38740
FILE: 05 - Images, Book 2, CD 120, L. 111_ II. Et la lune sur le temple qui fut.flac
Size: 14923493 Hash: 0969BC55634668E802A9C10559DCF4B9 Accuracy: -m40
Conclusion: CDDA 100%
Signature: 7C2F04DB51D303C3D1090A307A5D10AE6A7FB0E9
FILE: 06 - Images, Book 2, CD 120, L. 111_ III. Poissons d'or.flac
Size: 13226180 Hash: 94E05E1ACEB2A645CE18390485BF2CD2 Accuracy: -m40
Conclusion: CDDA 100%
Signature: 0E13199E67D594318A276F8746BC92D1DB616626
FILE: 07 - Ballade, CD 78, L. 70.flac
Size: 19240982 Hash: 57B83B38A79C4B95B4D1D337C5E586BF Accuracy: -m40
Conclusion: CDDA 100%
Signature: C06A28AB3BBC52F3D0FB5B8347029E63A396EADC
FILE: 08 - Masques, CD 110, L. 105.flac
Size: 16425674 Hash: BF19C6BCB2E2656BE06FE8CDB7BE64B0 Accuracy: -m40
Conclusion: CDDA 100%
Signature: D943282D244C636B24BBDF4B5D86E0034C92BB2E
FILE: 09 - Deux arabesques, CD 74, L. 66_ No. 1, Andantino con moto.flac
Size: 12955739 Hash: E3900FCD95ED34FA23DAFBC17F3AB278 Accuracy: -m40
Conclusion: CDDA 100%
Signature: F20182B844D14960C06CB17A49C62FCCF313E79B
FILE: 10 - Suite bergamasque, CD 82, L. 75_ III. Clair de lune.flac
Size: 14999860 Hash: A3FD0C5AD79CDE1103D2DAA41F82456A Accuracy: -m40
Conclusion: CDDA 99%
Signature: 541AD8E87DDCEDB6D588A7E136CD037D70A511BF
FILE: 11 - Nocturne, CD 89, L. 82.flac
Size: 19082493 Hash: 2623667CB0DD6A5F4F66CA4AE5483FD4 Accuracy: -m40
Conclusion: CDDA 99%
Signature: E8CE36E4D001A65C9098E0BE40C538867373335B
FILE: 12 - L'isle Joyeuse, CD 109, L. 106.flac
Size: 22253068 Hash: 2B15DD3ADFC88264322E236C616C141D Accuracy: -m40
Conclusion: CDDA 100%
Signature: 254EFA3639A21EC3ABB5FC73D565BFB1D9EBF091