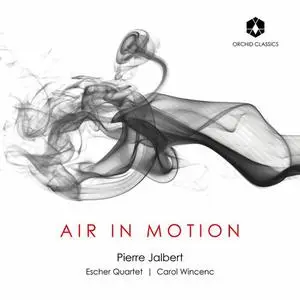 Escher String Quartet, Carol Wincenc - P. Jalbert: Air in Motion (2022)
FLAC (tracks), Lossless | 1:05:27 | 256 Mb
Genre: Classical / Label: Orchid Classics
This recording celebrates my long and fruitful relationship with the Escher Quartet, and also salutes the beloved flutist Carol Wincenc on her 50th Anniversary season. Though the string ensemble is the common thread in all of these recorded works, their inspiration and ideas are quite varied. In String Quartet No.4, dynamic shapes and configurations – spiral, waveform, labyrinth – are the catalysts for each movement, whereas String Quartet No.6 ("Canticle") invokes the idea of ritual as its point of departure – coloured by the use of small, bell-like disks called crotales. Air in Motion brings a flute into the ensemble, adding a new dimension suggested by the flow of air through a column of metal.
Track List:
01. String Quartet No. 4: I. Spiral I
02. String Quartet No. 4: II. Waveform
03. String Quartet No. 4: III. Labyrinth
04. String Quartet No. 4: IV. Spiral II
05. Air in Motion: I. Turning
06. Air in Motion: II. Canon on 50 Notes
07. Air in Motion: III. Air
08. Air in Motion: IV. Pushing the Envelope
09. String Quartet No. 6 "Canticle": I. Eternal, Timeless
10. String Quartet No. 6 "Canticle": II. Intense, Dramatic
11. String Quartet No. 6 "Canticle": III. Scherzando
12. String Quartet No. 6 "Canticle": IV. Ethereal
13. String Quartet No. 6 "Canticle": V. Driving
14. String Quartet No. 6 "Canticle": VI. Still
15. String Quartet No. 6 "Canticle": VII. Soulful, Mysterious
ANALYZER: auCDtect: CD records authenticity detector, version 0.8.2
Copyright © 2004 Oleg Berngardt. All rights reserved.
Copyright © 2004 Alexander Djourik. All rights reserved.


FILE: 01 - String Quartet No. 4_ I. Spiral I.flac
Size: 9776892 Hash: B1660C9F78B9304BBF1732CF901996E8 Accuracy: -m40
Conclusion: CDDA 100%
Signature: 52181C6229CAF7824B500E13EE56277768D3ACB4
FILE: 02 - String Quartet No. 4_ II. Waveform.flac
Size: 33020155 Hash: 412FDB8E62B2EFBE2FE76146B835B77B Accuracy: -m40
Conclusion: CDDA 99%
Signature: 8CAB7E2501EBE60F66843AFA5058F326DF451C46
FILE: 03 - String Quartet No. 4_ III. Labyrinth.flac
Size: 14382510 Hash: 031131B726AAE18E41CC3425B84EAE5E Accuracy: -m40
Conclusion: CDDA 100%
Signature: 9C4BE5E2B7CE19E1C35C7436ABFA92E65FFB5AC5
FILE: 04 - String Quartet No. 4_ IV. Spiral II.flac
Size: 36449488 Hash: 76EFEAE207852B2335AC6878335E93C7 Accuracy: -m40
Conclusion: CDDA 100%
Signature: 3B1F98E3550294B3CCC11F3B9C9401392C2CBACD
FILE: 05 - Air in Motion_ I. Turning.flac
Size: 14575126 Hash: 84F2044B3E17471343185CDB5E169C53 Accuracy: -m40
Conclusion: CDDA 100%
Signature: 370358029942DB67546CDA25C2EE8FE3BA04C2DA
FILE: 06 - Air in Motion_ II. Canon on 50 Notes.flac
Size: 13784651 Hash: 654B469620064DC18EED4B0CA55B783F Accuracy: -m40
Conclusion: CDDA 100%
Signature: 6F5B204A7B8AED0BD392D9A3806A9C8D37439099
FILE: 07 - Air in Motion_ III. Air.flac
Size: 17989647 Hash: B6E5BDF744A0DC6D95A1C7F7AB171268 Accuracy: -m40
Conclusion: CDDA 99%
Signature: CB7E49C550C77F0CBB6774F8D03D5CC5E25219BA
FILE: 08 - Air in Motion_ IV. Pushing the Envelope.flac
Size: 20871133 Hash: 593A3FBCF71767FCCB1EA708B2024C2D Accuracy: -m40
Conclusion: CDDA 100%
Signature: E12244C93C2F8724BB6BC10EC5E3F07ED9288942
FILE: 09 - String Quartet No. 6 _Canticle__ I. Eternal, Timeless.flac
Size: 9547133 Hash: 4DA44005AB9B17691181788961F9569B Accuracy: -m40
Conclusion: CDDA 100%
Signature: D562FBE08FE22D55D2868F023DFB9C9B7A2BD9BF
FILE: 10 - String Quartet No. 6 _Canticle__ II. Intense, Dramatic.flac
Size: 18721971 Hash: DC263307311E108A65DB9072509A6FE9 Accuracy: -m40
Conclusion: CDDA 100%
Signature: 83C9A2F036DC2FD08F692D96983F14EBE17880D1
FILE: 11 - String Quartet No. 6 _Canticle__ III. Scherzando.flac
Size: 10334186 Hash: 3CCB63A388454BCFC081E43C13262DB2 Accuracy: -m40
Conclusion: CDDA 100%
Signature: CDF5EB96F5DA9226EEE5D5E70F14FE5D1B14AC9C
FILE: 12 - String Quartet No. 6 _Canticle__ IV. Ethereal.flac
Size: 14892053 Hash: 0D5C9BF5A0C9AC228F8D483F7225FDBE Accuracy: -m40
Conclusion: CDDA 100%
Signature: 05955C2D3EEE307A87C5BE323300958A8A346FAE
FILE: 13 - String Quartet No. 6 _Canticle__ V. Driving.flac
Size: 10863716 Hash: 1D519F20C89AF74D3CAEFA36081CFC36 Accuracy: -m40
Conclusion: CDDA 100%
Signature: 6C02CE2728E64CBAC9EFF3129CDF97F5A576856E
FILE: 14 - String Quartet No. 6 _Canticle__ VI. Still.flac
Size: 15812188 Hash: AC2015C19A252EF8345AD0C5E31C3AE8 Accuracy: -m40
Conclusion: CDDA 100%
Signature: 637D3EB3B0421E2024DF7B5100E9B7A30D211663
FILE: 15 - String Quartet No. 6 _Canticle__ VII. Soulful, Mysterious.flac
Size: 28161376 Hash: 3A938C3318DB6E90ECD5DDE1E3DD847A Accuracy: -m40
Conclusion: CDDA 100%
Signature: 4012F65379EECF342D972C60CC4E8BC923AD376D