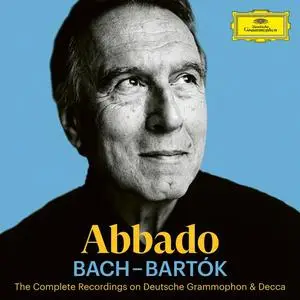 Claudio Abbado - Abbado: Bach - Bartok (2023)
FLAC (tracks), Lossless / MP3 320 kbps | 3:04:57 | 853 / 423 Mb
Genre: Classical / Label: Deutsche Grammophon (DG)
One of the top conductors of the 20th century, Claudio Abbado left an enormous recording catalog covering a wide range of composers from the Classical era to the early modern period. He was chief conductor and artistic director of the Berlin Philharmonic Orchestra from 1989 to 2002. Abbado was born in Milan, Italy, on June 26, 1933, into an old family that traced its roots to Moorish-era Spain. His father, Michelangelo Abbado, was a prominent violinist and a professor at the Giuseppe Verdi Conservatory, and his mother, Maria Carmela Savagnone, was a skilled pianist. Abbado and his brother Marcello, who also became a pianist and composer, had their first lessons from their father. Their careers were interrupted by the Nazi occupation of Milan during World War II; Abbado's mother was arrested for giving refuge to a Jewish child, and the young Claudio became a confirmed anti-fascist who scrawled "Viva Bartók" on a wall and triggered an unsuccessful manhunt.
Track List:
01. Brandenburg Concerto No. 1 in F Major, BWV 1046 : J.S. Bach: Brandenburg Concerto No. 1 in F Major, BWV 1046 - I. (Allegro) (Live from Teatro Romolo Valli, Reggio Emilia, 2007)
02. Brandenburg Concerto No. 1 in F Major, BWV 1046 : J.S. Bach: Brandenburg Concerto No. 1 in F Major, BWV 1046 - II. Adagio (Live from Teatro Romolo Valli, Reggio Emilia, 2007)
03. Brandenburg Concerto No. 1 in F Major, BWV 1046 : J.S. Bach: Brandenburg Concerto No. 1 in F Major, BWV 1046 - III. Allegro (Live from Teatro Romolo Valli, Reggio Emilia, 2007)
04. Brandenburg Concerto No. 1 in F Major, BWV 1046 : J.S. Bach: Brandenburg Concerto No. 1 in F Major, BWV 1046 - IV. Menuett - Trio - Polonaise - Menuett - Trio (Live from Teatro Romolo Valli, Reggi
05. Brandenburg Concerto No. 3 in G Major, BWV 1048 : J.S. Bach: Brandenburg Concerto No. 3 in G Major, BWV 1048 - I. (Allegro) (Live from Teatro Romolo Valli, Reggio Emilia, 2007)
06. Brandenburg Concerto No. 3 in G Major, BWV 1048 : J.S. Bach: Brandenburg Concerto No. 3 in G Major, BWV 1048 - II. Adagio (Live from Teatro Romolo Valli, Reggio Emilia, 2007)
07. Brandenburg Concerto No. 3 in G Major, BWV 1048 : J.S. Bach: Brandenburg Concerto No. 3 in G Major, BWV 1048 - III. Allegro (Live from Teatro Romolo Valli, Reggio Emilia, 2007)
08. Brandenburg Concerto No. 5 in D Major, BWV 1050 : J.S. Bach: Brandenburg Concerto No. 5 in D Major, BWV 1050 - I. Allegro (Live from Teatro Romolo Valli, Reggio Emilia, 2007)
09. Brandenburg Concerto No. 5 in D Major, BWV 1050 : J.S. Bach: Brandenburg Concerto No. 5 in D Major, BWV 1050 - II. Affettuoso (Live from Teatro Romolo Valli, Reggio Emilia, 2007)
10. Brandenburg Concerto No. 5 in D Major, BWV 1050 : J.S. Bach: Brandenburg Concerto No. 5 in D Major, BWV 1050 - III. Allegro (Live from Teatro Romolo Valli, Reggio Emilia, 2007)
11. Brandenburg Concerto No. 6 in B-Flat Major, BWV 1051 : J.S. Bach: Brandenburg Concerto No. 6 in B-Flat Major, BWV 1051 - I. (Allegro) (Live from Teatro Romolo Valli, Reggio Emilia, 2007)
12. Brandenburg Concerto No. 6 in B-Flat Major, BWV 1051 : J.S. Bach: Brandenburg Concerto No. 6 in B-Flat Major, BWV 1051 - II. Adagio ma non tanto (Live from Teatro Romolo Valli, Reggio Emilia, 2007
13. Brandenburg Concerto No. 6 in B-Flat Major, BWV 1051 : J.S. Bach: Brandenburg Concerto No. 6 in B-Flat Major, BWV 1051 - III. Allegro (Live from Teatro Romolo Valli, Reggio Emilia, 2007)
14. Brandenburg Concerto No. 4 in G Major, BWV 1049 : J.S. Bach: Brandenburg Concerto No. 4 in G Major, BWV 1049 - I. Allegro (Live from Teatro Romolo Valli, Reggio Emilia, 2007)
15. Brandenburg Concerto No. 4 in G Major, BWV 1049 : J.S. Bach: Brandenburg Concerto No. 4 in G Major, BWV 1049 - II. Andante (Live from Teatro Romolo Valli, Reggio Emilia, 2007)
16. Brandenburg Concerto No. 4 in G Major, BWV 1049 : J.S. Bach: Brandenburg Concerto No. 4 in G Major, BWV 1049 - III. Presto (Live from Teatro Romolo Valli, Reggio Emilia, 2007)
17. Brandenburg Concerto No. 2 in F Major, BWV 1047 : J.S. Bach: Brandenburg Concerto No. 2 in F Major, BWV 1047 - I. (Allegro) (Live from Teatro Romolo Valli, Reggio Emilia, 2007)
18. Brandenburg Concerto No. 2 in F Major, BWV 1047 : J.S. Bach: Brandenburg Concerto No. 2 in F Major, BWV 1047 - II. Andante (Live from Teatro Romolo Valli, Reggio Emilia, 2007)
19. Brandenburg Concerto No. 2 in F Major, BWV 1047 : J.S. Bach: Brandenburg Concerto No. 2 in F Major, BWV 1047 - III. Allegro assai (Live from Teatro Romolo Valli, Reggio Emilia, 2007)
20. The Miraculous Mandarin, Sz. 73 : Bartók: The Miraculous Mandarin, Sz. 73 - Introduction: A Bustling City Street. Allegro
21. The Miraculous Mandarin, Sz. 73 : Bartók: The Miraculous Mandarin, Sz. 73 - The Curtain Rises
22. The Miraculous Mandarin, Sz. 73 : Bartók: The Miraculous Mandarin, Sz. 73 - 1st Decoy Game - The Shabby Old Rake
23. The Miraculous Mandarin, Sz. 73 : Bartók: The Miraculous Mandarin, Sz. 73 - 2nd Decoy Game
24. The Miraculous Mandarin, Sz. 73 : Bartók: The Miraculous Mandarin, Sz. 73 - The Shy Youth Appears at the Door. Sostenuto
25. The Miraculous Mandarin, Sz. 73 : Bartók: The Miraculous Mandarin, Sz. 73 - 3rd Decoy Game
26. The Miraculous Mandarin, Sz. 73 : Bartók: The Miraculous Mandarin, Sz. 73 - The Mandarin Enters - Encounter with the Girl
27. The Miraculous Mandarin, Sz. 73 : Bartók: The Miraculous Mandarin, Sz. 73 - The Girl's Dance
28. The Miraculous Mandarin, Sz. 73 : Bartók: The Miraculous Mandarin, Sz. 73 - She Flees from Him; He Chases Her Wildly. Sempre vivace
29. The Miraculous Mandarin, Sz. 73 : Bartók: The Miraculous Mandarin, Sz. 73 - The Mandarin Stumbles, but Catches the Girl - They Fight - The Tramps Leap Out, Seize th
30. The Miraculous Mandarin, Sz. 73 : Bartók: The Miraculous Mandarin, Sz. 73 - Suddenly the Mandarin's Head Appears - The Tramps Drag Him Out
31. The Miraculous Mandarin, Sz. 73 : Bartók: The Miraculous Mandarin, Sz. 73 - They Drag the Mandarin to the Centre of the Room - The Mandarin's Body Begins to Glow
32. The Miraculous Mandarin, Sz. 73 : Bartók: The Miraculous Mandarin, Sz. 73 - The Tramps Take Him Down - He Falls to the Floor and at Once Leaps at the Girl - They Em
33. The Miraculous Mandarin, Sz. 73 : Bartók: The Miraculous Mandarin, Sz. 73 - His Longing Stilled, the Mandarin's Wounds Begin to Bleed - He Becomes Weaker and Dies
34. 2 Portraits, Sz. 37 : Bartók: 2 Portraits, Sz. 37 - No. 1, One Ideal. Andante sostenuto
35. 2 Portraits, Sz. 37 : Bartók: 2 Portraits, Sz. 37 - No. 2, One Grotesque. Presto
36. Piano Concerto No. 1, Sz. 83 : Bartók: Piano Concerto No. 1, Sz. 83 - I. Allegro moderato - Allegro
37. Piano Concerto No. 1, Sz. 83 : Bartók: Piano Concerto No. 1, Sz. 83 - II. Andante
38. Piano Concerto No. 1, Sz. 83 : Bartók: Piano Concerto No. 1, Sz. 83 - III. Allegro molto
39. Piano Concerto No. 2, Sz. 95 : Bartók: Piano Concerto No. 2, Sz. 95 - I. Allegro
40. Piano Concerto No. 2, Sz. 95 : Bartók: Piano Concerto No. 2, Sz. 95 - II. Adagio - Più adagio - Presto
41. Piano Concerto No. 2, Sz. 95 : Bartók: Piano Concerto No. 2, Sz. 95 - III. Allegro molto
ANALYZER: auCDtect: CD records authenticity detector, version 0.8.2
Copyright © 2004 Oleg Berngardt. All rights reserved.
Copyright © 2004 Alexander Djourik. All rights reserved.


FILE: 01 - Brandenburg Concerto No. 1 in F Major, BWV 1046 _ J.S. Bach_ Brandenburg Concerto No. 1 in F Major, BWV 1046 - I. (Allegro) (Live from Teatro Romolo Valli, Reggio Emilia, 2007).flac
Size: 21117760 Hash: 757BF05DB8C22EBCDE0332004C937FE0 Accuracy: -m40
Conclusion: CDDA 100%
Signature: F89E144E8A1A46F1942C0A3DE2EAE1B424C868D2
FILE: 02 - Brandenburg Concerto No. 1 in F Major, BWV 1046 _ J.S. Bach_ Brandenburg Concerto No. 1 in F Major, BWV 1046 - II. Adagio (Live from Teatro Romolo Valli, Reggio Emilia, 2007).flac
Size: 16062208 Hash: 45BCB807AD42E8E48A3033724FDDF843 Accuracy: -m40
Conclusion: CDDA 100%
Signature: 4909F26E553102286D7D401FF540A9812E77EC37
FILE: 03 - Brandenburg Concerto No. 1 in F Major, BWV 1046 _ J.S. Bach_ Brandenburg Concerto No. 1 in F Major, BWV 1046 - III. Allegro (Live from Teatro Romolo Valli, Reggio Emilia, 2007).flac
Size: 22426834 Hash: E2DF0548A7FFC7D6B1CBD962EB72EADA Accuracy: -m40
Conclusion: CDDA 99%
Signature: 3F62DA5234D9FB8EBEAEA2CC2FC7F7B7366AF75C
FILE: 04 - Brandenburg Concerto No. 1 in F Major, BWV 1046 _ J.S. Bach_ Brandenburg Concerto No. 1 in F Major, BWV 1046 - IV. Menuett - Trio - Polonaise - Menuett - Trio (Live from Teatro Romolo Valli, Regg.flac
Size: 34490513 Hash: D5B922A107DE349B9C24D7EB93363274 Accuracy: -m40
Conclusion: CDDA 99%
Signature: DF84C3B2422F3A082FE7B49D2F0303B2A08D1148
FILE: 05 - Brandenburg Concerto No. 3 in G Major, BWV 1048 _ J.S. Bach_ Brandenburg Concerto No. 3 in G Major, BWV 1048 - I. (Allegro) (Live from Teatro Romolo Valli, Reggio Emilia, 2007).flac
Size: 29349441 Hash: 95DC7D4DF738B75700B4E01510312AAB Accuracy: -m40
Conclusion: CDDA 99%
Signature: C041C40A702A49B6A0F66B5B404D8BB94D2A7909
FILE: 06 - Brandenburg Concerto No. 3 in G Major, BWV 1048 _ J.S. Bach_ Brandenburg Concerto No. 3 in G Major, BWV 1048 - II. Adagio (Live from Teatro Romolo Valli, Reggio Emilia, 2007).flac
Size: 1819816 Hash: 6DDBC5ADAA6DB33A57416E95C59C5180 Accuracy: -m40
Conclusion: CDDA 99%
Signature: 331ADC185094EA4D5FC57CED479FA432B15CCACC
FILE: 07 - Brandenburg Concerto No. 3 in G Major, BWV 1048 _ J.S. Bach_ Brandenburg Concerto No. 3 in G Major, BWV 1048 - III. Allegro (Live from Teatro Romolo Valli, Reggio Emilia, 2007).flac
Size: 27599787 Hash: F862D35974FADCA9F4AEF79A39795859 Accuracy: -m40
Conclusion: CDDA 100%
Signature: 4EFF24C09AA95D4DFF8A98CE12C01AEF0904FACF
FILE: 08 - Brandenburg Concerto No. 5 in D Major, BWV 1050 _ J.S. Bach_ Brandenburg Concerto No. 5 in D Major, BWV 1050 - I. Allegro (Live from Teatro Romolo Valli, Reggio Emilia, 2007).flac
Size: 56369031 Hash: B1AC058D3DE4F29DD18F3ECAFAD76D1F Accuracy: -m40
Conclusion: CDDA 100%
Signature: C4B058CCC54F2C7FAA5EA8BD5CCBA554F5FCE158
FILE: 09 - Brandenburg Concerto No. 5 in D Major, BWV 1050 _ J.S. Bach_ Brandenburg Concerto No. 5 in D Major, BWV 1050 - II. Affettuoso (Live from Teatro Romolo Valli, Reggio Emilia, 2007).flac
Size: 27278374 Hash: 1E36D44849CCC9CF3DFC9326F44042F4 Accuracy: -m40
Conclusion: CDDA 100%
Signature: FAC39248716465C4DD00FB6BF29B7EF90026EBC8
FILE: 10 - Brandenburg Concerto No. 5 in D Major, BWV 1050 _ J.S. Bach_ Brandenburg Concerto No. 5 in D Major, BWV 1050 - III. Allegro (Live from Teatro Romolo Valli, Reggio Emilia, 2007).flac
Size: 32604868 Hash: E40A4E8EF3710667D2A7A5644EF2CE23 Accuracy: -m40
Conclusion: CDDA 100%
Signature: 0A440336E3216163C9865E6BD77C61B4745076A0
FILE: 11 - Brandenburg Concerto No. 6 in B-Flat Major, BWV 1051 _ J.S. Bach_ Brandenburg Concerto No. 6 in B-Flat Major, BWV 1051 - I. (Allegro) (Live from Teatro Romolo Valli, Reggio Emilia, 2007).flac
Size: 30842685 Hash: C76CC33BA5DC32633F854833EE539200 Accuracy: -m40
Conclusion: CDDA 100%
Signature: 8CABA2B1F020BD2FE85D99F78A56DBE4D9EAE954
FILE: 12 - Brandenburg Concerto No. 6 in B-Flat Major, BWV 1051 _ J.S. Bach_ Brandenburg Concerto No. 6 in B-Flat Major, BWV 1051 - II. Adagio ma non tanto (Live from Teatro Romolo Valli, Reggio Emilia, 200.flac
Size: 21408158 Hash: E1BAD6B36375155386C370FBBC5C5D4E Accuracy: -m40
Conclusion: CDDA 100%
Signature: 3DAD5603A3666E9DFC3B4511FF1DE1A89347824B
FILE: 13 - Brandenburg Concerto No. 6 in B-Flat Major, BWV 1051 _ J.S. Bach_ Brandenburg Concerto No. 6 in B-Flat Major, BWV 1051 - III. Allegro (Live from Teatro Romolo Valli, Reggio Emilia, 2007).flac
Size: 30436530 Hash: 0355A0DE219A8E7D7581E21BBF4EFD6A Accuracy: -m40
Conclusion: CDDA 99%
Signature: B2F4C40006CA5F2E2589D2518FE3D272E8D35E4F
FILE: 14 - Brandenburg Concerto No. 4 in G Major, BWV 1049 _ J.S. Bach_ Brandenburg Concerto No. 4 in G Major, BWV 1049 - I. Allegro (Live from Teatro Romolo Valli, Reggio Emilia, 2007).flac
Size: 39058259 Hash: 17CFB8C9D31986AB51147A74838A989A Accuracy: -m40
Conclusion: CDDA 100%
Signature: C1700802A9BC7CFA58C0695272B1C6301847837D
FILE: 15 - Brandenburg Concerto No. 4 in G Major, BWV 1049 _ J.S. Bach_ Brandenburg Concerto No. 4 in G Major, BWV 1049 - II. Andante (Live from Teatro Romolo Valli, Reggio Emilia, 2007).flac
Size: 20372973 Hash: 13E44BCBEABF316E1BDB232D545E88DB Accuracy: -m40
Conclusion: CDDA 100%
Signature: 4E4AA2E3F264440D58A6F12A7055830FA8276BC0
FILE: 16 - Brandenburg Concerto No. 4 in G Major, BWV 1049 _ J.S. Bach_ Brandenburg Concerto No. 4 in G Major, BWV 1049 - III. Presto (Live from Teatro Romolo Valli, Reggio Emilia, 2007).flac
Size: 31139327 Hash: DCF83B9FD35D06A2DEDD75BB2E050DA3 Accuracy: -m40
Conclusion: CDDA 100%
Signature: 0AF41F1557F329C5034C201E378258A1C1CB4535
FILE: 17 - Brandenburg Concerto No. 2 in F Major, BWV 1047 _ J.S. Bach_ Brandenburg Concerto No. 2 in F Major, BWV 1047 - I. (Allegro) (Live from Teatro Romolo Valli, Reggio Emilia, 2007).flac
Size: 28203734 Hash: AAC0C4F02248B3E49E9B40F939AD288F Accuracy: -m40
Conclusion: CDDA 100%
Signature: 870C20D002F06A6EC088CD0AC33DF8F954FD98B8
FILE: 18 - Brandenburg Concerto No. 2 in F Major, BWV 1047 _ J.S. Bach_ Brandenburg Concerto No. 2 in F Major, BWV 1047 - II. Andante (Live from Teatro Romolo Valli, Reggio Emilia, 2007).flac
Size: 20146396 Hash: EBFA46AB18CD0A519C51AF91C91BE9B9 Accuracy: -m40
Conclusion: CDDA 99%
Signature: AD77EAE720645F649ED4E134A7406C6EB6F56CD8
FILE: 19 - Brandenburg Concerto No. 2 in F Major, BWV 1047 _ J.S. Bach_ Brandenburg Concerto No. 2 in F Major, BWV 1047 - III. Allegro assai (Live from Teatro Romolo Valli, Reggio Emilia, 2007).flac
Size: 18197619 Hash: 5CFBEA9DD4745FBD0C46D9771950EA90 Accuracy: -m40
Conclusion: CDDA 100%
Signature: 185E063D58D5E58D38264AFD745DF079859A6E24
FILE: 20 - The Miraculous Mandarin, Sz. 73 _ Bartók_ The Miraculous Mandarin, Sz. 73 - Introduction_ A Bustling City Street. Allegro.flac
Size: 7378240 Hash: D4CBC9EBACB212FCB1DA9DA35DE526E2 Accuracy: -m40
Conclusion: CDDA 100%
Signature: 9DDB62289BABDC87F16B42277A648F535FCCCB62
FILE: 21 - The Miraculous Mandarin, Sz. 73 _ Bartók_ The Miraculous Mandarin, Sz. 73 - The Curtain Rises.flac
Size: 7457381 Hash: 2C07AC8A4455B3B074BE2573B0F5DFE2 Accuracy: -m40
Conclusion: CDDA 100%
Signature: C268F0023ACE36A40FB79C402E2FB9D72195F5EC
FILE: 22 - The Miraculous Mandarin, Sz. 73 _ Bartók_ The Miraculous Mandarin, Sz. 73 - 1st Decoy Game - The Shabby Old Rake.flac
Size: 13438119 Hash: E8075D89163DF02F7B9648C6ED66A78B Accuracy: -m40
Conclusion: CDDA 100%
Signature: 6A11C0625F6F7B6E37BB681BD6315EE68480972B
FILE: 23 - The Miraculous Mandarin, Sz. 73 _ Bartók_ The Miraculous Mandarin, Sz. 73 - 2nd Decoy Game.flac
Size: 4069153 Hash: 70BAE6C62060B38D0FC9A37BA27E44DB Accuracy: -m40
Conclusion: CDDA 100%
Signature: 84829022C6B666E235EC77C2FBD918714077B9FC
FILE: 24 - The Miraculous Mandarin, Sz. 73 _ Bartók_ The Miraculous Mandarin, Sz. 73 - The Shy Youth Appears at the Door. Sostenuto.flac
Size: 5279762 Hash: 9D98D119B02DB9A13F245E47A9E17D37 Accuracy: -m40
Conclusion: CDDA 100%
Signature: 4C01A69284313C3FD4C07BE4D7A98263DB2866A5
FILE: 25 - The Miraculous Mandarin, Sz. 73 _ Bartók_ The Miraculous Mandarin, Sz. 73 - 3rd Decoy Game.flac
Size: 6036654 Hash: CDB12E2FE6D5230B295B1CBB780458D0 Accuracy: -m40
Conclusion: CDDA 100%
Signature: 906B8B42EF3EB37ACBB2589DF8884A990189981A
FILE: 26 - The Miraculous Mandarin, Sz. 73 _ Bartók_ The Miraculous Mandarin, Sz. 73 - The Mandarin Enters - Encounter with the Girl.flac
Size: 8925424 Hash: 4FA8F1365EAD49DAAB721F56FAE37EAD Accuracy: -m40
Conclusion: CDDA 100%
Signature: D7AE52E8EAE9E1CDBD651F4ACBD35126C7EBDEF5
FILE: 27 - The Miraculous Mandarin, Sz. 73 _ Bartók_ The Miraculous Mandarin, Sz. 73 - The Girl's Dance.flac
Size: 19258829 Hash: FC5890D5521563153DF79FA3AF0AEE04 Accuracy: -m40
Conclusion: CDDA 100%
Signature: DB2F4C0E75D730F390C4B2AB86A43993EE73204B
FILE: 28 - The Miraculous Mandarin, Sz. 73 _ Bartók_ The Miraculous Mandarin, Sz. 73 - She Flees from Him; He Chases Her Wildly. Sempre vivace.flac
Size: 6885575 Hash: 626292B2925C48E11FD1F36792E2CBC1 Accuracy: -m40
Conclusion: CDDA 100%
Signature: F80A3043245C7DD02BF5D03C66959C0B20380FE1
FILE: 29 - The Miraculous Mandarin, Sz. 73 _ Bartók_ The Miraculous Mandarin, Sz. 73 - The Mandarin Stumbles, but Catches the Girl - They Fight - The Tramps Leap Out, Seize th.flac
Size: 15495969 Hash: FD500B80F3DAB230FB988FBF7BA9DE11 Accuracy: -m40
Conclusion: CDDA 100%
Signature: 4CB8335CB42E5B4C563635FEB9B025DAEF1B71C4
FILE: 30 - The Miraculous Mandarin, Sz. 73 _ Bartók_ The Miraculous Mandarin, Sz. 73 - Suddenly the Mandarin's Head Appears - The Tramps Drag Him Out.flac
Size: 13435146 Hash: 0AB4C69E38F2F7C8E59AACADAA9C1518 Accuracy: -m40
Conclusion: CDDA 43%
Signature: 1272E99157F06B44CA45C84742875FB64B5AACCB
FILE: 31 - The Miraculous Mandarin, Sz. 73 _ Bartók_ The Miraculous Mandarin, Sz. 73 - They Drag the Mandarin to the Centre of the Room - The Mandarin's Body Begins to Glow.flac
Size: 9767491 Hash: C8D6EFDB23C4172D2037ADEECFCE85DA Accuracy: -m40
Conclusion: CDDA 100%
Signature: 5A434E043F794E91652F420BE1FDF163F7E0E17A
FILE: 32 - The Miraculous Mandarin, Sz. 73 _ Bartók_ The Miraculous Mandarin, Sz. 73 - The Tramps Take Him Down - He Falls to the Floor and at Once Leaps at the Girl - They Em.flac
Size: 5009284 Hash: D7C361D06A748C261E08506A6062CF17 Accuracy: -m40
Conclusion: CDDA 100%
Signature: 2215C0F7CB71E9D6E73632DB3EF4A319C5160305
FILE: 33 - The Miraculous Mandarin, Sz. 73 _ Bartók_ The Miraculous Mandarin, Sz. 73 - His Longing Stilled, the Mandarin's Wounds Begin to Bleed - He Becomes Weaker and Dies.flac
Size: 2288958 Hash: 6E28D3B2D349BA6C5BC47B9B568E22E7 Accuracy: -m40
Conclusion: CDDA 100%
Signature: A418D2403B8D2B7903E9990BAF78BBF8F11B0A22
FILE: 34 - 2 Portraits, Sz. 37 _ Bartók_ 2 Portraits, Sz. 37 - No. 1, One Ideal. Andante sostenuto.flac
Size: 42142816 Hash: AFD3D0EDB4231B53C6CEC120319DCCED Accuracy: -m40
Conclusion: CDDA 62%
Signature: 5AB2A4DEA3686384B73BEFBB8411F4ABE68BB5AC
FILE: 35 - 2 Portraits, Sz. 37 _ Bartók_ 2 Portraits, Sz. 37 - No. 2, One Grotesque. Presto.flac
Size: 9640796 Hash: 601662D05B37091D220B9CE5D3CE933C Accuracy: -m40
Conclusion: CDDA 100%
Signature: 7ECD576365E55469F93ADE6A5A795FAEC61C1B9C
FILE: 36 - Piano Concerto No. 1, Sz. 83 _ Bartók_ Piano Concerto No. 1, Sz. 83 - I. Allegro moderato - Allegro.flac
Size: 42203381 Hash: 9AA33EB982273520D9190CA91EF66B67 Accuracy: -m40
Conclusion: CDDA 100%
Signature: 2DB35ABBD565061F564C006E572561DABFB4D12B
FILE: 37 - Piano Concerto No. 1, Sz. 83 _ Bartók_ Piano Concerto No. 1, Sz. 83 - II. Andante.flac
Size: 24388126 Hash: 8AB31A5CA7BE29966FDCFBBB3234ED47 Accuracy: -m40
Conclusion: CDDA 100%
Signature: 7FB9762E046C7636A3C28C606CA392D42E5236AA
FILE: 38 - Piano Concerto No. 1, Sz. 83 _ Bartók_ Piano Concerto No. 1, Sz. 83 - III. Allegro molto.flac
Size: 30291098 Hash: A6F766C0BBE423A6334716F740A37E6F Accuracy: -m40
Conclusion: CDDA 100%
Signature: 0936552D4A4EC2BB41A56C208C667EF3EAE9FD52
FILE: 39 - Piano Concerto No. 2, Sz. 95 _ Bartók_ Piano Concerto No. 2, Sz. 95 - I. Allegro.flac
Size: 44521074 Hash: B60E1A64F69698530AEF66060F0D6DFB Accuracy: -m40
Conclusion: CDDA 100%
Signature: 480158A13A1F2D139AED2AB4D19A504327B42BB0
FILE: 40 - Piano Concerto No. 2, Sz. 95 _ Bartók_ Piano Concerto No. 2, Sz. 95 - II. Adagio - Più adagio - Presto.flac
Size: 38622783 Hash: 7A9B01E959238C278E5FD029B882967C Accuracy: -m40
Conclusion: CDDA 100%
Signature: F5E81773428D99C79CD286249B7FEB12DB08F8D3
FILE: 41 - Piano Concerto No. 2, Sz. 95 _ Bartók_ Piano Concerto No. 2, Sz. 95 - III. Allegro molto.flac
Size: 31801680 Hash: E5A9D3B05D65F4138D8BF716FC2975F4 Accuracy: -m40
Conclusion: CDDA 100%
Signature: 03519E6B710A7A9DA3A32A71D49800B89ABDBB5A