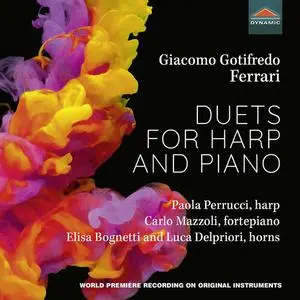 Carlo Mazzoli, Paola Perrucci, Elisa Bognetti, Luca Delpriori - Ferrari: Duets for Harp & Piano (2022)
FLAC (tracks), Lossless | 1:16:37 | 269 Mb
Genre: Classical / Label: Dynamic
Giacomo Gotifredo Ferrari studied in Naples before finding esteem in the Parisian musical world of the late 1780s. Fleeing the Revolution he settled in London. His compositions divide equally between vocal and chamber music, but also include two piano concertos. His Four Duets for Piano and Harp reveal clearly the main features of his art: easy melodic grace founded on his studies with Paisiello, high musical quality, formal balance, and a veneration of Haydn and Mozart. Intended for professionals and amateurs alike, slow movements are expressive and rondos full of vigour. In this recording original instruments are used to do full justice to the period timbre of Ferrari's dialogues between fortepiano and harp.
Track List:
01. Duetto No. 1 for Harp & Piano, Op. 13: I. Allegro spiritoso
02. Duetto No. 1 for Harp & Piano, Op. 13: II. Andantino
03. Duetto No. 1 for Harp & Piano, Op. 13: III. Scherzo. Presto
04. Duetto No. 1 for Harp & Piano, Op. 13: IV. Rondo. Allegro assai
05. Duetto No. 2 for Harp & Piano, Op. 20: I. Allegro spiritoso
06. Duetto No. 2 for Harp & Piano, Op. 20: II. Adagio
07. Duetto No. 2 for Harp & Piano, Op. 20: III. Rondo. Allegro
08. Duetto No. 3 for Harp, Piano & 2 Horns: I. Introduzione. Adagio - Allegro assai
09. Duetto No. 3 for Harp, Piano & 2 Horns: II. Larghetto con moto
10. Duetto No. 3 for Harp, Piano & 2 Horns: III. Scherzo. Presto
11. Duetto No. 3 for Harp, Piano & 2 Horns: IV. Rondo. Allegro
12. Duetto No. 4 for Harp, Piano & 2 Horns: I. Allegro
13. Duetto No. 4 for Harp, Piano & 2 Horns: II. Adagio
14. Duetto No. 4 for Harp, Piano & 2 Horns: III. Scherzo. Allegro presto
15. Duetto No. 4 for Harp, Piano & 2 Horns: IV. Rondo. Allegretto
ANALYZER: auCDtect: CD records authenticity detector, version 0.8.2
Copyright © 2004 Oleg Berngardt. All rights reserved.
Copyright © 2004 Alexander Djourik. All rights reserved.


FILE: 01 - Duetto No. 1 for Harp & Piano, Op. 13_ I. Allegro spiritoso.flac
Size: 31381292 Hash: AC196239B8D6D1D166D29FB478FB1713 Accuracy: -m40
Conclusion: CDDA 100%
Signature: BCF7857B0E8FD0220A78793BE8F58A2CF92178F0
FILE: 02 - Duetto No. 1 for Harp & Piano, Op. 13_ II. Andantino.flac
Size: 12303313 Hash: 9611576F6726DFE3875764FE424A3A4F Accuracy: -m40
Conclusion: CDDA 100%
Signature: 78EAD2FAF51EB520F4E771CC6FE67FD41271AD02
FILE: 03 - Duetto No. 1 for Harp & Piano, Op. 13_ III. Scherzo. Presto.flac
Size: 9588075 Hash: 91CF057B407BAAD7F2D2FC745FAFA163 Accuracy: -m40
Conclusion: CDDA 100%
Signature: 757617883DFB41559988DEFE5A5F538995269B83
FILE: 04 - Duetto No. 1 for Harp & Piano, Op. 13_ IV. Rondo. Allegro assai.flac
Size: 17925730 Hash: E9D006A672D729DFB3C5077FF1C81372 Accuracy: -m40
Conclusion: CDDA 100%
Signature: 6BF9A2DA154D82B5935CBC58F6266363AEFDDFB0
FILE: 05 - Duetto No. 2 for Harp & Piano, Op. 20_ I. Allegro spiritoso.flac
Size: 24570952 Hash: 5EF349D5062FCAF4D94FC532DD0F6744 Accuracy: -m40
Conclusion: CDDA 100%
Signature: 01F444DEC56FB72B130E6C1F0C5C8BF3C925DDD4
FILE: 06 - Duetto No. 2 for Harp & Piano, Op. 20_ II. Adagio.flac
Size: 15996664 Hash: 1A64DB0D38DCA41F5705DACECB0C2A48 Accuracy: -m40
Conclusion: CDDA 100%
Signature: DCCA54AF03420EE710464BB9AF1349E7F6755AD3
FILE: 07 - Duetto No. 2 for Harp & Piano, Op. 20_ III. Rondo. Allegro.flac
Size: 14252737 Hash: D7846BA90E309875E0492B77A0B7C170 Accuracy: -m40
Conclusion: CDDA 100%
Signature: AD002B91C63DDBA0FE9D287C26CB8F044B3E906B
FILE: 08 - Duetto No. 3 for Harp, Piano & 2 Horns_ I. Introduzione. Adagio - Allegro assai.flac
Size: 23471834 Hash: 5C30CBB4BF807E11043512AB78A169D6 Accuracy: -m40
Conclusion: CDDA 100%
Signature: 6F81804BCE7F2C02AA13181CA39E3445A141A9EF
FILE: 09 - Duetto No. 3 for Harp, Piano & 2 Horns_ II. Larghetto con moto.flac
Size: 16140262 Hash: 669FB1DCAE70A5D9619621C7E9506A38 Accuracy: -m40
Conclusion: CDDA 100%
Signature: 49CF342D719A1CD0A94D474FFEFA9426D938B128
FILE: 10 - Duetto No. 3 for Harp, Piano & 2 Horns_ III. Scherzo. Presto.flac
Size: 14090038 Hash: 389070D3492B064E4C87675376CE68E4 Accuracy: -m40
Conclusion: CDDA 99%
Signature: 2BF8F011C74F7D19FEF2EB4D1243E14A057682E2
FILE: 11 - Duetto No. 3 for Harp, Piano & 2 Horns_ IV. Rondo. Allegro.flac
Size: 21782634 Hash: 84C648576D39807482E4D36ED600D5D6 Accuracy: -m40
Conclusion: CDDA 100%
Signature: A74B0A839D24BEE3D96B3160B282410D057E04EC
FILE: 12 - Duetto No. 4 for Harp, Piano & 2 Horns_ I. Allegro.flac
Size: 41862671 Hash: A0B4DBEAF464A7D6356D0AFD180D35CB Accuracy: -m40
Conclusion: CDDA 100%
Signature: 5FD933EDF9469815CFF5785386642A1DB39BB976
FILE: 13 - Duetto No. 4 for Harp, Piano & 2 Horns_ II. Adagio.flac
Size: 6940426 Hash: D19AF67CC96067B7C6684CFD8A8E776C Accuracy: -m40
Conclusion: CDDA 100%
Signature: 82B27D6F2B57F10FAA3E559F79644EE2E3E8336E
FILE: 14 - Duetto No. 4 for Harp, Piano & 2 Horns_ III. Scherzo. Allegro presto.flac
Size: 14660217 Hash: 2994EBC056660A0FE4818005AD051E04 Accuracy: -m40
Conclusion: CDDA 100%
Signature: 81CF37E84FA5D782DDFDF1E5FAFD3A5F89B187CF
FILE: 15 - Duetto No. 4 for Harp, Piano & 2 Horns_ IV. Rondo. Allegretto.flac
Size: 18648526 Hash: 1CE60CA237A6B28D541ECD1C027C857A Accuracy: -m40
Conclusion: CDDA 100%
Signature: 33BBC4661F16369A8129047E7F688151A5399165