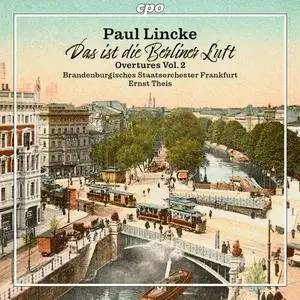 Brandenburgisches Staatsorchester Frankfurt, Ernst Theis - Lincke: Overtures, Vol. 2 (2023)
FLAC (tracks), Lossless / MP3 320 kbps | 65:49 | 309 / 151 Mb
Genre: Classical / Label: CPO
And shortly after Vol. 1, Vol. 2 is already released with further melody-saturated overtures by Paul Lincke, which are thus as good as complete on cpo. "What Strauss once was for Vienna - Lincke is for Berlin!". These verses by comedian Franz Heigl on Paul Lincke's 75th birthday celebrate the composer not only as the epitome of Berlin light music, but also as the founder of the associated operetta. Just as Strauss's Die Fledermaus was to Viennese operetta, his Frau Luna (soon to be released on cpo) is still considered a prime example of the Berlin variety of this genre, even though it did not take its present form until 30 years after its premiere. In addition to the overture to Frau Luna, there are other entertaining pieces worth hearing - also from one-act operas - such as the overture to the operetta Das blaue Bild from his successful series at the Apollo Theater in 1906, a "Fantasy in One Act." Its very Parisian overture is characterized by a furious presto beginning, striking cornet and clarinet solos, and its sometimes lyrically rapturous, sometimes exuberantly lively dance-like gesture. True authentic Paul Lincke discoveries!
Track List:
1. Ouverture zu einer Frau Luna (5:29)
2. Ouverture zu einer Nakiris Hochzeit "Der Stern von Siam" (7:22)
3. Ouverture zu einer Ein Liebestraum (7:58)
4. Ouverture zu einer Im Reiche des Indra (8:18)
5. Sinnbild Walzer (7:14)
6. Brandbrief-Galopp (Arr. for Orchestra) (2:16)
7. Ouverture zu einer Das Blaue Bild (8:57)
8. Ouverture zu einer Revue (7:48)
9. Ouverture zu einer Festlichkeit (10:32)
ANALYZER: auCDtect: CD records authenticity detector, version 0.8.2
Copyright © 2004 Oleg Berngardt. All rights reserved.
Copyright © 2004 Alexander Djourik. All rights reserved.


FILE: 01 - Ouverture zu einer Frau Luna.flac
Size: 26079139 Hash: C303CE4304F8CF0116C08E7D2601BF73 Accuracy: -m40
Conclusion: CDDA 100%
Signature: 21F3298B9169187942165A3FA07AC67E879CD21C
FILE: 02 - Ouverture zu einer Nakiris Hochzeit _Der Stern von Siam_.flac
Size: 34815271 Hash: 50A32637ED9616B160F8F88EB0C0875F Accuracy: -m40
Conclusion: CDDA 100%
Signature: 975C2D5442C96DE0D420CFAE0CD2B14CF5BF4CE3
FILE: 03 - Ouverture zu einer Ein Liebestraum.flac
Size: 42371971 Hash: 1ABFEFAF67C3A1EBC269F0020A17663A Accuracy: -m40
Conclusion: CDDA 100%
Signature: 6FA3DBFE4A241216C732009347495485FFF87C60
FILE: 04 - Ouverture zu einer Im Reiche des Indra.flac
Size: 37559053 Hash: 623FC8F64E93FE24AF932D3E277DF087 Accuracy: -m40
Conclusion: CDDA 100%
Signature: A406E078906E8D931BC47862F801BFD8BC972308
FILE: 05 - Sinnbild Walzer.flac
Size: 33091943 Hash: C77BBE8FDEAAA89D79E5842B98EA68EA Accuracy: -m40
Conclusion: CDDA 100%
Signature: C972E494B8BB1FA1FCC859C0F66A0DA967344C26
FILE: 06 - Brandbrief-Galopp (Arr. for Orchestra).flac
Size: 12985636 Hash: 21BE671402280BC05CD2C39CEA790DFB Accuracy: -m40
Conclusion: CDDA 99%
Signature: 023B9A876F7A063CA26B4F0942788A15898BA2BF
FILE: 07 - Ouverture zu einer Das Blaue Bild.flac
Size: 42528545 Hash: 7390627790609FB6688E5F0DAB909B19 Accuracy: -m40
Conclusion: CDDA 100%
Signature: CD68106C78AF89B7768C0ED3FF283F544414C4FD
FILE: 08 - Ouverture zu einer Revue.flac
Size: 38609652 Hash: DE5F2557F94A1B581C85FD200CA6D281 Accuracy: -m40
Conclusion: CDDA 99%
Signature: 507ED222CE2F7344FEDC70BB989E46ED6BD61C81
FILE: 09 - Ouverture zu einer Festlichkeit.flac
Size: 56297411 Hash: A254A606A7938A7878B4364FF7464F84 Accuracy: -m40
Conclusion: CDDA 99%
Signature: 1305B8EA83EF2E8BE5BB92A0C287C5DC9ED3B8C9