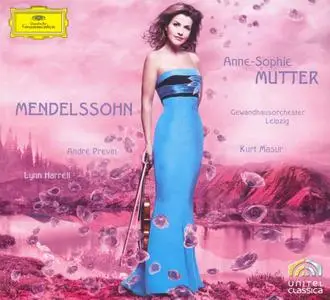 Anne-Sophie Mutter - Mendelssohn (2008)
XLD | FLAC (image+.cue, log) | Covers Included | 01:17:36 | 358 MB
Genre: Classical | Label: Deutsche Grammophon | Catalog: 001253300
Anne-Sophie Mutter has always been a superlative violinist with an imposing sound and technique that command attention. As she has progressed her career she has shown a growing reluctance to restrain her interpretations, and this 2008 Mendelssohn recording is evidence that as she progresses in her now-mature career she is becoming more and more assertive in that direction. Here she has wisely programmed not just the German Romantic's evergreen Violin Concerto, but also his less well-known Piano Trio in D minor and his nearly ignored Violin Sonata in F major, thereby attractively broadening the range of repertoire. And Mutter has astutely joined with Kurt Masur and the Gewandhausorchester Leipzig in the concerto, with cellist Lynn Harrell and pianist André Previn in the trio, and with Previn in the sonata.
But, naturally, it is Mutter's playing that is most significant here, and it is on this point that her diehard and more fickle fans will part company. Mutter's flexible tempo rubato, willful phrasing, and free use of glissando, portimento, and vibrato fall outside the interpretive mainstream for early Romantic music, so purists may chafe. These same qualities suffused Mutter's recent recordings of Mozart and Bach, and they were just as characteristic of the musician and uncharacteristic of the music there as they are here. Listeners unfamiliar with Mutter who find brilliantly virtuosic and highly individualistic violin playing appealing will likely enjoy this disc. Listeners who prefer a more direct representation of the musical substance with less personal charisma may not. It should be added that Deutsche Grammophon's digital sound, while wonderfully clear and vivid, is focused more on the violinist than on her accompanists.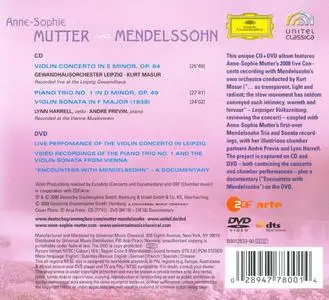 Track List:
1. Violin Concerto In E Minor, Op.64
Allegro Molto Appassionato
Andante
Allegretto Non Troppo - Allegro Molto Vivace
Anne-Sophie Mutter, violin
Gewandhausorchester Leipzig
Kurt Masur
Recording:
2. Piano Trio NO.1 In D Minor, Op.49
Molto Allegro Agitato
Andante Con Moto Tranquillo
Anne-Sophie Mutter, violin
Lynn Harrell, cello
André Previn, piano
3. Violin Sonata In F Major (1838)
Allegro Vivace
Adagio
Assai Vivace
Anne-Sophie Mutter, violin
André Previn, piano
X Lossless Decoder version 20080926 (93.3)


XLD extraction logfile from 2009-02-07 15:29:39 +0100


Anne-Sophie Mutter / Mendelssohn: Violin Concerto Etc (Mutter, 2008)


Used drive : HL-DT-ST DVDRW GSA-S10N (revision BP10)


Use cdparanoia mode : YES (CDParanoia III 10.2 engine)

Disable audio cache : OK for the drive with cache less than 2750KB

Make use of C2 pointers : NO

Read offset correction : 667

Max retry count : 100


TOC of the extracted CD

Track | Start | Length | Start sector | End sector

––––––––––––––––––––––––––––-

1 | 00:00:00 | 12:19:26 | 0 | 55450

2 | 12:19:26 | 07:14:65 | 55451 | 88065

3 | 19:34:16 | 06:16:68 | 88066 | 116333

4 | 25:51:09 | 09:01:12 | 116334 | 156920

5 | 34:52:21 | 06:52:07 | 156921 | 187827

6 | 41:44:28 | 03:38:34 | 187828 | 204211

7 | 45:22:62 | 08:16:12 | 204212 | 241423

8 | 53:38:74 | 11:25:25 | 241424 | 292823

9 | 65:04:24 | 07:13:65 | 292824 | 325363

10 | 72:18:14 | 05:22:59 | 325364 | 349572


All Tracks

Filename : /Users/Ale/Desktop/upload/Mendelssohn: Violin Concerto Etc (Mutter, 2008).flac

CRC32 hash : 6EA58B71

CRC32 hash (skip zero) : FBD4DAEA

Statistics

Read error : 0

Skipped (treated as error) : 0

Edge jitter error (maybe fixed) : 1

Atom jitter error (maybe fixed) : 1

Drift error (maybe fixed) : 0

Dropped bytes error (maybe fixed) : 1

Duplicated bytes error (maybe fixed) : 1


Track 01

CRC32 hash : 59EB1B1E

CRC32 hash (skip zero) : 2329F645

AccurateRip signature : 4D32C23C

->Track not present in AccurateRip database.

Statistics

Read error : 0

Skipped (treated as error) : 0

Edge jitter error (maybe fixed) : 0

Atom jitter error (maybe fixed) : 0

Drift error (maybe fixed) : 0

Dropped bytes error (maybe fixed) : 0

Duplicated bytes error (maybe fixed) : 0


Track 02

CRC32 hash : 4E0DCB78

CRC32 hash (skip zero) : 57094B03

AccurateRip signature : 677532A9

->Track not present in AccurateRip database.

Statistics

Read error : 0

Skipped (treated as error) : 0

Edge jitter error (maybe fixed) : 0

Atom jitter error (maybe fixed) : 0

Drift error (maybe fixed) : 0

Dropped bytes error (maybe fixed) : 0

Duplicated bytes error (maybe fixed) : 0


Track 03

CRC32 hash : 8DAF2007

CRC32 hash (skip zero) : 394BEC93

AccurateRip signature : A9B46D00

->Track not present in AccurateRip database.

Statistics

Read error : 0

Skipped (treated as error) : 0

Edge jitter error (maybe fixed) : 1

Atom jitter error (maybe fixed) : 1

Drift error (maybe fixed) : 0

Dropped bytes error (maybe fixed) : 1

Duplicated bytes error (maybe fixed) : 1


Track 04

CRC32 hash : 1AFB21DA

CRC32 hash (skip zero) : E7EEDD40

AccurateRip signature : 3D9B3568

->Track not present in AccurateRip database.

Statistics

Read error : 0

Skipped (treated as error) : 0

Edge jitter error (maybe fixed) : 0

Atom jitter error (maybe fixed) : 0

Drift error (maybe fixed) : 0

Dropped bytes error (maybe fixed) : 0

Duplicated bytes error (maybe fixed) : 0


Track 05

CRC32 hash : 6E1FC2FB

CRC32 hash (skip zero) : 7090835D

AccurateRip signature : B5FD7652

->Track not present in AccurateRip database.

Statistics

Read error : 0

Skipped (treated as error) : 0

Edge jitter error (maybe fixed) : 0

Atom jitter error (maybe fixed) : 0

Drift error (maybe fixed) : 0

Dropped bytes error (maybe fixed) : 0

Duplicated bytes error (maybe fixed) : 0


Track 06

CRC32 hash : 07748D4B

CRC32 hash (skip zero) : FF8EE4EC

AccurateRip signature : 40783953

->Track not present in AccurateRip database.

Statistics

Read error : 0

Skipped (treated as error) : 0

Edge jitter error (maybe fixed) : 0

Atom jitter error (maybe fixed) : 0

Drift error (maybe fixed) : 0

Dropped bytes error (maybe fixed) : 0

Duplicated bytes error (maybe fixed) : 0


Track 07

CRC32 hash : 4DFE10F9

CRC32 hash (skip zero) : C10DE535

AccurateRip signature : D3060E2C

->Track not present in AccurateRip database.

Statistics

Read error : 0

Skipped (treated as error) : 0

Edge jitter error (maybe fixed) : 0

Atom jitter error (maybe fixed) : 0

Drift error (maybe fixed) : 0

Dropped bytes error (maybe fixed) : 0

Duplicated bytes error (maybe fixed) : 0


Track 08

CRC32 hash : 19FA4CEF

CRC32 hash (skip zero) : 3214723A

AccurateRip signature : A36D5713

->Track not present in AccurateRip database.

Statistics

Read error : 0

Skipped (treated as error) : 0

Edge jitter error (maybe fixed) : 0

Atom jitter error (maybe fixed) : 0

Drift error (maybe fixed) : 0

Dropped bytes error (maybe fixed) : 0

Duplicated bytes error (maybe fixed) : 0


Track 09

CRC32 hash : 1976A039

CRC32 hash (skip zero) : 4BD5BA47

AccurateRip signature : 16EE09D9

->Track not present in AccurateRip database.

Statistics

Read error : 0

Skipped (treated as error) : 0

Edge jitter error (maybe fixed) : 0

Atom jitter error (maybe fixed) : 0

Drift error (maybe fixed) : 0

Dropped bytes error (maybe fixed) : 0

Duplicated bytes error (maybe fixed) : 0


Track 10

CRC32 hash : 0889FFF5

CRC32 hash (skip zero) : 5235A0C0

AccurateRip signature : 7C17397D

->Track not present in AccurateRip database.

Statistics

Read error : 0

Skipped (treated as error) : 0

Edge jitter error (maybe fixed) : 0

Atom jitter error (maybe fixed) : 0

Drift error (maybe fixed) : 0

Dropped bytes error (maybe fixed) : 0

Duplicated bytes error (maybe fixed) : 0


No errors occurred


End of status report
Thanks to the Original ripper (unknown)!

Download: