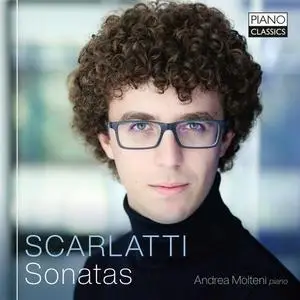 Andrea Molteni - Scarlatti: Sonatas (2021)
FLAC tracks | 1:15:03 | 269 Mb
Genre: Classical / Label: Piano Classics
'A strange but wonderful album': one of the accolades for Andrea Molteni's debut album on Piano Classics, of the piano works by his countrymen Dallapiccola and Petrassi (PCL10222). For a sequel, he turns to the endlessly inventive store of sonatas by Domenico Scarlatti, who drew on his own extraordinary abilities at the keyboard to produce the illusion of written improvisations within a basic two-part form which left routine formulas of keyboard composition farther and farther behind. In a booklet conversation with the pianist and Lisztian Leslie Howard, Molteni explains that he has selected 18 lesser-known sonatas in a sequence which moves through the keys in the manner of The Well-Tempered Clavier, beginning with the A major virtuoso flourishes of K24 and ending with the G minor of K546. Howard praises the clarity and luminosity of Molteni's touch; the sensitivity of his approach to ornamentation, which carefully emulates the effects and articulation available on a harpsichord as much as possible; strong dynamic contrasts; and the breathing pauses between sections, which allow for a change of registration like a harpsichord stop. Without observing the traditional pairings of Scarlatti's sonatas, Molteni's sequence encompasses the violinistic figurations of the early sonatas from the composer's residence in Rome as well as the fandangos and guitaristic flourishes of his later and much longer stay in Madrid in service to the Princess (then Queen) Maria Magdalena Barbara. Scarlatti himself professed an aim of 'ingenious jesting with art' in a preface to one of volume of sonatas, and Molteni proves himself more than equal to the required balance between musical sophistication and virtuoso demands.
Track List:
01. Sonata in A Major, K. 24
02. Sonata in A Minor, K. 532
03. Sonata in B-Flat Major, K. 266
04. Sonata in B-Flat Minor, K. 131
05. Sonata in B Major, K. 262
06. Sonata in B Minor, K. 173
07. Sonata in C Major, K. 421
08. Sonata in C Minor, K. 126
09. Sonata in D Major, K. 33
10. Sonata in D Minor, K. 138
11. Sonata in E Major, K. 20
12. Sonata in E Minor, K. 232
13. Sonata in F Major, K. 17
14. Sonata in F Minor, K. 184
15. Sonata in F-Sharp Major, K. 319
16. Sonata in F-Sharp Minor, K. 67
17. Sonata in G Major, K. 425
18. Sonata in G Minor, K. 546
ANALYZER: auCDtect: CD records authenticity detector, version 0.8.2
Copyright © 2004 Oleg Berngardt. All rights reserved.
Copyright © 2004 Alexander Djourik. All rights reserved.


FILE: 01 - Sonata in A Major, K.24.flac
Size: 19430993 Hash: 54389BF1B5208529BE2FEC4B69476C7A Accuracy: -m40
Conclusion: CDDA 100%
Signature: 71DBA7B64FB35D7113C039BB0412DC1869DFA132
FILE: 02 - Sonata in A Minor, K.532.flac
Size: 12629996 Hash: 32C511D8F435741EC44A7DA38B38B7FB Accuracy: -m40
Conclusion: CDDA 100%
Signature: 7E082113E207A4AFF7A400684185E0E67F074923
FILE: 03 - Sonata in B-Flat Major, K.266.flac
Size: 17557880 Hash: 12E93BECA8DAEC01B72D6378377C95DC Accuracy: -m40
Conclusion: CDDA 100%
Signature: 6AC3A2404A72FDC8CF34BF6CADB93BA5A88E9993
FILE: 04 - Sonata in B-Flat Minor, K.131.flac
Size: 13956993 Hash: 65C836247546178858682D9E99AB951B Accuracy: -m40
Conclusion: CDDA 94%
Signature: 92868D74D9990F1A8B6CF00EF77C03DE86029433
FILE: 05 - Sonata in B Major, K.262.flac
Size: 18623581 Hash: 95CD89E7FA1614BC86DD7FE08E18B0A8 Accuracy: -m40
Conclusion: CDDA 100%
Signature: A919D34FAD0D0AB84437E116DCC46E2466858FFE
FILE: 06 - Sonata in B Minor, K.173.flac
Size: 16350265 Hash: 7E2CB07073DDE01E8D5B6A19089B3FAC Accuracy: -m40
Conclusion: CDDA 100%
Signature: A32990E37D0BBE3F7A5A488B020850752DE4F73E
FILE: 07 - Sonata in C Major, K.421.flac
Size: 15009901 Hash: 03D1A1690D508F063931D7153025F9F9 Accuracy: -m40
Conclusion: CDDA 87%
Signature: 709504B9EE630930C5B4008295558EC20021F24E
FILE: 08 - Sonata in C Minor, K.126.flac
Size: 25947380 Hash: 2B7815E4220AE9DE69F24045C99F04C8 Accuracy: -m40
Conclusion: CDDA 100%
Signature: 7423882C3A52158347BCE9090E6879CB574B9296
FILE: 09 - Sonata in D Major, K.33.flac
Size: 15262203 Hash: C0789DFFD87E88870ECF8C3DD34BA012 Accuracy: -m40
Conclusion: CDDA 100%
Signature: B5B8D7C4779E3EA81F163E580D70608DDB14C939
FILE: 10 - Sonata in D Minor, K.138.flac
Size: 13845879 Hash: 7A1CD361F61F5B8C38E3F70869821801 Accuracy: -m40
Conclusion: CDDA 100%
Signature: FEAB518CF7DDDF4F9F87D25EE988DEFD3E55AAA5
FILE: 11 - Sonata in E Major, K.20.flac
Size: 12446595 Hash: E990A80856A04EA6DE368084AC85C63B Accuracy: -m40
Conclusion: CDDA 86%
Signature: AC8BC78496990F4EE7E8ABA97DB97C29374122C0
FILE: 12 - Sonata in E Minor, K.232.flac
Size: 19333813 Hash: FBDC302E707E71D8BCBBAA74027D6F4B Accuracy: -m40
Conclusion: CDDA 100%
Signature: 92B5CB0F7E2DBF0F99E44E31DD324CF54060CBE0
FILE: 13 - Sonata in F Major, K.17.flac
Size: 14817080 Hash: DE4E143B1A41BC874D4531B47072247E Accuracy: -m40
Conclusion: CDDA 100%
Signature: 86A6AA4F489F1FEF7BFC78D3CFA399B3B1B297A1
FILE: 14 - Sonata in F Minor, K.184.flac
Size: 16959984 Hash: 4DC63D1CFFCD04A30AB4CC4BA8B929C4 Accuracy: -m40
Conclusion: CDDA 100%
Signature: 6566C2603824358071CDFB267907720105D3DBD4
FILE: 15 - Sonata in F-Sharp Major, K.319.flac
Size: 14744707 Hash: 0E747EA8935AD12768D9D14E97FC82E3 Accuracy: -m40
Conclusion: CDDA 100%
Signature: C679639305C726836ECD4826B8D705933DF69B87
FILE: 16 - Sonata in F-Sharp Minor, K.67.flac
Size: 6114296 Hash: D04029E7E1298AE7BF174B3C75D1EC46 Accuracy: -m40
Conclusion: CDDA 99%
Signature: 1464221BC476746A29BECB0EADBBB505A71FF2A2
FILE: 17 - Sonata in G Major, K.425.flac
Size: 11482485 Hash: 96442A0C8B4407C24BE345AE0DF43DE6 Accuracy: -m40
Conclusion: CDDA 62%
Signature: 5CE04090C76569192A46EA6B4D39198AF6589C17
FILE: 18 - Sonata in G Minor, K.546.flac
Size: 19201241 Hash: 4571C9B6E78369405F284F9E293A6771 Accuracy: -m40
Conclusion: CDDA 100%
Signature: 8005E4BE7270D050FE40A7D8A74E05B4AB22FA3C