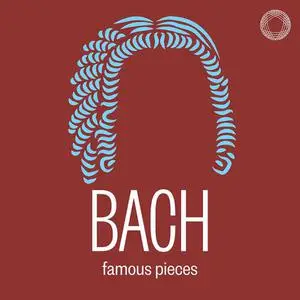 Alisa Weilerstein - Bach Famous Pieces (2022)
FLAC (tracks), Lossless / MP3 320 kbps | 2:22:00 | 324 / 667 Mb
Genre: Classical / Label: PentaTone
Cellist Alisa Weilerstein has appeared with leading orchestras all over the U.S. and Europe and has played chamber music with her parents, both well-known performers, in the Weilerstein Trio. Her repertory is wide but has been marked by a focus on contemporary music. Weilerstein was born in Rochester, New York, on April 14, 1982. Her parents are Donald Weilerstein, first violinist of the Cleveland Quartet, and pianist Vivian Hornik Weilerstein; violinist and conductor Joshua Weilerstein is her brother.
Track List:
01. Cello Suite No. 1 in G Major, BWV 1007 (Excerpts): I. Prélude
02. Musikalisches Opfer, BWV 1079, Sonata sopri' il soggetto Reale a traversa (Excerpts Arr. R. Hekkema for Reed Quintet): I. Largo
03. Toccata in E Minor, BWV 914
04. Kommst du nun, Jesu, vom Himmel herunter, BWV 650 (Arr. M. Schnaus for Piano)
05. Violin Sonata No. 1 in G Minor, BWV 1001 (Excerpts): II. Fuga. Allegro
06. Concerto for 2 Harpsichords in C Minor, BWV 1062 (Excerpts): I. —
07. Ich ruf' zu Dir, Herr Jesu Christ, BWV 639 (Arr. M.H. Alfeyev for Orchestra)
08. Ich habe genug BWV 82: I. Aria. Ich habe genug
09. Vom Himmel hoch, da komm ich her, Op. 7, BWV 769 (Arr. R. Hekkema for Reed Quintet): Var. 2, Alio modo in canone alla quinta
10. Concerto for Violin and Oboe in C Minor, BWV 1060R: II. Adagio
11. Harpsichord Concerto No. 1 in D Minor, BWV 1052: II. Adagio
12. Violin Sonata No. 1 in G Minor, BWV 1001 (Excerpts): I. Adagio
13. Cello Suite No. 2, BWV 1008 (Excerpts Arr. for Lute): IV. Sarabande
14. Harpsichord Concerto No. 7 in G Minor, BWV 1058: II. Andante
15. Brandenburg Concerto No. 2 in F Major, BWV 1047: I. —
16. Prelude and Fugue in E-Flat Major, BWV 552: No. 1, Praeludium (Arr. F. Busoni for Piano)
17. Violin Sonata No. 1 in G Minor, BWV 1001 (Excerpts): IV. Presto
18. Harpsichord Concerto No. 3 in D Major, BWV 1054: III. Allegro
19. Cello Suite No. 3 in C Major, BWV 1009: V. Bourrée - VI. Bourrée
20. Suite No. 2 in B Minor, BWV 1067 "Overture": VII. Badinerie
21. Toccata et Fuga in D Minor, BWV 565: I. Toccata
22. Harpsichord Concerto No. 5 in F Minor, BWV 1056 (Excerpts): II. Largo
23. Double Violin Concerto in D Minor, BWV 1043: I. Vivace
24. Musikalisches Opfer, BWV 1079, Sonata sopri' il soggetto Reale a traversa (Excerpts Arr. R. Hekkema for Reed Ensemble): II. Allegro
25. Organ Concerto in D Minor, BWV 596: II. Grave - III. Fuga
26. Easter Oratorio, BWV 249 "Komm, gehet und eilet": II. Adagio
27. Cello Suite No. 1 in G Major, BWV 1007 (Excerpts): III. Courante
28. Cello Suite No. 2 in D Minor, BWV 1008 (Excerpts Arr. for Lute): I. Prelude
29. Aria variata alla maniera italiana in A Minor, BWV 989: Aria
30. Brandenburg Concerto No. 6 in B-Flat Major, BWV 1051: II. Adagio, ma non tanto
31. Concerto for 2 Harpsichords in C Minor, BWV 1062 (Excerpts): II. Andante e piano
32. Cello Suite No. 2 in D Minor, BWV 1008 (Excerpts): III. Courante
33. Violin Concerto No. 2 in in E Major, BWV 1042: III. Allegro assai
ANALYZER: auCDtect: CD records authenticity detector, version 0.8.2
Copyright © 2004 Oleg Berngardt. All rights reserved.
Copyright © 2004 Alexander Djourik. All rights reserved.


FILE: 01 - Cello Suite No. 1 in G Major, BWV 1007 (Excerpts)_ I. Prélude.flac
Size: 11119345 Hash: BE0803EA6134D7C9FD9D4BDC9A483BD2 Accuracy: -m40
Conclusion: CDDA 100%
Signature: 2B1FDB4EF3CD8AC406B1B15C531E5722E85DD0D1
FILE: 02 - Musikalisches Opfer, BWV 1079, Sonata sopri' il soggetto Reale a traversa (Excerpts Arr. R. Hekkema for Reed Quintet)_ I. Largo.flac
Size: 31236760 Hash: 372A6EA41521A8E9AFABD7640405B58D Accuracy: -m40
Conclusion: CDDA 100%
Signature: 7374DD1B360ABDBC64BE50E29280A943323C025B
FILE: 03 - Toccata in E Minor, BWV 914.flac
Size: 23236505 Hash: B70A3678EBFD9C1BD2227AC5073CB90E Accuracy: -m40
Conclusion: CDDA 94%
Signature: BFEA1DFDF4361B52D0202AC35AB4CA7B847F90E9
FILE: 04 - Kommst du nun, Jesu, vom Himmel herunter, BWV 650 (Arr. M. Schnaus for Piano).flac
Size: 9242485 Hash: 81816F14DA4261595763637DB9CC2ECA Accuracy: -m40
Conclusion: CDDA 100%
Signature: FAE37BD707BD17EF0E144105CD15C0A55F0E769C
FILE: 05 - Violin Sonata No. 1 in G Minor, BWV 1001 (Excerpts)_ II. Fuga. Allegro.flac
Size: 32118778 Hash: 82B997D9C64BF43A612784951F571AB2 Accuracy: -m40
Conclusion: CDDA 85%
Signature: 0938616FEFA1310ED41E391EF4542D6B36275ABA
FILE: 06 - Concerto for 2 Harpsichords in C Minor, BWV 1062 (Excerpts)_ I. —.flac
Size: 23120591 Hash: 20C67E12ECD687BD03C2031251D4697D Accuracy: -m40
Conclusion: CDDA 100%
Signature: 5BDEA8EA02753BC579C132FD8E156E1B538E92C2
FILE: 07 - Ich ruf' zu Dir, Herr Jesu Christ, BWV 639 (Arr. M.H. Alfeyev for Orchestra).flac
Size: 13513331 Hash: EBB0877CA4BFF97A3BB851F289507768 Accuracy: -m40
Conclusion: MPEG 99%
Signature: 3242CB35D0D05CDB7FEA28CCF9717F2DC4817B9A
FILE: 08 - Ich habe genug BWV 82_ I. Aria. Ich habe genug.flac
Size: 37129458 Hash: 439A2D3B309C7B71B26A5D75C35D27A5 Accuracy: -m40
Conclusion: MPEG 93%
Signature: F4D4E61E71C4134B46D7BE7CFA9AA96E8B9C7D29
FILE: 09 - Vom Himmel hoch, da komm ich her, Op. 7, BWV 769 (Arr. R. Hekkema for Reed Quintet)_ Var. 2, Alio modo in canone alla quinta.flac
Size: 9570816 Hash: 1F81DBD94EDAE844E2702BC7448D714E Accuracy: -m40
Conclusion: CDDA 100%
Signature: 1E107DC5D2C042AD853BACEF9BD927D81C804312
FILE: 10 - Concerto for Violin and Oboe in C Minor, BWV 1060R_ II. Adagio.flac
Size: 28262713 Hash: 0986D6D859F2B159B2E4B8373DE131FA Accuracy: -m40
Conclusion: CDDA 43%
Signature: D26CAA0D9F37FA0BA7BE6C623CE22EC857914075
FILE: 11 - Harpsichord Concerto No. 1 in D Minor, BWV 1052_ II. Adagio.flac
Size: 39540208 Hash: E646B049F6E81B18E14F1139E9CD75F0 Accuracy: -m40
Conclusion: CDDA 100%
Signature: AAD8C8FE4ACEC39D9CF4423C38E573817C6CC814
FILE: 12 - Violin Sonata No. 1 in G Minor, BWV 1001 (Excerpts)_ I. Adagio.flac
Size: 22406929 Hash: 5BCCDCC4B7C02F86AB576D3D296F758B Accuracy: -m40
Conclusion: MPEG 100%
Signature: 13747C6D3DBB810633A9F2CB293D32D89BDB426D
FILE: 13 - Cello Suite No. 2, BWV 1008 (Excerpts Arr. for Lute)_ IV. Sarabande.flac
Size: 17467364 Hash: C74EF2E1EB5C8BD21CFE1C52647712B7 Accuracy: -m40
Conclusion: MPEG 100%
Signature: 776354C8418D713B059BFC609E9B61F366373053
FILE: 14 - Harpsichord Concerto No. 7 in G Minor, BWV 1058_ II. Andante.flac
Size: 29745408 Hash: 25F6E61B1E4AB4FB8C1AEE54D0AD7184 Accuracy: -m40
Conclusion: CDDA 100%
Signature: 02E93EE063B19C861609018D9242D496E9B495AB
FILE: 15 - Brandenburg Concerto No. 2 in F Major, BWV 1047_ I. —.flac
Size: 25480646 Hash: 7D1896B48C8F7D7164A14CD0F5B100BE Accuracy: -m40
Conclusion: CDDA 99%
Signature: 41AB75C7FB28ABFF3D60E0678223CE1C4F8EBDC4
FILE: 16 - Prelude and Fugue in E-Flat major, BWV 552_ No. 1, Praeludium (Arr. F. Busoni for Piano).flac
Size: 31380189 Hash: 373A9FB803D0713F174F3710E70BC916 Accuracy: -m40
Conclusion: CDDA 100%
Signature: D52C3C02DB83EB0B2714C2C42DEFE9E5178AFD90
FILE: 17 - Violin Sonata No. 1 in G Minor, BWV 1001 (Excerpts)_ IV. Presto.flac
Size: 18661569 Hash: 00D495A1ABA53B9D67840C2181149639 Accuracy: -m40
Conclusion: CDDA 86%
Signature: 4071A1D12EBCCE58A133AAA03E36671EECE77805
FILE: 18 - Harpsichord Concerto No. 3 in D Major, BWV 1054_ III. Allegro.flac
Size: 17816861 Hash: 3CE3CAB21BE204E16595FB9DE75FBD0A Accuracy: -m40
Conclusion: CDDA 100%
Signature: C62B5DD89C0954EA63EB0C01D3159FD017091850
FILE: 19 - Cello Suite No. 3 in C Major, BWV 1009_ V. Bourrée - VI. Bourrée.flac
Size: 16232851 Hash: 223FCE3D2385611DFA84CBFDE0B15BFC Accuracy: -m40
Conclusion: CDDA 100%
Signature: 78CF686234A110CD9C6AD8DD3B8B58A5483F697B
FILE: 20 - Suite No. 2 in B Minor, BWV 1067 _Overture__ VII. Badinerie.flac
Size: 7249802 Hash: 76D9B048E6AD6FBED81A55AF4F4366BD Accuracy: -m40
Conclusion: CDDA 100%
Signature: 03CF27B3B286C599F46DDDE3F0C9FCA5F2C03BEF
FILE: 21 - Toccata et Fuga in D Minor, BWV 565_ I. Toccata.flac
Size: 14869422 Hash: A0E43F36CF3D7FE242BAD9EE29DBAFBD Accuracy: -m40
Conclusion: CDDA 100%
Signature: C2921EADA3B2C4A71080D80E3AD060531B59190C
FILE: 22 - Harpsichord Concerto No. 5 in F Minor, BWV 1056 (Excerpts)_ II. Largo.flac
Size: 15037424 Hash: 0280EED8ABED1060AD3B8F4933F18115 Accuracy: -m40
Conclusion: CDDA 100%
Signature: DF19387BCEFC1E32BE41A6F84EE0AFA8EF3EEC75
FILE: 23 - Double Violin Concerto in D Minor, BWV 1043_ I. Vivace.flac
Size: 21198431 Hash: 7BB1C316414CB70723B0374CBE6AD8E8 Accuracy: -m40
Conclusion: CDDA 100%
Signature: D60CE3CBD3B6D37A3C56501A61F04EE8FF97F7AB
FILE: 24 - Musikalisches Opfer, BWV 1079, Sonata sopri' il soggetto Reale a traversa (Excerpts Arr. R. Hekkema for Reed Ensemble)_ II. Allegr.flac
Size: 30998765 Hash: B7DF9A9CBFA137B5C7D8662F1377C7B8 Accuracy: -m40
Conclusion: CDDA 100%
Signature: EBE83BC2C4AABCE95F597D6654B6E5FC43CA94B0
FILE: 25 - Organ Concerto in D Minor, BWV 596_ II. Grave - III. Fuga.flac
Size: 22705432 Hash: 22ED6AAF8EEEC08EAAB22C822715D46C Accuracy: -m40
Conclusion: CDDA 100%
Signature: 3F77343BB496218DF3D0D867CFF9E8E1E9EF7469
FILE: 26 - Easter Oratorio, BWV 249 _Komm, gehet und eilet__ II. Adagio.flac
Size: 22592332 Hash: DFD76C1C0EAC30E8B30AA1E6A481430C Accuracy: -m40
Conclusion: ???
Signature: E3848EDC1C2C42E1A1D0B4EB0910BE18B575C679
FILE: 27 - Cello Suite No. 1 in G Major, BWV 1007 (Excerpts)_ III. Courante.flac
Size: 13811405 Hash: 3BF7342C2BE07C422BBBCDC5F2FD139D Accuracy: -m40
Conclusion: CDDA 94%
Signature: 91106B0F893E4BA75A8844235AD51BEDD53A87C5
FILE: 28 - Cello Suite No. 2 in D Minor, BWV 1008 (Excerpts Arr. for Lute)_ I. Prelude.flac
Size: 19391867 Hash: A00CA12D2715CAC4D61A111042385B49 Accuracy: -m40
Conclusion: MPEG 100%
Signature: D6087F88410E4F0B0DE8004C006CA99C54820560
FILE: 29 - Aria variata alla maniera italiana in A Minor, BWV 989_ Aria.flac
Size: 6458826 Hash: 54B35CE1A2233DDD805C8AC7474B11AC Accuracy: -m40
Conclusion: CDDA 62%
Signature: A10B3D5EDADC5CC6BCF0AA7198095CC668582219
FILE: 30 - Brandenburg Concerto No. 6 in B-Flat Major, BWV 1051_ II. Adagio, ma non tanto.flac
Size: 28927023 Hash: 8E65913AA7018E735F5EA06DFD5D17D6 Accuracy: -m40
Conclusion: CDDA 100%
Signature: 19A96EDD421F7D98AC4ED79B87DAC7FCB7F24105
FILE: 31 - Concerto for 2 Harpsichords in C Minor, BWV 1062 (Excerpts)_ II. Andante e piano.flac
Size: 33566140 Hash: 73AB0835C7046B4900A659319B65AB44 Accuracy: -m40
Conclusion: CDDA 100%
Signature: B9A46128FC9EF00B5722A855D690C8E7EBDB2DC1
FILE: 32 - Cello Suite No. 2 in D Minor, BWV 1008 (Excerpts)_ III. Courante.flac
Size: 9654918 Hash: A29D1C44C87463B8C5936C2C4D51B344 Accuracy: -m40
Conclusion: CDDA 100%
Signature: 20FBB2BBF1007AEFACFE7007C5ED5A4B7DF6E943
FILE: 33 - Violin Concerto No. 2 in in E Major, BWV 1042_ III. Allegro assai.flac
Size: 16520481 Hash: ED882BCA65DF21B05A900CB0C3DCA8C0 Accuracy: -m40
Conclusion: CDDA 100%
Signature: D81618A76792825F08755B17AA4F3DE854F40E46