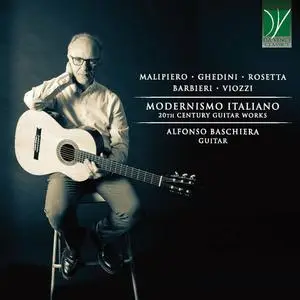 Alfonso Baschiera - Malipiero, Ghedini, Rosetta, Barbieri, Viozzi: Modernismo Italiano (20th Century Guitar Works) (2022)
FLAC (tracks), Lossless | 56:04 | 199 Mb
Genre: Classical / Label: Da Vinci Classics
After the epigones of Verist opera, the composers of the so-called "Generation of the Eighties" (i.e. Casella, Pizzetti, Alfano, Respighi and Malipiero) brought new lymph to the Italian instrumental music of the twentieth century. These composers had a sound academic education; they were open both to the rediscovery of the Italian musical heritage of the past, and to the novelties following each other in the premieres of the Parisian theatres.
Track List:
01. Preludio
02. Studio da concerto
03. Sonatina per chitarra: I. Allegretto (allegretto grazioso)
04. Sonatina per chitarra: II. Canzonetta (adagio)
05. Sonatina per chitarra: III. Ponciana (allegro ritmico)
06. Sonatina per chitarra: IV. Rondò (allegro moderato)
07. La Serra 7 Preludi: No. 1, Myosotis alpestris
08. La Serra 7 Preludi: No. 2, Viola del pensiero gigante
09. La Serra 7 Preludi: No. 3, Ciclamino di Persia
10. La Serra 7 Preludi: No. 4, Orchidea
11. La Serra 7 Preludi: No. 5, Gelsomino d'India
12. La Serra 7 Preludi: No. 6, Rosa di Gerico
13. La Serra 7 Preludi: No. 7, Mimosa pudica sensitiva
14. Fantasia: I. Gavotta
15. Fantasia: II. Più lento improvvisando
16. Fantasia: III. Gavotta da capo al fine
17. Fantasia: IV. Moderato improvvisando
18. Fantasia: V. Brasiliana
19. Fantasia: VI. Moderato improvvisando
20. Sonata: I. Allegro spigliato
21. Sonata: II. Lento quasi funebre
22. Sonata: III. Molto vivo e spensierato
ANALYZER: auCDtect: CD records authenticity detector, version 0.8.2
Copyright © 2004 Oleg Berngardt. All rights reserved.
Copyright © 2004 Alexander Djourik. All rights reserved.


FILE: 01 - Preludio.flac
Size: 9480943 Hash: 5C276709050631DB08AA026F06AB197F Accuracy: -m40
Conclusion: CDDA 100%
Signature: 38BBA6FD738E64B3A33AD75945D3F07C61FC82F0
FILE: 02 - Studio da concerto.flac
Size: 26026038 Hash: C6A183DED6781381E87DE2375A3917BA Accuracy: -m40
Conclusion: CDDA 100%
Signature: 27C8056AE0A65547565D4A65D80CD38EF4F6FEB1
FILE: 03 - Sonatina per chitarra_ I. Allegretto (allegretto grazioso).flac
Size: 14330113 Hash: 97DE7DBF9E9FFA171E76E06A38B25B24 Accuracy: -m40
Conclusion: CDDA 100%
Signature: 39C2D9562E437B778186CEC88F4B8AFA6250B5D4
FILE: 04 - Sonatina per chitarra_ II. Canzonetta (adagio).flac
Size: 10190114 Hash: E2D267D309EAD6D40BF82F2ED01B5E58 Accuracy: -m40
Conclusion: CDDA 100%
Signature: FB440E3D8F68F978B3421ADAC1308BDA14F3989E
FILE: 05 - Sonatina per chitarra_ III. Ponciana (allegro ritmico).flac
Size: 19580732 Hash: 72790539483F4E4574564CF9A08BA25B Accuracy: -m40
Conclusion: CDDA 100%
Signature: 744D1D28B029BF0C3A055066EA1FAE0D38427D8A
FILE: 06 - Sonatina per chitarra_ IV. Rondò (allegro moderato).flac
Size: 15952875 Hash: 1FDE70CA5259096CC15956878A24E695 Accuracy: -m40
Conclusion: CDDA 100%
Signature: 56DD46A91B429FE4AAED05B65588E2F8BA7739F1
FILE: 07 - La Serra 7 Preludi_ No. 1, Myosotis alpestris.flac
Size: 6002375 Hash: 6607C5EF9851BCF577608F07F0507018 Accuracy: -m40
Conclusion: CDDA 100%
Signature: 2DA9D699C76C9A27485B18A5F5619B68E9A2AFE2
FILE: 08 - La Serra 7 Preludi_ No. 2, Viola del pensiero gigante.flac
Size: 5974819 Hash: AECABD147B047319D5DA5C7AC9323241 Accuracy: -m40
Conclusion: CDDA 100%
Signature: 440D4DD2B1AB6F4036CCBFA8CFE6CA4165283811
FILE: 09 - La Serra 7 Preludi_ No. 3, Ciclamino di Persia.flac
Size: 5741756 Hash: 70B03143BC04A6B5C2A1E85BC616A491 Accuracy: -m40
Conclusion: CDDA 99%
Signature: 0EEDF55462A65E982215625586D0D2AC2F711115
FILE: 10 - La Serra 7 Preludi_ No. 4, Orchidea.flac
Size: 9792032 Hash: E72498550D8729D0CDB926CD1617C9BD Accuracy: -m40
Conclusion: CDDA 100%
Signature: E6ECF39CAFD62827500CF0B070CF8CBDA8BB72D8
FILE: 11 - La Serra 7 Preludi_ No. 5, Gelsomino d'India.flac
Size: 5481269 Hash: 82E41E8EE866AB85C8D7906A0E1CC606 Accuracy: -m40
Conclusion: CDDA 100%
Signature: E915A2BB6E24500373B53249D3EFF7B3CD8794DA
FILE: 12 - La Serra 7 Preludi_ No. 6, Rosa di Gerico.flac
Size: 7514390 Hash: EB207EF2429DD17CFD03DC34D69445FB Accuracy: -m40
Conclusion: CDDA 99%
Signature: 1D25DF195891A4593AC72CF6918EF8D115598B87
FILE: 13 - La Serra 7 Preludi_ No. 7, Mimosa pudica sensitiva.flac
Size: 5962402 Hash: 17DADFAF20FAA1E8542A6CFF792F7E48 Accuracy: -m40
Conclusion: CDDA 43%
Signature: F5A61DBFAE0337FCCE259A7B58293A9B97DDFBD8
FILE: 14 - Fantasia_ I. Gavotta.flac
Size: 6001766 Hash: 1C8EA97FCFB72FBFB0FA5ABF2F34AF82 Accuracy: -m40
Conclusion: CDDA 100%
Signature: 1308DC9777EEF618FD9A4B8D31760ED567938EB2
FILE: 15 - Fantasia_ II. Più lento improvvisando.flac
Size: 6143499 Hash: 41AADBD7204BCA45FDFD832802CB92C9 Accuracy: -m40
Conclusion: CDDA 100%
Signature: C1938CEC419E10EC7946D43F529D45E47F026FF0
FILE: 16 - Fantasia_ III. Gavotta da capo al fine.flac
Size: 6024148 Hash: D3CEC153D60B58B1254FDB74174B53F6 Accuracy: -m40
Conclusion: CDDA 100%
Signature: F8CB365D7F7D4A6890604C390E3355184686FBF5
FILE: 17 - Fantasia_ IV. Moderato improvvisando.flac
Size: 3828638 Hash: 18D646D43D8748E449A32DA9866460F9 Accuracy: -m40
Conclusion: CDDA 100%
Signature: 55147CFA95BDE7D3D814884C5EE5F8F1FC886879
FILE: 18 - Fantasia_ V. Brasiliana.flac
Size: 7213058 Hash: FC4A8B25F96DF3FEE1F4BB823D21306A Accuracy: -m40
Conclusion: MPEG 100%
Signature: 8254E6EC1F07976D2A08A5840D7A3F98D7B7FD1D
FILE: 19 - Fantasia_ VI. Moderato improvvisando.flac
Size: 2960772 Hash: EA3E867BDC47E92A7AE54EC80E9F4D9A Accuracy: -m40
Conclusion: CDDA 100%
Signature: 8DC816886FD42F752268EC50DCBCA8B4CD40C1A2
FILE: 20 - Sonata_ I. Allegro spigliato.flac
Size: 13937875 Hash: 70C23D065EBF4A5D1CA5B5D51FBF8C98 Accuracy: -m40
Conclusion: CDDA 100%
Signature: 32236DD9589B400EE8DD03A1665445F16955C964
FILE: 21 - Sonata_ II. Lento quasi funebre.flac
Size: 11758285 Hash: 3500BDC40AFB57933A7370AD542D89E9 Accuracy: -m40
Conclusion: CDDA 100%
Signature: 5B8022772571A9B6D3B4A3440659B5CD949291E9
FILE: 22 - Sonata_ III. Molto vivo e spensierato.flac
Size: 10071640 Hash: FDFF392145D6262D2E2A9CBA5AA2E0CB Accuracy: -m40
Conclusion: CDDA 100%
Signature: 7BF154628C2BA111CA3239C0017BC04467610AFE