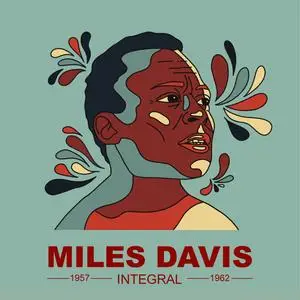 Miles Davis - MILES DAVIS INTEGRAL 1957-1962 (2023)
FLAC (tracks) 24-bit/44.10 kHz | Time - 13:53:58 | 4.7 GB
Studio Master, Official Digital Download | Artwork: Front cover
A monumental innovator, icon, and maverick, trumpeter Miles Davis helped define the course of jazz as well as popular culture in the 20th century, bridging the gap between bebop, modal music, funk, and fusion. Throughout most of his 50-year career, Davis played the trumpet in a lyrical, introspective style, often employing a stemless Harmon mute to make his sound more personal and intimate. It was a style that, along with his brooding stage persona, earned him the nickname "Prince of Darkness." However, Davis proved to be a dazzlingly protean artist, moving into fiery modal jazz in the '60s and electrified funk and fusion in the '70s, drenching his trumpet in wah-wah pedal effects along the way.