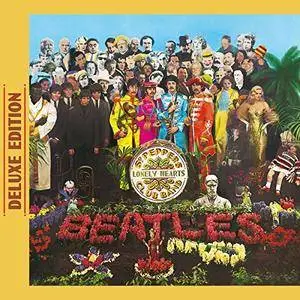 The Beatles - Sgt. Pepper's Lonely Hearts Club Band (Deluxe Anniversary Edition) (1967/2017)
FLAC (tracks) 24-bit/96 kHz | Time - 99:48 minutes | 2 GB
Studio Master, Official Digital Download | Artwork: Digital Booklet
In 2006, the Beatles coaxed producer George Martin out of retirement to remix and rearrange several of their iconic songs for Cirque du Soleil's Las Vegas stage production Love. Martin, though, had a worry: At age 80 his hearing had turned difficult, and so he brought in a collaborator: his son Giles. The younger Martin had produced classical music, as well as recordings by Kula Shaker, Jeff Beck, Elvis Costello and Kate Bush. "He's my ears," George Martin said. What ears they turned out to be: Giles recombined parts of many of the Beatles' songs into a mash-up of the band's audio history, sometimes encapsulating much of it in a single song. "Get Back" opened with George Harrison's memorable thrum from "A Hard Day's Night" and Ringo Starr's drum prologue from "The End," caught sight of an overpassing jet from "Back in the U.S.S.R.," pulled in part of the audience's expectant murmur from "Sgt. Pepper's Lonely Hearts Club Band" and borrowed a bit of the orchestral swell from "A Day in the Life," landing on John Lennon's "Glass Onion."
The results proved radical and revelatory and conveyed how resilient and exciting the band's music remains – and how beautifully and imaginatively George Martin had produced it all in the first place, working with four-track recorders and inventing new sounds and technology. With Love, Giles Martin did what nobody had ever done successfully before: He reconfigured the Beatles' sounds into an alternate soundmap, making it plain these decades old songs still had revelations and delights for contemporary ears. When Love was over, you didn't want it to be – much like many viewed the Beatles themselves.
Now, the surviving band members and their legatees have authorised the reconsideration of a major canonical work: Sgt. Pepper's Lonely Hearts Club Band, originally released 50 years ago on June 1st, 1967, in England, and the following day in the U.S. The new Pepper comes in various packages: single and double CDs, a deluxe box of four CDs and two DVDs (containing videos and 5.1 surround mixes of the original album), as well as a double LP that, like most versions here, includes several of the album's original developing and alternate tracks. All editions feature a stereo remix by Giles Martin (George Martin died in 2016, at 90) and Abbey Road audio engineer Sam Okell. The ambition might seem a bit of a risk or even redundant. After all, Sgt. Pepper has been considered by many as not just rock's greatest moment, but also as a central touchstone for the 1960s – an exemplar for a generation that was forging new ideals, and granting themselves new permissions, including the use of psychedelic drugs. The Beatles had already done a lot to make that change possible, but Sgt. Pepper – coming along at a time when many thought the Beatles superfluous, in the face of other new adventurous bands and records – crystallised it all. Langdon Winner later wrote in The Rolling Stone Illustrated History of Rock & Roll: "For a brief while, the irreparable fragmented consciousness of the West was unified, at least in the minds of the young."
Additionally, Sgt. Pepper's groundbreaking sonics – its mix of pioneering textures, complex composition and inventive recording techniques –also won the album standing as a legitimate art form that revised and extended classical music's archetypes. (This achievement also imbued much of rock itself with a new prestige and aspiration.) In part, the unprecedented acclaim resulted from Paul McCartney's insistence on the album as a conceptual song cycle that existed as a whole entity: The Beatles, posed in ornate Victorian brass-band military costumery on the cover, were playing a fictional band, singing from perspectives free of any indebtedness to their prior musical sensibility and well-established images. (Ringo Starr later described it as "a bunch of songs and you stick two bits of 'Pepper' on it and it's a concept album. It worked because we said it worked.")
But that was 50 years ago. A lot changed – including the Beatles, who ended acrimoniously in 1970. What can we learn now from Sgt. Pepper's new incarnation? As it turns out, Giles Martin reveals considerable new wonders – particularly in his stereo remix of the original album (which appears in all the new editions, and as a standalone disc and digital download). The remix, in fact, provides a long overdue epiphany. Martin observes in his liner notes: "The original Sgt. Pepper's Lonely Hearts Club Band was primarily mixed as a mono album. All care and attention were applied to the mono LP, with the Beatles present for all the mixes. … Almost as an afterthought, the stereo album was mixed very quickly without the Beatles at the sessions. Yet it is the stereo album that most people listen to today." In other words, popular music's most elaborate and intricate creation – and one that helped end the mono era – wasn't made to be heard in stereo.
Tracklist:
CD1
01. Sgt. Pepper's Lonely Hearts Club Band (Remix)
02. With A Little Help From My Friends (Remix)
03. Lucy In The Sky With Diamonds (Remix)
04. Getting Better (Remix)
05. Fixing A Hole (Remix)
06. She's Leaving Home (Remix)
07. Being For The Benefit Of Mr. Kite! (Remix)
08. Within You Without You (Remix)
09. When I'm Sixty-Four (Remix)
10. Lovely Rita (Remix)
11. Good Morning Good Morning (Remix)
12. Sgt. Pepper's Lonely Hearts Club Band (Reprise) (Remix)
13. A Day In The Life (Remix)
foobar2000 1.3.7 / Dynamic Range Meter 1.1.1
log date: 2017-12-14 17:36:25

––––––––––––––––––––––––––––––––––––––––
Analyzed: The Beatles / Lonely Hearts Club Band (Deluxe Anniversary Edition)
––––––––––––––––––––––––––––––––––––––––

DR Peak RMS Duration Track
––––––––––––––––––––––––––––––––––––––––
DR8 -0.11 dB -9.14 dB 2:02 01-Sgt Pepper's Lonely Hearts Club Band (Remix)
DR9 -0.11 dB -10.12 dB 2:45 02-With A Little Help From My Friends (Remix)
DR8 -0.11 dB -10.81 dB 3:28 03-Lucy In The Sky With Diamonds (Remix)
DR8 -0.11 dB -9.13 dB 2:47 04-Getting Better (Remix)
DR8 -0.11 dB -9.85 dB 2:38 05-Fixing A Hole (Remix)
DR10 -0.11 dB -11.53 dB 3:26 06-She's Leaving Home (Remix)
DR6 -0.09 dB -7.54 dB 2:39 07-Being For The Benefit Of Mr Kite (Remix)
DR9 -0.09 dB -11.29 dB 5:08 08-Within You Without You (Remix)
DR10 -0.11 dB -11.55 dB 2:40 09-When I'm Sixty-Four (Remix)
DR7 -0.11 dB -8.58 dB 2:46 10-Lovely Rita (Remix)
DR7 -0.11 dB -8.70 dB 2:34 11-Good Morning Good Morning (Remix)
DR7 -0.11 dB -8.28 dB 1:21 12-Sgt Pepper's Lonely Hearts Club Band (Reprise) (Remix)
DR7 -0.11 dB -9.96 dB 5:31 13-A Day In The Life (Remix)
––––––––––––––––––––––––––––––––––––––––

Number of tracks: 13
Official DR value: DR8

Samplerate: 96000 Hz
Channels: 2
Bits per sample: 24
Bitrate: 2769 kbps
Codec: FLAC
================================================================================
CD2
01. Sgt. Pepper's Lonely Hearts Club Band (Take 9 And Speech)
02. With A Little Help From My Friends (Take 1 / False Start And Take 2 / Instrumental)
03. Lucy In The Sky With Diamonds (Take 1)
04. Getting Better (Take 1 / Instrumental And Speech At The End)
05. Fixing A Hole (Speech And Take 3)
06. She's Leaving Home (Take 1 / Instrumental)
07. Being For The Benefit Of Mr. Kite! (Take 4)
08. Within You Without You (Take 1 / Indian Instruments)
09. When I'm Sixty-Four (Take 2)
10. Lovely Rita (Speech And Take 9)
11. Good Morning Good Morning (Take 8)
12. Sgt. Pepper's Lonely Hearts Club Band (Reprise) (Speech And Take 8)
13. A Day In The Life (Take 1 With Hums)
14. Strawberry Fields Forever (Take 7)
15. Strawberry Fields Forever (Take 26)
16. Strawberry Fields Forever (Stereo Mix 2015)
17. Penny Lane (Take 6 / Instrumental)
18. Penny Lane (Stereo Mix 2017)
foobar2000 1.3.7 / Dynamic Range Meter 1.1.1
log date: 2017-12-14 17:38:02

––––––––––––––––––––––––––––––––––––––––
Analyzed: The Beatles / The Beatles - Lonely Hearts Club Band (Deluxe Anniversary Edition)
––––––––––––––––––––––––––––––––––––––––

DR Peak RMS Duration Track
––––––––––––––––––––––––––––––––––––––––
DR9 -0.11 dB -10.93 dB 2:37 01-Sgt Pepper's Lonely Hearts Club Band (Take 9 And Speech)
DR12 -0.11 dB -14.40 dB 3:17 02-With A Little Help From My Friends (Take 1 False Start And Take 2 Instrumental)
DR12 -0.11 dB -15.50 dB 3:59 03-Lucy In The Sky With Diamonds (Take 1)
DR9 -0.11 dB -12.57 dB 2:19 04-Getting Better (Take 1 Instrumental And Speech At The End)
DR10 -0.11 dB -12.84 dB 3:28 05-Fixing A Hole (Speech And Take 3)
DR10 -0.11 dB -12.85 dB 3:49 06-She's Leaving Home (Take 1 Instrumental)
DR11 -0.11 dB -12.69 dB 3:07 07-Being For The Benefit Of Mr Kite (Take 4)
DR11 -0.11 dB -14.05 dB 5:33 08-Within You Without You (Take 1 Indian Instruments)
DR11 -0.11 dB -13.21 dB 2:59 09-When I'm Sixty-Four (Take 2)
DR9 -0.11 dB -11.57 dB 3:04 10-Lovely Rita (Speech And Take 9)
DR10 -0.11 dB -11.48 dB 2:47 11-Good Morning Good Morning (Take 8)
DR9 -0.11 dB -11.95 dB 1:56 12-Sgt Pepper's Lonely Hearts Club Band (Reprise) (Speech And Take 8)
DR10 -0.11 dB -13.25 dB 4:52 13-A Day In The Life (Take 1 With Hums)
DR10 -0.10 dB -12.37 dB 3:17 14-Strawberry Fields Forever (Take 7)
DR12 -0.10 dB -14.89 dB 3:20 15-Strawberry Fields Forever (Take 26)
DR7 -3.09 dB -12.17 dB 4:06 16-Strawberry Fields Forever (Stereo Mix 2015)
DR12 -0.11 dB -14.67 dB 2:57 17-Penny Lane (Take 6 Instrumental)
DR8 -1.59 dB -10.58 dB 3:01 18-Penny Lane (Stereo Mix 2017)
––––––––––––––––––––––––––––––––––––––––

Number of tracks: 18
Official DR value: DR10

Samplerate: 96000 Hz
Channels: 2
Bits per sample: 24
Bitrate: 2787 kbps
Codec: FLAC
================================================================================
All thanks go to the original releaser