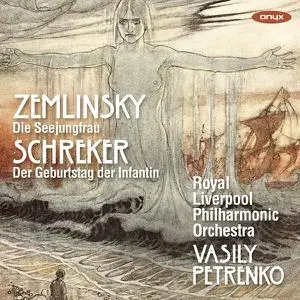 Royal Liverpool Philharmonic Orchestra - Zemlinsky: Die Seejungfrau, Schreker (2021) [Official Digital Download]
FLAC (tracks), Lossless [24bit-96kHz] +Booklet | 1:18:98 | 1,3 Gb
Genre: Classical / Label: PM Classics Ltd.
In Vienna, Alexander Zemlinsky and Franz Schreker conducted experiments that could be seen as a middle road between the rigorous writing of Brahms, the orchestral opulence of Richard Strauss and the dodecaphonic radicalism of Schönberg, Berg and Webern. Unfortunately their experiments were cut short when the Nazis came to power and banned their music. Vasily Petrenko's colourful and imaginative conducting reminds us of these two composers' central importance for the history of early 20th-century music.
Based on one of Andersen's fairy tales, Die Seejungfrau ("The Mermaid") was Zemlinsky's musical response to his rejection by Alma Schindler, who preferred the young Mahler. As powerful as its Straussian models, this vast symphonic poem goes even further, with dislocated harmony and a resolutely forward-looking aesthetic. It uses a decidedly Tchaikovskian motif as a linking thread, perhaps accidentally. The magical climate of Zemlinsky's music captivates the listener from the first bars until the magnificent conclusion, when the mermaid throws herself into the sea, turning into foam, renouncing her love forever.
Released just a few years prior, Der Geburstag der Infantin ("The Infanta's Birthday") is based on the story by Oscar Wilde. It was originally a pantomime which the composer re-arranged as a suite for large orchestra. It calls for instruments that are unusual in a symphony orchestra, such as two guitars and four mandolins. This pantomime is a curious blend of French impressionism and German post-romanticism, shot through with Mahler's influence, and it débuted in 1908 with sets and costumes in the style of Velázquez. With its delicate, scintillating orchestration, it was a great hit in Vienna, which was then in the throes of modernity.
Track List:
[15:34] 01. Royal Liverpool Philharmonic Orchestra - Die Seejungfrau: I.Sehr mäßig bewegt
[17:09] 02. Royal Liverpool Philharmonic Orchestra - Die Seejungfrau: II.Sehr bewegt, rauschend
[13:42] 03. Royal Liverpool Philharmonic Orchestra - Die Seejungfrau: III. Sehr gedehnt, mit schmerzvollem Ausdruck
[03:38] 04. Royal Liverpool Philharmonic Orchestra - Der Geburtstag der Infantin: I. Die Infantin im Kreise ihrer Gespielinnen
[00:52] 05. Royal Liverpool Philharmonic Orchestra - Der Geburtstag der Infantin: II. Aufzug und Gratulation der Knaben
[01:21] 06. Royal Liverpool Philharmonic Orchestra - Der Geburtstag der Infantin: III. Der Stierkampf
[02:46] 07. Royal Liverpool Philharmonic Orchestra - Der Geburtstag der Infantin: IV. Die Infantin
[02:29] 08. Royal Liverpool Philharmonic Orchestra - Der Geburtstag der Infantin: V. Die Marionetten
[02:08] 09. Royal Liverpool Philharmonic Orchestra - Der Geburtstag der Infantin: VI. Menuett der Tänzerknaben der Kirche von Nuestra Señora del Pilaz
[02:43] 10. Royal Liverpool Philharmonic Orchestra - Der Geburtstag der Infantin: VII. Die drei Tänze des Zwerges: I. Mit dem Winde im Frühling
[02:06] 11. Royal Liverpool Philharmonic Orchestra - Der Geburtstag der Infantin: VIII.Die drei Tänze des Zwerges: II. Der Tanz in blauen Sandalen über das Korn
[01:28] 12. Royal Liverpool Philharmonic Orchestra - Der Geburtstag der Infantin: IX. Die drei Tänze des Zwerges: III. Der Tanz im roten Gewand im Herbst
[04:19] 13. Royal Liverpool Philharmonic Orchestra - Der Geburtstag der Infantin: X. Die Rose der Infantin
[03:14] 14. Royal Liverpool Philharmonic Orchestra - Der Geburtstag der Infantin: XI. Der Spiegel und der Zwerg
[04:51] 15. Royal Liverpool Philharmonic Orchestra - Der Geburtstag der Infantin: XII. Der Tod des Zwergs und Schlussszene
foobar2000 1.6.10 / Dynamic Range Meter 1.1.1
log date: 2022-08-09 12:07:05

––––––––––––––––––––––––––––––––––––––––
Analyzed: Royal Liverpool Philharmonic Orchestra / Zemlinsky: Die Seejungfrau, Schreker: Der Geburtstag der Infantin
––––––––––––––––––––––––––––––––––––––––

DR Peak RMS Duration Track
––––––––––––––––––––––––––––––––––––––––
DR12 -0.32 dB -18.57 dB 15:35 01-Die Seejungfrau: I.Sehr mäßig bewegt
DR12 -0.32 dB -19.08 dB 17:09 02-Die Seejungfrau: II.Sehr bewegt, rauschend
DR13 -0.32 dB -19.46 dB 13:43 03-Die Seejungfrau: III. Sehr gedehnt, mit schmerzvollem Ausdruck
DR13 -0.75 dB -18.74 dB 3:39 04-Der Geburtstag der Infantin: I. Die Infantin im Kreise ihrer Gespielinnen
DR11 -4.07 dB -20.57 dB 0:52 05-Der Geburtstag der Infantin: II. Aufzug und Gratulation der Knaben
DR12 -0.52 dB -17.59 dB 1:22 06-Der Geburtstag der Infantin: III. Der Stierkampf
DR13 -5.85 dB -25.57 dB 2:47 07-Der Geburtstag der Infantin: IV. Die Infantin
DR12 -14.50 dB -32.14 dB 2:30 08-Der Geburtstag der Infantin: V. Die Marionetten
DR12 -0.39 dB -20.45 dB 2:08 09-Der Geburtstag der Infantin: VI. Menuett der Tänzerknaben der Kirche von Nuestra Señora del Pilaz
DR15 -0.39 dB -20.17 dB 2:44 10-Der Geburtstag der Infantin: VII. Die drei Tänze des Zwerges: I. Mit dem Winde im Frühling
DR12 -1.27 dB -22.74 dB 2:07 11-Der Geburtstag der Infantin: VIII.Die drei Tänze des Zwerges: II. Der Tanz in blauen Sandalen über das Korn
DR12 -0.39 dB -15.71 dB 1:29 12-Der Geburtstag der Infantin: IX. Die drei Tänze des Zwerges: III. Der Tanz im roten Gewand im Herbst
DR15 -0.39 dB -21.28 dB 4:19 13-Der Geburtstag der Infantin: X. Die Rose der Infantin
DR12 -0.39 dB -18.41 dB 3:15 14-Der Geburtstag der Infantin: XI. Der Spiegel und der Zwerg
DR15 -0.39 dB -21.09 dB 4:52 15-Der Geburtstag der Infantin: XII. Der Tod des Zwergs und Schlussszene
––––––––––––––––––––––––––––––––––––––––

Number of tracks: 15
Official DR value: DR13

Samplerate: 96000 Hz
Channels: 2
Bits per sample: 24
Bitrate: 2341 kbps
Codec: FLAC
================================================================================