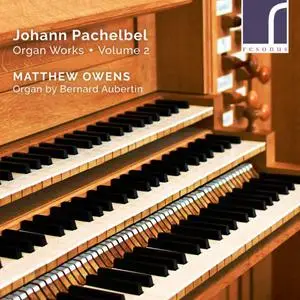 Matthew Owens - Pachelbel: Organ Works, Volume 2 (2022) [Official Digital Download]
FLAC (tracks), Lossless [24bit-96kHz] | 1:15:56 | 1.22 Gb
Genre: Classical / Label: Resonus Classics
A close contemporary of Buxtehude, Johann Pachelbel was, by all accounts, an outstanding keyboard player himself, and his compositions provide a fascinating stylistic bridge between early-Baroque composers such as Frescobaldi and Froberger (both of whom influenced him) and the later music of Johann Sebastian Bach and his contemporaries. Organist Matthew Owens continues his major exploration of the many extant organ works of Pachelbel with this second volume, recorded on a recent instrument by the renowned French organ builder, Bernard Aubertin. The recital includes Pachelbel's largest set of Magnificat Fugues – 23 in total – alongside free works and chorale-based works.
Track List:
1. Toccata in D Major, P460 (1:43)
2. Fugue in D Major, P153 (2:39)
3. Chorale Partita 'Christus, der ist mein Leben', P376: I. Chorale (0:33)
4. Chorale Partita 'Christus, der ist mein Leben', P376: II. Partita I (0:33)
5. Chorale Partita 'Christus, der ist mein Leben', P376: III. Partita II (0:32)
6. Chorale Partita 'Christus, der ist mein Leben', P376: IV. Partita III (0:35)
7. Chorale Partita 'Christus, der ist mein Leben', P376: V. Partita IV (0:32)
8. Chorale Partita 'Christus, der ist mein Leben', P376: VI. Partita V (0:39)
9. Chorale Partita 'Christus, der ist mein Leben', P376: VII. Partita VI (0:30)
10. Chorale Partita 'Christus, der ist mein Leben', P376: VIII. Partita VII (0:41)
11. Chorale Partita 'Christus, der ist mein Leben', P376: IX. Partita VIII (0:35)
12. Chorale Partita 'Christus, der ist mein Leben', P376: X. Partita IX (0:36)
13. Chorale Partita 'Christus, der ist mein Leben', P376: XI. Partita X (0:31)
14. Chorale Partita 'Christus, der ist mein Leben', P376: XII. Partita XI (0:33)
15. Chorale Partita 'Christus, der ist mein Leben', P376: XIII. Partita XII (0:39)
16. Der Herr ist mein getreuer Hirt, P81 (1:55)
17. Num laßt uns Gott dem Herren, P388 (2:46)
18. Allein zu dir, Herr Jesu Christ, P13 (2:47)
19. Allein zu dir, Herr Jesu Christ, P14 (2:31)
20. Christ, unser Herr, zum Jordan kam, P61 (3:03)
21. Magnificat Fugue Primi Toni I, P257 (2:14)
22. Magnificat Fugue Primi Toni II, P258 (2:13)
23. Magnificat Fugue Primi Toni III, P259 (1:36)
24. Magnificat Fugue Primi Toni IV, P260 (1:53)
25. Magnificat Fugue Primi Toni V, P261 (1:33)
26. Magnificat Fugue Primi Toni VI, P262 (1:48)
27. Magnificat Fugue Primi Toni VII, P263 (2:31)
28. Magnificat Fugue Primi Toni VIII, P264 (2:33)
29. Magnificat Fugue Primi Toni IX, P265 (2:17)
30. Magnificat Fugue Primi Toni X, P266 (1:05)
31. Magnificat Fugue Primi Toni XI, P267 (1:48)
32. Magnificat Fugue Primi Toni XII, P268 (5:50)
33. Magnificat Fugue Primi Toni XIII, P269 (1:49)
34. Magnificat Fugue Primi Toni XIV, P270 (2:34)
35. Magnificat Fugue Primi Toni XV, P271 (3:01)
36. Magnificat Fugue Primi Toni XVI, P272 (1:46)
37. Magnificat Fugue Primi Toni XVII, P273 (1:39)
38. Magnificat Fugue Primi Toni XVIII, P274 (2:26)
39. Magnificat Fugue Primi Toni XIX, P275 (1:56)
40. Magnificat Fugue Primi Toni XX, P276 (2:19)
41. Magnificat Fugue Primi Toni XXI, P277 (1:48)
42. Magnificat Fugue Primi Toni XXII, P278 (2:59)
43. Magnificat Fugue Primi Toni XXIII, P279 (1:47)
foobar2000 1.6.10 / Dynamic Range Meter 1.1.1
log date: 2022-06-30 19:53:15

––––––––––––––––––––––––––––––––––––––––
Analyzed: Matthew Owens / Pachelbel: Organ Works, Volume 2
––––––––––––––––––––––––––––––––––––––––

DR Peak RMS Duration Track
––––––––––––––––––––––––––––––––––––––––
DR10 -3.89 dB -16.48 dB 1:43 01-Toccata in D Major, P460
DR11 -1.89 dB -16.18 dB 2:39 02-Fugue in D Major, P153
DR9 -10.16 dB -23.33 dB 0:33 03-Chorale Partita 'Christus, der ist mein Leben', P376: I. Chorale
DR8 -17.96 dB -28.58 dB 0:33 04-Chorale Partita 'Christus, der ist mein Leben', P376: II. Partita I
DR10 -18.47 dB -29.70 dB 0:32 05-Chorale Partita 'Christus, der ist mein Leben', P376: III. Partita II
DR9 -11.10 dB -22.83 dB 0:35 06-Chorale Partita 'Christus, der ist mein Leben', P376: IV. Partita III
DR9 -20.37 dB -31.24 dB 0:32 07-Chorale Partita 'Christus, der ist mein Leben', P376: V. Partita IV
DR9 -17.17 dB -28.48 dB 0:39 08-Chorale Partita 'Christus, der ist mein Leben', P376: VI. Partita V
DR9 -18.23 dB -30.79 dB 0:30 09-Chorale Partita 'Christus, der ist mein Leben', P376: VII. Partita VI
DR7 -12.68 dB -23.31 dB 0:41 10-Chorale Partita 'Christus, der ist mein Leben', P376: VIII. Partita VII
DR9 -14.53 dB -26.77 dB 0:35 11-Chorale Partita 'Christus, der ist mein Leben', P376: IX. Partita VIII
DR9 -13.74 dB -25.45 dB 0:36 12-Chorale Partita 'Christus, der ist mein Leben', P376: X. Partita IX
DR9 -17.73 dB -29.05 dB 0:31 13-Chorale Partita 'Christus, der ist mein Leben', P376: XI. Partita X
DR9 -12.86 dB -24.10 dB 0:33 14-Chorale Partita 'Christus, der ist mein Leben', P376: XII. Partita XI
DR8 -8.00 dB -20.13 dB 0:39 15-Chorale Partita 'Christus, der ist mein Leben', P376: XIII. Partita XII
DR9 -14.42 dB -26.63 dB 1:55 16-Der Herr ist mein getreuer Hirt, P81
DR9 -14.70 dB -26.40 dB 2:46 17-Num laßt uns Gott dem Herren, P388
DR9 -9.12 dB -21.96 dB 2:47 18-Allein zu dir, Herr Jesu Christ, P13
DR10 -8.08 dB -20.20 dB 2:31 19-Allein zu dir, Herr Jesu Christ, P14
DR10 -9.69 dB -22.04 dB 3:03 20-Christ, unser Herr, zum Jordan kam, P61
DR9 -5.41 dB -19.08 dB 2:14 21-Magnificat Fugue Primi Toni I, P257
DR10 -8.48 dB -20.97 dB 2:13 22-Magnificat Fugue Primi Toni II, P258
DR10 -16.09 dB -28.49 dB 1:36 23-Magnificat Fugue Primi Toni III, P259
DR9 -9.65 dB -23.33 dB 1:53 24-Magnificat Fugue Primi Toni IV, P260
DR10 -21.94 dB -33.67 dB 1:33 25-Magnificat Fugue Primi Toni V, P261
DR9 -6.00 dB -19.51 dB 1:48 26-Magnificat Fugue Primi Toni VI, P262
DR9 -13.81 dB -26.12 dB 2:31 27-Magnificat Fugue Primi Toni VII, P263
DR8 -11.83 dB -23.43 dB 2:33 28-Magnificat Fugue Primi Toni VIII, P264
DR10 -8.36 dB -24.41 dB 2:17 29-Magnificat Fugue Primi Toni IX, P265
DR10 -12.57 dB -24.92 dB 1:05 30-Magnificat Fugue Primi Toni X, P266
DR8 -20.35 dB -33.73 dB 1:48 31-Magnificat Fugue Primi Toni XI, P267
DR12 -3.41 dB -19.22 dB 5:50 32-Magnificat Fugue Primi Toni XII, P268
DR10 -10.43 dB -24.27 dB 1:49 33-Magnificat Fugue Primi Toni XIII, P269
DR10 -10.96 dB -24.37 dB 2:34 34-Magnificat Fugue Primi Toni XIV, P270
DR10 -6.60 dB -20.73 dB 3:01 35-Magnificat Fugue Primi Toni XV, P271
DR10 -13.72 dB -27.14 dB 1:46 36-Magnificat Fugue Primi Toni XVI, P272
DR8 -16.55 dB -28.25 dB 1:39 37-Magnificat Fugue Primi Toni XVII, P273
DR10 -15.90 dB -28.85 dB 2:26 38-Magnificat Fugue Primi Toni XVIII, P274
DR10 -10.48 dB -24.38 dB 1:56 39-Magnificat Fugue Primi Toni XIX, P275
DR9 -10.52 dB -21.82 dB 2:19 40-Magnificat Fugue Primi Toni XX, P276
DR10 -11.56 dB -23.98 dB 1:48 41-Magnificat Fugue Primi Toni XXI, P277
DR11 -3.83 dB -17.47 dB 2:59 42-Magnificat Fugue Primi Toni XXII, P278
DR10 -0.61 dB -15.80 dB 1:47 43-Magnificat Fugue Primi Toni XXIII, P279
––––––––––––––––––––––––––––––––––––––––

Number of tracks: 43
Official DR value: DR9

Samplerate: 96000 Hz
Channels: 2
Bits per sample: 24
Bitrate: 2526 kbps
Codec: FLAC
================================================================================