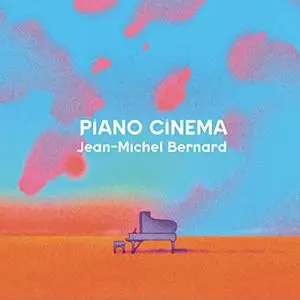 Jean-Michel Bernard - Piano Cinema (2022) [Official Digital Download]
FLAC (tracks), Lossless [24bit-88kHz] | 1:17:24 | 1,21 Gb
Genre: Classical / Label: Masterworks
Bernard began playing the piano at the age of two. When he was 14, he was awarded first place at the Bordeaux Conservatory and later graduated from the École Normale de Musique de Paris. At 19, he recorded with the Royal Philharmonic Orchestra in London, whilst pursuing a career as a jazz musician and performing with prominent jazz artists including Wild Bill Davis, Jimmy Woode (Duke Ellington's bassist) and Eddie "Lockjaw" Davis.
Track List:
[02:46] 01. Jean-Michel Bernard - Catch Me if You Can (from "Catch Me if You Can")
[01:24] 02. Jean-Michel Bernard - End Credits (from "E.T. The Extra Terrestrial")
[02:33] 03. Jean-Michel Bernard - Theme (from "Schindler's List")
[02:51] 04. Jean-Michel Bernard - I'm Forrest… Forrest Gump (from "Forrest Gump")
[03:50] 05. Jean-Michel Bernard - The Hanging Tree (from "The Hunger Games: Mockingjay")
[03:38] 06. Jean-Michel Bernard - Cornfield Chase (Piano Cinema) (from "Interstellar")
[03:37] 07. Jean-Michel Bernard - Una Mattina (from "Intouchables")
[04:04] 08. Jean-Michel Bernard - Theme (from "Jurassic Park")
[03:01] 09. Jean-Michel Bernard - The Heart Asks Pleasure First (from "The Piano Lesson")
[04:45] 10. Jean-Michel Bernard - Suite (from "The Science of Sleep")
[03:51] 11. Jean-Michel Bernard - Merry Christmas, Mr. Lawrence (from "Furyo")
[02:53] 12. Jean-Michel Bernard - One Summer's Day (from "Spirited Away")
[03:20] 13. Jean-Michel Bernard - Main Theme (from "Taxi Driver")
[02:57] 14. Jean-Michel Bernard - You've Got a Friend in Me (from "Toy Story")
[03:22] 15. Jean-Michel Bernard - City of Stars (from "La La Land")
[04:47] 16. Jean-Michel Bernard - Calling You (from "Bagdad Cafe")
[02:31] 17. Jean-Michel Bernard - The Waltz - Main Titles (from "The Godfather")
[03:07] 18. Jean-Michel Bernard - Truman Sleeps (from "The Truman Show")
[03:37] 19. Jean-Michel Bernard - The Portrait (from "Titanic")
[03:29] 20. Jean-Michel Bernard - Hedwig's Theme (from "Harry Potter and The Sorcerer's Stone"))
[02:36] 21. Jean-Michel Bernard - River Flows in You (associated with "Twilight")
[04:17] 22. Jean-Michel Bernard - The Armstrongs (from "First Man")
[03:58] 23. Jean-Michel Bernard - We Love Each Other So Much (from "Annette")
foobar2000 1.6.10 / Dynamic Range Meter 1.1.1
log date: 2022-06-24 08:22:48

––––––––––––––––––––––––––––––––––––––––
Analyzed: Jean-Michel Bernard / Piano Cinema
––––––––––––––––––––––––––––––––––––––––

DR Peak RMS Duration Track
––––––––––––––––––––––––––––––––––––––––
DR12 -0.01 dB -15.93 dB 2:47 01-Catch Me if You Can (from "Catch Me if You Can")
DR11 -0.01 dB -15.57 dB 1:25 02-End Credits (from "E.T. The Extra Terrestrial")
DR11 -0.81 dB -18.78 dB 2:34 03-Theme (from "Schindler's List")
DR10 -0.01 dB -15.40 dB 2:51 04-I'm Forrest… Forrest Gump (from "Forrest Gump")
DR10 -0.01 dB -14.17 dB 3:50 05-The Hanging Tree (from "The Hunger Games: Mockingjay")
DR12 -1.83 dB -20.03 dB 3:39 06-Cornfield Chase (Piano Cinema) (from "Interstellar")
DR12 -0.46 dB -17.31 dB 3:38 07-Una Mattina (from "Intouchables")
DR11 -0.01 dB -15.66 dB 4:04 08-Theme (from "Jurassic Park")
DR12 -1.47 dB -16.68 dB 3:02 09-The Heart Asks Pleasure First (from "The Piano Lesson")
DR13 -4.61 dB -21.95 dB 4:45 10-Suite (from "The Science of Sleep")
DR12 -2.27 dB -20.75 dB 3:52 11-Merry Christmas, Mr. Lawrence (from "Furyo")
DR12 -0.61 dB -18.80 dB 2:54 12-One Summer's Day (from "Spirited Away")
DR11 -0.01 dB -15.95 dB 3:20 13-Main Theme (from "Taxi Driver")
DR13 -0.73 dB -18.65 dB 2:58 14-You've Got a Friend in Me (from "Toy Story")
DR11 -0.01 dB -14.71 dB 3:22 15-City of Stars (from "La La Land")
DR13 -0.77 dB -19.72 dB 4:47 16-Calling You (from "Bagdad Cafe")
DR12 -6.45 dB -22.73 dB 2:31 17-The Waltz - Main Titles (from "The Godfather")
DR12 -0.01 dB -18.06 dB 3:07 18-Truman Sleeps (from "The Truman Show")
DR12 -1.88 dB -17.40 dB 3:37 19-The Portrait (from "Titanic")
DR11 -0.01 dB -15.91 dB 3:30 20-Hedwig's Theme (from "Harry Potter and The Sorcerer's Stone"))
DR11 -4.05 dB -20.29 dB 2:36 21-River Flows in You (associated with "Twilight")
DR11 -1.33 dB -17.98 dB 4:18 22-The Armstrongs (from "First Man")
DR9 -0.01 dB -14.13 dB 3:58 23-We Love Each Other So Much (from "Annette")
––––––––––––––––––––––––––––––––––––––––

Number of tracks: 23
Official DR value: DR12

Samplerate: 88200 Hz
Channels: 2
Bits per sample: 24
Bitrate: 2320 kbps
Codec: FLAC
================================================================================