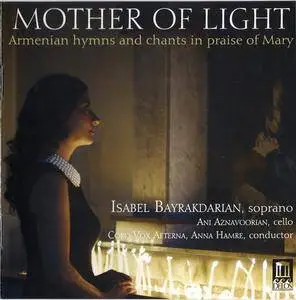 Isabel Bayrakdarian - Mother of Light: Armenian hymns and chants in praise of Mary
FLAC (tracks) 24-bit/192 kHz | PDF | 2.18 GB
Classical | Delos/DEL 3521
Soprano sorceress Isabel Bayrakdarian, acclaimed internationally for her glittering accomplishments on both stage and screen, presents – in this hypnotically alluring album of Armenian sacred music – a more spiritual aspect of her multifaceted musical persona.

Isabel conceived this project as a heartfelt gift to God for sparing the life of her mother, and the entire album is very much a "family affair." Her husband arranged the pieces, her brother plays the ceremonial percussion instruments, and her two sisters join her to form a vocal trio in several tracks.

This spellbinding music – scored variously for solo and ensemble voices, cello and women's choir – will take its fortunate listeners on a deeply spiritual and meditative journey of the soul.
Tracklist
:
01. Pourvarov Tapor (Censer procession) (00:13)
02. Baghdasar Tbir (1683-1768). Zartir Nazeli (Arise, Graceful One) (for voice and cello) (04:27)
03. Anonymous (medieval). Khngi Dzarin (Frankincense Tree) (for voice and choir) (03:52)
04. Ara Bartevian (1902-1986). Mayr Yev Gouys (Immaculate Mother) (for voice, choir and cello) (02:58)
05. Hampartsoum Limondjian (1768-1839). Hamemad Kez (Incomparable One) (for voice and cello) (04:57)
06. Anonymous (medieval). Varaneem (Burdened with Sins) (for voice and choir) (04:36)
07. Avedis Kez Mariyam (Good Tidings to You, Mary) (for voice, choir and percussion) (04:35)
08. St. Gregory of Nareg (951- 1003). Aghers ar Diramayr (Plea to Mother of God) (for 3 voices, cello and percussion) (05:06)
09. Diramayrn (Mother of the Lord) (for voice and choir) (02:50)
10. Anonymous (medieval). Badjar yev Sgizpn (Cause and Origin) (for voice and percussion) (03:48)
11. Movses Khorenatsi (410-490). Zandjareli Looso Mayr (Mother of Light) (for voice, choir and percussion) (02:39)
12. Sharaganner (Sharagans from Holy Week) (for voice and choir) (02:47)
13. Gomidas Vartabed (1869-1935). Asdvadzadzin Yergnayin (Divine Mother of God) (for choir, cello and percussion) (01:30)
14. Anonymous (medieval). Zgousoutyount Ko (O Pure God Bearer) (for 3 voices and percussion) (01:26)
15. St. Nerses Shnorhali (1102-1173). Aysor Joghovyal (The Saints Are Gathered) (for voice and choir) (02:52)
16. Vartan Areveltsi (1198-1271). Antaram Dzaghig (Eternal Flower) (for voice, choir, cello and percussion) (02:57)
17. Anonymous. Panin Hor (Word of the Father) [18th-19th century] (for voice and cello) (04:10)
18. Oor es Mayr Im (Where Are You, My Mother?) [18th-19th century] (for 3 voices, choir and cello) (06:16)

foobar2000 1.3.2 / Замер динамического диапазона (DR) 1.1.1
Дата отчёта: 2016-12-29 18:47:04

––––––––––––––––––––––––––––––––––––––––
Анализ: Ishkhan Bayrakdarian / Mother of Light: Armenian Hymns & Chants in Praise of Mary (1)
Serouj Kradjian/Ani Aznavoorian/Ishkhan Bayrakdarian/Coro Vox Aeterna / Mother of Light: Armenian Hymns & Chants in Praise of Mary (2)
Serouj Kradjian/Anonymous/Isabel Bayrakdarian/Ani Aznavoorian/Coro Vox Aeterna / Mother of Light: Armenian Hymns & Chants in Praise of Mary (3)
Serouj Kradjian/Anonymous/Isabel Bayrakdarian/Ani Aznavoorian / Mother of Light: Armenian Hymns & Chants in Praise of Mary (4)
Serouj Kradjian/Isabel Bayrakdarian/Ani Aznavoorian/Ishkhan Bayrakdarian/Coro Vox Aeterna / Mother of Light: Armenian Hymns & Chants in Praise of Mary (5)
Serouj Kradjian/Isabel Bayrakdarian/Ani Aznavoorian / Mother of Light: Armenian Hymns & Chants in Praise of Mary (6-7)
Serouj Kradjian/Isabel Bayrakdarian/Coro Vox Aeterna / Mother of Light: Armenian Hymns & Chants in Praise of Mary (8-12)
Serouj Kradjian/Isabel Bayrakdarian/Ishkhan Bayrakdarian/Coro Vox Aeterna / Mother of Light: Armenian Hymns & Chants in Praise of Mary (13-14)
Serouj Kradjian/Isabel Bayrakdarian/Ishkhan Bayrakdarian / Mother of Light: Armenian Hymns & Chants in Praise of Mary (15)
Serouj Kradjian/Isabel Bayrakdarian/Siroun Kojakian/Marie-Jean Zaatar/Ani Aznavoorian/Coro Vox Aeterna / Mother of Light: Armenian Hymns & Chants in Praise of Mary (16)
Serouj Kradjian/Isabel Bayrakdarian/Siroun Kojakian/Marie-Jean Zaatar/Ani Aznavoorian/Ishkhan Bayrakdarian / Mother of Light: Armenian Hymns & Chants in Praise of Mary (17)
Serouj Kradjian/Isabel Bayrakdarian/Siroun Kojakian/Marie-Jean Zaatar/Ishkhan Bayrakdarian / Mother of Light: Armenian Hymns & Chants in Praise of Mary (18)
––––––––––––––––––––––––––––––––––––––––

DR Пики RMS Продолжительность трека
––––––––––––––––––––––––––––––––––––––––
DR15 -17.91 дБ -43.99 дБ 0:13 01-Pourvarov Tapor (Censer procession)
DR11 -7.82 дБ -24.35 дБ 1:30 13-Asdvadzadzin Yergnayin (Divine Mother of God) (arr. S. Kradjian for choir, cello and percussion)
DR12 -1.00 дБ -21.37 дБ 2:58 04-Mayr Yev Gouys (Immaculate Mother) (arr. S. Kradjian for voice, choir and cello)
DR12 -2.59 дБ -19.83 дБ 4:57 05-Hamemad Kez (Incomparable One) (arr. S. Kradjian for voice and cello)
DR12 -5.32 дБ -21.70 дБ 2:56 16-Antaram Dzaghig (Eternal Flower) (arr. S. Kradjian for voice, choir, cello and percussion)
DR12 -1.00 дБ -20.09 дБ 4:27 02-Zartir Nazeli (Arise, Graceful One) (arr. S. Kradjian for voice and cello)
DR12 -2.12 дБ -21.37 дБ 4:10 17-Panin Hor (Word of the Father) [18th-19th century] (arr. S. Kradjian for voice and cello)
DR10 -11.26 дБ -26.13 дБ 3:52 03-Khngi Dzarin (Frankincense Tree) (arr. S. Kradjian for voice and choir)
DR13 -3.90 дБ -23.72 дБ 4:36 06-Varaneem (Burdened with Sins) (arr. S. Kradjian for voice and choir)
DR12 -7.27 дБ -25.39 дБ 2:50 09-Diramayrn (Mother of the Lord) (arr. S. Kradjian for voice and choir)
DR14 -4.95 дБ -24.65 дБ 2:46 12-Sharaganner (Sharagans from Holy Week) (arr. S. Kradjian for voice and choir)
DR13 -4.46 дБ -23.92 дБ 2:52 15-Aysor Joghovyal (The Saints Are Gathered) (arr. S. Kradjian for voice and choir)
DR14 -3.16 дБ -22.54 дБ 4:34 07-Avedis Kez Mariyam (Good Tidings to You, Mary) (arr. S. Kradjian for voice, choir and percussion)
DR13 -4.44 дБ -23.28 дБ 2:39 11-Zandjareli Looso Mayr (Mother of Light) (arr. S. Kradjian for voice, choir and percussion)
DR13 -5.69 дБ -24.03 дБ 3:48 10-Badjar yev Sgizpn (Cause and Origin) (arr. S. Kradjian for voice and percussion)
DR13 -6.81 дБ -25.61 дБ 6:16 18-Oor es Mayr Im (Where Are You, My Mother?) [18th-19th century] (arr. S. Kradjian for 3 voices, choir and cello)
DR12 -8.76 дБ -26.16 дБ 5:06 08-Aghers ar Diramayr (Plea to Mother of God) (arr. S. Kradjian for 3 voices, cello and percussion)
DR11 -11.68 дБ -27.59 дБ 1:26 14-Zgousoutyount Ko (O Pure God Bearer) (arr. S. Kradjian for 3 voices and percussion)
––––––––––––––––––––––––––––––––––––––––

Количество треков: 18
Реальные значения DR: DR12

Частота: 192000 Гц
Каналов: 2
Разрядность: 24
Битрейт: 4993 кбит/с
Кодек: FLAC
================================================================================

http://www.prestoclassical.co.uk/r/Delos/DE3521