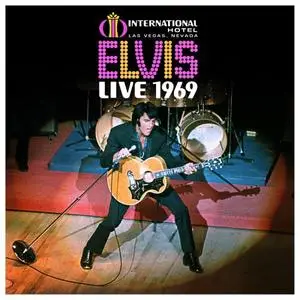 Elvis Presley - Live 1969 (2019)
FLAC (tracks) 24-bit/96 kHz | Time - 797:33 minutes | 16,3 GB
Studio Master, Official Digital Download | Artwork: Front cover
For Elvis fans, it's Christmas every day! As if the royal archives were a bottomless pit. And when you imagine the unreleased out of stock, Legacy Recordings releases new rarities like a magician showing a rabbit in his hat. On the menu for the summer of 2019, this crazy Live 1969, box set maousse (216 titles!) Celebrating the 50th anniversary of Elvis concerts at the International Hotel in Las Vegas. After eight years of absence, the King was back on stage by polling 57 concerts showing all full! It is during these shows where he is supported by choirs, Imperials and Sweet Inspirations and musicians side, a large band and a group that will become the TCB Band, which he will sing for the first time live his mythical Suspicious Minds.
Live 1969 thus includes eleven complete sets, including four in full for the very first time (including two shows never heard, those of August 22nd and 25th). It is obviously necessary to have chronic and acute Elvissitis to slip 13 hours and 15 minutes of these performances. But this series of concerts is quite legendary because it surfs on From Elvis in Memphis, his album published two months earlier, in June 1969. In January of that same year, the King then in decline had joined the American Sound Studios from producer Moman Chips to record his resurrection with this pure masterpiece of country-soul, true nirvana of his record career on which his voice reaches tops. All the art of Elvis is here! His vocal palette is impressive and the instrumentarium as production are to die for. A 15th studio album more than essential that concludes with the poignant In The Ghetto. This box Live 1969 proves that, on stage too, this royal comeback was actually … royal! Even in his late 50's hits, 34-year-old Presley still delivers unstoppable class performances. During the summer of 1969, the planet vibrated to the sound of rock'n'roll amplified as ever (the Woodstock festival takes place during this month of August), its creator prefers, him, play the class and class crooners. Timeless. Above the fight. Up there.
Tracklist:
CD1
01. Blue Suede Shoes (Live at The International Hotel, Las Vegas, NV-8/21/69 Midnight Show)
02. I Got a Woman (Live at The International Hotel, Las Vegas, NV-8/21/69 Midnight Show)
03. All Shook Up (Live at The International Hotel, Las Vegas, NV-8/21/69 Midnight Show)
04. Love Me Tender (Live at The International Hotel, Las Vegas, NV-8/21/69 Midnight Show)
05. Medley: Jailhouse Rock / Don't Be Cruel (Live at The International Hotel, Las Vegas, NV-8/21/69 Midnight Show)
06. Heartbreak Hotel (Live at The International Hotel, Las Vegas, NV-8/21/69 Midnight Show)
07. Hound Dog (Live at The International Hotel, Las Vegas, NV-8/21/69 Midnight Show)
08. Memories (Live at The International Hotel, Las Vegas, NV-8/21/69 Midnight Show)
09. Mystery Train/Tiger Man (Live at The International Hotel, Las Vegas, NV-8/21/69 Midnight Show)
10. Monologue (Live at The International Hotel, Las Vegas, NV-8/21/69 Midnight Show)
11. Baby, What You Want Me To Do (Live at The International Hotel, Las Vegas, NV-8/21/69 Midnight Show)
12. Runaway (Live at The International Hotel, Las Vegas, NV-8/21/69 Midnight Show)
13. Are You Lonesome Tonight? (Live at The International Hotel, Las Vegas, NV-8/21/69 Midnight Show)
14. Medley: Yesterday / Hey Jude (Live at The International Hotel, Las Vegas, NV-8/21/69 Midnight Show)
15. Band Introductions (Live at The International Hotel, Las Vegas, NV-8/21/69 Midnight Show)
16. In the Ghetto (Live at The International Hotel, Las Vegas, NV-8/21/69 Midnight Show)
17. Suspicious Minds (Live at The International Hotel, Las Vegas, NV-8/21/69 Midnight Show)
18. What'd I Say (Live at The International Hotel, Las Vegas, NV-8/21/69 Midnight Show)
19. Can't Help Falling In Love (Live at The International Hotel, Las Vegas, NV-8/21/69 Midnight Show)
foobar2000 1.3.7 / Dynamic Range Meter 1.1.1
log date: 2019-08-31 02:03:55

––––––––––––––––––––––––––––––––––––––––
Analyzed: Elvis Presley / Live 1969
––––––––––––––––––––––––––––––––––––––––

DR Peak RMS Duration Track
––––––––––––––––––––––––––––––––––––––––
DR10 -0.03 dB -13.43 dB 2:48 01-Blue Suede Shoes (Live at The International Hotel, Las Vegas, NV-8-21-69 Midnight Show)
DR9 -0.03 dB -11.84 dB 2:30 02-I Got a Woman (Live at The International Hotel, Las Vegas, NV-8-21-69 Midnight Show)
DR11 -0.58 dB -16.18 dB 3:01 03-All Shook Up (Live at The International Hotel, Las Vegas, NV-8-21-69 Midnight Show)
DR9 -0.02 dB -13.96 dB 3:59 04-Love Me Tender (Live at The International Hotel, Las Vegas, NV-8-21-69 Midnight Show)
DR9 -0.03 dB -10.58 dB 2:12 05-Medley: Jailhouse Rock - Don't Be Cruel (Live at The International Hotel, Las Vegas, NV-8-21-69 Midnight Show)
DR11 -0.02 dB -16.22 dB 5:16 06-Heartbreak Hotel (Live at The International Hotel, Las Vegas, NV-8-21-69 Midnight Show)
DR9 -0.03 dB -12.13 dB 2:44 07-Hound Dog (Live at The International Hotel, Las Vegas, NV-8-21-69 Midnight Show)
DR11 -0.03 dB -15.80 dB 3:50 08-Memories (Live at The International Hotel, Las Vegas, NV-8-21-69 Midnight Show)
DR9 -0.02 dB -11.39 dB 3:48 09-Mystery Train-Tiger Man (Live at The International Hotel, Las Vegas, NV-8-21-69 Midnight Show)
DR20 -0.20 dB -24.93 dB 10:09 10-Monologue (Live at The International Hotel, Las Vegas, NV-8-21-69 Midnight Show)
DR10 -0.03 dB -12.06 dB 2:49 11-Baby, What You Want Me To Do (Live at The International Hotel, Las Vegas, NV-8-21-69 Midnight Show)
DR9 -0.03 dB -10.18 dB 2:21 12-Runaway (Live at The International Hotel, Las Vegas, NV-8-21-69 Midnight Show)
DR10 -0.03 dB -12.69 dB 2:42 13-Are You Lonesome Tonight? (Live at The International Hotel, Las Vegas, NV-8-21-69 Midnight Show)
DR9 -0.02 dB -11.22 dB 4:44 14-Medley: Yesterday - Hey Jude (Live at The International Hotel, Las Vegas, NV-8-21-69 Midnight Show)
DR16 -0.96 dB -21.61 dB 2:18 15-Band Introductions (Live at The International Hotel, Las Vegas, NV-8-21-69 Midnight Show)
DR10 -0.03 dB -13.39 dB 2:57 16-In the Ghetto (Live at The International Hotel, Las Vegas, NV-8-21-69 Midnight Show)
DR8 0.00 dB -9.90 dB 8:03 17-Suspicious Minds (Live at The International Hotel, Las Vegas, NV-8-21-69 Midnight Show)
DR8 0.00 dB -9.74 dB 4:07 18-What'd I Say (Live at The International Hotel, Las Vegas, NV-8-21-69 Midnight Show)
DR8 -0.02 dB -10.32 dB 2:04 19-Can't Help Falling In Love (Live at The International Hotel, Las Vegas, NV-8-21-69 Midnight Show)
––––––––––––––––––––––––––––––––––––––––

Number of tracks: 19
Official DR value: DR10

Samplerate: 96000 Hz
Channels: 2
Bits per sample: 24
Bitrate: 2965 kbps
Codec: FLAC
================================================================================
CD2
01. Blue Suede Shoes (Live at The International Hotel, Las Vegas, NV-8/22/69 Dinner Show)
02. I Got a Woman (Live at The International Hotel, Las Vegas, NV-8/22/69 Dinner Show)
03. All Shook Up (Live at The International Hotel, Las Vegas, NV-8/22/69 Dinner Show)
04. Love Me Tender (Live at The International Hotel, Las Vegas, NV-8/22/69 Dinner Show)
05. Medley: Jailhouse Rock / Don't Be Cruel (Live at The International Hotel, Las Vegas, NV-8/22/69 Dinner Show)
06. Heartbreak Hotel (Live at The International Hotel, Las Vegas, NV-8/22/69 Dinner Show)
07. Hound Dog (Live at The International Hotel, Las Vegas, NV-8/22/69 Dinner Show)
08. Memories (Live at The International Hotel, Las Vegas, NV-8/22/69 Dinner Show)
09. Medley: Mystery Train / Tiger Man (Live at The International Hotel, Las Vegas, NV-8/22/69 Dinner Show)
10. Monologue (Lifestory) (Live at The International Hotel, Las Vegas, NV-8/22/69 Dinner Show)
11. Baby, What You Want Me to Do (Live at The International Hotel, Las Vegas, NV-8/22/69 Dinner Show)
12. Runaway (Live at The International Hotel, Las Vegas, NV-8/22/69 Dinner Show)
13. Are You Lonesome Tonight? (Live at The International Hotel, Las Vegas, NV-8/22/69 Dinner Show)
14. Medley: Yesterday / Hey Jude (Live at The International Hotel, Las Vegas, NV-8/22/69 Dinner Show)
15. Introductions (Live at The International Hotel, Las Vegas, NV-8/22/69 Dinner Show)
16. In the Ghetto (Live at The International Hotel, Las Vegas, NV-8/22/69 Dinner Show)
17. Suspicious Minds (Live at The International Hotel, Las Vegas, NV-8/22/69 Dinner Show)
18. What'd I Say (Live at The International Hotel, Las Vegas, NV-8/22/69 Dinner Show)
19. Can't Help Falling In Love (Live at The International Hotel, Las Vegas, NV-8/22/69 Dinner Show)
foobar2000 1.3.7 / Dynamic Range Meter 1.1.1
log date: 2019-08-31 02:04:35

––––––––––––––––––––––––––––––––––––––––
Analyzed: Elvis Presley / Live 1969
––––––––––––––––––––––––––––––––––––––––

DR Peak RMS Duration Track
––––––––––––––––––––––––––––––––––––––––
DR8 -0.02 dB -10.55 dB 2:47 01-Blue Suede Shoes (Live at The International Hotel, Las Vegas, NV-8-22-69 Dinner Show)
DR9 -0.03 dB -11.61 dB 2:30 02-I Got a Woman (Live at The International Hotel, Las Vegas, NV-8-22-69 Dinner Show)
DR10 -0.03 dB -14.31 dB 3:42 03-All Shook Up (Live at The International Hotel, Las Vegas, NV-8-22-69 Dinner Show)
DR8 -0.03 dB -12.89 dB 3:32 04-Love Me Tender (Live at The International Hotel, Las Vegas, NV-8-22-69 Dinner Show)
DR9 -0.02 dB -9.77 dB 2:08 05-Medley: Jailhouse Rock - Don't Be Cruel (Live at The International Hotel, Las Vegas, NV-8-22-69 Dinner Show)
DR10 -0.02 dB -14.76 dB 4:53 06-Heartbreak Hotel (Live at The International Hotel, Las Vegas, NV-8-22-69 Dinner Show)
DR8 -0.02 dB -9.52 dB 1:50 07-Hound Dog (Live at The International Hotel, Las Vegas, NV-8-22-69 Dinner Show)
DR9 -0.02 dB -12.81 dB 3:42 08-Memories (Live at The International Hotel, Las Vegas, NV-8-22-69 Dinner Show)
DR9 -0.02 dB -10.69 dB 3:28 09-Medley: Mystery Train - Tiger Man (Live at The International Hotel, Las Vegas, NV-8-22-69 Dinner Show)
DR17 -0.03 dB -20.96 dB 10:08 10-Monologue (Lifestory) (Live at The International Hotel, Las Vegas, NV-8-22-69 Dinner Show)
DR9 -0.03 dB -10.36 dB 2:27 11-Baby, What You Want Me to Do (Live at The International Hotel, Las Vegas, NV-8-22-69 Dinner Show)
DR8 -0.02 dB -10.12 dB 2:50 12-Runaway (Live at The International Hotel, Las Vegas, NV-8-22-69 Dinner Show)
DR10 -0.03 dB -12.50 dB 2:46 13-Are You Lonesome Tonight? (Live at The International Hotel, Las Vegas, NV-8-22-69 Dinner Show)
DR8 -0.03 dB -11.19 dB 5:49 14-Medley: Yesterday - Hey Jude (Live at The International Hotel, Las Vegas, NV-8-22-69 Dinner Show)
DR16 -0.62 dB -19.45 dB 1:52 15-Introductions (Live at The International Hotel, Las Vegas, NV-8-22-69 Dinner Show)
DR10 -0.03 dB -12.43 dB 2:56 16-In the Ghetto (Live at The International Hotel, Las Vegas, NV-8-22-69 Dinner Show)
DR8 -0.02 dB -10.59 dB 7:13 17-Suspicious Minds (Live at The International Hotel, Las Vegas, NV-8-22-69 Dinner Show)
DR8 -0.02 dB -9.57 dB 4:13 18-What'd I Say (Live at The International Hotel, Las Vegas, NV-8-22-69 Dinner Show)
DR8 -0.02 dB -10.52 dB 2:08 19-Can't Help Falling In Love (Live at The International Hotel, Las Vegas, NV-8-22-69 Dinner Show)
––––––––––––––––––––––––––––––––––––––––

Number of tracks: 19
Official DR value: DR10

Samplerate: 96000 Hz
Channels: 2
Bits per sample: 24
Bitrate: 2896 kbps
Codec: FLAC
================================================================================
CD3
01. Blue Suede Shoes (Live at The International Hotel, Las Vegas, NV-8/22/69 Midnight Show)
02. I Got a Woman (Live at The International Hotel, Las Vegas, NV-8/22/69 Midnight Show)
03. All Shook Up (Live at The International Hotel, Las Vegas, NV-8/22/69 Midnight Show)
04. Love Me Tender (Live at The International Hotel, Las Vegas, NV-8/22/69 Midnight Show)
05. Medley: Jailhouse Rock / Don't Be Cruel (Live at The International Hotel, Las Vegas, NV-8/22/69 Midnight Show)
06. Heartbreak Hotel (Live at The International Hotel, Las Vegas, NV-8/22/69 Midnight Show)
07. Hound Dog (Live at The International Hotel, Las Vegas, NV-8/22/69 Midnight Show)
08. Memories (Live at The International Hotel, Las Vegas, NV-8/22/69 Midnight Show)
09. My Babe (Live at The International Hotel, Las Vegas, NV-8/22/69 Midnight Show)
10. Medley: Mystery Train / Tiger Man (Live at The International Hotel, Las Vegas, NV-8/22/69 Midnight Show)
11. Monologue (Live at The International Hotel, Las Vegas, NV-8/22/69 Midnight Show)
12. Baby What You Want Me To Do (Live at The International Hotel, Las Vegas, NV-8/22/69 Midnight Show)
13. Funny How Time Slips Away (Live at The International Hotel, Las Vegas, NV-8/22/69 Midnight Show)
14. Runaway (Live at The International Hotel, Las Vegas, NV-8/22/69 Midnight Show)
15. Are You Lonesome Tonight? (Live at The International Hotel, Las Vegas, NV-8/22/69 Midnight Show)
16. Medley: Yesterday / Hey Jude (Live at The International Hotel, Las Vegas, NV-8/22/69 Midnight Show)
17. Introductions (Live at The International Hotel, Las Vegas, NV-8/22/69 Midnight Show)
18. In the Ghetto (Live at The International Hotel, Las Vegas, NV-8/22/69 Midnight Show)
19. Suspicious Minds (Live at The International Hotel, Las Vegas, NV-8/22/69 Midnight Show)
20. What'd I Say (Live at The International Hotel, Las Vegas, NV-8/22/69 Midnight Show)
21. Can't Help Falling In Love (Live at The International Hotel, Las Vegas, NV-8/22/69 Midnight Show)
foobar2000 1.3.7 / Dynamic Range Meter 1.1.1
log date: 2019-08-31 02:05:15

––––––––––––––––––––––––––––––––––––––––
Analyzed: Elvis Presley / Live 1969
––––––––––––––––––––––––––––––––––––––––

DR Peak RMS Duration Track
––––––––––––––––––––––––––––––––––––––––
DR9 -0.03 dB -12.40 dB 3:06 01-Blue Suede Shoes (Live at The International Hotel, Las Vegas, NV-8-22-69 Midnight Show)
DR7 -0.02 dB -10.42 dB 2:50 02-I Got a Woman (Live at The International Hotel, Las Vegas, NV-8-22-69 Midnight Show)
DR9 -0.02 dB -13.30 dB 3:21 03-All Shook Up (Live at The International Hotel, Las Vegas, NV-8-22-69 Midnight Show)
DR8 -0.02 dB -12.79 dB 3:55 04-Love Me Tender (Live at The International Hotel, Las Vegas, NV-8-22-69 Midnight Show)
DR8 -0.01 dB -9.30 dB 2:11 05-Medley: Jailhouse Rock - Don't Be Cruel (Live at The International Hotel, Las Vegas, NV-8-22-69 Midnight Show)
DR10 0.00 dB -15.08 dB 4:12 06-Heartbreak Hotel (Live at The International Hotel, Las Vegas, NV-8-22-69 Midnight Show)
DR8 0.00 dB -10.19 dB 1:46 07-Hound Dog (Live at The International Hotel, Las Vegas, NV-8-22-69 Midnight Show)
DR10 -0.03 dB -13.39 dB 2:41 08-Memories (Live at The International Hotel, Las Vegas, NV-8-22-69 Midnight Show)
DR8 -0.02 dB -11.46 dB 3:07 09-My Babe (Live at The International Hotel, Las Vegas, NV-8-22-69 Midnight Show)
DR8 -0.03 dB -9.96 dB 3:37 10-Medley: Mystery Train - Tiger Man (Live at The International Hotel, Las Vegas, NV-8-22-69 Midnight Show)
DR20 -0.03 dB -24.81 dB 9:55 11-Monologue (Live at The International Hotel, Las Vegas, NV-8-22-69 Midnight Show)
DR10 -0.03 dB -11.56 dB 2:26 12-Baby What You Want Me To Do (Live at The International Hotel, Las Vegas, NV-8-22-69 Midnight Show)
DR12 -0.03 dB -16.82 dB 4:37 13-Funny How Time Slips Away (Live at The International Hotel, Las Vegas, NV-8-22-69 Midnight Show)
DR9 -0.03 dB -10.53 dB 2:09 14-Runaway (Live at The International Hotel, Las Vegas, NV-8-22-69 Midnight Show)
DR12 -0.03 dB -15.62 dB 2:38 15-Are You Lonesome Tonight? (Live at The International Hotel, Las Vegas, NV-8-22-69 Midnight Show)
DR10 -0.03 dB -14.28 dB 4:49 16-Medley: Yesterday - Hey Jude (Live at The International Hotel, Las Vegas, NV-8-22-69 Midnight Show)
DR18 -2.82 dB -25.24 dB 2:51 17-Introductions (Live at The International Hotel, Las Vegas, NV-8-22-69 Midnight Show)
DR11 -0.03 dB -15.48 dB 3:01 18-In the Ghetto (Live at The International Hotel, Las Vegas, NV-8-22-69 Midnight Show)
DR8 -0.02 dB -9.91 dB 8:16 19-Suspicious Minds (Live at The International Hotel, Las Vegas, NV-8-22-69 Midnight Show)
DR10 -0.03 dB -12.12 dB 3:18 20-What'd I Say (Live at The International Hotel, Las Vegas, NV-8-22-69 Midnight Show)
DR9 -0.03 dB -12.17 dB 2:08 21-Can't Help Falling In Love (Live at The International Hotel, Las Vegas, NV-8-22-69 Midnight Show)
––––––––––––––––––––––––––––––––––––––––

Number of tracks: 21
Official DR value: DR10

Samplerate: 96000 Hz
Channels: 2
Bits per sample: 24
Bitrate: 2954 kbps
Codec: FLAC
================================================================================
CD4
01. Blue Suede Shoes (Live at The International Hotel, Las Vegas, NV-8/23/69 Dinner Show)
02. I Got a Woman (Live at The International Hotel, Las Vegas, NV-8/23/69 Dinner Show)
03. All Shook Up (Live at The International Hotel, Las Vegas, NV-8/23/69 Dinner Show)
04. Love Me Tender (Live at The International Hotel, Las Vegas, NV-8/23/69 Dinner Show)
05. Medley: Jailhouse Rock / Don't Be Cruel (Live at The International Hotel, Las Vegas, NV-8/23/69 Dinner Show)
06. Heartbreak Hotel (Live at The International Hotel, Las Vegas, NV-8/23/69 Dinner Show)
07. Hound Dog (Live at The International Hotel, Las Vegas, NV-8/23/69 Dinner Show)
08. Memories (Live at The International Hotel, Las Vegas, NV-8/23/69 Dinner Show)
09. Medley: Mystery Train / Tiger Man (Live at The International Hotel, Las Vegas, NV-8/23/69 Dinner Show)
10. Monologue (Live at The International Hotel, Las Vegas, NV-8/23/69 Dinner Show)
11. Baby, What You Want Me to Do (Live at The International Hotel, Las Vegas, NV-8/23/69 Dinner Show)
12. Runaway (Live at The International Hotel, Las Vegas, NV-8/23/69 Dinner Show)
13. Are You Lonesome Tonight? (Live at The International Hotel, Las Vegas, NV-8/23/69 Dinner Show)
14. Medley: Yesterday / Hey Jude (Live at The International Hotel, Las Vegas, NV-8/23/69 Dinner Show)
15. Introductions (Live at The International Hotel, Las Vegas, NV-8/23/69 Dinner Show)
16. In the Ghetto (Live at The International Hotel, Las Vegas, NV-8/23/69 Dinner Show)
17. Suspicious Minds (Live at The International Hotel, Las Vegas, NV-8/23/69 Dinner Show)
18. What'd I Say (Live at The International Hotel, Las Vegas, NV-8/23/69 Dinner Show)
19. Can't Help Falling In Love (Live at The International Hotel, Las Vegas, NV-8/23/69 Dinner Show)
foobar2000 1.3.7 / Dynamic Range Meter 1.1.1
log date: 2019-08-31 02:05:56

––––––––––––––––––––––––––––––––––––––––
Analyzed: Elvis Presley / Live 1969
––––––––––––––––––––––––––––––––––––––––

DR Peak RMS Duration Track
––––––––––––––––––––––––––––––––––––––––
DR9 -0.03 dB -11.70 dB 3:21 01-Blue Suede Shoes (Live at The International Hotel, Las Vegas, NV-8-23-69 Dinner Show)
DR8 -0.03 dB -11.19 dB 2:44 02-I Got a Woman (Live at The International Hotel, Las Vegas, NV-8-23-69 Dinner Show)
DR10 -0.03 dB -14.62 dB 4:00 03-All Shook Up (Live at The International Hotel, Las Vegas, NV-8-23-69 Dinner Show)
DR9 -0.02 dB -13.51 dB 3:36 04-Love Me Tender (Live at The International Hotel, Las Vegas, NV-8-23-69 Dinner Show)
DR9 -0.03 dB -10.61 dB 2:12 05-Medley: Jailhouse Rock - Don't Be Cruel (Live at The International Hotel, Las Vegas, NV-8-23-69 Dinner Show)
DR12 -0.03 dB -17.80 dB 4:44 06-Heartbreak Hotel (Live at The International Hotel, Las Vegas, NV-8-23-69 Dinner Show)
DR9 -0.03 dB -11.22 dB 2:09 07-Hound Dog (Live at The International Hotel, Las Vegas, NV-8-23-69 Dinner Show)
DR11 -0.03 dB -16.66 dB 3:56 08-Memories (Live at The International Hotel, Las Vegas, NV-8-23-69 Dinner Show)
DR9 -0.03 dB -10.93 dB 3:31 09-Medley: Mystery Train - Tiger Man (Live at The International Hotel, Las Vegas, NV-8-23-69 Dinner Show)
DR23 -0.92 dB -28.03 dB 13:13 10-Monologue (Live at The International Hotel, Las Vegas, NV-8-23-69 Dinner Show)
DR12 -0.03 dB -14.84 dB 2:52 11-Baby, What You Want Me to Do (Live at The International Hotel, Las Vegas, NV-8-23-69 Dinner Show)
DR10 -0.03 dB -12.69 dB 2:35 12-Runaway (Live at The International Hotel, Las Vegas, NV-8-23-69 Dinner Show)
DR13 -1.19 dB -17.09 dB 2:47 13-Are You Lonesome Tonight? (Live at The International Hotel, Las Vegas, NV-8-23-69 Dinner Show)
DR10 -0.03 dB -13.52 dB 5:09 14-Medley: Yesterday - Hey Jude (Live at The International Hotel, Las Vegas, NV-8-23-69 Dinner Show)
DR18 -0.03 dB -21.92 dB 4:02 15-Introductions (Live at The International Hotel, Las Vegas, NV-8-23-69 Dinner Show)
DR12 -0.35 dB -17.35 dB 4:17 16-In the Ghetto (Live at The International Hotel, Las Vegas, NV-8-23-69 Dinner Show)
DR8 -0.02 dB -10.14 dB 7:55 17-Suspicious Minds (Live at The International Hotel, Las Vegas, NV-8-23-69 Dinner Show)
DR8 -0.03 dB -10.45 dB 2:05 18-What'd I Say (Live at The International Hotel, Las Vegas, NV-8-23-69 Dinner Show)
DR8 -0.03 dB -11.40 dB 2:13 19-Can't Help Falling In Love (Live at The International Hotel, Las Vegas, NV-8-23-69 Dinner Show)
––––––––––––––––––––––––––––––––––––––––

Number of tracks: 19
Official DR value: DR11

Samplerate: 96000 Hz
Channels: 2
Bits per sample: 24
Bitrate: 2994 kbps
Codec: FLAC
================================================================================
CD5
01. Blue Suede Shoes (Live at The International Hotel, Las Vegas, NV-8/23/69 Midnight Show)
02. I Got a Woman (Live at The International Hotel, Las Vegas, NV-8/23/69 Midnight Show)
03. All Shook Up (Live at The International Hotel, Las Vegas, NV-8/23/69 Midnight Show)
04. Love Me Tender (Live at The International Hotel, Las Vegas, NV-8/23/69 Midnight Show)
05. Medley: Jailhouse Rock / Don't Be Cruel (Live at The International Hotel, Las Vegas, NV-8/23/69 Midnight Show)
06. Heartbreak Hotel (Live at The International Hotel, Las Vegas, NV-8/23/69 Midnight Show)
07. Hound Dog (Live at The International Hotel, Las Vegas, NV-8/23/69 Midnight Show)
08. Memories (Live at The International Hotel, Las Vegas, NV-8/23/69 Midnight Show)
09. Medley: Mystery Train / Tiger Man (Live at The International Hotel, Las Vegas, NV-8/23/69 Midnight Show)
10. Monologue (Live at The International Hotel, Las Vegas, NV-8/23/69 Midnight Show)
11. Baby, What You Want Me to Do (Live at The International Hotel, Las Vegas, NV-8/23/69 Midnight Show)
12. Runaway (Live at The International Hotel, Las Vegas, NV-8/23/69 Midnight Show)
13. Reconsider Baby (Live at The International Hotel, Las Vegas, NV-8/23/69 Midnight Show)
14. Are You Lonesome Tonight? (Live at The International Hotel, Las Vegas, NV-8/23/69 Midnight Show)
15. Medley: Yesterday / Hey Jude (Live at The International Hotel, Las Vegas, NV-8/23/69 Midnight Show)
16. Introductions (Live at The International Hotel, Las Vegas, NV-8/23/69 Midnight Show)
17. In the Ghetto (Live at The International Hotel, Las Vegas, NV-8/23/69 Midnight Show)
18. Suspicious Minds (Live at The International Hotel, Las Vegas, NV-8/23/69 Midnight Show)
19. What'd I Say (Live at The International Hotel, Las Vegas, NV-8/23/69 Midnight Show)
20. Can't Help Falling In Love (Live at The International Hotel, Las Vegas, NV-8/23/69 Midnight Show)
foobar2000 1.3.7 / Dynamic Range Meter 1.1.1
log date: 2019-08-31 02:06:40

––––––––––––––––––––––––––––––––––––––––
Analyzed: Elvis Presley / Live 1969
––––––––––––––––––––––––––––––––––––––––

DR Peak RMS Duration Track
––––––––––––––––––––––––––––––––––––––––
DR10 -0.03 dB -12.17 dB 2:59 01-Blue Suede Shoes (Live at The International Hotel, Las Vegas, NV-8-23-69 Midnight Show)
DR9 -0.03 dB -11.34 dB 2:33 02-I Got a Woman (Live at The International Hotel, Las Vegas, NV-8-23-69 Midnight Show)
DR10 -0.02 dB -14.56 dB 4:20 03-All Shook Up (Live at The International Hotel, Las Vegas, NV-8-23-69 Midnight Show)
DR8 -0.01 dB -12.13 dB 3:13 04-Love Me Tender (Live at The International Hotel, Las Vegas, NV-8-23-69 Midnight Show)
DR8 -0.02 dB -10.45 dB 2:37 05-Medley: Jailhouse Rock - Don't Be Cruel (Live at The International Hotel, Las Vegas, NV-8-23-69 Midnight Show)
DR11 -0.03 dB -16.37 dB 5:00 06-Heartbreak Hotel (Live at The International Hotel, Las Vegas, NV-8-23-69 Midnight Show)
DR10 -0.03 dB -11.74 dB 1:28 07-Hound Dog (Live at The International Hotel, Las Vegas, NV-8-23-69 Midnight Show)
DR11 -0.03 dB -15.68 dB 4:20 08-Memories (Live at The International Hotel, Las Vegas, NV-8-23-69 Midnight Show)
DR10 -0.02 dB -11.58 dB 3:36 09-Medley: Mystery Train - Tiger Man (Live at The International Hotel, Las Vegas, NV-8-23-69 Midnight Show)
DR18 -2.06 dB -24.55 dB 9:45 10-Monologue (Live at The International Hotel, Las Vegas, NV-8-23-69 Midnight Show)
DR9 -0.03 dB -10.99 dB 2:27 11-Baby, What You Want Me to Do (Live at The International Hotel, Las Vegas, NV-8-23-69 Midnight Show)
DR8 -0.03 dB -10.24 dB 2:46 12-Runaway (Live at The International Hotel, Las Vegas, NV-8-23-69 Midnight Show)
DR9 -0.03 dB -11.27 dB 3:28 13-Reconsider Baby (Live at The International Hotel, Las Vegas, NV-8-23-69 Midnight Show)
DR11 -0.07 dB -15.58 dB 2:54 14-Are You Lonesome Tonight? (Live at The International Hotel, Las Vegas, NV-8-23-69 Midnight Show)
DR9 -0.03 dB -11.69 dB 6:52 15-Medley: Yesterday - Hey Jude (Live at The International Hotel, Las Vegas, NV-8-23-69 Midnight Show)
DR19 -2.45 dB -24.94 dB 2:46 16-Introductions (Live at The International Hotel, Las Vegas, NV-8-23-69 Midnight Show)
DR9 -0.02 dB -12.73 dB 2:56 17-In the Ghetto (Live at The International Hotel, Las Vegas, NV-8-23-69 Midnight Show)
DR9 -0.02 dB -10.84 dB 8:00 18-Suspicious Minds (Live at The International Hotel, Las Vegas, NV-8-23-69 Midnight Show)
DR10 -0.03 dB -12.06 dB 5:46 19-What'd I Say (Live at The International Hotel, Las Vegas, NV-8-23-69 Midnight Show)
DR9 -0.03 dB -12.82 dB 2:06 20-Can't Help Falling In Love (Live at The International Hotel, Las Vegas, NV-8-23-69 Midnight Show)
––––––––––––––––––––––––––––––––––––––––

Number of tracks: 20
Official DR value: DR10

Samplerate: 96000 Hz
Channels: 2
Bits per sample: 24
Bitrate: 2896 kbps
Codec: FLAC
================================================================================
CD6
01. Blue Suede Shoes (Live at The International Hotel, Las Vegas, NV-8/24/69 Dinner Show)
02. I Got a Woman (Live at The International Hotel, Las Vegas, NV-8/24/69 Dinner Show)
03. All Shook Up (Live at The International Hotel, Las Vegas, NV-8/24/69 Dinner Show)
04. Love Me Tender (Live at The International Hotel, Las Vegas, NV-8/24/69 Dinner Show)
05. Medley: Jailhouse Rock / Don't Be Cruel (Live at The International Hotel, Las Vegas, NV-8/24/69 Dinner Show)
06. Heartbreak Hotel (Live at The International Hotel, Las Vegas, NV-8/24/69 Dinner Show)
07. Hound Dog (Live at The International Hotel, Las Vegas, NV-8/24/69 Dinner Show)
08. I Can't Stop Loving You (Live at The International Hotel, Las Vegas, NV-8/24/69 Dinner Show)
09. Johnny B. Goode (Live at The International Hotel, Las Vegas, NV-8/24/69 Dinner Show)
10. Elvis Talks About His Career (Live at The International Hotel, Las Vegas, NV-8/24/69 Dinner Show)
11. Baby, What You Want Me to Do (Live at The International Hotel, Las Vegas, NV-8/24/69 Dinner Show)
12. Runaway (Live at The International Hotel, Las Vegas, NV-8/24/69 Dinner Show)
13. Are You Lonesome Tonight? (Live at The International Hotel, Las Vegas, NV-8/24/69 Dinner Show)
14. Medley: Yesterday / Hey Jude (Live at The International Hotel, Las Vegas, NV-8/24/69 Dinner Show)
15. Introductions (Live at The International Hotel, Las Vegas, NV-8/24/69 Dinner Show)
16. In the Ghetto (Live at The International Hotel, Las Vegas, NV-8/24/69 Dinner Show)
17. Suspicious Minds (Live at The International Hotel, Las Vegas, NV-8/24/69 Dinner Show)
18. What'd I Say (Live at The International Hotel, Las Vegas, NV-8/24/69 Dinner Show)
19. Can't Help Falling In Love (Live at The International Hotel, Las Vegas, NV-8/24/69 Dinner Show)
foobar2000 1.3.7 / Dynamic Range Meter 1.1.1
log date: 2019-08-31 02:07:20

––––––––––––––––––––––––––––––––––––––––
Analyzed: Elvis Presley / Live 1969
––––––––––––––––––––––––––––––––––––––––

DR Peak RMS Duration Track
––––––––––––––––––––––––––––––––––––––––
DR9 -0.03 dB -11.50 dB 2:59 01-Blue Suede Shoes (Live at The International Hotel, Las Vegas, NV-8-24-69 Dinner Show)
DR7 -0.02 dB -10.13 dB 2:38 02-I Got a Woman (Live at The International Hotel, Las Vegas, NV-8-24-69 Dinner Show)
DR9 -0.02 dB -12.07 dB 2:58 03-All Shook Up (Live at The International Hotel, Las Vegas, NV-8-24-69 Dinner Show)
DR8 -0.03 dB -11.26 dB 3:00 04-Love Me Tender (Live at The International Hotel, Las Vegas, NV-8-24-69 Dinner Show)
DR8 -0.03 dB -9.44 dB 2:12 05-Medley: Jailhouse Rock - Don't Be Cruel (Live at The International Hotel, Las Vegas, NV-8-24-69 Dinner Show)
DR10 -0.03 dB -14.86 dB 3:24 06-Heartbreak Hotel (Live at The International Hotel, Las Vegas, NV-8-24-69 Dinner Show)
DR9 -0.03 dB -11.39 dB 1:55 07-Hound Dog (Live at The International Hotel, Las Vegas, NV-8-24-69 Dinner Show)
DR9 -0.03 dB -12.02 dB 3:45 08-I Can't Stop Loving You (Live at The International Hotel, Las Vegas, NV-8-24-69 Dinner Show)
DR9 -0.03 dB -10.73 dB 2:16 09-Johnny B. Goode (Live at The International Hotel, Las Vegas, NV-8-24-69 Dinner Show)
DR19 -0.43 dB -23.55 dB 7:19 10-Elvis Talks About His Career (Live at The International Hotel, Las Vegas, NV-8-24-69 Dinner Show)
DR9 -0.03 dB -10.28 dB 1:58 11-Baby, What You Want Me to Do (Live at The International Hotel, Las Vegas, NV-8-24-69 Dinner Show)
DR10 -0.03 dB -11.38 dB 2:32 12-Runaway (Live at The International Hotel, Las Vegas, NV-8-24-69 Dinner Show)
DR11 -0.03 dB -14.08 dB 2:49 13-Are You Lonesome Tonight? (Live at The International Hotel, Las Vegas, NV-8-24-69 Dinner Show)
DR8 -0.02 dB -11.31 dB 4:05 14-Medley: Yesterday - Hey Jude (Live at The International Hotel, Las Vegas, NV-8-24-69 Dinner Show)
DR17 -0.28 dB -21.29 dB 2:36 15-Introductions (Live at The International Hotel, Las Vegas, NV-8-24-69 Dinner Show)
DR10 -0.03 dB -12.60 dB 2:50 16-In the Ghetto (Live at The International Hotel, Las Vegas, NV-8-24-69 Dinner Show)
DR8 -0.01 dB -9.77 dB 6:23 17-Suspicious Minds (Live at The International Hotel, Las Vegas, NV-8-24-69 Dinner Show)
DR8 -0.01 dB -9.65 dB 3:46 18-What'd I Say (Live at The International Hotel, Las Vegas, NV-8-24-69 Dinner Show)
DR8 -0.02 dB -10.81 dB 2:07 19-Can't Help Falling In Love (Live at The International Hotel, Las Vegas, NV-8-24-69 Dinner Show)
––––––––––––––––––––––––––––––––––––––––

Number of tracks: 19
Official DR value: DR10

Samplerate: 96000 Hz
Channels: 2
Bits per sample: 24
Bitrate: 2897 kbps
Codec: FLAC
================================================================================
CD7
01. Blue Suede Shoes (Live at The International Hotel, Las Vegas, NV-8/24/69 Midnight Show)
02. I Got a Woman (Live at The International Hotel, Las Vegas, NV-8/24/69 Midnight Show)
03. All Shook Up (Live at The International Hotel, Las Vegas, NV-8/24/69 Midnight Show)
04. Love Me Tender (Live at The International Hotel, Las Vegas, NV-8/24/69 Midnight Show)
05. Medley: Jailhouse Rock / Don't Be Cruel (Live at The International Hotel, Las Vegas, NV-8/24/69 Midnight Show)
06. Heartbreak Hotel (Live at The International Hotel, Las Vegas, NV-8/24/69 Midnight Show)
07. Hound Dog (Live at The International Hotel, Las Vegas, NV-8/24/69 Midnight Show)
08. I Can't Stop Loving You (Live at The International Hotel, Las Vegas, NV-8/24/69 Midnight Show)
09. Johnny B. Goode (Live at The International Hotel, Las Vegas, NV-8/24/69 Midnight Show)
10. Monologue (Live at The International Hotel, Las Vegas, NV-8/24/69 Midnight Show)
11. Baby, What You Want Me to Do (Live at The International Hotel, Las Vegas, NV-8/24/69 Midnight Show)
12. Runaway (Live at The International Hotel, Las Vegas, NV-8/24/69 Midnight Show)
13. Are You Lonesome Tonight? (Live at The International Hotel, Las Vegas, NV-8/24/69 Midnight Show)
14. Words (Live at The International Hotel, Las Vegas, NV-8/24/69 Midnight Show)
15. Medley: Yesterday / Hey Jude (Live at The International Hotel, Las Vegas, NV-8/24/69 Midnight Show)
16. Introductions (Live at The International Hotel, Las Vegas, NV-8/24/69 Midnight Show)
17. In the Ghetto (Live at The International Hotel, Las Vegas, NV-8/24/69 Midnight Show)
18. Suspicious Minds (Live at The International Hotel, Las Vegas, NV-8/24/69 Midnight Show)
19. Can't Help Falling In Love (Live at The International Hotel, Las Vegas, NV-8/24/69 Midnight Show)
foobar2000 1.3.7 / Dynamic Range Meter 1.1.1
log date: 2019-08-31 02:07:56

––––––––––––––––––––––––––––––––––––––––
Analyzed: Elvis Presley / Live 1969
––––––––––––––––––––––––––––––––––––––––

DR Peak RMS Duration Track
––––––––––––––––––––––––––––––––––––––––
DR9 -0.01 dB -11.92 dB 2:53 01-Blue Suede Shoes (Live at The International Hotel, Las Vegas, NV-8-24-69 Midnight Show)
DR7 0.00 dB -9.47 dB 2:33 02-I Got a Woman (Live at The International Hotel, Las Vegas, NV-8-24-69 Midnight Show)
DR9 -0.02 dB -13.29 dB 3:17 03-All Shook Up (Live at The International Hotel, Las Vegas, NV-8-24-69 Midnight Show)
DR9 -0.02 dB -13.86 dB 3:05 04-Love Me Tender (Live at The International Hotel, Las Vegas, NV-8-24-69 Midnight Show)
DR9 -0.02 dB -10.30 dB 2:06 05-Medley: Jailhouse Rock - Don't Be Cruel (Live at The International Hotel, Las Vegas, NV-8-24-69 Midnight Show)
DR11 -0.03 dB -16.57 dB 4:04 06-Heartbreak Hotel (Live at The International Hotel, Las Vegas, NV-8-24-69 Midnight Show)
DR10 -0.03 dB -11.27 dB 1:35 07-Hound Dog (Live at The International Hotel, Las Vegas, NV-8-24-69 Midnight Show)
DR8 -0.02 dB -11.21 dB 2:37 08-I Can't Stop Loving You (Live at The International Hotel, Las Vegas, NV-8-24-69 Midnight Show)
DR9 -0.03 dB -10.41 dB 2:09 09-Johnny B. Goode (Live at The International Hotel, Las Vegas, NV-8-24-69 Midnight Show)
DR22 -0.03 dB -25.70 dB 8:47 10-Monologue (Live at The International Hotel, Las Vegas, NV-8-24-69 Midnight Show)
DR7 0.00 dB -8.61 dB 2:24 11-Baby, What You Want Me to Do (Live at The International Hotel, Las Vegas, NV-8-24-69 Midnight Show)
DR7 0.00 dB -9.31 dB 2:20 12-Runaway (Live at The International Hotel, Las Vegas, NV-8-24-69 Midnight Show)
DR9 -0.03 dB -13.30 dB 2:43 13-Are You Lonesome Tonight? (Live at The International Hotel, Las Vegas, NV-8-24-69 Midnight Show)
DR8 -0.02 dB -10.42 dB 2:36 14-Words (Live at The International Hotel, Las Vegas, NV-8-24-69 Midnight Show)
DR8 0.00 dB -10.05 dB 4:35 15-Medley: Yesterday - Hey Jude (Live at The International Hotel, Las Vegas, NV-8-24-69 Midnight Show)
DR19 -0.03 dB -23.65 dB 3:07 16-Introductions (Live at The International Hotel, Las Vegas, NV-8-24-69 Midnight Show)
DR7 -0.01 dB -10.65 dB 3:04 17-In the Ghetto (Live at The International Hotel, Las Vegas, NV-8-24-69 Midnight Show)
DR7 0.00 dB -8.83 dB 6:39 18-Suspicious Minds (Live at The International Hotel, Las Vegas, NV-8-24-69 Midnight Show)
DR7 0.00 dB -10.31 dB 2:08 19-Can't Help Falling In Love (Live at The International Hotel, Las Vegas, NV-8-24-69 Midnight Show)
––––––––––––––––––––––––––––––––––––––––

Number of tracks: 19
Official DR value: DR10

Samplerate: 96000 Hz
Channels: 2
Bits per sample: 24
Bitrate: 2987 kbps
Codec: FLAC
================================================================================
CD8
01. Blue Suede Shoes (Live at The International Hotel, Las Vegas, NV-8/25/69 Dinner Show)
02. I Got a Woman (Live at The International Hotel, Las Vegas, NV-8/25/69 Dinner Show)
03. All Shook Up (Live at The International Hotel, Las Vegas, NV-8/25/69 Dinner Show)
04. Love Me Tender (Live at The International Hotel, Las Vegas, NV-8/25/69 Dinner Show)
05. Medley: Jailhouse Rock / Don't Be Cruel (Live at The International Hotel, Las Vegas, NV-8/25/69 Dinner Show)
06. Heartbreak Hotel (Live at The International Hotel, Las Vegas, NV-8/25/69 Dinner Show)
07. Hound Dog (Live at The International Hotel, Las Vegas, NV-8/25/69 Dinner Show)
08. Memories (Live at The International Hotel, Las Vegas, NV-8/25/69 Dinner Show)
09. Medley: Mystery Train / Tiger Man (Live at The International Hotel, Las Vegas, NV-8/25/69 Dinner Show)
10. Monologue (Live at The International Hotel, Las Vegas, NV-8/25/69 Dinner Show)
11. Baby, What You Want Me to Do (Live at The International Hotel, Las Vegas, NV-8/25/69 Dinner Show)
12. Funny How Time Slips Away (Live at The International Hotel, Las Vegas, NV-8/25/69 Dinner Show)
13. Runaway (Live at The International Hotel, Las Vegas, NV-8/25/69 Dinner Show)
14. Words (Live at The International Hotel, Las Vegas, NV-8/25/69 Dinner Show)
15. Medley: Yesterday / Hey Jude (Live at The International Hotel, Las Vegas, NV-8/25/69 Dinner Show)
16. Introductions (Live at The International Hotel, Las Vegas, NV-8/25/69 Dinner Show)
17. In the Ghetto (Live at The International Hotel, Las Vegas, NV-8/25/69 Dinner Show)
18. Suspicious Minds (Live at The International Hotel, Las Vegas, NV-8/25/69 Dinner Show)
19. What'd I Say (Live at The International Hotel, Las Vegas, NV-8/25/69 Dinner Show)
20. Can't Help Falling In Love (Live at The International Hotel, Las Vegas, NV-8/25/69 Dinner Show)
foobar2000 1.3.7 / Dynamic Range Meter 1.1.1
log date: 2019-08-31 02:08:37

––––––––––––––––––––––––––––––––––––––––
Analyzed: Elvis Presley / Live 1969
––––––––––––––––––––––––––––––––––––––––

DR Peak RMS Duration Track
––––––––––––––––––––––––––––––––––––––––
DR9 -0.03 dB -12.04 dB 3:09 01-Blue Suede Shoes (Live at The International Hotel, Las Vegas, NV-8-25-69 Dinner Show)
DR8 0.00 dB -10.89 dB 2:56 02-I Got a Woman (Live at The International Hotel, Las Vegas, NV-8-25-69 Dinner Show)
DR10 -0.03 dB -13.89 dB 3:29 03-All Shook Up (Live at The International Hotel, Las Vegas, NV-8-25-69 Dinner Show)
DR9 0.00 dB -13.46 dB 3:53 04-Love Me Tender (Live at The International Hotel, Las Vegas, NV-8-25-69 Dinner Show)
DR9 -0.02 dB -10.23 dB 2:11 05-Medley: Jailhouse Rock - Don't Be Cruel (Live at The International Hotel, Las Vegas, NV-8-25-69 Dinner Show)
DR10 -0.02 dB -15.34 dB 4:21 06-Heartbreak Hotel (Live at The International Hotel, Las Vegas, NV-8-25-69 Dinner Show)
DR9 -0.03 dB -11.27 dB 1:39 07-Hound Dog (Live at The International Hotel, Las Vegas, NV-8-25-69 Dinner Show)
DR11 -0.03 dB -16.07 dB 3:51 08-Memories (Live at The International Hotel, Las Vegas, NV-8-25-69 Dinner Show)
DR11 -0.03 dB -12.29 dB 3:36 09-Medley: Mystery Train - Tiger Man (Live at The International Hotel, Las Vegas, NV-8-25-69 Dinner Show)
DR21 -0.03 dB -25.70 dB 11:18 10-Monologue (Live at The International Hotel, Las Vegas, NV-8-25-69 Dinner Show)
DR9 -0.02 dB -11.05 dB 1:57 11-Baby, What You Want Me to Do (Live at The International Hotel, Las Vegas, NV-8-25-69 Dinner Show)
DR10 -0.02 dB -12.51 dB 2:35 12-Funny How Time Slips Away (Live at The International Hotel, Las Vegas, NV-8-25-69 Dinner Show)
DR8 -0.02 dB -10.24 dB 2:44 13-Runaway (Live at The International Hotel, Las Vegas, NV-8-25-69 Dinner Show)
DR10 -0.03 dB -12.66 dB 2:42 14-Words (Live at The International Hotel, Las Vegas, NV-8-25-69 Dinner Show)
DR10 -0.03 dB -12.47 dB 4:21 15-Medley: Yesterday - Hey Jude (Live at The International Hotel, Las Vegas, NV-8-25-69 Dinner Show)
DR20 -1.04 dB -25.59 dB 3:04 16-Introductions (Live at The International Hotel, Las Vegas, NV-8-25-69 Dinner Show)
DR9 -0.03 dB -13.19 dB 2:56 17-In the Ghetto (Live at The International Hotel, Las Vegas, NV-8-25-69 Dinner Show)
DR8 0.00 dB -10.04 dB 6:58 18-Suspicious Minds (Live at The International Hotel, Las Vegas, NV-8-25-69 Dinner Show)
DR8 -0.02 dB -10.28 dB 2:21 19-What'd I Say (Live at The International Hotel, Las Vegas, NV-8-25-69 Dinner Show)
DR7 0.00 dB -10.73 dB 2:11 20-Can't Help Falling In Love (Live at The International Hotel, Las Vegas, NV-8-25-69 Dinner Show)
––––––––––––––––––––––––––––––––––––––––

Number of tracks: 20
Official DR value: DR10

Samplerate: 96000 Hz
Channels: 2
Bits per sample: 24
Bitrate: 2933 kbps
Codec: FLAC
================================================================================
CD9
01. Blue Suede Shoes (Live at The International Hotel, Las Vegas, NV-8/25/69 Midnight Show)
02. I Got a Woman (Live at The International Hotel, Las Vegas, NV-8/25/69 Midnight Show)
03. All Shook Up (Live at The International Hotel, Las Vegas, NV-8/25/69 Midnight Show)
04. Love Me Tender (Live at The International Hotel, Las Vegas, NV-8/25/69 Midnight Show)
05. Medley: Jailhouse Rock / Don't Be Cruel (Live at The International Hotel, Las Vegas, NV-8/25/69 Midnight Show)
06. Heartbreak Hotel (Live at The International Hotel, Las Vegas, NV-8/25/69 Midnight Show)
07. Hound Dog (Live at The International Hotel, Las Vegas, NV-8/25/69 Midnight Show)
08. I Can't Stop Loving You (Live at The International Hotel, Las Vegas, NV-8/25/69 Midnight Show)
09. My Babe (Live at The International Hotel, Las Vegas, NV-8/25/69 Midnight Show)
10. Medley: Mystery Train / Tiger Man (Live at The International Hotel, Las Vegas, NV-8/25/69 Midnight Show)
11. Monologue (Live at The International Hotel, Las Vegas, NV-8/25/69 Midnight Show)
12. Baby, What You Want Me to Do (Live at The International Hotel, Las Vegas, NV-8/25/69 Midnight Show)
13. Runaway (Live at The International Hotel, Las Vegas, NV-8/25/69 Midnight Show)
14. Are You Lonesome Tonight? (Live at The International Hotel, Las Vegas, NV-8/25/69 Midnight Show)
15. Words (Live at The International Hotel, Las Vegas, NV-8/25/69 Midnight Show)
16. Medley: Yesterday / Hey Jude (Live at The International Hotel, Las Vegas, NV-8/25/69 Midnight Show)
17. Introductions (Live at The International Hotel, Las Vegas, NV-8/25/69 Midnight Show)
18. In the Ghetto (Live at The International Hotel, Las Vegas, NV-8/25/69 Midnight Show)
19. Suspicious Minds (Live at The International Hotel, Las Vegas, NV-8/25/69 Midnight Show)
20. What'd I Say (Live at The International Hotel, Las Vegas, NV-8/25/69 Midnight Show)
21. Can't Help Falling In Love (Live at The International Hotel, Las Vegas, NV-8/25/69 Midnight Show)
foobar2000 1.3.7 / Dynamic Range Meter 1.1.1
log date: 2019-08-31 02:09:18

––––––––––––––––––––––––––––––––––––––––
Analyzed: Elvis Presley / Live 1969
––––––––––––––––––––––––––––––––––––––––

DR Peak RMS Duration Track
––––––––––––––––––––––––––––––––––––––––
DR9 -0.03 dB -10.60 dB 2:38 01-Blue Suede Shoes (Live at The International Hotel, Las Vegas, NV-8-25-69 Midnight Show)
DR9 -0.03 dB -11.29 dB 2:37 02-I Got a Woman (Live at The International Hotel, Las Vegas, NV-8-25-69 Midnight Show)
DR10 -0.03 dB -13.24 dB 3:08 03-All Shook Up (Live at The International Hotel, Las Vegas, NV-8-25-69 Midnight Show)
DR9 -0.03 dB -12.55 dB 3:05 04-Love Me Tender (Live at The International Hotel, Las Vegas, NV-8-25-69 Midnight Show)
DR9 -0.03 dB -10.40 dB 2:21 05-Medley: Jailhouse Rock - Don't Be Cruel (Live at The International Hotel, Las Vegas, NV-8-25-69 Midnight Show)
DR10 -0.03 dB -15.52 dB 4:45 06-Heartbreak Hotel (Live at The International Hotel, Las Vegas, NV-8-25-69 Midnight Show)
DR9 -0.03 dB -12.07 dB 2:29 07-Hound Dog (Live at The International Hotel, Las Vegas, NV-8-25-69 Midnight Show)
DR8 -0.03 dB -11.28 dB 2:35 08-I Can't Stop Loving You (Live at The International Hotel, Las Vegas, NV-8-25-69 Midnight Show)
DR10 -0.03 dB -12.90 dB 3:43 09-My Babe (Live at The International Hotel, Las Vegas, NV-8-25-69 Midnight Show)
DR9 -0.03 dB -10.56 dB 3:09 10-Medley: Mystery Train - Tiger Man (Live at The International Hotel, Las Vegas, NV-8-25-69 Midnight Show)
DR20 -0.42 dB -24.77 dB 8:09 11-Monologue (Live at The International Hotel, Las Vegas, NV-8-25-69 Midnight Show)
DR9 -0.03 dB -10.58 dB 1:57 12-Baby, What You Want Me to Do (Live at The International Hotel, Las Vegas, NV-8-25-69 Midnight Show)
DR9 -0.03 dB -10.51 dB 2:21 13-Runaway (Live at The International Hotel, Las Vegas, NV-8-25-69 Midnight Show)
DR11 -0.03 dB -14.38 dB 2:59 14-Are You Lonesome Tonight? (Live at The International Hotel, Las Vegas, NV-8-25-69 Midnight Show)
DR9 -0.03 dB -11.34 dB 2:40 15-Words (Live at The International Hotel, Las Vegas, NV-8-25-69 Midnight Show)
DR10 -0.03 dB -12.40 dB 5:58 16-Medley: Yesterday - Hey Jude (Live at The International Hotel, Las Vegas, NV-8-25-69 Midnight Show)
DR18 -1.26 dB -23.11 dB 4:44 17-Introductions (Live at The International Hotel, Las Vegas, NV-8-25-69 Midnight Show)
DR10 -0.03 dB -13.58 dB 2:49 18-In the Ghetto (Live at The International Hotel, Las Vegas, NV-8-25-69 Midnight Show)
DR9 -0.03 dB -10.72 dB 7:16 19-Suspicious Minds (Live at The International Hotel, Las Vegas, NV-8-25-69 Midnight Show)
DR10 -0.03 dB -11.27 dB 3:49 20-What'd I Say (Live at The International Hotel, Las Vegas, NV-8-25-69 Midnight Show)
DR9 -0.03 dB -11.90 dB 2:06 21-Can't Help Falling In Love (Live at The International Hotel, Las Vegas, NV-8-25-69 Midnight Show)
––––––––––––––––––––––––––––––––––––––––

Number of tracks: 21
Official DR value: DR10

Samplerate: 96000 Hz
Channels: 2
Bits per sample: 24
Bitrate: 2910 kbps
Codec: FLAC
================================================================================
CD10
01. Blue Suede Shoes (Live at The International Hotel, Las Vegas, NV-8/26/69 Dinner Show)
02. I Got a Woman (Live at The International Hotel, Las Vegas, NV-8/26/69 Dinner Show)
03. All Shook Up (Live at The International Hotel, Las Vegas, NV-8/26/69 Dinner Show)
04. Love Me Tender (Live at The International Hotel, Las Vegas, NV-8/26/69 Dinner Show)
05. Medley: Jailhouse Rock / Don't Be Cruel (Live at The International Hotel, Las Vegas, NV-8/26/69 Dinner Show)
06. Heartbreak Hotel (Live at The International Hotel, Las Vegas, NV-8/26/69 Dinner Show)
07. Hound Dog (Live at The International Hotel, Las Vegas, NV-8/26/69 Dinner Show)
08. Memories (Live at The International Hotel, Las Vegas, NV-8/26/69 Dinner Show)
09. My Babe (Live at The International Hotel, Las Vegas, NV-8/26/69 Dinner Show)
10. Medley: Mystery Train / Tiger Man (Live at The International Hotel, Las Vegas, NV-8/26/69 Dinner Show)
11. Monologue (Live at The International Hotel, Las Vegas, NV-8/26/69 Dinner Show)
12. Baby, What You Want Me to Do (Live at The International Hotel, Las Vegas, NV-8/26/69 Dinner Show)
13. Runaway (Live at The International Hotel, Las Vegas, NV-8/26/69 Dinner Show)
14. Inherit the Wind (Live at The International Hotel, Las Vegas, NV-8/26/69 Dinner Show)
15. Medley: Yesterday / Hey Jude (Live at The International Hotel, Las Vegas, NV-8/26/69 Dinner Show)
16. Introductions (Live at The International Hotel, Las Vegas, NV-8/26/69 Dinner Show)
17. In the Ghetto (Live at The International Hotel, Las Vegas, NV-8/26/69 Dinner Show)
18. Suspicious Minds (Live at The International Hotel, Las Vegas, NV-8/26/69 Dinner Show)
19. Can't Help Falling In Love (Live at The International Hotel, Las Vegas, NV-8/26/69 Dinner Show)
foobar2000 1.3.7 / Dynamic Range Meter 1.1.1
log date: 2019-08-31 02:09:59

––––––––––––––––––––––––––––––––––––––––
Analyzed: Elvis Presley / Live 1969
––––––––––––––––––––––––––––––––––––––––

DR Peak RMS Duration Track
––––––––––––––––––––––––––––––––––––––––
DR8 -0.02 dB -10.94 dB 3:03 01-Blue Suede Shoes (Live at The International Hotel, Las Vegas, NV-8-26-69 Dinner Show)
DR8 -0.02 dB -11.16 dB 2:43 02-I Got a Woman (Live at The International Hotel, Las Vegas, NV-8-26-69 Dinner Show)
DR10 -0.03 dB -14.55 dB 3:49 03-All Shook Up (Live at The International Hotel, Las Vegas, NV-8-26-69 Dinner Show)
DR9 -0.03 dB -12.84 dB 3:04 04-Love Me Tender (Live at The International Hotel, Las Vegas, NV-8-26-69 Dinner Show)
DR9 -0.03 dB -10.23 dB 2:23 05-Medley: Jailhouse Rock - Don't Be Cruel (Live at The International Hotel, Las Vegas, NV-8-26-69 Dinner Show)
DR10 -0.03 dB -15.67 dB 4:55 06-Heartbreak Hotel (Live at The International Hotel, Las Vegas, NV-8-26-69 Dinner Show)
DR9 -0.03 dB -10.51 dB 1:35 07-Hound Dog (Live at The International Hotel, Las Vegas, NV-8-26-69 Dinner Show)
DR9 -0.02 dB -11.67 dB 2:41 08-Memories (Live at The International Hotel, Las Vegas, NV-8-26-69 Dinner Show)
DR10 -0.03 dB -13.01 dB 4:22 09-My Babe (Live at The International Hotel, Las Vegas, NV-8-26-69 Dinner Show)
DR9 -0.03 dB -11.40 dB 3:39 10-Medley: Mystery Train - Tiger Man (Live at The International Hotel, Las Vegas, NV-8-26-69 Dinner Show)
DR21 -0.03 dB -26.28 dB 8:38 11-Monologue (Live at The International Hotel, Las Vegas, NV-8-26-69 Dinner Show)
DR9 -0.02 dB -12.25 dB 3:29 12-Baby, What You Want Me to Do (Live at The International Hotel, Las Vegas, NV-8-26-69 Dinner Show)
DR8 -0.03 dB -10.78 dB 2:58 13-Runaway (Live at The International Hotel, Las Vegas, NV-8-26-69 Dinner Show)
DR9 -0.03 dB -11.73 dB 3:06 14-Inherit the Wind (Live at The International Hotel, Las Vegas, NV-8-26-69 Dinner Show)
DR8 0.00 dB -10.63 dB 5:02 15-Medley: Yesterday - Hey Jude (Live at The International Hotel, Las Vegas, NV-8-26-69 Dinner Show)
DR18 -0.03 dB -22.13 dB 4:08 16-Introductions (Live at The International Hotel, Las Vegas, NV-8-26-69 Dinner Show)
DR9 -0.03 dB -13.52 dB 3:57 17-In the Ghetto (Live at The International Hotel, Las Vegas, NV-8-26-69 Dinner Show)
DR7 -0.01 dB -9.38 dB 7:48 18-Suspicious Minds (Live at The International Hotel, Las Vegas, NV-8-26-69 Dinner Show)
DR7 -0.01 dB -9.95 dB 2:10 19-Can't Help Falling In Love (Live at The International Hotel, Las Vegas, NV-8-26-69 Dinner Show)
––––––––––––––––––––––––––––––––––––––––

Number of tracks: 19
Official DR value: DR10

Samplerate: 96000 Hz
Channels: 2
Bits per sample: 24
Bitrate: 2967 kbps
Codec: FLAC
================================================================================
CD11
01. Blue Suede Shoes (Live at The International Hotel, Las Vegas, NV-8/26/69 Midnight Show)
02. I Got a Woman (Live at The International Hotel, Las Vegas, NV-8/26/69 Midnight Show)
03. All Shook Up (Live at The International Hotel, Las Vegas, NV-8/26/69 Midnight Show)
04. Love Me Tender (Live at The International Hotel, Las Vegas, NV-8/26/69 Midnight Show)
05. Medley: Jailhouse Rock / Don't Be Cruel (Live at The International Hotel, Las Vegas, NV-8/26/69 Midnight Show)
06. Heartbreak Hotel (Live at The International Hotel, Las Vegas, NV-8/26/69 Midnight Show)
07. Hound Dog (Live at The International Hotel, Las Vegas, NV-8/26/69 Midnight Show)
08. I Can't Stop Loving You (Live at The International Hotel, Las Vegas, NV-8/26/69 Midnight Show)
09. Medley: Mystery Train / Tiger Man (Live at The International Hotel, Las Vegas, NV-8/26/69 Midnight Show)
10. Monologue (Live at The International Hotel, Las Vegas, NV-8/26/69 Midnight Show)
11. Baby, What You Want Me to Do (Live at The International Hotel, Las Vegas, NV-8/26/69 Midnight Show)
12. Runaway (Live at The International Hotel, Las Vegas, NV-8/26/69 Midnight Show)
13. Are You Lonesome Tonight? (Laughing Version) (Live at The International Hotel, Las Vegas, NV-8/26/69 Midnight Show)
14. Rubberneckin' (Live at The International Hotel, Las Vegas, NV-8/26/69 Midnight Show)
15. Medley: Yesterday / Hey Jude (Live at The International Hotel, Las Vegas, NV-8/26/69 Midnight Show)
16. Introductions (Live at The International Hotel, Las Vegas, NV-8/26/69 Midnight Show)
17. In the Ghetto (Live at The International Hotel, Las Vegas, NV-8/26/69 Midnight Show)
18. This Is the Story (Live at The International Hotel, Las Vegas, NV-8/26/69 Midnight Show)
19. Suspicious Minds (Live at The International Hotel, Las Vegas, NV-8/26/69 Midnight Show)
20. Can't Help Falling In Love (Live at The International Hotel, Las Vegas, NV-8/26/69 Midnight Show)
foobar2000 1.3.7 / Dynamic Range Meter 1.1.1
log date: 2019-08-31 02:10:40

––––––––––––––––––––––––––––––––––––––––
Analyzed: Elvis Presley / Live 1969
––––––––––––––––––––––––––––––––––––––––

DR Peak RMS Duration Track
––––––––––––––––––––––––––––––––––––––––
DR8 -0.02 dB -10.63 dB 3:02 01-Blue Suede Shoes (Live at The International Hotel, Las Vegas, NV-8-26-69 Midnight Show)
DR7 -0.02 dB -10.38 dB 2:46 02-I Got a Woman (Live at The International Hotel, Las Vegas, NV-8-26-69 Midnight Show)
DR9 -0.02 dB -13.60 dB 3:33 03-All Shook Up (Live at The International Hotel, Las Vegas, NV-8-26-69 Midnight Show)
DR8 -0.03 dB -12.39 dB 3:20 04-Love Me Tender (Live at The International Hotel, Las Vegas, NV-8-26-69 Midnight Show)
DR8 -0.02 dB -10.02 dB 2:22 05-Medley: Jailhouse Rock - Don't Be Cruel (Live at The International Hotel, Las Vegas, NV-8-26-69 Midnight Show)
DR12 -0.03 dB -16.26 dB 4:22 06-Heartbreak Hotel (Live at The International Hotel, Las Vegas, NV-8-26-69 Midnight Show)
DR10 -0.02 dB -11.18 dB 1:45 07-Hound Dog (Live at The International Hotel, Las Vegas, NV-8-26-69 Midnight Show)
DR8 -0.03 dB -11.85 dB 3:31 08-I Can't Stop Loving You (Live at The International Hotel, Las Vegas, NV-8-26-69 Midnight Show)
DR9 -0.02 dB -11.46 dB 3:31 09-Medley: Mystery Train - Tiger Man (Live at The International Hotel, Las Vegas, NV-8-26-69 Midnight Show)
DR16 -0.03 dB -19.92 dB 10:46 10-Monologue (Live at The International Hotel, Las Vegas, NV-8-26-69 Midnight Show)
DR10 -0.03 dB -11.42 dB 2:25 11-Baby, What You Want Me to Do (Live at The International Hotel, Las Vegas, NV-8-26-69 Midnight Show)
DR8 -0.01 dB -10.78 dB 2:58 12-Runaway (Live at The International Hotel, Las Vegas, NV-8-26-69 Midnight Show)
DR11 -0.03 dB -14.27 dB 3:06 13-Are You Lonesome Tonight? (Laughing Version) (Live at The International Hotel, Las Vegas, NV-8-26-69 Midnight Show)
DR8 0.00 dB -10.05 dB 3:43 14-Rubberneckin' (Live at The International Hotel, Las Vegas, NV-8-26-69 Midnight Show)
DR9 -0.03 dB -11.35 dB 4:45 15-Medley: Yesterday - Hey Jude (Live at The International Hotel, Las Vegas, NV-8-26-69 Midnight Show)
DR18 -0.05 dB -22.91 dB 3:39 16-Introductions (Live at The International Hotel, Las Vegas, NV-8-26-69 Midnight Show)
DR10 -0.03 dB -13.78 dB 3:08 17-In the Ghetto (Live at The International Hotel, Las Vegas, NV-8-26-69 Midnight Show)
DR9 -0.03 dB -12.34 dB 2:42 18-This Is the Story (Live at The International Hotel, Las Vegas, NV-8-26-69 Midnight Show)
DR9 -0.02 dB -10.84 dB 7:28 19-Suspicious Minds (Live at The International Hotel, Las Vegas, NV-8-26-69 Midnight Show)
DR8 -0.02 dB -10.43 dB 2:04 20-Can't Help Falling In Love (Live at The International Hotel, Las Vegas, NV-8-26-69 Midnight Show)
––––––––––––––––––––––––––––––––––––––––

Number of tracks: 20
Official DR value: DR10

Samplerate: 96000 Hz
Channels: 2
Bits per sample: 24
Bitrate: 2949 kbps
Codec: FLAC
================================================================================
All thanks go to the original releaser