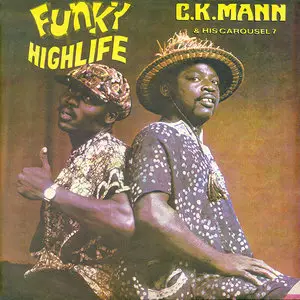 C.K. Mann & his Carousel 7 – Funky Highlife (1975)
XLD Flac 24Bit/96kHz = 616 MB | Apple Lossless 24Bit/96kHz = 615 MB | Mp3 VBR0 16Bit/48kHz = 74 MB | Scans 400 dpi jpg | RAR
Vinyl LP | Essiebons EBLS 6131 SX | Highlife | Nigeria
Review from RateYourMusic:
Hang on to your shorts, because, if you're reading this, you have just found a monster. So often you scour the world's music looking for new sounds, and, in so doing, you come across a lot of clunkers and a handful of great albums, but that rare pearl usually eludes you. Not this time, my friend.
The A side is a 14:10 minute medley that should be, if it is not already, a staple in the arsenal of any DJ of West African or world sounds. This gem just keeps going and going behind a monster groove of guitars, organ and percussion. But what sets this apart is the flute that weaves its way in and out. It will seriously make you wish that the instrument showed up much more often in African music.
The flip is another medley that fills the side and cools the pace considerably. The baseboards may not be bouncing on this track but it's got a deft variety and comes up with a nice blend of jazzy big band (a clarinet even makes a showing) and highlife. Per the liner notes, Ebo Taylor handles the arranging of the B side.
A side - 11 stars
B side - 4 stars

Update - April 15, 2013
My original review was of the original vinyl pressing from Ghana on the Essiebons label. Since that time, the excellent people at Mr. Bongo have reissued "Funky Highlife" on both vinyl and CD. I was curious to hear these Bongo releases partly to have a superclean copy of the vinyl, partly to have the bonus tracks that the CD offers and partly because I had heard that there was an alternate version of the monster first track "Asufo Beesuon" than the "flute mix" that was on my copy.
Well, the Bongos have arrived and so have the answers. There are, in fact, two different versions of "Asufo Beesuon". My Ghana copy has a flute weaving in and out, while the Bongo copies have no flute, utilizing a guitar in those passages instead. While the guitar version is still a big, big track and will definitely not disappoint, I have to say that I much prefer the flute version. (I have heard that there are original Ghana copies that also have the guitar version, but I've never actually had one on my turntable so I can't verify that.) In any event, the different mix on that track would put my rating of the Bongo vinyl at 4 stars.
Now for the Bongo CD. The good news is that you get a lot more music - 8 songs that were not on the original LP. The not-so-good news is that the material is not up to the snuff of the original LP and makes for a more watered-down and lengthy listen if you take the disc all at one sitting. Because of this, I would rate the Bongo CD at 3.5 stars.
I was curious as to where these other tracks were sourced from, so I flipped through five other LPs from C.K. Mann in my stash. Six of the tracks I could not find, but two ("Araba Lucy" and "Medzi Makoma Ma Wo") were sourced from the album "With Love …" by C.K. Mann & His Carousel 7.
Tracks
1. Medley: Asafo Beesuon · Obaa Yaa Aye Me Bone · Kolomashie · Dofo Bi Akyerew Me · Ankwasema Dede · Okwan Tsentsen Awar · Aboa Akonkoran 13:26
2. Highlife Medley: Beebi A Odo Wo · Tsie M'Afotusem · Ebusua Ape Adze Aye Me · Yebeyi Wo Aye (Ebibrim Blues) · Do Me Ma Mondo Wo Bi 15:22
Total time: 28:48
Musicians
Kofi 'Papa' Yankson: vocals
Afedzi: vocals
Uncredited: all instruments
Ebo Taylor: arrangements
Record Player: Dual CS 5000 – electronically controlled belt drive
Pickup: Ortofon OMB 20 ellipsoid diamond
Pre-/Amplifier: Kenwood KR 5030
A-D converter: MacPro onboard
Sound editing: Adobe Audition