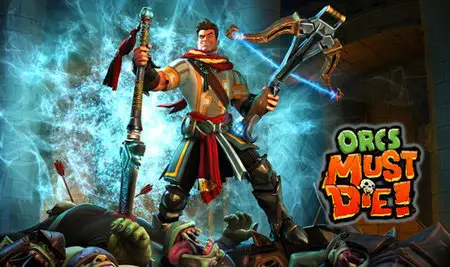 Orcs Must Die! Update v1.0r11 + DLC
PC Game | Developer: Robot Entertainment | Publisher: Microsoft Game Studios | Release: October 2011 | 190 Mb
Languages: English, French, Italian, German, Spanish, Japanese, Polish, Russian, Portuguese | +4 DLC's | +Update Orcs Must Die! v1.0r11
Genre: Real-Time, Strategy
Slice them, burn them, skewer them, and launch them - no matter how you get it done, orcs must die in this fantasy action-strategy game from Robot Entertainment. As a powerful War Mage with dozens of deadly weapons, spells, and traps at your fingertips, defend twenty-four fortresses from a rampaging mob of beastly enemies, including ogres, hellbats, and of course, a whole bunch of ugly orcs. Battle your enemies through a story-based campaign across multiple difficulty levels, including brutal Nightmare mode! Will you roast orcs in pits of lava, pound them flat with a ceiling trap, or freeze and shatter them with a slash? No matter the weapons and traps you choose, you're sure to have an orc-killing blast!
Include DLCs:
•
Knight of the Order costume
•
Orc Slayer costume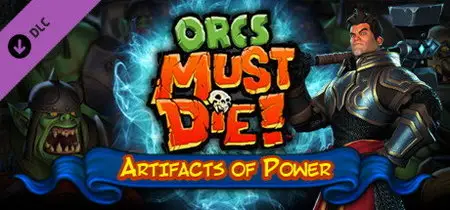 •
Artifacts of Power
: Expand your Orcs Must Die! arsenal with two new weapons and two new traps. With the Artifacts of Power in your spellbook, you'll be demolishing levels, beating your friends on the leaderboards, and most importantly, killing a bunch of orcs deader than dead. Only the best tools for the last surviving War Mage!
- New upgrades: Spend skulls on new upgrades for Shock Zapper and Floor Scorcher.
- Alchemist's Satchel: Drop a series deadly acid bombs and skeletonize multiple groups of Orcs at once.
- Shock Zapper: Zap fliers and ground units equally dead with this oversized pest remover.
- Vampiric Gauntlets: Drain the enemy's health while healing you at the same time.
- Floor Scorcher: Burn entire waves of complacent enemies with this pop-up flaming surprise.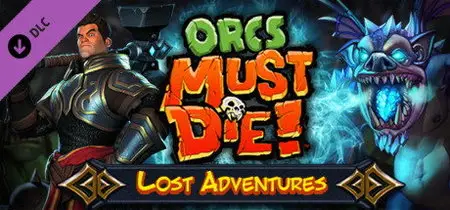 •
Lost Adventures
: Think you've killed enough orcs? Think again! Return to the dead world beyond the rifts and conquer a new series of challenging fortresses under siege by the orc mob. In Orcs Must Die! – Lost Adventures you'll travel from the depths of the Pit to the narrow passages high over the Great Gorge. The Lost Adventures are five of the most deadly rift assaults the War Mage has ever faced!
- Five new levels: Test your orc-slaughtering skills in a challenging series of fortresses!
- Two new enemies: Fear the icy breath of the Frost Bat, and beware the draining magical attack of the Cyclops Mage!
- New leaderboards: Challenge your friends for the highest score on leaderboards for the five new levels.
- New skull rewards: Earn up to fifty additional skulls to further upgrade your arsenal of traps!
- New bonus trap!: Place the Mana Well in strategic locations around a fortress for a burst of magical energy at just the right moment.
Update Orcs Must Die! v1.0r11
- Added minimum processor check warning dialog on startup. The game will still run, but we'll let you know on install if you might be encountering problems because of your machine being below spec.
- Added keyboard locale override from user.cfg - read below for user.cfg details
- Added full-screen window mode support in user.cfg - read below for user.cfg details
- Fixed a bug for posting to leaderboards
- Fixed a bug for posting to total orc count
- Fixed a bug on the button not going to the nightmare leaderboards
- Fixed a startup issue on machines with multiple video cards. This should help many people with the "Failed to Initialize" issues.
- Added a user.cfg option to limit your frame rate "forceFPS=X" where X is what you do not want it to run faster than (for example: forceFPS=30).
- Added custom keybinding using user.cfg
- Fix for the Tenderized achievement.
- Fix for the fireball achievement.
- Switch to a hardware cursor to help people with slower machines.
- Fixed up the cursor acceleration option slider to make it more useable.
- Fixed up pathing near the doors on Twin Halls.
- Fixed the bug where you could have both costumes on at the same time.
- Fixed an issue where some levels, like Gatway, would crash the game.
- Fixed the text for the costume weapons if you had a particular weaver set selected
- Fixed "Oiled Gears" Weaver Upgrade
- Fixed a bug in upgraded Swinging Mace. It wasn't doing what it was supposed to. It is now.
- Several data file updates. Mostly behind the scenes stuff. Nothing much to see here.
- Fixed a bug in the Keyboard Binding updates. Now a single key will open/close the spellbook.
Please DO NOT MIRROR

&g... Blog Here <<<
If you'll find that my links are dead please let me know through the Private Messages.