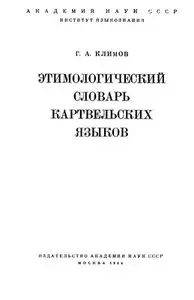 Георгий Андреевич Климов "Этимологический словарь картвельских языков"
with "English index to Etymological Dictionary of the Kartvelian Languages" Prepared by Allan R. Bomhard
Изд-во Академии наук СССР | 1964 | ISBN: n/a | 347 pages | PDF | 32 MB
Основная задача словари состоит в возможно более нолном выявлении общекартвельского и грузинско-занского материального (лексического и морфемного) фонда. Словарь имеет и самостоятельное значение для разработки сравнительно-исторической грамматики картвельских языков.
Картвельская, или иберийская, группа языков представлена тремя языками Закавказья: грузинским, обладающим богатой литературной традицией, и бесписьменными: занским (или мегрельско-чанским) и сванским.
Большое число формально-функциональных соответствий, наблюдаемых между этими языками, позволяет считать их выводить из гипотетически постулируемого общекартвельского языка-основы.
Словарь может служить основой для обсуждения проблем так называемой иберийско-кавказской гипотезы, предполагающей наличио генетического родства между тремя группировками автохтонных языков Кавказа: картвельской, абхазско-адыгской и нахско-дагестанской.
Содержание
Сведение
Словарь
Сокращения названий яаыков и диалектов
Сокращения названий литературы на русском, грузинском и армянском нязыках
Сокращения названий литературы на европейских языках
Указатели основ
Семантический указатель
"English index to Etymological Dictionary of the Kartvelian Languages" Prepared by Allan R. Bomhard
1st with TOC BookMarkLinks