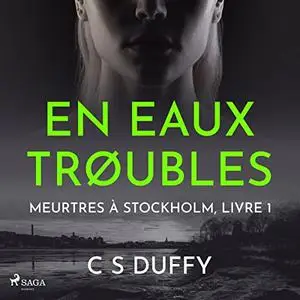 C.S. Duffy, "Meurtres à Stockholm, tome 1 : En eaux trøubles"
2022 | ASIN: B09XXNBMQ7 | Français | MP3@64 kbps | 5 hrs 56 mins | 119.3 MB
Une nouvelle vie parfaite à Stockholm. Un homme parfait. Un cadavre sur la plage…

Ellie James, une jeune journaliste d'investigation, abandonne sa vie à Londres pour s'installer en Suède avec l'homme de ses rêves lorsqu'elle tombe sur les restes d'un squelette en décomposition en pleine fête du Midsommar.

Elle se lance alors dans une véritable enquête dans un pays dont elle ne parle pas la langue et où elle ne connaît personne. Sauf Johan. L'amour de sa vie. Celui qu'elle commence à soupçonner d'en savoir beaucoup plus sur le cadavre qu'il ne l'admet. Est-il l'homme parfait ou Ellie a-t-elle découvert le crime parfait ?

CS Duffy a écrit des scénarios pour le cinéma et la télévision pendant plus de dix ans et a un jour tout quitté pour aller enseigner en maternelle. Pendant les siestes des enfants, elle a écrit Life is Swede, un thriller sous forme de blog et, deux ans plus tard, sa série à succès Glasgow Kiss, qui fut sélectionnée pour Crime in the Spotlight au festival Bloody Scotland en 2018. En plus de ses propres livres, son thriller surnaturel The Stranger est actuellement diffusé sur Storytel et elle a plusieurs projets de films en cours de développement au Royaume-Uni et en Suède. Après avoir émigré en Suède sur un coup de tête, elle vit maintenant entre Glasgow et Stockholm et a eu l'idée de son premier thriller policier alors qu'elle travaillait dans une raffinerie de pétrole dans l'Ohio.