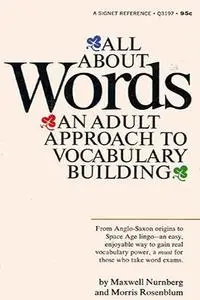 All About Words: An Adult Approach to Vocabulary Building by Maxwell Nurnberg
English | 1968 | ISBN: 0130223018 | 418 Pages | PDF | 14.1 MB
Two language experts, map your way to greater vocabulary power via history, folklore, and anecdote, as they tell all about words–how they began, how they developed, and exactly what they mean. Here's an exhilarating, easy way to learn a word…and never forget it! With games, puzzles, exercises, and whole battery of challenging tests.