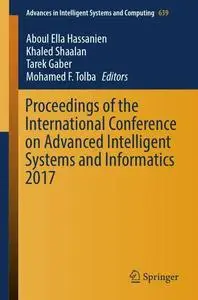 Proceedings of the International Conference on Advanced Intelligent Systems and Informatics 2017 By Aboul Ella Hassanien, Khaled Shaalan, Tarek Gaber, Mohamed F. Tolba

English | PDF | 2018 | 932 Pages | ISBN : 3319648608 | 137.8 MB
This book gathers the proceedings of the 3rd International Conference on Advanced Intelligent Systems and Informatics 2017 (AISI2017), which took place in Cairo, Egypt from September 9 to 11, 2017.
This international and interdisciplinary conference, which highlighted essential research and developments in the field of informatics and intelligent systems, was organized by the Scientific Research Group in Egypt (SRGE).
The book's content is divided into five main sections: Intelligent Language Processing, Intelligent Systems, Intelligent Robotics Systems, Informatics, and the Internet of Things.