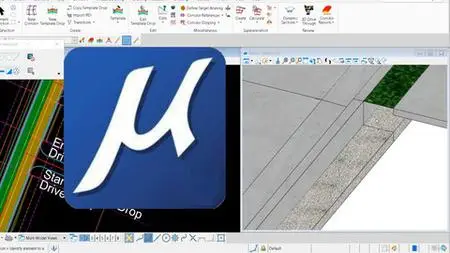 Intermediate OpenRoads - civil works desgin (Level 2)
Genre: eLearning | MP4 | Video: h264, 1280x720 | Audio: AAC, 44.1 KHz
Language: English | Size: 2.11 GB | Duration: 47 lectures • 2h 53m
Use CONNECT Edition - OpenRoads tool to Microstation civil design
What you'll learn
Open Roads dsign
Terrain models
vertical alignments
horizontal alignments
Requirements
No recquirements
Description
In this course we are going to go through different tools of Bentley Open Roads Designer Connect Edition. This is a software version which combines the legacy star products of Bentley for infraworks: InRoads, GEOPAK and MX.
For this course, we will start with an introduction, over view, keyboard shortcuts and user interface / navigation in Bentley Open Roads Designer Connect Edition. We will learn the difference between Bentley Open Roads and other similar software. We will try to go through few basics to get started.
We will try to cover up horizontal and vertical geometries creation, modification and analyzation concepts, followed by five practice exercises that will include creation of offset geometries, Cul da Sec, End Tapers, Drive Way and Curb Returns.
After horizontal and vertical geometries, we will cover Terrains or Surfaces. We will learn creation of terrains using different methods like creation through ASCII Files, Corridors, Point Cloud Data (. POD Files) and elements etc. After creation, multiple aspects of terrains will be discussed like their modification, editing and analyzation.
Similar to Terrains, different aspects of corridors will be discussed in the later session. It will include the processes involved in creation, edition and modification of corridors and templates for corridors. Finally, there will be a practice exercise that will conclude the Module of Bentley Open Roads course.
Please be noted that there is no hard and fast rule to execute a specific command as there are multiple approaches to create similar output, however, we will try to follow the simplest approach possible to make this course easy and fun to learn for you.
#AulaGEO
Course content
INTRODUCTION
Street Map and Arial View Sync.
Manual attachment of Arial Image
Getting Started for Geometry
TERRAIN MODELING
Terrain Creation from Ascii File
Terrain Creation from Corridor
Terrain Creation from Point Cloud Data
Terrain Creation from Elements
Read existing Terrain
Terrain Features
Editing Major and Minor Contours
Reference Terrain to 2D File
Editing Reference Terrain
Use of Element Templates
Label Terrain Contours
Label Terrain Spot
Analyze Points
Display Styles
Edge Methods
Edit Model
Geographic Coordinate System
HORIZONTAL AND VERTICAL GEOMETRY
Basics of Horizontal Geometry
Creating Horizontal Geometry
Reviewing Horizontal Geometry
Finishing Horizontal Geomtery
Editing Geometry using Table Editor
Adding lines and curves to Horizontal Geometry
Profile Model for Vertical Geometry
Creating Vertical Geometry
Making Complex Vertical Geometry from Elements
Editing Vertical Geometry
Practice Exercise 1 (Offset Geometries)
Practice Exercise 2 (Cul da sec)
Practice Exercise 3 (End Tapers)
Practice Exercise 4 (Drive Way)
Practice Exercise 5 (Curb Returns)
WORKING CORRIDORS
Basic Corridor Creation
Reviewing Cross Section Views
Parametric Constraint to Edit Corridor
Modify Parametric Constraint Edits Using Corridor Object
Creating and Calculating Super Elevation Section
Review Super Elevation Model
Generating Super Elevation Report
Creating Custom Corridor Templates
Clipping Corridors
Practice Exercise (Final Project)
Who this course is for
Civil engineers
CAD designers
surveyors
civil works designers