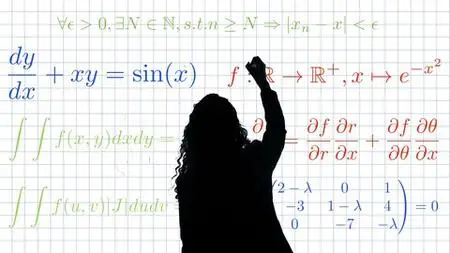 Bridging the Gap to Maths at University
Video: .mp4 (1280x720, 30 fps(r)) | Audio: aac, 48000 Hz, 2ch | Size: 4.92 GB
Genre: eLearning Video | Duration: 24 lectures (7 hour, 34 mins) | Language: English
Prepare yourself for University Level Maths with our concise course, including companion worksheets for each video!
What you'll learn
University Mathematics Preparation
Advanced Calculus
Structure and Methods of Proof
Linear Algebra
Analysis and Groups
Miscellaneous University Level Topics
Requirements
A-Level, or IB, or AP Calc 1&2, or equivalent
Familiarity with advanced Algebra, basic Calculus (single variable differentiation and integration), Vectors and Matrices, Complex Numbers
Description
This course introduces many of the topics that you'll encounter at university. As graduates of the University of Cambridge, we know the topics and content we wished we'd seen before starting first-year lectures. Taking this course will put you in a stronger position to stay ahead of fast-paced university life.
You'll get access to all of the videos from the course, along with accompanying worksheets for each video. This will allow you to absorb the content, before putting what you've learnt into practice.
By the end of this course, you will have:
Excellent preparation for tackling first-year university mathematics lectures and problems
Basic knowledge in several different fields of mathematics, so that you're ready to conduct further independent research
Understanding of how your pre-university knowledge flows into the structure of university mathematics
You may have noticed that our course structure does not list the exact topics that we'll be covering in this course. This is intentional, since one of our key selling points is that we're giving you a concise presentation of the content we wished we'd known before entering university (instead we've given each lecture a 'code'). This will also help you to understand what areas of university-level mathematics you prefer. This is especially important, since you may have pre-conceptions about preferring pure over applied, or vice-versa. Our course will demonstrate that it's extremely possible that your interests change while studying mathematics. Watch our 'Pure vs Applied' video for more detail, but the key point is that the 'pure' of pre-university mathematics becomes the applied of university mathematics. Pure maths at university is even purer still - you'll spend hours, days, weeks showing that the mathematics you've learnt so far has a rigorous foundation. Applied maths takes the techniques that you've learnt (such as Calculus), extends them significantly, and then applies them to various contexts.
We should be under no illusion that this is the entirety of your university experience, packaged into a small number of lectures. As such, this course should be treated as a stepping stone to further preparation, researching into specific topics that you've enjoyed in this course, or areas you think you may be slightly weaker on.
So, join us on this journey, as we bridge the gap to university maths together!
Who this course is for:
Students looking to attend/have a place at University for Maths
Students who want to get a taster of University-Level Maths, before deciding on their subject
Current University students who need a refresher on the basics
Those with a casual interest in Mathematics, whom want to see a broad range of topics