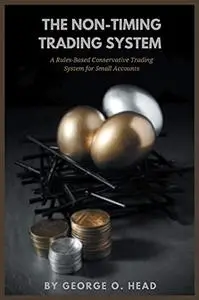 The Non-Timing Trading System by George O. Head
English | February 3, 2021 | ISBN: 1637420048 | 150 pages | PDF | 1.27 Mb
The Non-Timing Trading System is a conservative process for investing in the stock market. This book is perfect for the investors that are dissatisfied with low interest rates and want decent returns on their investment without high risk. The book will teach you a low risk strategy that will give you consistent average yearly returns of between 20 and 30 percent and beat the S&P 500 year after year. The system is based on a mathematical model which is designed to protect your capital even in a market with high volatility while giving you high returns. The author clearly demonstrates that you don't have to time the market and pick the right stock. The market will tell you what it is doing. There are always corrections in the market, even severe ones. The book describes in detail how it handles downturns and how it gets you out of the market before corrections become severe. The author does not just show you a strategy and then leave you hanging. There is a tutorial with five years of trading using the system which covers every possible scenario so that you are never left wondering what to do. This book contains useful and practical information on most of the major stock and option strategies and clearly demonstrates their real risks. Protection of your capital is its highest priority. The investor that is looking for high returns should not have to settle for high risk.
Feel Free to contact me for book requests, informations or feedbacks.
Without You And Your Support We Can't Continue
Thanks For Buying Premium From My Links For Support