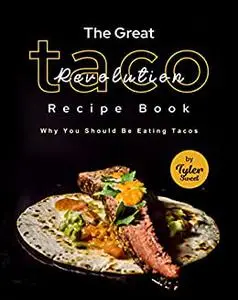 The Great Taco Revolution Recipe Book: Why You Should Be Eating Tacos by Tyler Sweet
English | 2022 | ISBN: N/A | ASIN: B0B11YKNC4 | 81 pages | EPUB | 3.81 Mb
Everyone loves tacos, but we try to restrict them because they are frequently considered junk food. The truth is, homemade tacos are exceedingly healthy.
The tacos in this Great Taco Revolution Recipe Book are made with nourishing seafood, lean meats, or only vegetarian ingredients, most of which are loaded with vegetables. All have some form of vegetable, lettuce, and/or tomatoes as a topping, along with super healthy avocadoes or guacamole. What's not to like and enjoy?
Many of the recipes contain some form of mayonnaise or sour cream, and there is no reason not to use a fat-free version.
In addition, tacos are inexpensive to prepare. And any leftover fillings can become a part of the next day's taco salad lunch. There has never been a better time for everyone to enjoy delicious homemade tacos.
Feel Free to contact me for book requests, informations or feedbacks.
Without You And Your Support We Can't Continue
Thanks For Buying Premium From My Links For Support