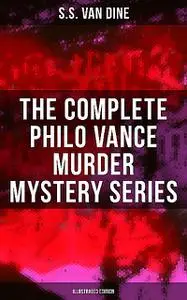 «The Complete Philo Vance Murder Mystery Series (Illustrated Edition)» by S.S.Van Dine
English | EPUB | 5.2 MB
Philo Vance is a stylish, even foppish dandy, a New York dilettante and bon vivant possessing a highly intellectual bent he likes to use for solving some quite complicated crimes. His methods are unusual and often in contradiction to the firm police rules and official requirements, but his wit always gets him a step further. Philo Vance novels were chronicled by his friend Van Dine, who appears as a kind of Dr. Watson figure in the books.
Table of Contents:
Introduction
Twenty Rules for Writing Detective Stories
The Philo Vance Series
The Benson Murder Case
The Canary Murder Case
The Greene Murder Case
The Bishop Murder Case
The Scarab Murder Case
The Kennel Murder Case
The Dragon Murder Case
The Casino Murder Case
The Garden Murder Case
The Kidnap Murder Case
The Gracie Allen Murder Case
The Winter Murder Case
S. S. Van Dine is the pseudonym used by American art critic Willard Huntington Wright when he wrote detective novels. He was an important figure in avant-garde cultural circles in pre-WWI New York, and under the pseudonym he created the immensely popular fictional detective Philo Vance.