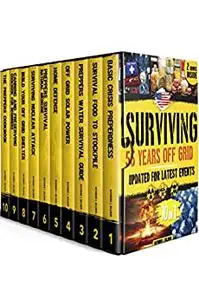 Surviving 5 Years Off Grid: The 10 in 1 Collection That Gets You Seriously Prepped and Ready for Long Term Survival [Updated for Latest Events] by Raymond L. Hillman
English | 2022 | ISBN: N/A | ASIN: B0BKYRVSCF | 305 pages | EPUB | 3.41 Mb
✔️ Find out how to download them inside your book
BONUS eBOOK 1 - BUSHCRAFT: How to Survive 3 Days in the Wild. Get your bearings, light your fire, find food & water to safeguard your survival.
BONUS eBOOK 2 - THE PERFECT EMERGENCY BAG: Detailed kit lists for your bug-out bag including food rations, tools for lighting fires, purifying water, navigation & medical supplies to save your life.
Discover Everything You Need to Know to Survive 5 Years Off Grid with Your Loved Ones Through Any Disaster.
All you need is the right information
… and that's why I have put all my knowledge from 20 years Prepping experience into this phenomenal 10 in 1 bundle.
- Do you agree the world is becoming ever more dangerous?
- Are you afraid you won't know how to handle unexpected chaos and catastrophe?
In this book, you will find all the information you need to be self-sufficient, to know how to
source, cook and store water and food, to defend your home and you family and survive
even in the event of electrical grid failure.
Here is a taste of what you will learn in this collection of 10 books
:
✅ Book 1 - Basic Emergency Preparedness: A journey into the prepper mindset, the 9 battles
for which he prepares, and his strategies for keeping his family and loved ones safe.
✅ Book 2 - Survival Food to Stockpile: All the tricks you need to know to keep food safe even
without electricity and 22 foods to purchase now before it's too late.
✅ Book 3 - The Prepper's Water Survival Guide: Detailed techniques to find, collect, filter,
purify, and preserve water supplies.
✅ Book 4 - Off-Grid Solar Power: All you need to know to install your DIY solar panels – even if
you are not a technician-.
✅ Book 5 - Home Defense: You will learn the 5 strategies to defend the perimeter of your home
and the 8 ways to make your home intrusion-proof.
✅ Book 6 - Prepper's Survival Natural Medicine: The simplest way – explained in detail – to
grow medicinal plants in your home garden, make natural remedies and master basic first-aid
techniques.
✅ Book 7 - Surviving a Nuclear Attack: The most effective way to survive the first 72 hours
after the explosion.
✅ Book 8 - Build Your Off-Grid Emergency Shelter: How to build, manage and power your
shelter after a power grid collapse.
✅ Book 9 - Canning and Preserving Cookbook for Beginners: The little-known methods to
preserve foods in the long term without losing their organoleptic properties.
✅ Book 10 - The Prepper's Cookbook: Finally, a book full of delicious recipes for times of
emergency or lockdown.
✅ Bonus 1 - BUSHCRAFT How to Survive 3 Days in the Wild: how to find your bearings,
food, and water and survive for at least 3 days in the wild.
✅ Bonus 2 - THE PERFECT EMERGENCY BAG: The essential kit list for your Bug-Out bag.
✅ And much, much more!
Feel Free to contact me for book requests, informations or feedbacks.
Without You And Your Support We Can't Continue
Thanks For Buying Premium From My Links For Support