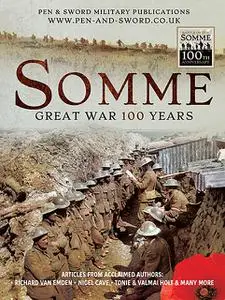 «Somme: Great War 100 Years» by Nigel Cave, Richard van Emden, Tonie Holt, Valmai Holt
English | EPUB | 5.0 MB
This publication, SOMME THE BATTLE 100 YEARS ON, has been published by Pen & Sword Books Ltd, with the purpose of creating an awareness and an interest in theSomme battles of 1916. For nearly thirty years, Pen & Sword Books Ltd has published numerous titles covering various Pals battalions formed for the Big Push. They have also been fore-runners in setting up the Battleground Series guides, which are packed with then and now illustrations, using battle maps from the time and road maps of the sites today. They are all specifically designed to take the tourer safely through these now historic sites. Many more books have been written and published by Pen & Sword on the other battles of the First World War. Only a small portion relating to 1 July 1916 has been taken from each book appearing in this publication. Much more information can been gleaned from reading about the events of the Somme battles and the awful aftermath of the day through reading the books mentioned at the end of each extract.These publications would not have been possible without the skill and dedication of our authors who have painstakingly researched and written about the subjects that bring to light these historic events.