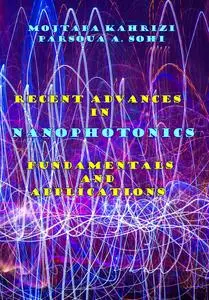 "Recent Advances in Nanophotonics: Fundamentals and Applications" ed. by Mojtaba Kahrizi, Parsoua A. Sohi
ITexLi | 2020 | ISBN: 1839628448 9781839628443 183962843X 9781839628436 1839628456 9781839628450 | 152 pages | PDF | 10 MB
This volume brings together several recent research articles in the field of nanophotonics. Science and engineering students and researchers could benefit from the new ideas and recent advances in the field that are covered in this book.
The editors have arranged the chapters in three main parts: quantum devices, photonic devices, and semiconductor devices. The chapters cover a wide variety of scopes in those areas including principles of plasmonic, SPR, LSPR and their applications, graphene-based nanophotonic devices, generation of entangled photon and quantum dots, perovskite solar cells, photo-detachment and photoionization of two-electrons systems, diffusion and intermixing of atoms in semiconductor crystals, lattice and molecular elastic and inelastic scattering including surface-enhanced Raman Scattering and their applications.
Contents
1. Principles and Applications of Nanoplasmonics in Biological and Chemical Sensing: A Review
2. Graphene-Based Nanophotonic Devices
3. Toward On-Demand Generation of Entangled Photon Pairs with a Quantum Dot
4. Interactions of Positrons and Electrons with Hydrogenic Systems, Excitation, Resonances, and Photoabsorption in Two-Electron Systems
5. Origin and Fundamentals of Perovskite Solar Cells
6. Diffusion and Quantum Well Intermixing
7. Development and Characterization of High-Quality HfO2/InGaAs MOS Interface
8. Surface-Enhanced Raman Scattering: Introduction and Applications
1st true PDF with TOC BookMarkLinks
More :
You find here